• GraphicOrganizers • Literacy • ReadingResponse • RespondingToText • Text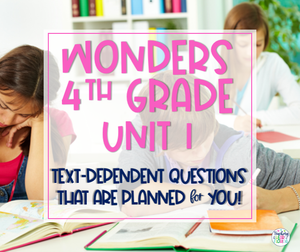 Having text-dependent questions ready for reading instruction can make a teacher's planning time go much quicker – which literally every teacher needs and wants! Does your school or district use McGraw Hill's Reading Wonders reading series? If so, this 4th Grade Wonders Unit 1 reading resource of text-dependent questions is already planned for you! Week 1 & 2: Text-Dependent Questions & Graphic Organizers – Describe a Character Unit 1 begins with two fun fairy tales focused on characters in "The Dragon Problem" and "The Princess and the Pizza". These two stories align with R.L.4.3: Describe in depth a character, setting,...
---
• ReadingResponse • WondersUnit3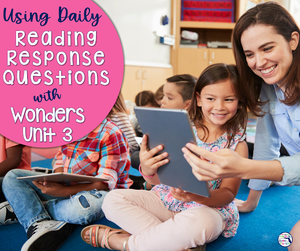 As my students move through the Wonders units, I'm often trying to determine how they are doing with the text because I can't sit and listen to every student every day. Are they able to decode the words? Can they use context clues? How is this affecting their comprehension? For me to plan effectively, I need formative assessments daily. So, I created this resource.  Every day students respond to two questions: one for reading comprehension based on the standard, and one for vocabulary. What I love about this resource is that I can quickly scan the responses and determine small...