• Bamboo • Cutlery • Holder • Tray • Utensils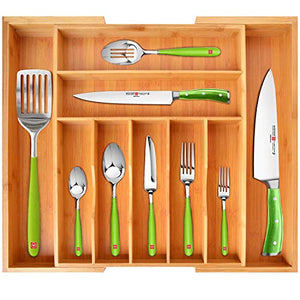 Keep all your kitchen utensils and silverware in order with Organic Bamboo Drawer Organizer! When we have a lot of things to keep attention at while cooking – it's important to have everything we need in one place. To make sure all-time favorite things are in plain sight, get yourself a kitchen drawer organizer. Key benefits of Royal Craft Wood Utensil Holder: Extendable cutlery tray with adjustable sides; 9 compartments of various sizes; Silverware tray with reinforced base; Easy to clean and maintain; Eco-friendly and beneficial for your health; Stylish design that fits every room. An extendable organizer with adjustable...
---
• Bamboo • Ktyssp • Portable • Reusable • Spoon
✿ ✿Quality is the top priority of Ktyssp. ✿ ✿ In order to produce a quality product for our customers, we choose the best material and pay attention to every detail. Feature QUALITY | Bamboo is a fast-growing, all-natural grass that is just as durable as wood. Resistant, reusable, durable and washable. ECO-FRIENDLY MINDSET | Bamboo Cutlery is not harmful to the environment and became great alternative to trees for making products which can help reduce the global warming crisis. Bamboo is a natural material that will largely biodegrade in landfills. CONVNIENT TRAVEL SET | Handy and Portable is suitable...