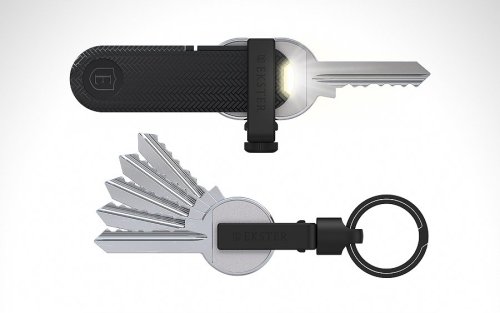 submitted by Jonathan Tayag
---
It's a tough balancing act to both manage your keys and offer value to how they're stored in your pocket. Simply silencing and storing them offers functionality but little added value, but overdoing and overadding features defeats the purpose of a compact EDC. What you need is a keychain organizer that's designed smarter, built to be easy to use and easy to configure, with quality of life additions that make it an integral part of your personal everyday carry. Ekster takes a crack at managing your pocket jangle with their upcoming Key Holder, a new system to level up your everyday keys.

Unlike other key organizers, the Ekster Key Holder is especially suited for EDC because it's small and slim. In its barest form, the 304 stainless steel key organizer weighs only 0.88 oz and measures 1.26" in length. To put the key organizer together, you won't have to break out tools, as it relies on a magnetic screw design that you can torque on and off with your hands. The organizer itself is expandable, and with its magnetic design, it's easy to add onto bigger keys and fobs that you'll need to operate a car, for example.

If you add the modular audible key tracker, you only tack on an additional 0.14 oz of weight, and you get Bluetooth tracking of your keys via Chipolo technology as a result. This is a godsend if you frequently lose track of your keys, whether you left them underneath your bed or lost them while on a night out on the town. And because it leverages a global network of fellow app users and GPS, you stand a good change of reuniting with your keys sooner rather than later. The locating mechanism works in reverse too, letting you locate your phone using the Key Holder instead.

Also built into the Ekster Key Holder is a small 6.6 lumen LED flashlight, powered by a user-removable 3V CR1620 button cell battery. The flashlight is situated such that when lit it also illuminates the key your trying to use as well as the keyhole you're trying to find. This eliminates frustration when you're in the dark, letting you swing the right key into place and use it without having to fumble around for the right combination. The light also works with the Bluetooth key finding mechanism, lighting up and flashing when you activate Lost mode, so you have more than just the sounds emitted by the tool when you're on the hunt.

The Ekster Key Holder can do way more than hold your keys together: its rich feature set strives to make your life easier, and it delivers. It's lightweight, compact, and a solid choice if you're looking for a new EDC key organizer. If you want to secure an Ekster Key Holder and tracker for yourself, make a pledge to Ekster's fully-funded Kickstarter campaign at the link below. Ekster has a long history of developing quality products for everyday carry via the crowdfunding route, and this smart new way of carrying your keys is set to be their latest hit.