Now more than ever, we look towards the home for stability and refuge and home improvement moves to the top of the to-do list.
Maybe dad or the man in your life is at home right now like so many others and doing his part to flatten the curve. Perhaps he's on the front lines as an essential worker and helping to keep things operating.
With so many changes to our day-to-day lives, keeping a man's closet effectively and stylishly organized is key to keeping his space – and him – calm and collected.
Every man needs a closet room design that is structured and organized to maximize order and efficiency. With the help of your Organized Interiors design consultant, you can take his closet to the ultimate level.
One of our design professionals provides ten men's closet design tips to help you create the ultimate closet for him.
Declutter to make space for your men's closet design
Improving his closet starts with decluttering so his new closet organizer and storage systems can provide maximum functionality.
Declutter his closet space and set aside old clothes, which will free up space for organizing what you really need. After all, there's no point in creating organization systems for things that he never wears or uses.
Many businesses and services that ordinarily accept donations of old clothes aren't currently available, but they will certainly need them eventually. Until you're able to drop off your unwanted clothes for donation, set them aside for now.
Repurpose some of his other unwanted clothes for some practical uses. Unneeded sport socks and t-shirts make excellent rags and old t-shirts and dress shirts (specifically cotton and linen) are excellent sources of fabric for making your own face masks.
Below is an example of how decluttering and the perfect men's closet design can combine to make his custom closet space super-organized and stylish.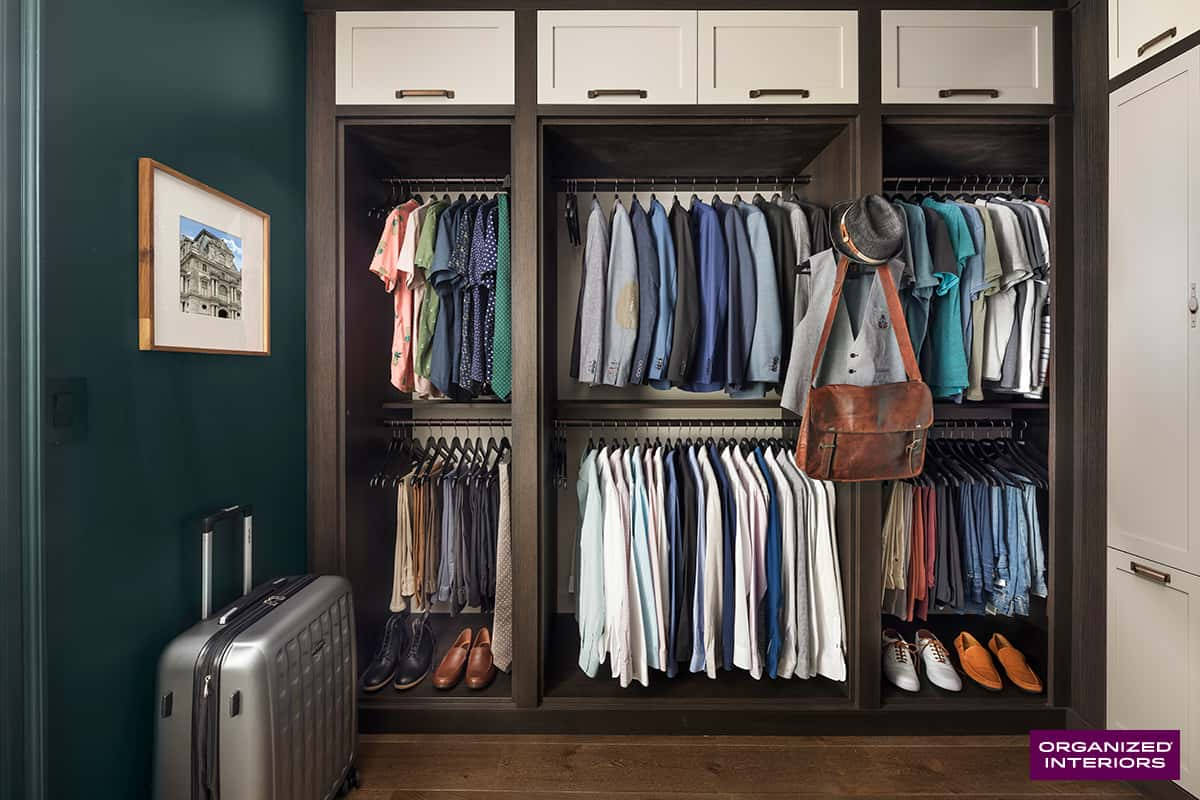 Work with a pro for your men's closet design
Connect with an Organized Interiors design consultant to discuss his closet needs and your designer will develop a custom solution that speaks to his requirements, his style, and his space.
Every custom Organized Interiors closet solution is as unique as every client and is tailored to make your life easier and better, whether you have a walk-in closet or reach-in closet.
The ultimate closet for him solves his organizational needs, is personalized for his lifestyle, and turns this challenging space into his own personal statement.
We provide an installation guarantee that ensures every project we work on is installed and completed with the highest standards and to our clients' full satisfaction.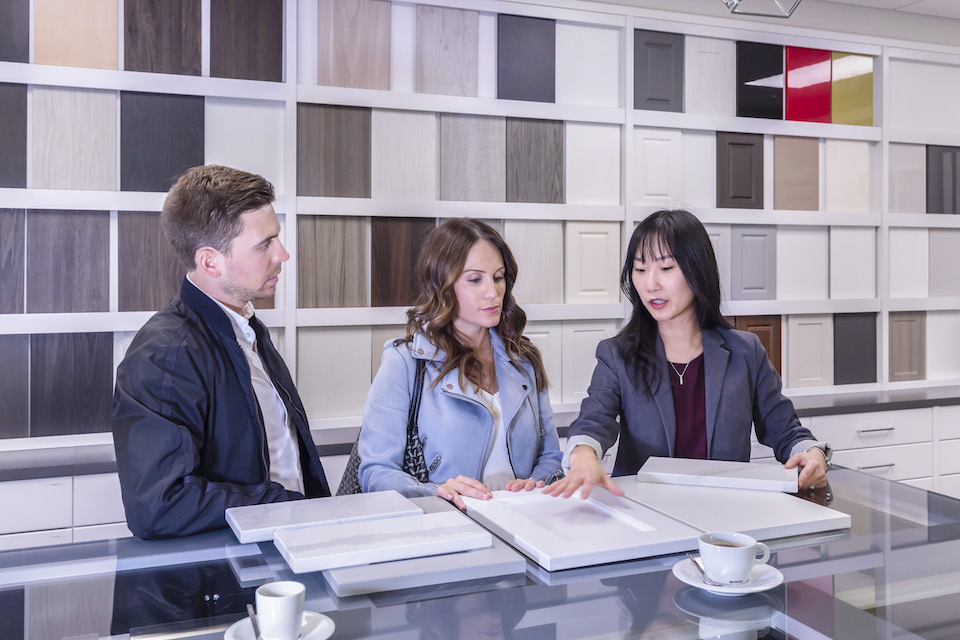 Get creative with the closet's hanging space
The biggest piece of real estate in any custom closet is how much space you devote to hanging your clothes.
Double hanging his short clothes (such as shirts, jackets, and folded pants) leaves room for hanging more items, plus it reserves space for additional shelves and drawers.
Get creative with how things are divided: separate work attire from casual clothes, formal wear from holiday wear, etc. Does he hang his pants straight by the cuff? Specify an area for hanging items with a medium and long length.
Pro tip: folded pants require less vertical space than shirts and devoting an entire closet rod for folded pants allows you to position it so that additional space may be used for other purposes.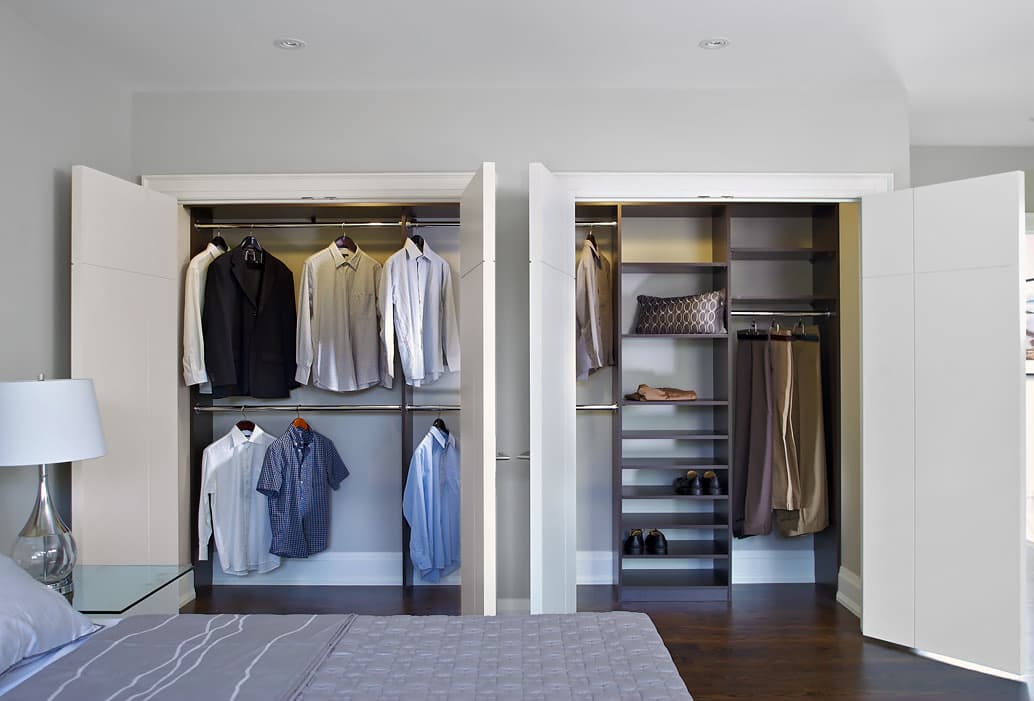 A tie and belt rack are must-haves
Whether his office has moved to casual dress or work-from-home, he still owns neckties as distinctive as he is.
Organized Interiors' high-quality pullout tie rack tucks neatly alongside clothes hanging areas, features a whisper-quiet action, and holds up to 18 ties.
Hanging his belts helps to minimize the curve that can develop from keeping them looped in your pants. Our premium belt rack features enough insert hooks for formal and casual belts.
Keep reading to learn more about getting these two essential men's closet accessories for free with our special Father's Day offer.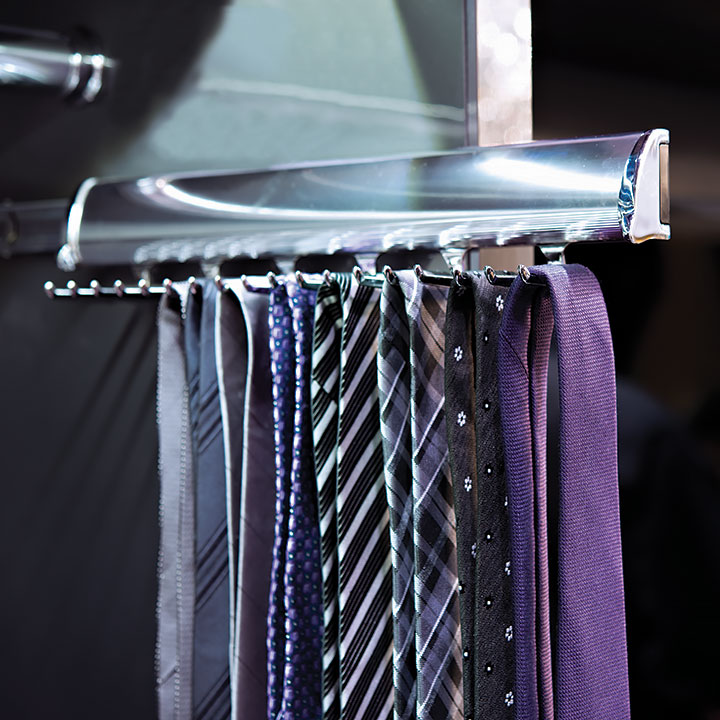 Customize your closet with decorative hardware and men's closet accessories
An awesome men's closet design isn't complete without those all-important final touches and Organized Interiors offers the widest selection of men's closet accessories and decorative hardware around.
A retractable valet rod is a perfect addition that allows for temporary clothes hanging. Use it for organizing your next day's power suit, your weekend wear before your early drive to cottage country, or your gym bag for your pre-work fitness routine. When not in use, it tucks neatly away for safety.
Here are a few more men's closet accessories you can add to tailor the storage space to his needs:
pullout laundry hampers
watch winders
a pullout pant rack
four position hangers
a drawer safe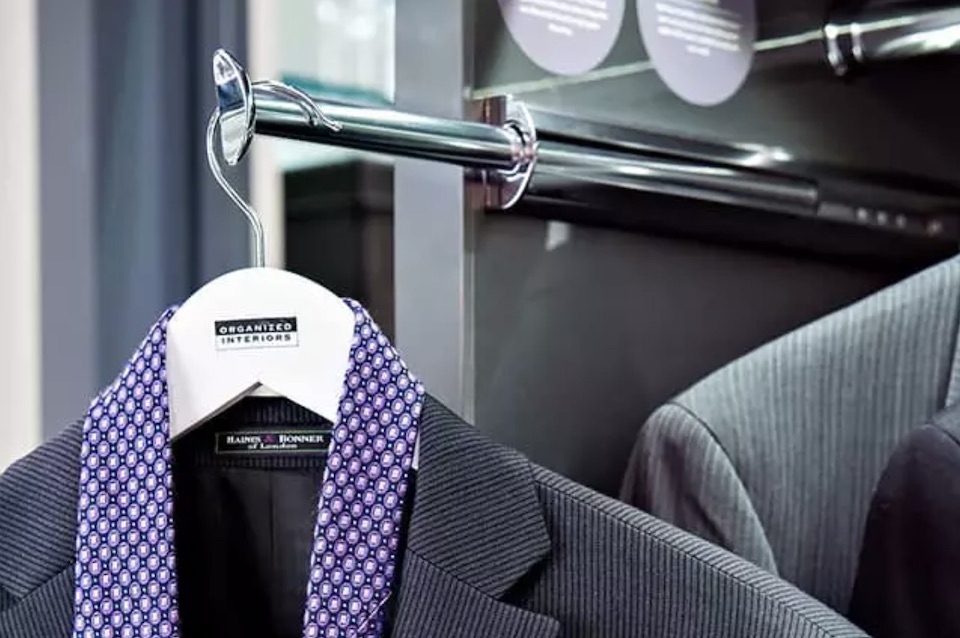 Upgrade his clothes hangers
Consider upgrading the clothes hangers within his ultimate closet. A consistent model of hanger in a closet not only adds visual appeal, it also helps maintain order.
Consider our beautiful soft-touch hangers, which feature a slip and crease-resistant bar for hanging folded pants and smooth shoulders for hanging shirts and jackets alike.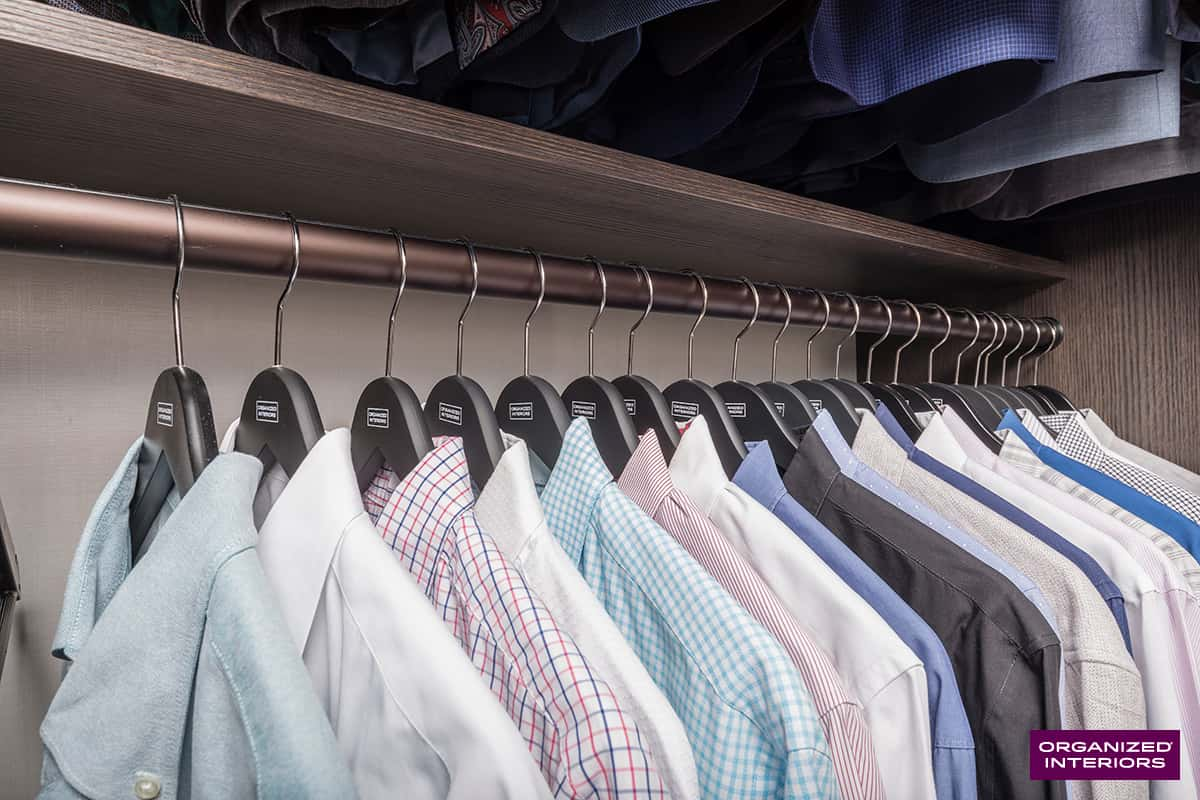 Keep his shoes organized
Whether he has four pairs of shoes or 24 pairs, Organized Interiors will ensure he has them organized and at-the-ready for work, play, and travel.
Larger shoe collections can benefit from a tower of pullout shelves adorned with shoe fences to keep things tidy and to lend that elegant touch.
Smaller collections can take advantage of space below clothes hanging areas, either at the floor level or by adding a shelf or two. Even if he keeps his everyday shoes in the front closet or mudroom, designate a place in his closet for special occasion and vacation footwear.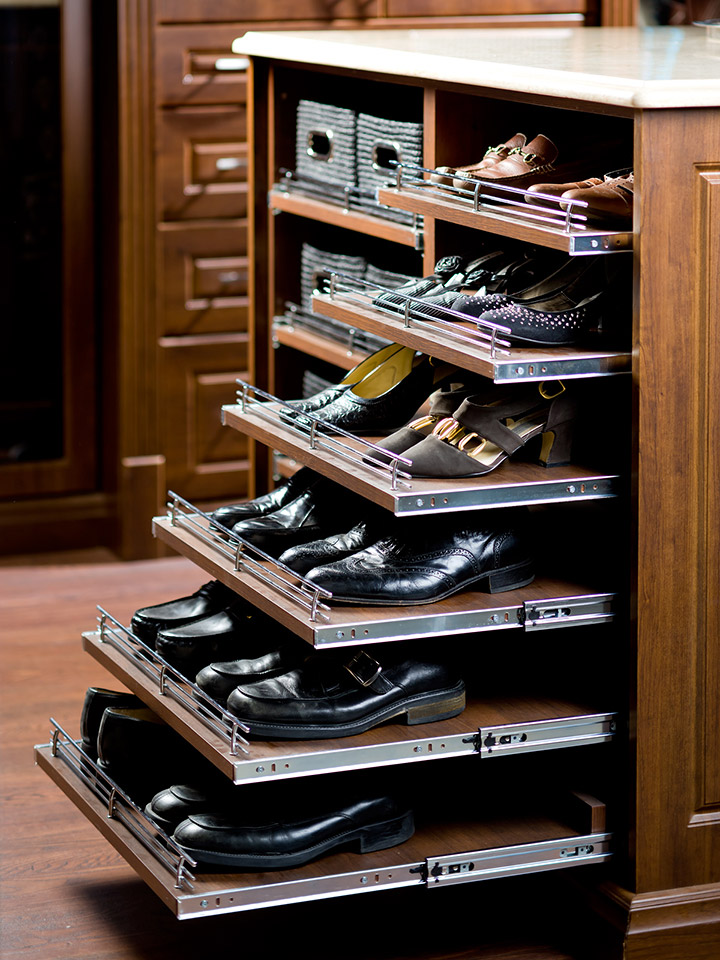 Add drawers for more storage flexibility
Drawer space in any closet is essential for organizing socks, boxers, folded shirts, and pants, but it can be so much more.
Add a convenient tilt-out laundry hamper to a drawer tower, so as he goes from work mode to workout mode that transition happens in a flash.
Velvet-lined dividers help his cufflinks and tie clasps stay organized. If he wears bracelets or chains, a jewellery divider is perfect for those, too. Consider larger acrylic drawer dividers for his watches and fitness trackers so he always knows what time it is, where he's been, and where he's going.
The supreme watch accessory for his ultimate closet is the Orbita watch winder, which can be fitted to a custom drawer or even as a standalone countertop feature.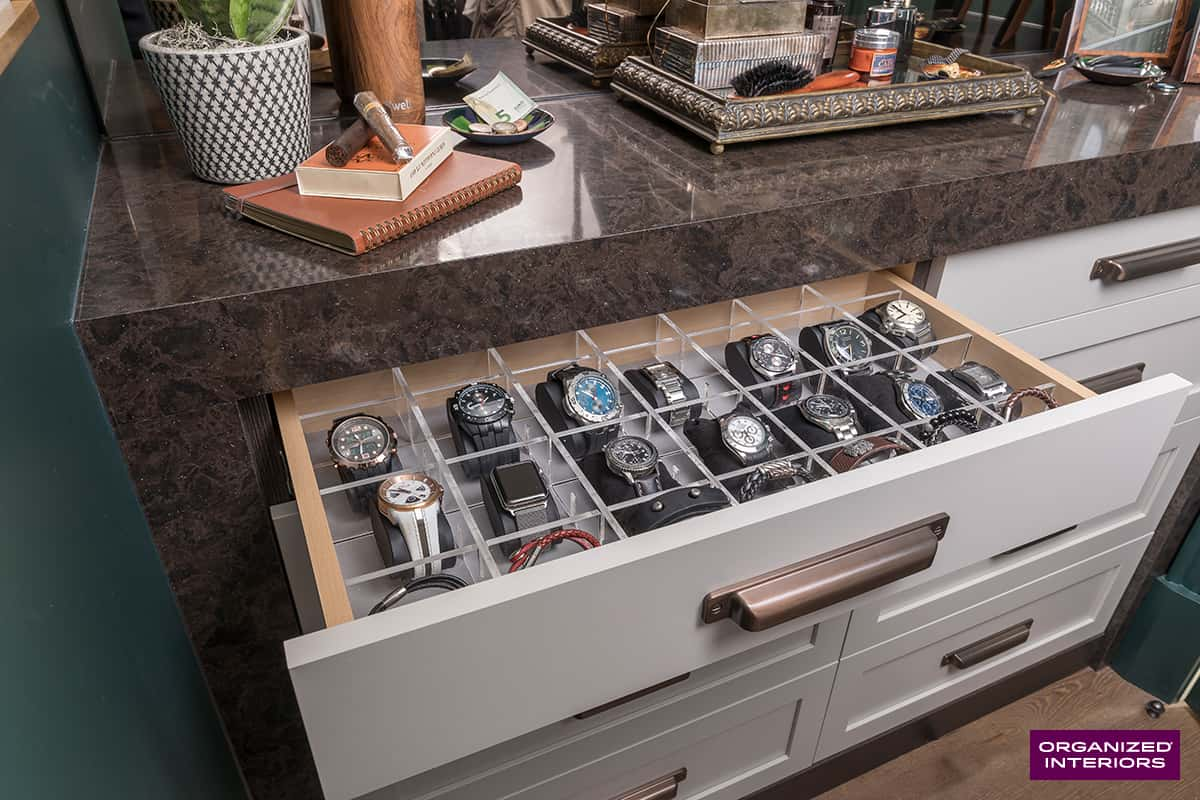 Create a comfortable dressing space
The ultimate closet for him can include a dressing area. Take advantage of the wall space on the side walls, behind doors, and above the lower storage for custom mirror boards. 
Need a space for grab-and-go things like his favourite hoodie, his sport jacket, or his camera bag? Add a custom hook board.
Need both? Consider a custom mirror-and-hook board, with beautiful melamine finishes to match and hardware finishes to complement his closet space.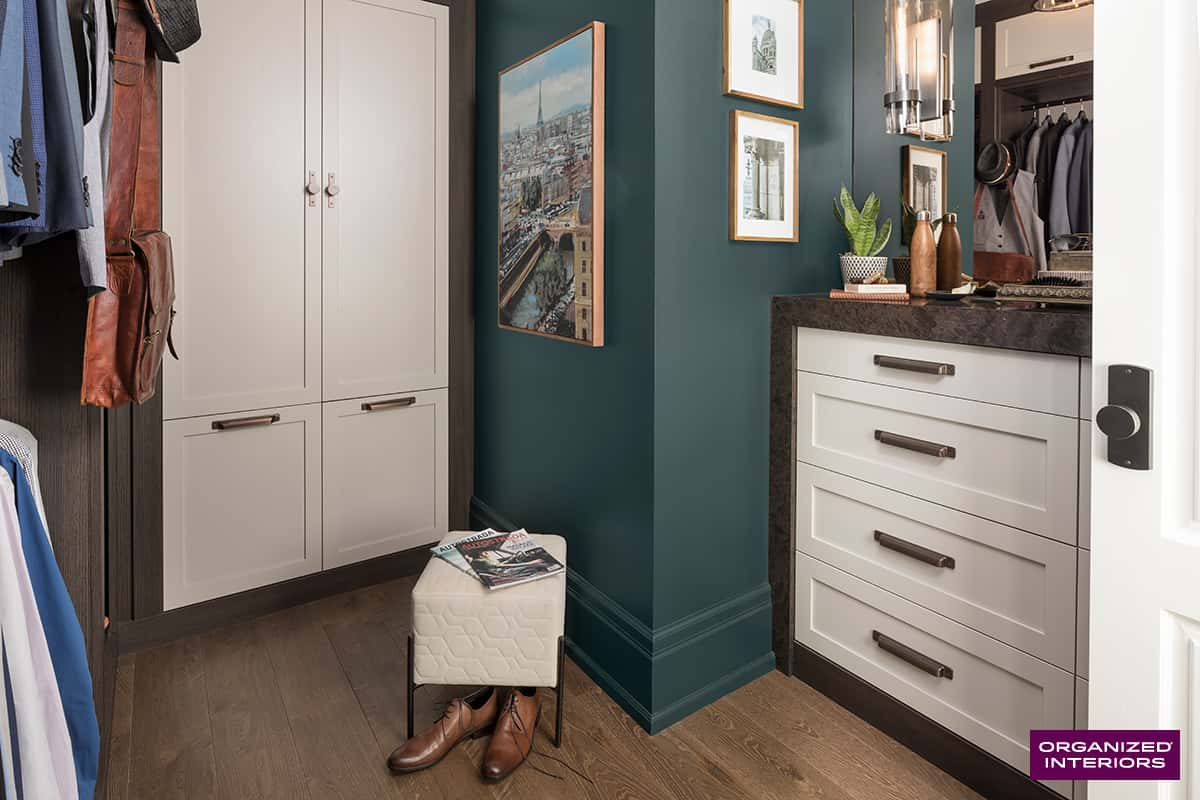 Add custom cabinetry to your men's closet
Not every closet (particularly a reach-in closet) has space for enclosed cabinetry, but consider adding cabinet storage in his closet if possible. Keeping things behind doors and out of sight not only reduces visual clutter, but provides him peace of mind.
Interior shelves can be a supplementary dressing station for him or where he plans his "go bag" for last-minute trips to the cottage.
Add a safe to a custom cabinet either behind the doors or within a drawer to protect valuables, papers, travel documents, and more. He doesn't have to be a secret agent to appreciate hidden storage and added security, but you can make him feel like one!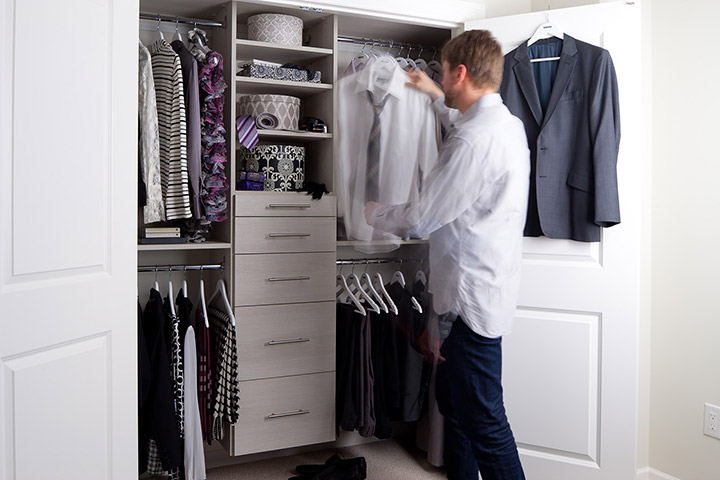 Free tie rack and belt rack for a limited time
Just in time for Father's Day. For a limited time get a free tie rack* and free belt rack* with any men's closet. Choose from our extensive selection of premium finishes and complete his custom closet with his choice of accessories and accent finishes.
Request your free design consultation today!
Once your Organized Interiors design consultant has prepared your design layout, we can produce and install his ultimate closet in as little as a few weeks. Give dad the space and the storage he deserves.
Please share this post if you found it useful.
See also:
*Valid with a minimum purchase of $2,000. This offer has no cash value and cannot be redeemed, exchanged, applied to existing orders, or combined with any other offer, promotion, or discount. Limit one per project.  Offer also valid with an online inquiry and new projects booked before June 21, 2020  Organized Interiors reserves the right to finalize any discrepancy.