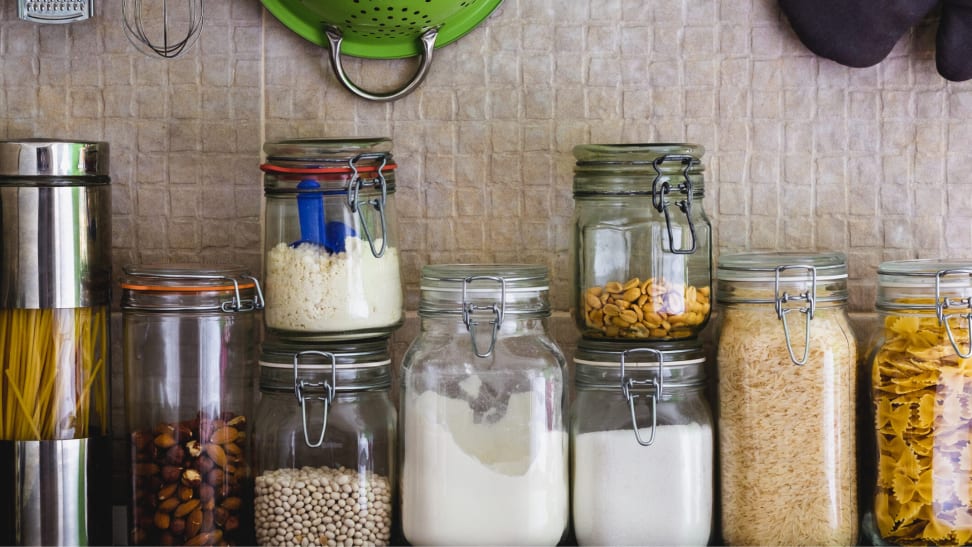 — Recommendations are independently chosen by Reviewed's editors. Purchases you make through our links may earn us a commission.
In the wake of the COVID-19 pandemic, people have been flocking to grocery stories and other retailers to stock up on the essentials, should they need to self-quarantine for the next few weeks at home.
We don't recommend hoarding large quantities of food or cleaning supplies—leave some for your neighbors—we do recognize that you may currently find yourself surrounded by non-perishables with no idea where to store them.
And you may find yourself with even less fridge space if you follow the advice of our kitchen and cooking editor Cassidy Olsen, who says she's currently freezing and refrigerating foods she may have otherwise kept out in a bid to extend their shelf life.
"I now have a drawer devoted to alliums like onions and garlic, and I've started freezing all of my bread," she says.
Here are some tips on organizing your existing storage spaces to make them more efficient, as well as some products that may help give you even more room.
How to maximize space in your fridge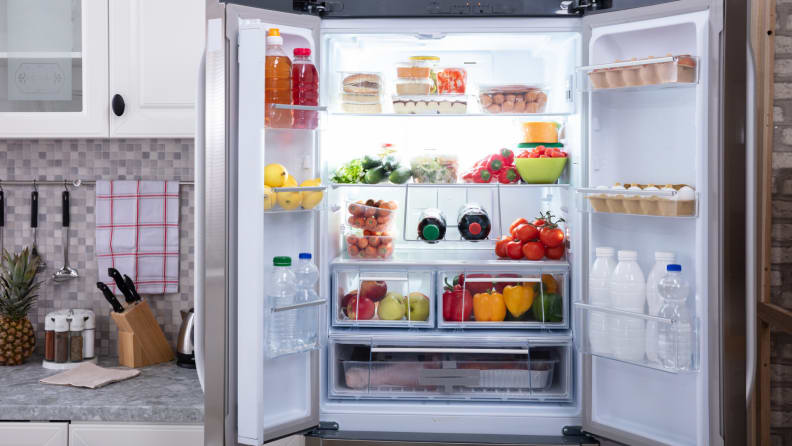 Unlike preparing for a hurricane or blizzard, we can assume that refrigerators and freezers, and all other cooking appliances, will remain operational throughout a coronavirus quarantine.
But to make the most of your space as you wait it out, refrigerator organization is key.
Step 1: Empty and clean
Start by emptying your refrigerator and giving shelves a good cleaning. Take note of any food that is expired and toss it. As our kitchen and cooking staff writer Valerie Li advises, "Use sanitizing wipes to clean out any drips or residue on the shelves and walls. Take out the bottom drawers and soak them in soapy, hot water—and take advantage of their absence to clean the walls and floor where they slot in. Make sure the drawers are dry before placing them back in the fridge."
Step 2: Restock with a strategy
When restocking the shelves, choose placement carefully and remember that stocking a fridge to the brim can impede the air circulation it needs to keep temperatures consistent. That's why organization expert Marie Kondo tries to keep her refrigerator 70% full at most.
"You don't want to just stuff everything in the pantry—you'll forget what you have and be less inclined to use ingredients."
Keep items like eggs and milk out of the door, where they're more prone to fluctuations in temperature. Instead, use the door for condiments and jarred pickles and salsas.
On the shelves, try to keep fresh fruits and vegetables above raw meat or seafood to avoid any chance of cross-contamination. Also be sure to move the most perishable items—like leftovers and deli meats—to the front so remember to eat them first.
Step 3: Organize and label everything
Products like a lazy Susan turntable and fridge and freezer bins set, which we use in the Reviewed office, are a great way to organize like items.
This can be especially useful if you have roommates or family members with different tastes. Simply label each bin so there are no mix-ups, and so everyone can find what they need in a timely fashion. The less time spent standing in front of the fridge with the door open is also helpful for keeping temperatures low and avoiding premature spoilage.
How to maximize space in your pantry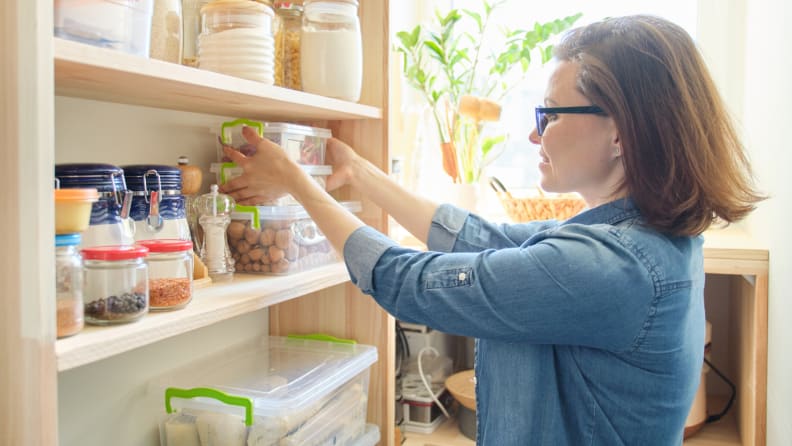 The pantry is often the first space to fill up when stocking up on food. Cassidy recommends organizing the pantry and cabinets so that food is still accessible.
"You don't want to just stuff everything in there or overwhelm the space—you'll forget what you have, be less inclined to use ingredients, and just be faced with a big mess," she says.
Consider adding a rack or bookshelf for storage
Cassidy recommends utilizing a rack or bookshelf-style organizer for extra dry goods. Not only will it be helpful now, but it can always be repurposed in a different area of the home after its pantry needs are complete.
"In my apartment, our cabinets are almost entirely filled with dishware and cookware, so we use a large open shelving unit to store most of our food that isn't refrigerated," she says. "This allows us to see everything we have (not great for style, but very convenient), and stack things higher."
Get the Greyleigh Rustic Oak Macon Etagere Bookcase at Wayfair for $159.64
Keep cans in line
Cassidy uses a cutlery organizer to keep cans in order—something that's essential these days. Make sure to note the measurements of each section before purchasing so you get one that's wide enough to accommodate cans.
Get the YBM Home Drawer Organizer at Wayfair for $28.99
Consider using an extra freezer—or even a cooler—for additional space
If you're still short on space, you can always pick up an additional freezer or refrigerator—Cassidy recently picked up the 5-cubic-foot Magic Chef chest freezer. But if that's not in the cards, consider purchasing a quality cooler instead. While it's not a long-term solution, it can help free up precious refrigerator space, but you'll be able to use it come summer time as well.
We've tested more than a dozen of the best coolers on the market, so we can confidently recommend a few that should be up to the task of keeping your groceries on ice. Keep in mind that coolers work best when they're closed, so try to use them more for items you don't need often, like condiments.
Best Overall: Otterbox Venture 45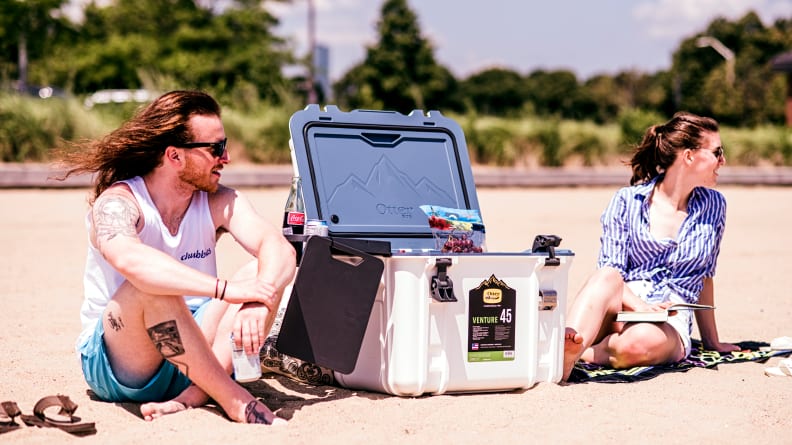 This 45-quart cooler that includes a dry storage tray was our choice for the best of the bunch.
In our testing, the Otterbox Venture 45 was able to keep temperatures under 40°F for nearly five days without being opened, which was 20% better than average. It's pricier than many options available, but it proved to be sturdy—no leaks no matter how much we put it through—and it comes with a lifetime warranty.
Get the Otterbox Venture 45 on Amazon for $349.99
Best Value: Ozark Trail 52-Quart Cooler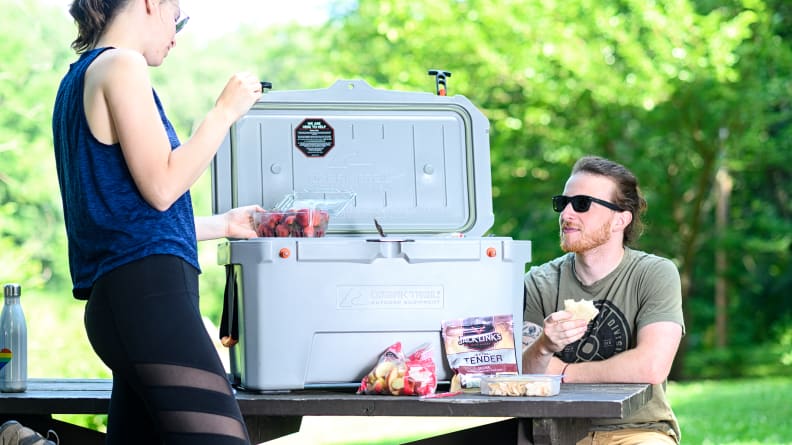 With a massive 52-quart capacity, the Ozark Trail has enough room to store your groceries and then some. And at about a third of the price of the Otterbox, it was an easy pick for the best value cooler on the market.
Even though it's less expensive, it's still a solid choice. It was able to stay under 40°F for over four days without being opened, so you can rest assured that food will be safe from spoilage. Plus, it comes with a removable wire basket, a five-year limited warranty, and—should this become a fixture of your summertime adventures—four cupholders.
Get the Ozark Trail 52-Quart Cooler on Amazon for $141.61
Make peace with the mess
This may seem counterintuitive, but one of the best ways to handle any excess food supplies is just to understand that your kitchen may not be as neat and organized as it usually is.
"Face the fact that things are just going to be messy for a while," Cassidy says. "I have a lot of anxiety around organization and keeping my space clean, but when I'm sharing a space with other people for weeks on end and we're stockpiling food, there's not a great way to make sure everything will be aesthetically balanced and look the way it used to. That's OK!"
She advises using any open closet, pantry, basement, or attic space you may have to keep clutter at bay, but cautions against using that as a reason to shop more: "Don't shop too much at any one time because you want to make sure groceries are still accessible for everyone in the community."
The product experts at Reviewed have all your shopping needs covered. Follow Reviewed on Facebook, Twitter, and Instagram for the latest deals, product reviews, and more.
Prices were accurate at the time this article was published but may change over time.