Saying goodbye to the people around us can be a hard thing to do. But change is inevitable, so we would at one time or the other have to let go. This is why most of the times, we gift them things to remember us by.
While acceptance is a challenge, choosing the best going away gifts for them is another. A good going away gift must speak volumes about your love for the person who is leaving.
The list of the best going away gifts that we have come up with has been segmented based on your relationship with the individual. No matter who you are sending the gift to, there is something here on the list you can choose from.
Best Going Away Gifts For Friends
Friends are indispensable. A good opportunity to express your fondness for your friend is when they are leaving. Here are some amazing farewell gift ideas for friends.
1. Anple Rabbit Fur Ball Keychain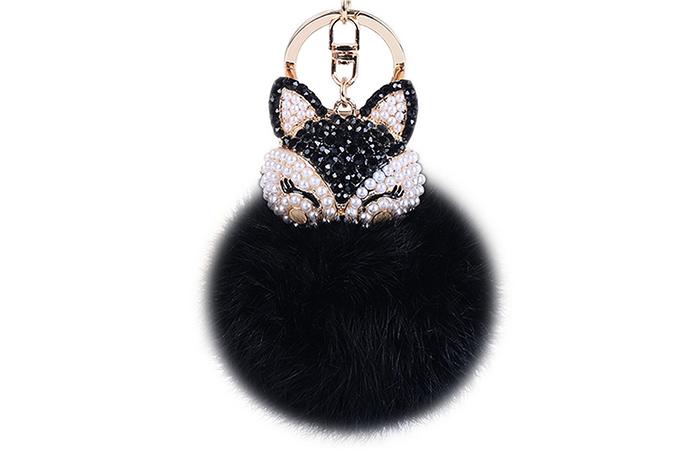 This is something your female bestie would adore. This keychain has black fur stitched to a metalhead that is beautifully studded with synthetic diamond stones. The metal head anchors the keychain ring. This keychain is a great farewell gift for someone moving out of the state.
Features
Made from 100% genuine rabbit fur
Soft and high-quality
Available in multiple colors
Can be used on handbags
2. Malden International Design Tabletop Photo Clips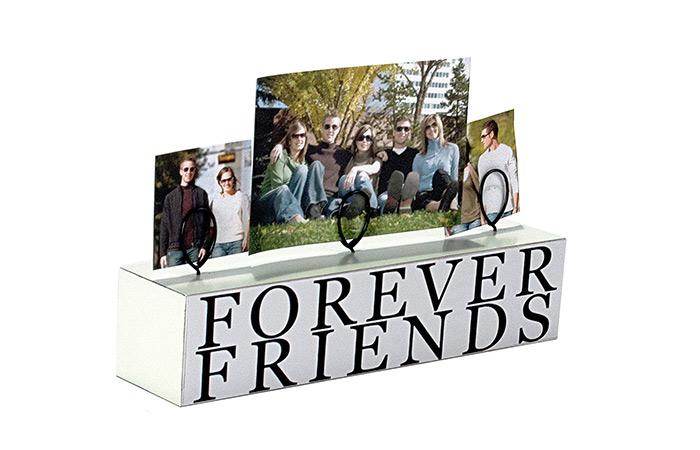 Here is a tabletop photo clip that will come in handy to help your best friend relive the fun you had together when they are at their new home. It comes with a caption that says, Forever Friends. With this product, your friend can hold up to three of their favorite moments with you. You can also handpick the pictures on display. This is a great gift idea for a friend moving overseas.
Features
Easy to clean with wipes
Sturdy and will hold pictures in position
Holds three pictures
3. AeroPress Coffee And Espresso Maker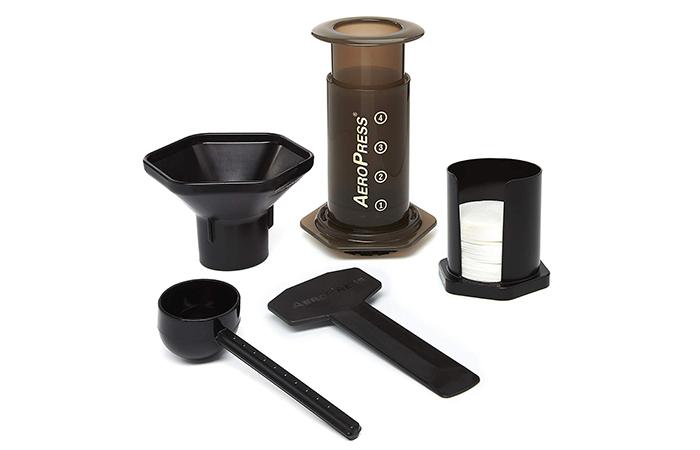 This is a nice going away gift idea for a friend moving out of town for college. This coffee maker from AeroPress is easy to use. It is small and can be easily packaged and transported. It makes great, aromatic coffee that would set one in the right mood for the entire days activities. It comes with the AeroPress press, a funnel, a scoop, a stirrer, 350 microfilters, and a filter holder. Let your friend think of you every day as they drink their morning coffee!
Features
Rapid brewing
Has a microfilter that eliminates grit
Makes 1-3 cups of American coffee per pressing in a minute
Lightweight and portable
Phthalate- and BPA-free
4. Leado Friendship Wine Tumbler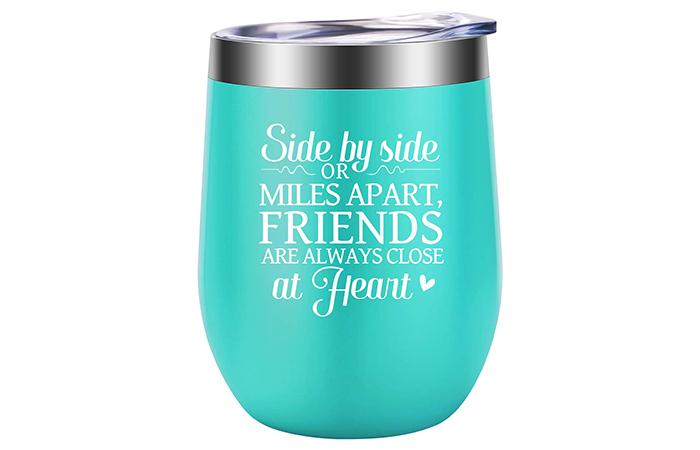 This fine wine tumbler from Leado is perfect for reminding your friend that you have them in your heart while they are away. The round wine cup comes in three shades mint, purple, and rose gold. It has a fair capacity that holds just about the right amount of wine. Its vacuum insulation also helps to keep the drink at a regulated temperature.
Features
Made of stainless steel
Double-walled exterior with vacuum sealing between the walls
Durable
BPA-free
Comes with a stainless steel straw and a cleaning brush
5. Atimier Stainless Steel Manicure Set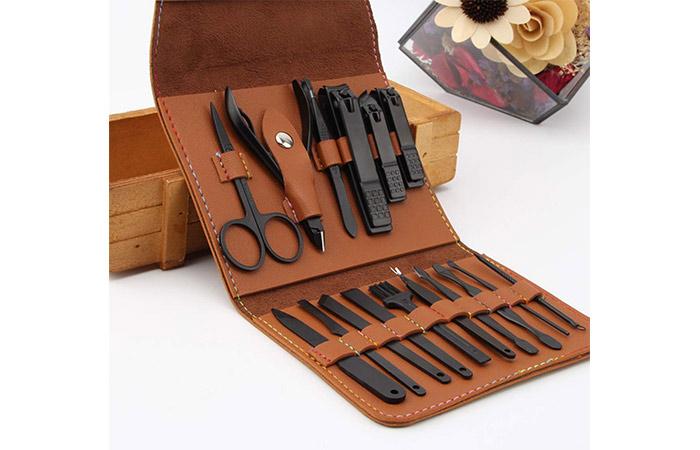 This manicure set contains 16 tools that can be used for facial care, hand care, and foot care. The tools are made of stainless steel and are sharp and durable. The set comes in a portable PU leather case, which makes it convenient to carry and fit into any bag.
Features
Contains 1 nail file, 1 cuticle nipper, 2 nail clippers, 1 large nail clipper, 1 dead skin fork, 2 cuspidal/obtuse push-type broaches, 1 nail cleaning knife, 1 tweezer, 1 acne tool, 1 ear pick, 1 pair of scissors, 1 flat callus remover, 1 oblique callus remover, and 1 cleaning brush.
Comes in a leather case
Portable, durable, and easy-to-organize
6. Bose SoundLink Micro Portable Outdoor Speaker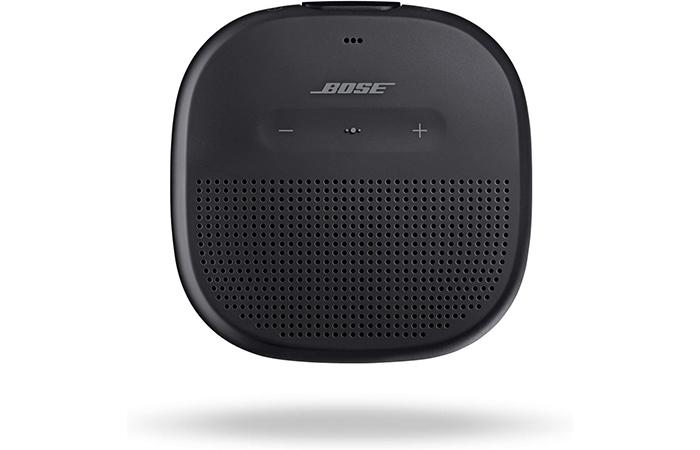 This speaker gives crisp, balanced sound and can be connected through WiFi or Bluetooth. The casing is waterproof, and it comes with a tear-resistant strap that you can attach to your backpack or handle. It also has a built-in speakerphone that makes answering calls easy. This is a nice companion for beach visits and camping trips.
Features
Rugged exterior helps resist cracks, dents, and scratches
Waterproof
Portable
Battery time up to six hours
Best Going Away Gifts For Your Boyfriend Or Girlfriend
A long-distance relationship does not mean that your relationship should get strained. Keep the sparks alive by getting them the perfect gift that would remind them of you. Here are some of the best going away gifts available for boyfriends and girlfriends.
7. Churidy Creative Explosion Gift Box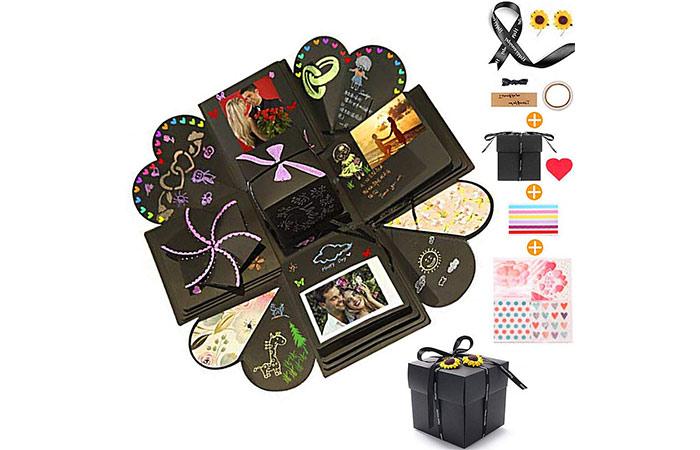 You can surprise your boyfriend or girlfriend with this creative explosion gift box that looks like a gift box when it is closed. You can put photos of your special moments together, like the first kiss, first date, anniversary, etc. When they open the box, voila! There is a photo-explosion bomb
The box has a smaller gift box inside, where you can surprise them with a flower, a ring, or a necklace. It is made of highly dense cardboard that cannot easily be destroyed by damp air.
Features
Made of thick cardboard
8 inbuilt funny cards
Has 20 parts to record happy memories
8. Ananoz Couple Ring set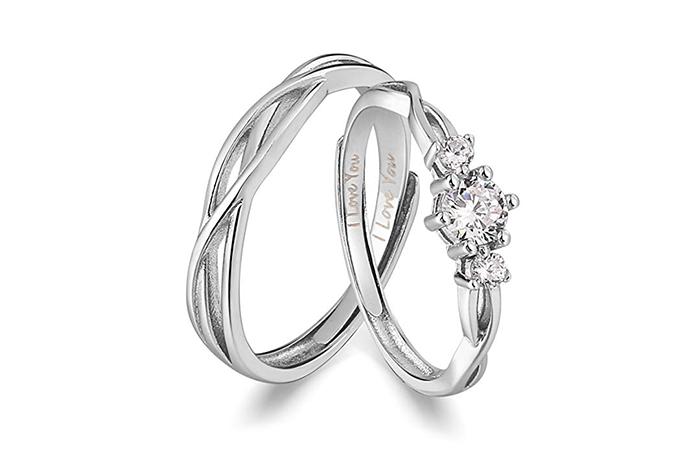 Giving your partner a couples ring set when they are going away on a trip is an expression of your love. Promises to each other can also be imprinted on the rings. These rings are made of silver and are hypoallergenic and soft. They are adjustable to fit perfectly on any finger.
Features
Sterling silver ring set
Does not rust
Adjustable
9. Valyria Personalized Necklace Set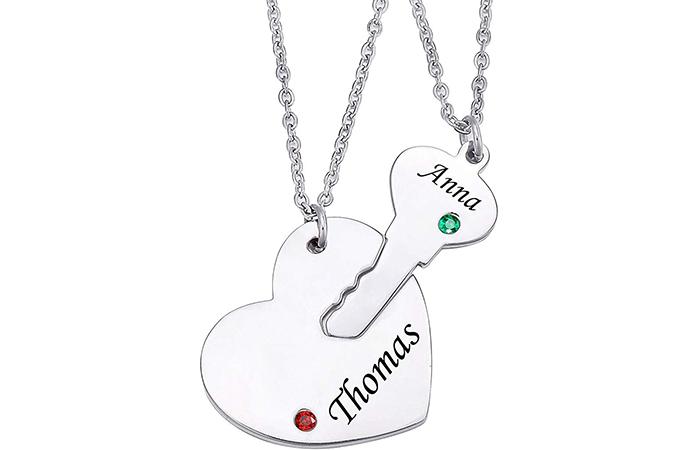 Gift a personalized key heart puzzle necklace set to your partner before they go off on a long trip. By giving the key pendant to your partner, you are implying that they own the key to your heart. Your names will be imprinted on the heart and key pendant. You can also use the necklace set based on your birth month as it comes with your birthstone too.
Features
Two colored birthstones
50cm long
Made of stainless steel
10. GUESS Womens U1160L1 Watch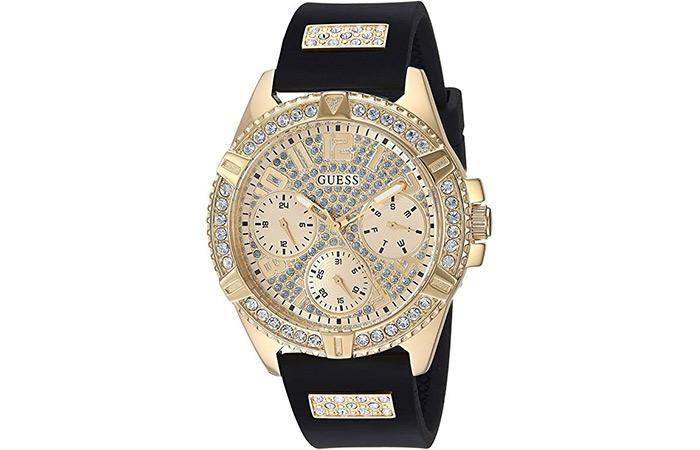 Get this great piece for your partner for their next voyage. This black beauty is a killer accessory when worn with formal outfits. It is one of the best gift ideas for girlfriends. This wristwatch has a silicone bracelet with adjustable buckle closure. The round dial has a three-hand analog display. It has three subdials that show the day of the week, the date of the month, and 24-hour military/international time.
Features
Crystal-embellished bezel
Water-resistant up to 50 m
Stainless steel case
Scratch-resistant case
11. Shop4Ever Couples Matching T-Shirts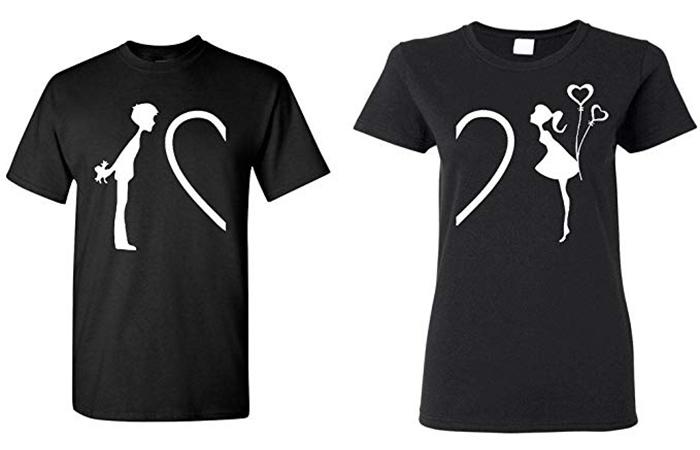 Bond with your partner over these matching T-shirts. You get to keep one for yourself and give them one. This matching T-shirt pair from Shop4Ever is beautifully designed with cute animations. The colors are vibrant and eye-catching, and the cotton blend is comfortable and feels soft against the skin.
Features
Made of cotton
Comes in different sizes
Comes in a range of colors
12. Firbon Handmade Scrapbook Album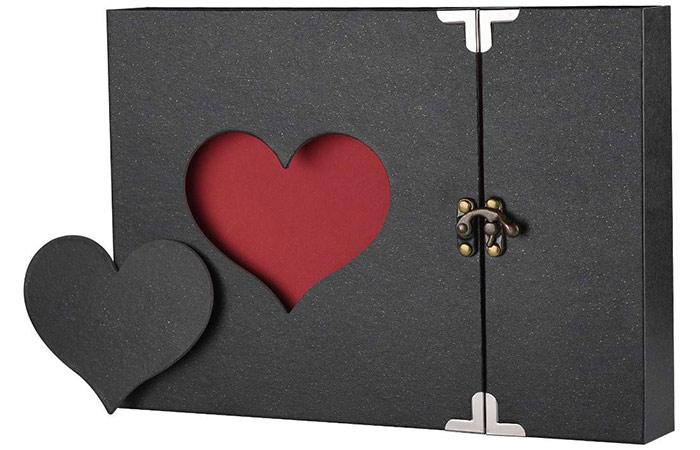 Here is another opportunity to make your significant other feel closer to you when they are in a faraway land. A scrapbook is a perfect recipe to kickstart a chain of happy memories. This passes off as a great handmade farewell gift for your partner. You can customize the scrapbook with favorite pictures of moments you shared together. It is an avenue to tell them how deep your feelings are for them.
Features
Can take up to 120 pictures
Package comes in a quality and presentable gift box
Vintage design
Durable
Best Going Away Gifts For Your Sister
Is your sister going off to college? Is she going on a long trip or getting married? There are special products made to help you shower your love on her. Many of these going away gifts are personalized, and your sister would surely love them.
13. Zhanmai Unicorn Crystal Charm Bracelet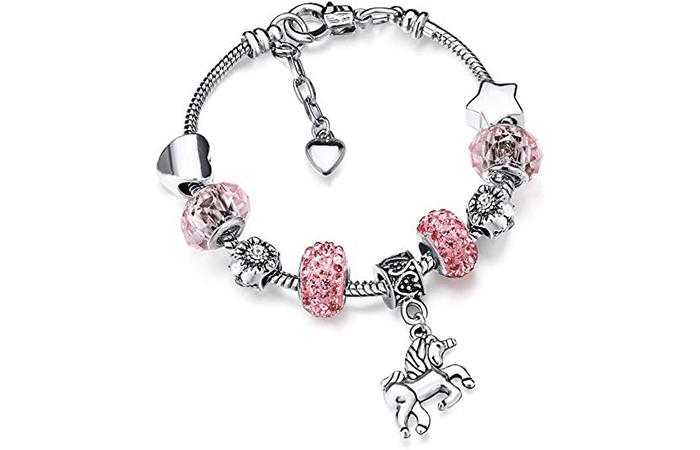 Get your little sister a Unicorn Crystal Charm Bracelet. This adorable bracelet comes with an extension chain and a removable end cap. It is adjustable and has crystal beads, pink rhinestone, a unicorn pendant charm, and silver-plated heart and star charms.
Features
Adjustable clasp
Well-built
Comes in four sizes
14. Vlando Mirrored Jewelry Box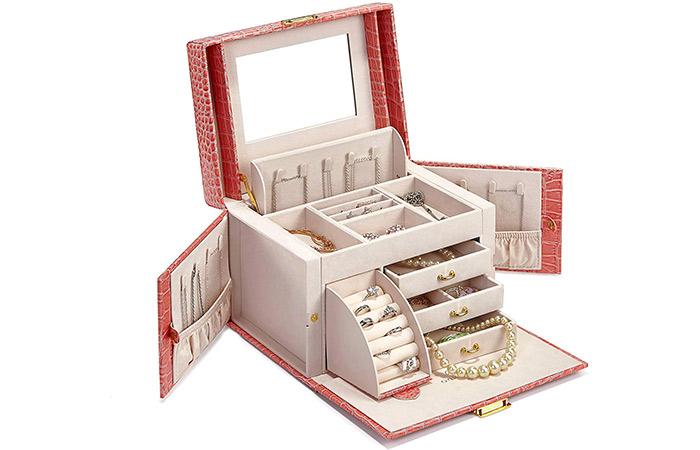 Your sister will be going away to college, and she needs you to help her organize her jewelry without stress. Vlandos Mirrored Jewelry Box is the ideal gift for her in that case. This box has three layers with numerous compartments for all kinds of jewelry, like necklaces, bracelets, watches (4 large compartments, 1 with cushions), earrings (4 compartments), and rings (1 compartment with 14 slots).
Features
Portable
Multifunctional compartments
Compact
Available in various colors
15. DistinctlyIvy Personalized Big Sister Necklace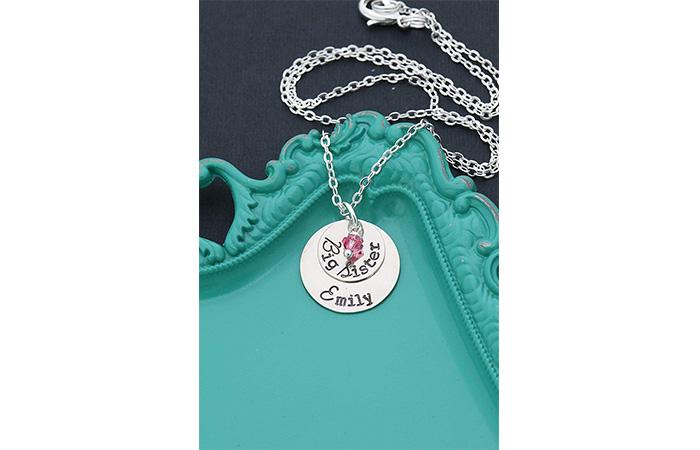 Get your big sister this necklace as she will be going away to camp with her friends. You can personalize this necklace with her nickname. You can also put sweet captions like big sister cares or best little sis on the disc to remind her of you. The necklace also has beautiful colored crystals attached to the discs.
Features
Hypoallergenic
Lightweight
Durable
Not prone to tarnish
16. Blue Q Crew Socks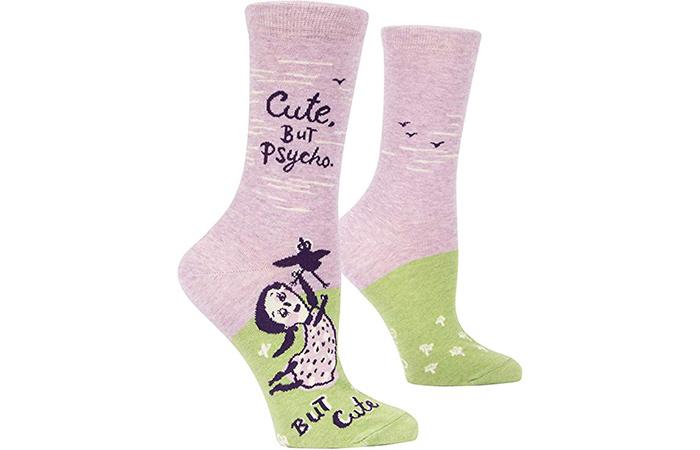 Blue Qs Crew Socks are made of a nylon-cotton-spandex blend. This pair comes in a cute color and has Cute But Psycho written. The socks are soft and comfortable and keep the feet warm all day long.
Features
Machine-washable
Made of cotton, nylon, and spandex
Can be washed in cold water
Made from anti-bleaching materials
17. LOVERY Home Spa Gift Basket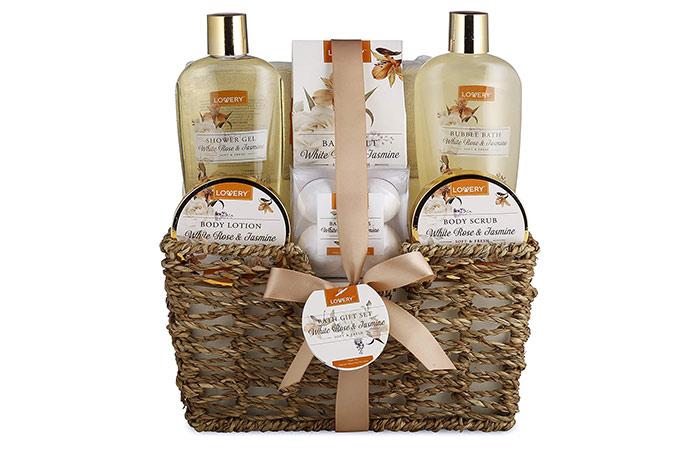 Shower your newly married sister with a Home Spa Gift Basket as she goes on her honeymoon. It will relieve and ease her off the wedding stress. The gift basket contains a bubble bath, body lotion, body scrub, bath salts, and bath bombs. It can help minimize wrinkles caused by stress and keep her skin glowing. It is also paraben-free and not tested on animals.
Features
Contains vitamin E, a good skin moisturizer
Scent has a tranquilizing effect
Protects the skin from dryness
Made from natural materials and is harmless to the skin
18. Triple Gifffted Coffee Mug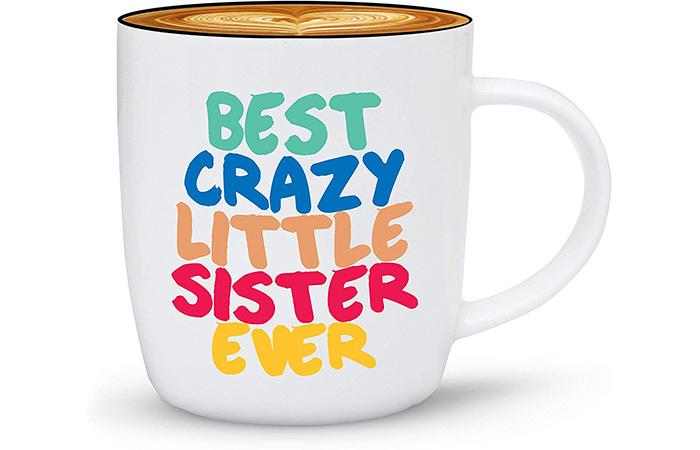 This cute coffee mug with a funny caption is a perfect gift for your sister, who is going away to college. The mug is made from pure ceramic and is BPA-free. It has a capacity of 13 oz, and the handle is designed ergonomically for a good grip. You can fill it with your sisters favorite candies, chocolates, or sweets and gift it to her.
Features
BPA-free
Dishwasher and microwave safe
Non-fading printing
Best Going Away Gifts For Coworkers And Bosses
Here is a list of the best going away gifts for coworkers and bosses. These gifts show how much you care about the relationship they have with you.
19. Mindspace Office Desk Organizer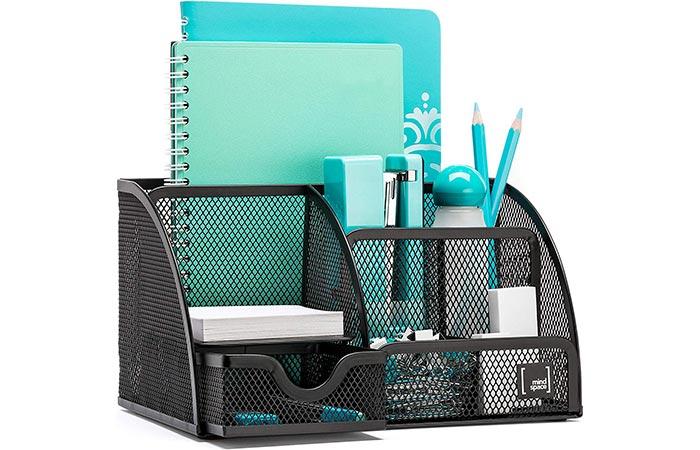 This office desk organizer by Mindspace is a great tool for keeping your workspace tidy. It has six compartments, which are suitable for arranging files, stationery, documents, and other office stationery. It also has a pull-out drawer, where you can store the more discrete files. It is portable and lightweight and is made of sturdy mesh metal. It also comes with four soft rubber grips to protect your desk from scratches.
Features
Lightweight
Durable mesh material
Non-slip rubber grips
Smooth ABS coatingG
20. CUPRIGHT Table And Desk Cup Holder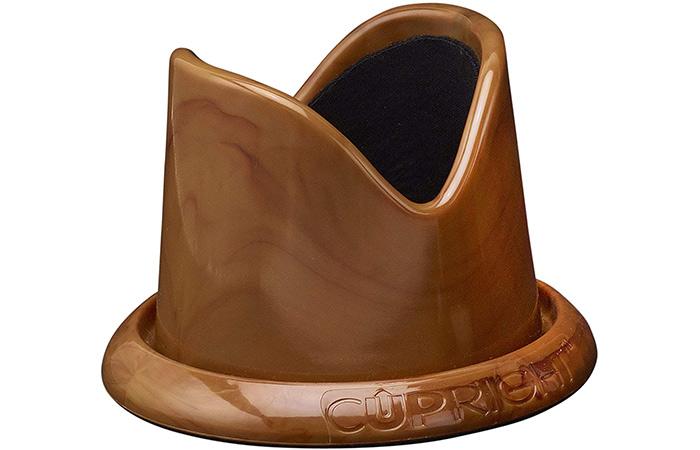 Is your favorite coworker, who is known for always spilling coffee, leaving the office? Here is the perfect going away gift idea for them a desk coffee cup holder. The CUPRIGHT Cupholder allows you to place your beverage securely without worrying about spiling it on the table and damaging laptops, papers, clothing, or rugs. It can hold most of the plastic cups or cans and bottles. It comes with a neoprene insulating layer that can help keep the beverage hot or cold for longer.
Features
Neoprene insulation layer maintains the temperature of the drink
Anti-slip silicone base
Can double as a cup coaster
21. Excello Global Motivational & Inspirational Daily Flip Calendar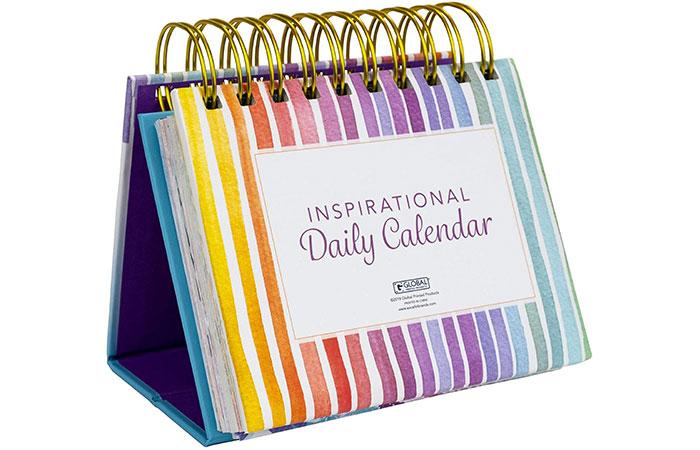 This motivational and inspirational daily calendar includes inspirational quotes that gets one in a go-getter mode and inspires them to achieve the goals they have set. It is formatted in an easy-to-read style that allows for markings and notes. It has a built-in easel stand, which makes it perfect for the work desk. It has a perpetual format, which means you can use the same calendar year after year.
Features
Made from hard paper
Sturdy wire-bound
Durable
Long-term use
22. Dovital Magnetic Polar Pen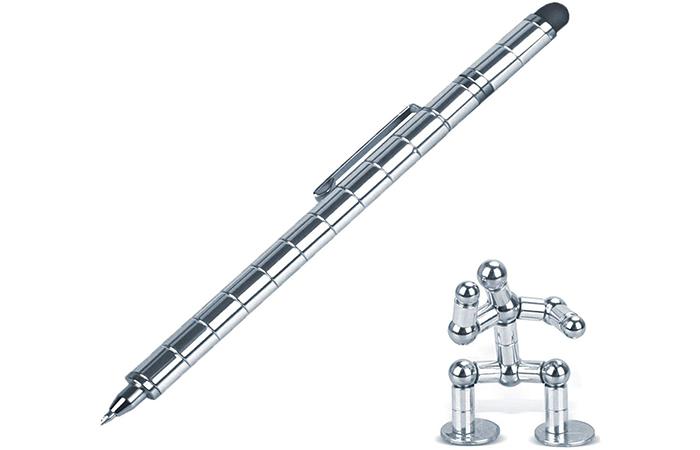 This is not just a pen. It is also a finger fidget toy that can act as a stress reliever during tedious office work hours. You can rotate and transform it into a variety of shapes and forms. It has two stylus heads and can be used as a gel pen as well as a touchscreen pen. It would be a great gift to your coworker who is moving out of the office.
Features
13 magnetic rings and 12 steel balls
Can be rotated and transformed into various shapes
23. Glad You Stopped by My Desk! A Humorous Guest Book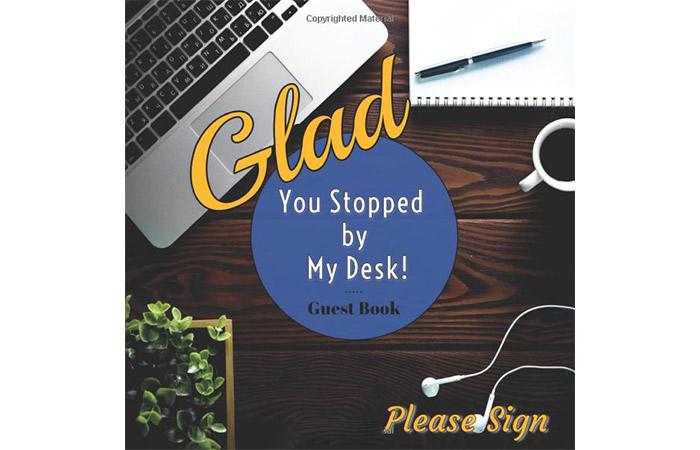 Heres another awesome farewell gift for your boss a guest book that encourages visitors to drop a note. The cover calls the attention of anyone who stops by, with its boldly inscribed welcoming title, Glad you stopped by at my desk. The chances are that your coworker/boss may not always be in their seat at the office. Help them keep track of all people who came knocking at their door during their absence. They would love you even more whenever they get an important contact from it.
Features
Lots of pages
Has a pen cavity
24. Posh & Polly Emoji Faces Calendar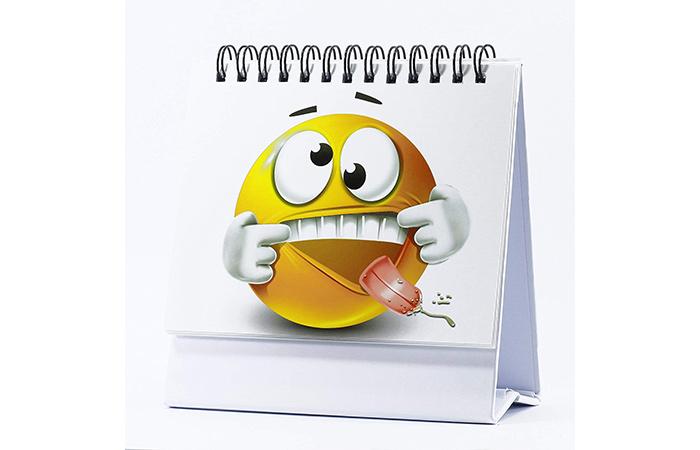 Here is something for the colleague who was always fun to work with. They would look at this and smile whenever they see this at their new workstation. This calendar is filled with 29 funny emojis that can cheer up anyone. It can help relieve stress and tension.
Features
Made of strong paper
Durable
Features a large array of emoticons
Best Going Away Gifts for Military Men
One of the hardest goodbyes is the one said to a loved one going away on duty calls. The emotions, the uncertainty, and the enthusiasm that one feels is like no other. This is why it is important that you help them remember that you love them while they are miles away. These gifts are a few of the coolest deployment farewell gifts around.
25. MAOFAED Military Matching Set Keychains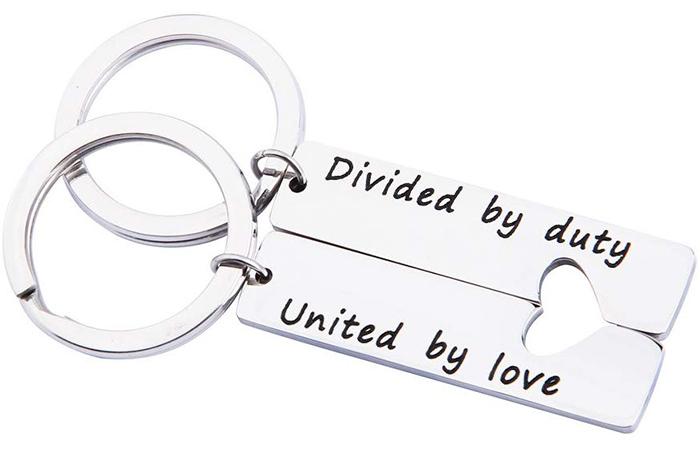 This united keychain serves as an excellent reminder for your significant other going on a military mission. This keychain has a two holding rings with two heart-joined tags. The quotes on the tags complement each other Divided by duty and United by love. Your spouse can easily hook this to their belt line or use it as a pendant.
Features
Made of stainless steel
Durable
Lead- and nickel-free
Comes in a portable and presentable velvet pouch
26. Mud Pie Linen Towel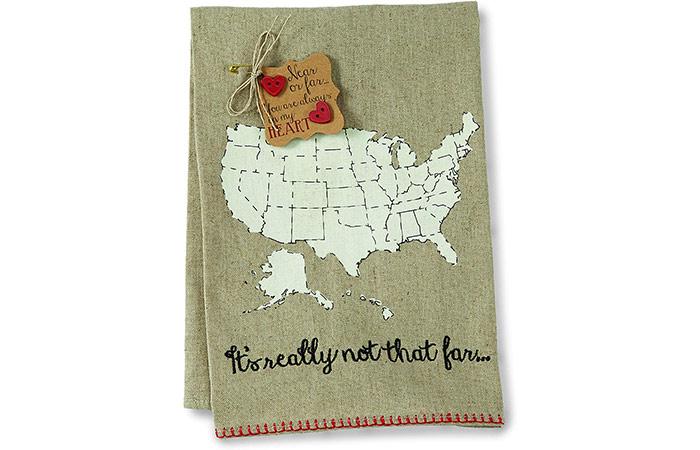 An everyday-use product is one of the best things you can get for a loved one going away on deployment. This linen towel by Mud Pie is one such gift. It comes with a nice quote that would cheer them up when they are miles away. It works best for the body and is a great way to say morning, I love you without picking up your phone.
Features
Comes with a love message
Made of linen that absorbs water quickly
Doesnt get dirty quickly
Easily washable
27. SassyCups Stainless Steel Stemless Wine Glass With Lid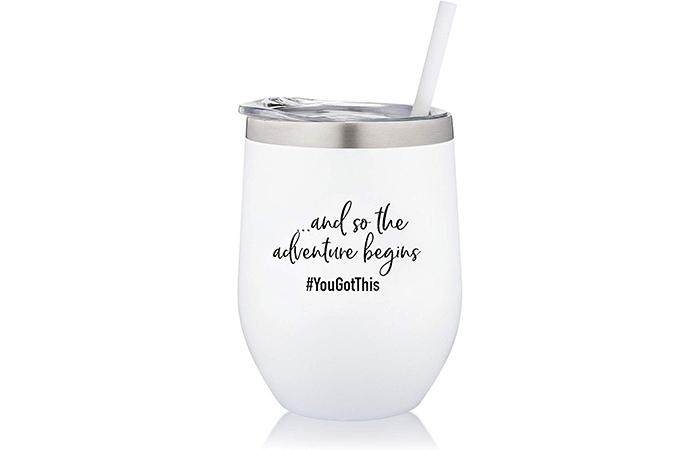 This wine glass from Sassycups is an inspirational gift that would remind your loved one of your support while they are off to protect their motherland. It is made of stainless steel
and comes with an inscription that resonates positivity. Seeing it can uplift your beloveds spirits when they are facing difficulties at their stations. The tumbler is beautifully crafted with a smooth finish and also has a lid. It is useful for drinking wine and other beverages.
Features
Double-walled with good insulating feature
Comes with a reusable straw
Shatterproof
BPA-free
28. The Boho Street American Flag Bedspread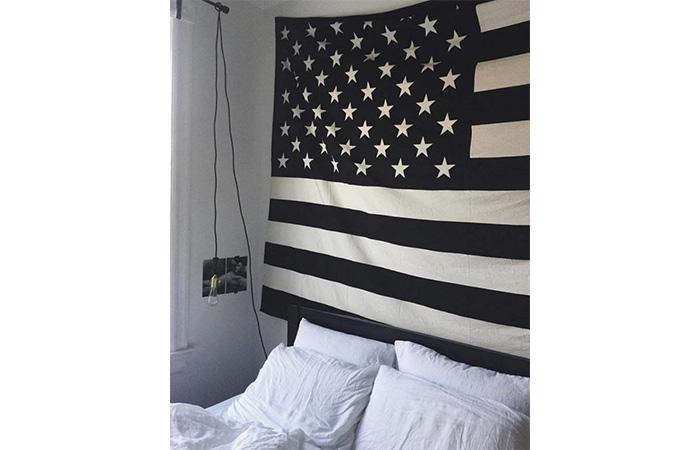 This vintage decor piece can be used as a bedspread, blanket, tapestry, or even as a curtain. It is handcrafted and is in a darker shade of the American flag. It is a complete masterpiece that adds class to a rooms design. It would definitely be of great use to your loved one while they are out camping at a foreign location.
Features
Made of cotton
Feels soft
Can be folded into different designs to beautify a room
Machine washable
29. GearLight LED Flashlight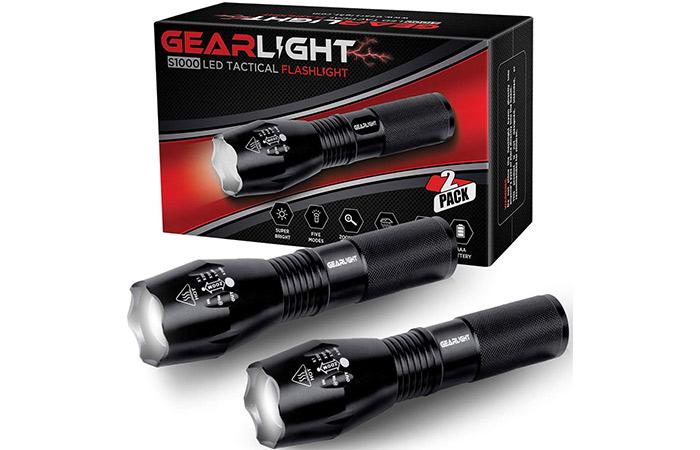 This hardcore flashlight from GearLight is military-grade light equipment. It is a great idea as a going-away gift for deployed persons. It comes in handy for camping, at dark jungle posts, or in places where electricity fails
The S1000 tactical flashlight comes in a 2-in-1 pack. Each of the flashlights can be powered by AAA batteries. It also supports custom-made rechargeable batteries. The luminosity of the LED reaches up to a thousand feet distance. With its 5-setting lighting option, your loved one can toggle the light as the need arises. This pack also includes a preset SOS sequence.
Features
Compact
Comes with a pouch that could help hold it in position
Shock-proof paddings on the case
Water-resistant
30. AllGiftFrames Military Clock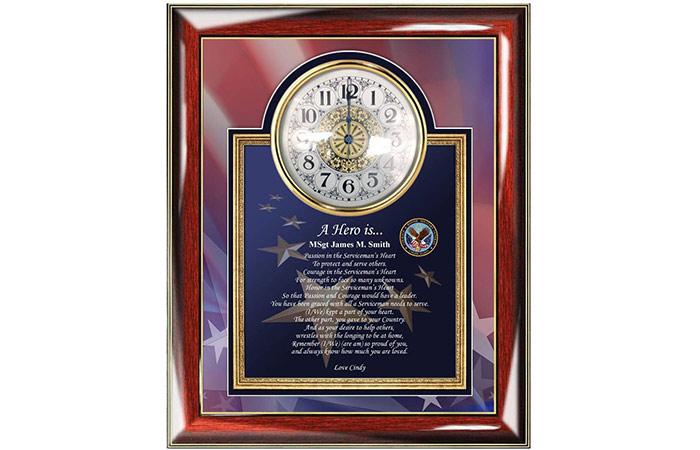 Here is something you can use to appreciate a military person who has served their tenure well and is nearing retirement. This Military Plaque also doubles as a clock. It has been customized specially, which would help the recipient relive their memories during service.
The plaque is customized with your heros name, followed by a short eulogy of your choice. It is a grand idea for showing how much you adore your favorite retiree. You also get to add your name to the bottom of the plaque.
Features
Made of mahogany wood material
Glossy finish and shiny appearance
Gold-plated frame for the poem section
Clock battery with an extra piece
Regardless of your relationship with the individual going away, the gift you get them would tell them how much you actually care for them. That is why you should put thought into selecting a gift that would represent your intentions well. We are sure you would have found a personalized farewell gift after going through our exhaustive list. All you have to do is, click on any of the Buy Now options!
The post 30 Best Going Away Gift Ideas appeared first on STYLECRAZE.