Learn how we used Timberdoodle's Custom Kit Builder to make our own homeschool curriculum and take a look inside our Kindergarten curriculum kit box!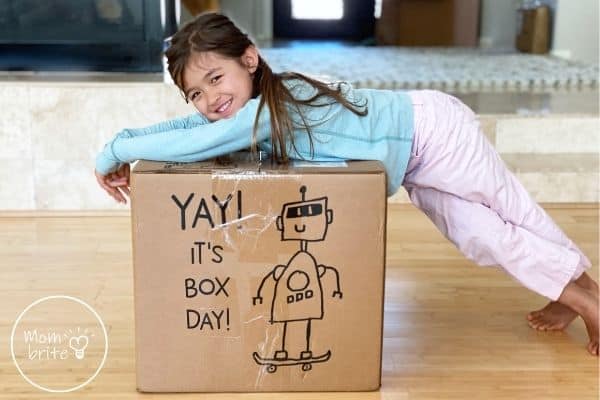 There are so many options out there when it comes to homeschooling curriculums. Problem is, many curriculums focus only on one subject, such as math or reading. So you have to do tons of research to see what is out there and determine what is the best for your child.
What's wonderful about the Timberdoodle curriculum kits is that they have put together a comprehensive curriculum for each grade. Timberdoodle also has a set of religious curriculums and nonreligious curriculums depending on your preference.
What's even more exciting is that Timberdoodle has a Custom Kit Builder that allows you to add, subtract, and replace items in the original kit. 
We just received the custom Kindergarten curriculum kit for my daughter from Timberdoodle, and we are super excited about unboxing it! Below I will show you how to use Timberdoodle's Custom Kit Builder and the contents of the Timberdoodle box so you can build your own curriculum kit for the upcoming school year.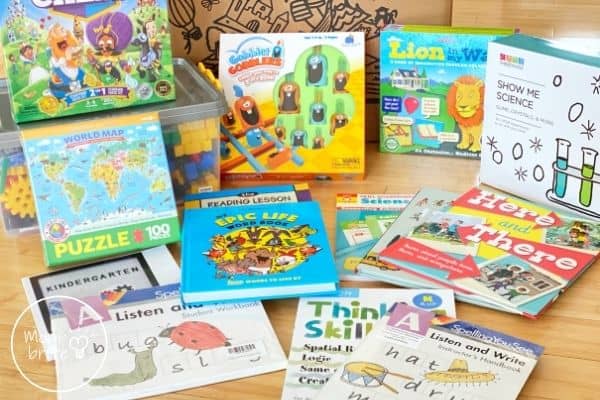 How to Use the Timberdoodle's Custom Curriculum Kit Builder
To use Timberdoodle's Custom Kit Builder, first place your cursor over "Curriculum Kits" in the menu and select "Custom Homeschool Curriculum Kits." Then simply pick the grade level for your child in the dropdown menu. 
Next, you will need to select if you would prefer the Religious (Classic) kit or the Non-Religious kit. After that, choose between the Basic, Complete, or Elite kit. I always recommend selecting the Elite kit because it comes with everything from the Basic and Complete kits plus even more hands-on tools, games, etc. You can always delete the ones you don't want later.
Now the fun part begins! To qualify as a curriculum kit, your kit needs to have at least 3 out of 5 essential subjects and have a total value of at least $400. Don't worry, the Custom Kit Builder makes it easy for you to see if you have met the minimum requirements.
You can see from the screenshot below that there are 5 green squares with an "E" in the middle. That means those subjects meet the essential course requirements. Now I am going to click into Language Arts to show you how you can customize this subject.
When you first click into Language Arts, the Custom Kit Builder will show you everything recommended by Timberdoodle under the Elite kit (which you remember was what I selected in the previous screen). I already have All About Reading 1 Deluxe Kit at home, but I want to try another reading curriculum because I am not sure if my daughter's learning style will be a good fit with All About Reading.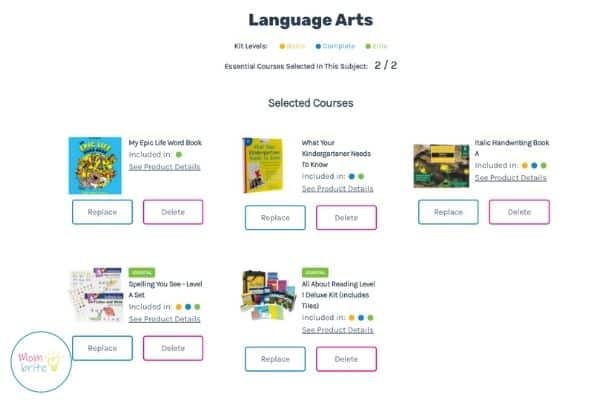 I click the "Replace" button underneath All About Reading and several alternatives pop up. There are many choices and you may want to do your research for each one. I ended up selecting The Reading Lesson Book by clicking on "Replace with This Alternate."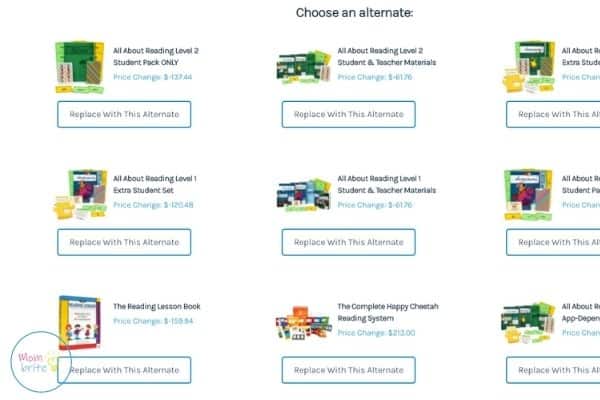 Back to the Language Arts screen. You can see that now All About Reading has been replaced with The Reading Lesson book.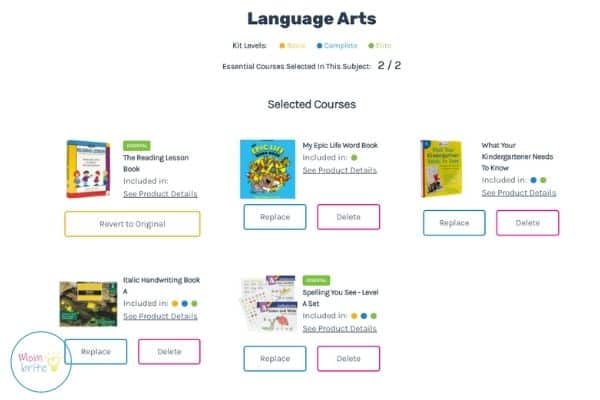 I also decided to delete What Your Kindergartener Needs to Know and Italic Handwriting Book A. If you do change your mind after you delete an item, you can see that they are saved on the bottom for you so that you can add them back to the kit.
The top of the screen shows "Essential Courses Selected in This Subject: 2/2." This means I have enough required items in Language Arts to make it qualify as a complete subject. 
After you are done with one subject, simply click "Back to All Subjects" and repeat the same process with the other subjects. Remember you need to fulfill at least 3 essential subjects for the custom kit.
Finally, click "Add Kit to Cart" and you can check out. Don't forget to select your free gift for ordering more than $75!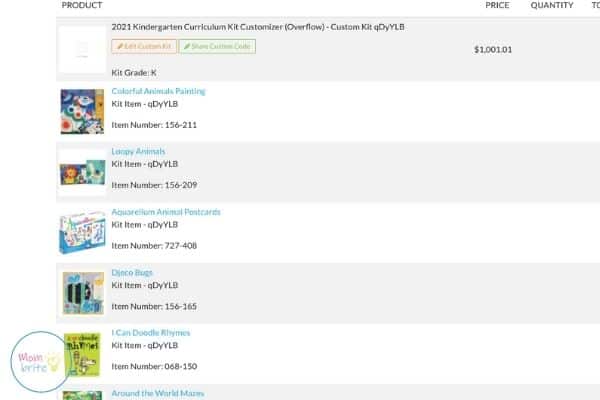 I want to point out that when you take a look at the cart, you will see a "Share Custom Code" button under your custom curriculum kit. This is a code that you can send to a friend or family so that they can see what you have put in your custom kit. Then they can either use the same items or customize their own kit based on yours. Pretty cool!
Unboxing Timberdoodle's Custom Kindergarten Curriculum Kit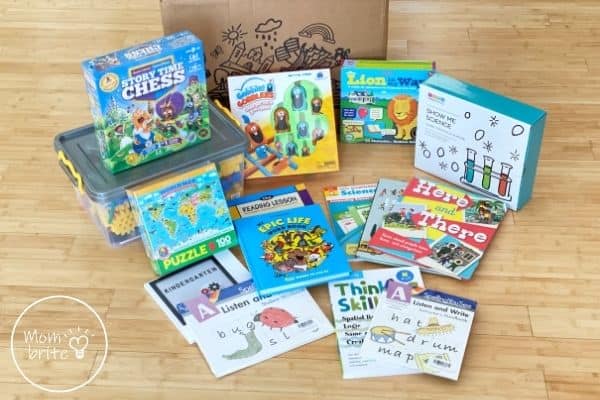 The day that we receive Timberdoodle's curriculum kit in the mail is always such an exciting one. After all, look at how cute the Timberdoodle box design is! Unboxing the curriculum kit with your kids is a great way to start the year and get them motivated to tackle all the subjects in the kit.
For this particular custom curriculum kit, I ended up ordering Language Arts, Thinking Skills, STEM, and Science items. I also included a few items from History & Social Studies and Geography subjects to supplement what we already have at home.
Handbook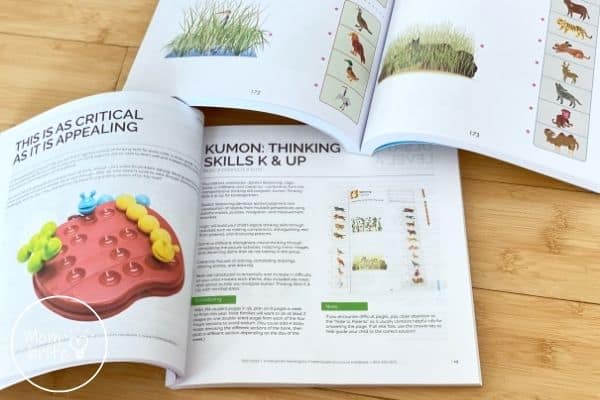 Every custom kit comes with a Timberdoodle Curriculum Handbook + Scheduler. The handbook gives you information on the items included in the kit and provides ideas on how you can plan each resource in your homeschooling schedule. 
For example, for the Kumon: Thinking Skills K & Up book, the handbook suggests to "plan on 9 pages a week to finish this year. Most families will want to do at least 2 pages (or one double-sided page) from each of the four major sections to avoid tedium." There is also a note that recommends paying close attention to the "Note to Parents" on more difficult pages. 
Each handbook has a code on it that you can input in Timberdoodle's Custom Schedule Generator to plan out the schedule year in detail.
Language Arts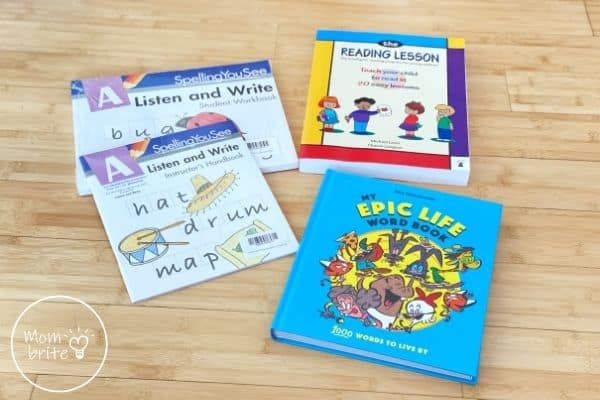 The Reading Lesson Book: I have not heard of The Reading Lesson Book before compiling this curriculum kit and I am super excited to try it with my daughter. I have started All About Reading 1 with my daughter, but unlike my son who absolutely loved the curriculum, she is having trouble with it. The Reading Lesson Book is designed for children who are struggling to master reading, so I am hoping for good results with my daughter.
My Epic Life Word Book: As English is my kids' third language, they are a bit behind in English vocabularies. This book has quirky story-like illustrations that will make learning new words fun!
Spelling You See – Level A Set: I like how Spelling You See is set up so that you do one daily lesson so your child can learn at a relaxed pace and encourage visual memory.
Thinking Skills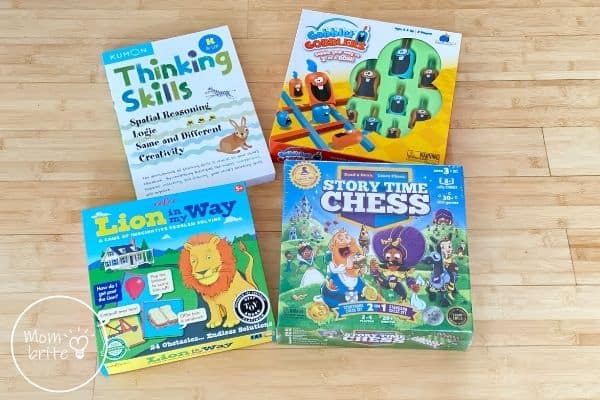 STEM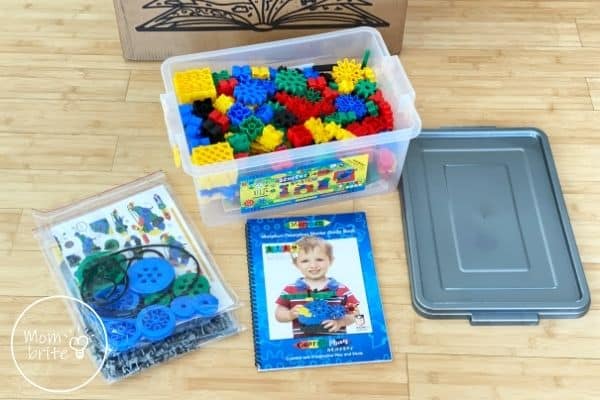 ThinkPlay Gears Extreme: We use simple machines like pulleys in our everyday life, and ThinkPlay Gears Extreme allows young kids to explore basic physics concepts through fun construction gears. My daughter loves playing with LEGO blocks and I am hoping she will also love manipulating these gears to assemble simple machines.
Science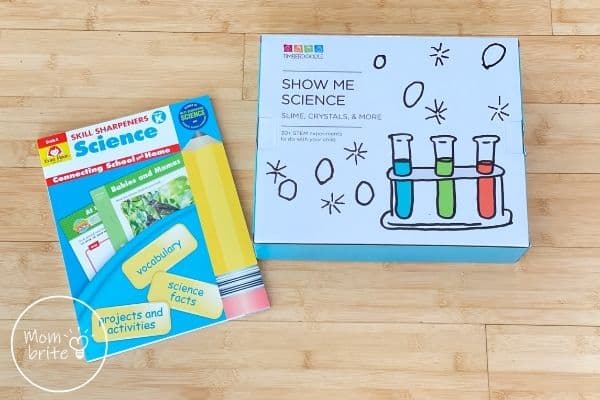 Skill Sharpeners Science – Grade K: While we love to do science experiments, there are some science concepts that you can't really demonstrate through hands-on projects. The Skill Sharpeners Science book will allow me to teach my kindergartener physical, life, and earth science with engaging activities.
Show Me Science: Slime, Crystals, & More: Doing science experiments is fun, but sometimes I don't have all the materials at home. Having the Show Me Science kit will make incorporating science experiments in the homeschooling curriculum much easier.
History & Social Studies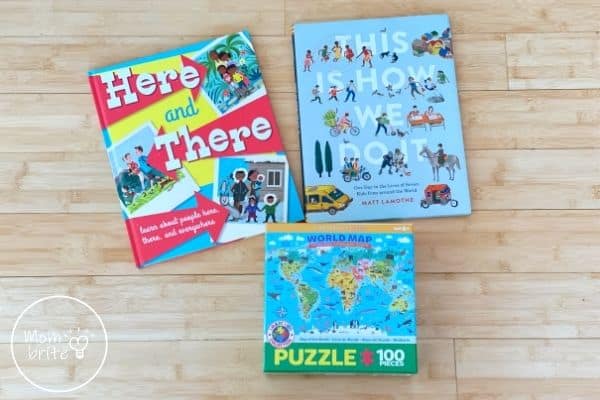 Here and There: Without traveling all around the world, it's hard for children to picture what life is like in another country. The Here and There book teaches children about various cultures through retro illustrations that will open their eyes about people all over the world.
This is How We Do It: We received This is How We Do It as a free gift for ordering more than $75. I selected it because it complements the Here and There book. You follow the real lives of 7 kids around the world and get a glance at the different traditions of the kids across the globe.
Geography
Kids World Map Puzzle 100: Memorizing a map might not be the most exciting thing for kids. For kids who love jig-saw puzzles, the Kids World Map Puzzle 100 is a great way to learn about the geography of the world. 
Final Thoughts on the Custom Kindergarten Curriculum Kit
Discovery Timberdoodle has certainly made a huge difference for our homeschool. I just love how all the subjects you need to teach your kids are all in one place.
Timberdoodle also provides so many different alternates if you already have a particular resource. There are many fun homeschooling items like the Smart Farmer Game and the Brain Builder Trio that I would have never heard about without Timberdoodle.
I encourage you to go on Timberdoodle and look through their premade curriculums. If you already have some of the resources, then look into making one with Timberdoodle's Custom Kit Builder. Then be ready to start the homeschool year with a bang!
---
Related Posts: