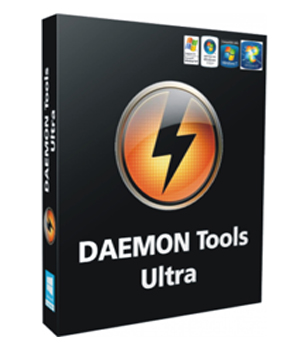 DAEMON Tools Ultra – is a user-friendly application that brings together some of the most popular functions of DAEMON Tools Pro and combines them with intuitive handling.
Users simply need to drag and drop an image onto the main window of "DAEMON Tools Ultra" and it immediately gets mounted, without any additional effort on the user's part.
Furthermore, DAEMON Tools Ultra enables users to create and mount VHD images, guiding them with easy to understand instructions.
Features
Functionality:
• Mount disc images in *.mdx, *.mds/*.mdf, *.iso, *.b5t, *.b6t, *.bwt, *.ccd, *.cdi, *.bin/*.cue, *.ape/*.cue, *.flac/*.cue, *.nrg, *.isz
• Convert all supported image formats to *.mdf/*.mds, *.mdx, *.iso
• Make images of CD, DVD, Blu-ray discs
• Make compressed disc images or split one image to several files
• Protect disc images with password
VHD support:
• Create and mount read/write Virtual Hard Disk images with dynamic or fixed size
• Use VHD images to back up any of your data
• Have easy access to your data stored in VHD file
• Choose now the mounting option – HDD or removable device
Bootable USB devices:
• Write bootable images to USB devices in a few clicks
• Store operating system installer on fast, reusable, durable and handy device
• Setup OS on notebooks without drives easily and quickly
RAM disks:
• Create and mount virtual RAM disks that use a block of memory
• Keep your temporary files in the fastest storage to get the highest performance
• Forget about hard disk fragmentation caused by undeleted temporary files
• Synchronize RAM disk with VHD to use it after the reboot
Media devices virtualization:
• Use "Quick Mount" option to mount and use up to 32 disc images right away
• Set up to 32 SCSI and 4 IDE virtual devices in advanced mode
• Change the device parameters if necessary (a device letter, mount point, etc.)
• Customize image parameters for future mounting in Image Catalog
iSCSI Initiator:
• Work with iSCSI targets (optical devices only) created with DAEMON Tools Net Data Server or third party iSCSI servers
• Use DT virtual devices to mount iSCSI targets as disc images
Advanced imaging features:
• Сreate bootable USB devices easily
• Create or edit disc images simple with new widgets
• Burn created image files to media discs
• Burn disc images with RMPS data
• Master bootable discs or images
• Manage your Image Collection
New generation interface:
• Try easy-to-use wizards for main program functions
• Check out simple and clear design of Image Catalog
• Use "Quick Mount" option to mount disc images in one click
• Perform basic actions via handy DAEMON Tools Gadget on Windows Desktop
GameSpace – we know everything about games:
• Get more information relevant to discs in your Image Collection
• Stay tuned: read game news and reviews posted daily
• Browse for game-play videos, screenshots and recommendations
• Find out top rated and most played games
• Search disc images and much more
What's New
* Edit and convert Linux bootable images
* Create a Bootable USB for Linux in MBR+BIOS mode
* Try improved file transfer with Catch! in the local network
* Choose networks in which Catch! for Android works in a background mode
* Browse remote devices with Catch! for iOS
Bugs fixed:
* Fixed: USB devices shared via iSCSI Target could not be opened from Ultra
* Fixed: Random crash while selecting the Project name in Burn a Data Disc wizard
* Fixed: Minor bugs
Title Release: DAEMON.Tools.Ultra.5.8.0.1395
Developer: Home Page
License: ShareWare
OS: Windows
Download:

DAEMON Tools Ultra 5.8.0.1395 (35 MB)
The post DAEMON Tools Ultra 5.8.0.1395 Multilingual [Latest] appeared first on S0ft4PC.