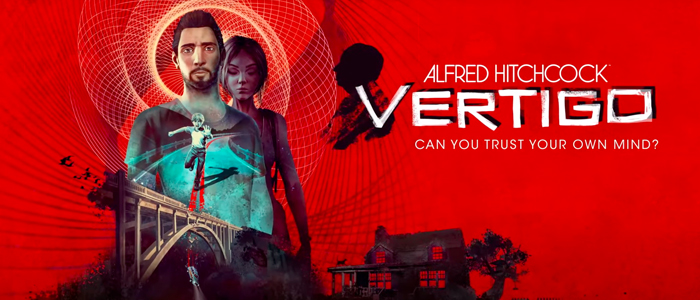 Alfred Hitchcock's classic film Vertigo was released in 1958 – the same year one of the earliest officially recognized video games, called Tennis for Two, was released. It took 63 years, but a Vertigo video game is now on the way and is set to be released later this year. But players won't play as Jimmy Stewart's retired police detective character from the movie: despite the title, this game is only inspired by Hitchcock's film and will not be a direct adaptation of it. Check out a teaser trailer and learn more about the game below.
Vertigo Video Game Trailer
How is the Game Different From The Movie?
In a behind-the-scenes video about the making of the game (via Gematsu), Pendulo Studios narrative designer Josué Monchan explained that their version of Vertigo "is a narrative and adventure game freely inspired by the movie masterpiece directed by Alfred Hitchcock." The game's themes are roughly the same as the ones that flow throughout the film, relying on obsession, memory, perception, manipulation, identity, and madness to propel players through its narrative. The game's designers studied Hitchcock's camerawork (including the famous "Vertigo shot," or dolly zoom) and tried to lean on the aesthetic of film mysteries and thrillers when crafting their own mystery here. Players will be able to control three different characters to fill in gaps from multiple perspectives, as well as explore different timelines to "cross-check the events and separate reality from deceptive memories."
Hitchcock's film, which topped Sight & Sound's most recent poll of the greatest films of all time, is a mystery about a former detective stricken with vertigo who is hired to keep tabs on an acquaintance's wife, only to become obsessed with her.
The game, on the other hand, tells a completely different story – and actually takes inspiration from other Hitchcock movies as well, including Spellbound, Psycho, and Rebecca. Here is the game's official synopsis:
In Alfred Hitchcock – Vertigo, dive into a new kind of psychological thriller, and walk on a thin line between reality and fantasy.

Writer Ed Miller came out unscathed from his car crash down into Brody Canyon, California. Even though no one was found inside the car wreckage, Ed insists that he was traveling with his wife and daughter. Traumatized by this event, he begins to suffer from severe vertigo. As he starts therapy, he will try to uncover what really happened on that tragic day.
Alfred Hitchcock – Vertigo is expected to be released for PlayStation 5, Xbox Series, PlayStation 4, Xbox One, Switch, and PC (Steam) sometime in late 2021.
The post A 'Vertigo' Video Game, Inspired By the Alfred Hitchcock Movie, is Somehow On the Way appeared first on /Film.