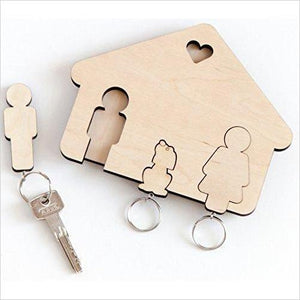 Family Key Holder
Regular price
$18.99
$0.00
Details:
Where Are My Keys?
Do you ask this question out loud every time you're about to leave your house to go to work or to meet your friends?
Then you definitely need this wooden key holder by GoodsWoods to help you keep your keys organized in one place.
The key ring hanger comes in 17 different designs, so you can find the one that best matches the style and décor of your house!
You Will Not Find These Key Holders Anywhere Else!
Why? Because here at GoodsWoods we design and create these unique wall mounted wooden key hangers ourselves!
So if you want your home décor to stand out and have a warm, welcoming feel, one of these handmade key racks is what you need.
Hang The Key Holder On A Wall With One Simple Move!
This key ring holder can be hung on any wall in your house, so that you can hang your home and car keys.
However, you don't need to ruin your walls with nails. Conveniently, this is a stick-on wall mounted key organizer.
So all you have to do is stick the self-adhesive backing of the key hanger to the spot that you want, and it's ready for use!
Your Satisfaction Is Our Top Priority!
Are you unsatisfied with the premium quality and undeniable practicality of the GoodsWoods key fob holder?
Then use our 100% satisfaction guarantee, and get a full refund! This is a completely risk free purchase, so don't waste another minute!
Scroll Up And Click The "Add to Cart" Button NOW!
Features:
KEEP YOUR KEYS ORGANIZED: Keep your home and car keys organized with the GoodsWoods beautiful wooden key holder! If you place this wall mounted key rack next to the entrance of your house, you will never be late for work or an appointment again, because you couldn't find your keys.
A UNIQUE HANDMADE PIECE: Best present. This beautiful key fob holder is 100% handmade by creative and experienced craftspeople, using premium quality wood materials. With great attention to detail, we have therefore created a practical key hanger that also functions as a decorative piece!
KEYCHAINS FOR THE ENTIRE FAMILY: Each GoodsWoods key organizer comes with matching keychains for the entire family! There are 17 different key holder designs, and all of them come with their own special keyrings, so that the members of your family can find their keys easily!
DON'T RUIN YOUR HOUSE WALLS: There's no need to grab a hammer and ruin a wall of your house in order to hang this wooden key holder on it. This is a stick-on key hanger that comes with a strong, self-adhesive backing, so all you have to do is find the right spot and stick the key holder to it. That was easy, right?
A 100% RISK-FREE PURCHASE: The handmade key holder is backed up with a 100% satisfaction guarantee. So if you're not satisfied with the unique design and practicality of the wooden key hanger rack, GoodsWoods will give you your money back, no questions asked.
Brand: GoodsWoods
Color: Cream
Publisher: GoodsWoods
UPC: 692264981333
EAN: 0692264981333
Package Dimensions: 6.8 x 6.5 x 0.8 inches