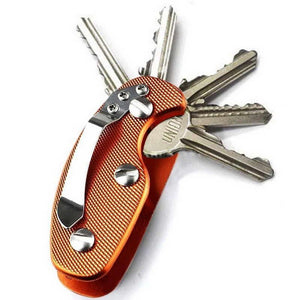 Portable Compact Key Organizer
Regular price
$18.99
Sale price
$28.99
Considerations in Choosing the Best Key Holder Organizer
There are many things to consider in choosing best key holder organizer product. You need to pay attention on its material, design, feature, and even price.
The more solid the material, the longer it will stay. Do not choose plastic-based key holder since it will not as well preserve as steel-based product. This  key holder is made with aluminum alloys. Its assembly makes it incredibly durable, so it will not break if it falls out of a pocket or gets dropped.
Next to look is the overall design. Design is important since it can be your pride and make you confidence to bring it everywhere. In deciding the outlook, it is better to follow your desire since every people have their own taste. This key organizer features a very practical, compact design that makes it perfect to fit your pockets. Your keys are stored neatly with the space saving design. The perfect gift for every man and woman!
Feature also plays important role since it is the main reason of buying certain product. People buy certain product to utilize its features. This key organizer can hold up to 5 different keys or tools and is perfect as a key fob holder to serve all your needs. It tightly holds the keys together and it eliminates the frustrating jingling sound all key bundles produce.
This key organizer is surely will KEEP ALL YOUR KEYS PERFECTLY ORGANIZED!
Grab this awesome Portable Compact Key Organizer Now!
FREE SHIPPING!
Good for: 

Magnesium

Material:

Aluminum Alloy
Note: Please allow us 2 to 4 weeks for delivery.