KeyComp™ Micro Key Organizer
Regular price
$12.90
Sale price
$25.80
Sleek and Stylish Organizer For Your Keys!
Tired of keys sticking out and poking through your jeans? 
Annoyed with constantly wasting time trying to find your keys in the morning?
Keep Your Keyes Organised & Never lose your keys again!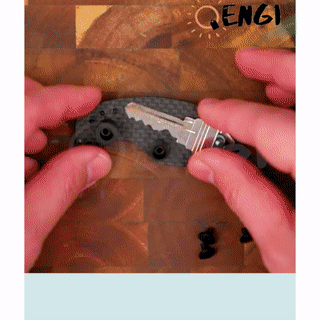 Holds Tightly For No Pocket Jingle
KeyComp™ Micro Key Organizer features a smart and practical design that tucks all your keys away in one place.
Its superior locking mechanism holds all your keys tightly and securely! Now you can carry your keys everywhere in a compact form without bulky & annoying jingling.
Comfortable In The Pocket
Say goodbye to holes and bulky weight in your pocket! It's designed to be lightweight and portable so it fits your pockets perfectly.
No more unsightly bulky keys! It also has a sleek and stylish finish that goes great with every bag or every outfit.
Holds Up To 5 Flat Keys 
Organize your keys and make them easy to find! This ultra-compact organizer holds up to 5 flat keys together, so you never waste time rummaging through your pockets and drawers for them.
You can hold car keys, home and office keys, cabinet keys and more in just one unique device!
Ultra Strong + Lightweight Aluminum Alloy!
Made from high-grade aluminum alloy, it's built to last and completely scratch-resistant so you can use it as much and as long as you want!
Its key bolt is also guaranteed not to break or loosen even if it falls out of your pocket or from your hand!
"I tend to lose things a lot, especially my keys! I can't tell you how many times I ran late for work or didn't show up early to an important event because I couldn't find my keys. This is a lifesaver! Glad I have this handy lil organizer to keep all my keys intact."
Why choose KeyComp™ Micro Key Organizer?
Compact and lightweight 
Fits easily in your pocket or bag
Space-saving design
Can hold 5 keys
Sleek and fashionable look
High-quality wear-resistant alloy material
Impact-proof and anti-loosening bolt
PACKAGE INCLUDES
1 x KeyComp™ Micro Key Organizer 
1 x Accessories Pack (Screws and Rubber Rings)
Promo sale ends soon - if sold out, please check back next month.