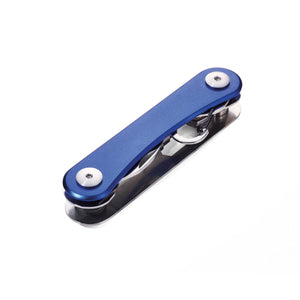 Troika Clever Key Organizer Pocket Tool
Regular price
$19.95
$0.00
Troika Clever Key a Handy Pocket Tool That Organizes Your Keys
Troika Clever Key solves the problem of loose keys dangling in your pocket and damaging the fabric lining of your pocket and provides some additional tool essentials in a compact and smooth design.
Eliminate a bulky and unruly key-chain with a stylish and practical Troika Clever Key Organizer.
TROIKA CLEVER KEY Key organizer for max. 6 keys has 6 additional functions: a bottle opener, carabiner for attaching to bag or beltloop, wrench (4 sizes), slotted screwdriver, a tool for wing screws, cm/inch ruler, incl. belt pouch. Troika Clever Key includes a handy attachment for your car key. Troika Clever Key has a strong aluminum and stainless steel housing and is available in mat silver/titanium or blue back plate both with a chromed front plate.
Troika Clever Key Product Features
Material Stainless Steel and Aluminum
Belt pouch included
Dimensions 3.74 x 0.91 x 0.79 inch
Weight 0.12 Lbs
Holds up to 6 keys
6 additional functions: bottle opener, slotted screwdriver, wrench, wing nut tool, cm/inch ruler and carabiner for a belt loop
Packaging brown cardboard box with full-color sleeve
Customize Troika Clever Key Organizer with Logo Engraving
Max engraving surface size: 2.25 x 0.375 inches

Engrave the owner's name, a special message, or promote your business with customized Troika Clever Key Organizers.
.