One night in 2015, I sat beside a club official watching a Barça–Atlético Madrid game in the Camp Nou. When the game began, he said, "Watch Messi."
It was a bizarre sight. From kickoff, Lionel Messi went on a stroll around the opposition defense, apparently ignoring the ball. "In the first few minutes he just walks across the field," explained the official. "He is looking at each opponent, where the guy positions himself, and how their defense fits together."
Messi was storing his observations in his visual memory. At one point in the opening minutes, Barça's center-back Javier Mascherano passed to him, and Messi just let the ball roll into touch. He wasn't ready to play yet. He performs the same routine every match. His old coach Guardiola explains, "After five, ten minutes, he has the map in his eyes and in his brain, to know exactly where is the space and what is the panorama."
Messi is a curiously overlooked footballer. He has been predictably brilliant for so long that we have come to take his brilliance for granted, something to be dismissed in a phrase. He's a "PlayStation footballer," said Arsène Wenger; "Like a cartoon," said Samuel Eto'o; "A magician!" shout commentators. I want to try to let daylight in on the magic.
One sun-drenched February morning at the Joan Gamper training complex, when it felt unfair that anyone was allowed to have a stimulating job in such a paradisial city, I watched Messi cruise past me into the players' parking lot: a little man in a baseball cap, perched high in his luxury crossover SUV sponsor's car, reporting for another day at the office. It got me thinking about how Barça has managed him day-to-day, and how he does what he does, week in, week out, ever since his debut for the first team in 2004. How did Barcelona transform a soloist into a team player? And how did they keep him on board for so long? The club's Messi strategy—which entailed shaping the entire workplace around employee number one—was for fifteen years possibly the most successful long-term man-management project in football history. But it worked also because Messi's career has coincided with the most star-friendly era of the game. This chapter takes his story up to about 2015. The period after that, during which FC Barcelona degenerated into FC Messi, comes in the final chapter of the book.
I didn't interview Messi. I was careful not to use up my bank of favors with Barça, and I understood that requesting fifteen minutes with him would have taken me over the limit, even presuming the club was able to produce him. (Nobody at Barcelona tells Messi what to do.)
The first time I saw Messi was just after his eighteen birthday, on June 28, 2005, in the semifinal of the under-20s World Cup.
It also probably wouldn't have been worth it. Messi reached the age of thirty without ever saying an interesting sentence in public. My colleague John Carlin, who interviewed him twice, said that if offered a third opportunity he'd decline it. Even now that Messi sometimes talks, he still shows almost no inclination to explain either his art or his power within Barça. It's not clear that he is able to. Instead, I've tried to understand Messi by watching him closely, and by listening to people who have watched him even more closely.
*
The coming of Messi was foretold to me by a man from his hometown of Rosario. In October 2000, I had coffee in Buenos Aires with a cheery little football nut called Roberto Fontanarrosa, a cartoonist and novelist. He explained to me the Argentinian belief that Maradona could only have come from Argentina. Maradona, in Fontanarrosa's telling, was an Argentinian type that dates back to the 1920s, or even earlier: the pibe (boy) from the potrero (bumpy urban space) who wins games with dribbles. Fontanarrosa admitted that he himself cherished the absurd belief that Argentina would produce another Maradona. Fontanarrosa lived just long enough to see it happen. He died in 2007, his funeral procession pausing beside the home ground of his beloved Rosario Central.
While Fontanarrosa and I were having coffee, a thirteen-year-old from Rosario and his dad were waiting impatiently in Barcelona for the club to sign him. Lionel Andrés Messi Cuccittini was then just 4'7″, the height of a nine-year-old, but he had needed only about five minutes in a training session with bigger boys to get Barça's technical director Charly Rexach exclaiming, "Who's that?" and then, "Christ, we need to sign him right now." When someone remarked that the kid looked like a table-football player, Rexach said, "Then bring me all the table-football players because I want them in my team."
Only months later, in December 2000, did Rexach finally scrawl an agreement in principle on a now-legendary paper napkin. Barça agreed to fund Messi's growth-hormone treatments. Without those, he wouldn't have attained even his modest adult height of 1.69 meters, and like so many people from poorer countries, would probably have ended up physically unsuited to top-level sport. Small may be beautiful in football, but tiny is not.
Watching videos of Messi from the age of five, you see that he arrived at Barcelona as almost a perfect pibe, a dribbler who could see opponents coming as if in slow motion. In one video, a tiny kid with slicked-back hair, cooler than you'd expect, smiles into the camera and says, "My name is Lionel Messi, I'm thirteen years old. I'd like to play for Barcelona. I think it's the best football team in the world." (It wasn't then.)
Very unusually, Barça paid for Messi's parents and siblings to move with him. The child's salary of €120,000 a year—probably unprecedented in the Masia—was meant to support them all. The Messis retained their family structure at the price of inverting it: the thirteen-year-old youngest son became the migrant breadwinner. Like the twelve-year-old Cruyff after the death of his father, Messi experienced the sudden end of childhood, and the onset of responsibility. All the Messis cried in the taxi to Rosario airport, he would recall, yet taking the family with him may have made the difference. Living in a dorm room across the ocean away from his parents, having to inject himself with growth hormones every day, might have been beyond even him.
Unlike many Masia families, the Messis held together and resisted chasing quick money. They waited patiently for their boy to mature in Barcelona. A club staffer who is close to the player told me, "Messi had a structure. Good or bad, he had one." But Messi's older brother Rodrigo later admitted, "We didn't adapt very well. We were united, but one person did something and the others did nothing. So we all suffered in different ways."
Messi is a more limited and disciplined figure than past greats largely because he has been a professional athlete since adolescence.
Whereas Maradona and Cruyff are products of Argentina and the Calvinist Netherlands, Messi grew up almost outside society, the joint creation of a family and a football academy.
Until he broke into Barcelona's first team at age seventeen and encountered teammates who demanded the ball, he didn't need to pass, recalled Pere Gratacós, who coached him in the Masia. As Messi recalled it, he kept "forgetting" to pass, adding, "Gradually I managed to play more for the team but I didn't make it easy for them, because I have always been very stubborn."
Barça had to try to teach a natural to play collective football. Twice coaches benched him for holding on to the ball too much, but the Masia never quite turned him into a Cruyffian ensemble player. On the Baby Dream Team, Messi scored his goals alone. That wasn't a good omen. None of the Argentinian pibes who were supposed to become the next Maradona—not Pablo Aimar or Ariel Ortega or Marcelo Gallardo or Javier Saviola, who signed for Barça's first team in 2001—ever fully transitioned from el fútbol de la calle, street football, to the collective European game.
There was also something worryingly childlike about Messi, recounts the German writer Ronald Reng. When Guardiola first spotted the tiny shy kid with his father in the Nike shop at the airport, he wondered, "Is this one as good as they say?" Messi practically lived in tracksuits, didn't seem to own a pair of jeans, had only ever attempted to read one book, a biography of Maradona (which he didn't finish), and was assumed by his teammates to be mute until one day he suddenly burst into speech during an emotional game of PlayStation. "The game was his means of communication," Gratacós told me.
Very unusually, Barça paid for Messi's parents and siblings to move with him.
Still, by the time Messi was sixteen and on the verge of the first team, the club was desperate. "There is a curse on us," sighed Radomir Antić, briefly Barça's first-team coach during the 2002–2003 season, which they finished sixth in the Spanish league playing boring football.
"In 2003 I was 'the cancer of Barcelona,'" recalled Xavi. His style of play seemed to have become outdated: most other big clubs were fielding giants in central midfield. Barça's debts were estimated at €186 million, well above its annual revenues. Even the players' wage bill exceeded total revenues. Barça was a "money-losing machine" that risked "remaining a small local brand," more a Valencia than a Real Madrid, said Ferran Soriano, who became the club's chief executive in 2003. The club had then won just one Champions League in its history; Madrid had won nine.
Laporta had been elected club president that summer on the promise of signing David Beckham. The Englishman was to be Barça's very own galáctico. But Beckham understandably preferred to join his fellow galácticos at Real Madrid. Barça also failed to sign an eighteen-year-old Portuguese winger named Cristiano Ronaldo, who went to Manchester United instead. "We thought €18 million was too high a price," Soriano admitted later. Imagine football history had they put Ronaldo and Messi together as teenagers.
Instead Barça hurriedly bought Brazilian playmaker Ronaldinho from Paris Saint-Germain, where he'd had an up-and-down time, with spells on the bench and others being used as an old-fashioned English-style target-man center-forward.
Club officials initially struggled to convince Barça's new coach, Frank Rijkaard, to let a tiny sixteen-year-old train with the first team. When the Dutchman finally gave permission, a staffer collected Messi from his brother Rodrigo's apartment a few streets from the stadium. "Nervous?" the staffer asked kindly as the boy got into the car. "No," replied Messi. After the session, the staffer asked Ronaldinho if the Argentinian child with a flowerpot haircut was good enough to train with the team. "He should be playing for the team already," replied the Brazilian.
In November 2003, in a friendly match against FC Porto (who were managed by a young Barça alumnus, José Mourinho), Messi made his debut for the first team. He "had absolutely no trouble with nerves," recalled Rijkaard's assistant Henk ten Cate. The boy, who rarely bothered watching football on TV, didn't know the names of his opponents or much football history. None of it interested him. He knew he belonged on Barça's first team. But he quickly learned to play down his talents so as not to offend his famous teammates, who were having a hard enough time as it was. In December 2003, after a 5–1 defeat in the rain at Malaga, Mundo Deportivo struggled to choose its front-page headline: "Shame" or "Intolerable"? "Ridiculous" had already been rejected as "too strong."Only in early 2004 did Barça's turnaround begin.
After each training session, the squad went to the gym. Other players lifted weights, but Messi didn't see the point. He played tennis football with the Brazilian fullback Sylvinho. Ten Cate said, "I saw little Messi playing with Sylvinho, and Sylvinho was beating the crap out of him every time, and soon Messi was beating Sylvinho, and then he was beating Ronaldinho." When Rijkaard's other assistant, Eusebio Sacristán, played tennis football with Messi, he noticed that the boy always tried to beat him 11–0. "He had a winner's mentality," said Eusebio. "Other players weren't like that."
There was also something worryingly childlike about Messi.
There is a democracy of greats in which age and status melt away. Ronaldinho offered Messi the locker next to his in the stars' corner of the changing room. (The room was divided by columns into separate sections—a shape that naturally created cliques. Guardiola found this so damaging that when he later designed the changing room for Manchester City's training ground, he made it oval.)
On October 16, 2004, Messi made his official debut as a sub against Espanyol. A little over six months later, the seventeen-year-old became Barcelona's youngest ever goal scorer, against Albacete, with a lob after a lobbed pass from his mentor, Ronaldinho. The Brazilian celebrated by giving him a piggyback. "Watch this player. He will outdo us all," Ronaldinho said afterward.
The first time I saw Messi was just after his eighteen birthday, on June 28, 2005, in the semifinal of the under-20s World Cup: Brazil versus Argentina in the Dutch town of Utrecht. I'd gone in hopes of making notes on stars of the future that I could drop into articles in the years ahead.
The shortest and youngest member of the Argentinian squad had started the tournament on the bench, but had been promoted after Argentina's opening defeat to the United States. Going into the semifinal, he had scored three goals in four matches, and Laporta had raced to the Netherlands to deter potential bidders by raising his salary, reportedly thirtyfold. No other player in the semifinal was even under contract to a European club. Leafing through my notebook of the time, I see that I focused on Messi from kickoff:
"Playing as the lone striker. Not very active in moving off the ball, hangs around motionless a lot, with his head down," is my first note. But then:
In the 7th min, Messi does something for the first time: is given the ball about 30 yards from goal, accelerates past his man and curls it into the top corner with his left foot from outside the box. Brilliant.
Messi is the one man on the pitch who frequently dribbles past opponents; the crowd loves it when he has the ball . . .
V consistent, concentrated; doesn't waste the ball, always an intelligent pass > more mature than the older kids around him . . .
I wish Messi would involve himself w/the game just a bit more, as he's no mere goalscorer, but Argentina's best passer. . . .
Messi has nothing in the air; barely even tries.
Four days later I returned to Utrecht for the final, Argentina versus Nigeria. I sat in the stands next to Piet de Visser, a birdlike septuagenarian Dutch scout who had overcome various cancers and had essentially lost his stomach. He was working for Chelsea, something he tried ineffectually to keep secret. De Visser spent his life crossing the planet watching youth tournaments and knew every talented teenaged footballer on earth, referring to each one by his shirt number. When Nigeria made a substitution, he remarked, "Yes, they will be even stronger with eleven. Eleven is better than fifteen."
De Visser opened the match with a long eulogy to Argentina's number seven (the midfielder Fernando Gago): "He is the best. Never a ball wrong, that seven. Never a wrong pass, and in one minute, he has given six to eight passes. He is the boss of Boca, eh? A graceful player."
De Visser was less impressed with Argentina's captain Pablo Zabaleta: "That's what he can do: control. But you mustn't give him the ball."
Then Messi was fouled for a penalty. He waited for the keeper to move before softly rolling the ball into the other corner. "Yes, he's so good," purred De Visser. He mentioned that at the World Cup under-17s in Finland a couple of years before, Messi had been the best player, too.
The quality of the match was remarkably high. At one point in the second half, the Dutch spectators, sensing that they were witnessing something special, began clapping to the beat of the action. But had anyone asked them which player would go on to become the best in the world, many would probably have named the Nigerian midfielder Jon Obi Mikel. When Mikel beat three men in Argentina's penalty area, De Visser exclaimed, "Look, boy! Not normal, eh? Ruler of the midfield. Outclasses even Gago."
Still, when Gago was substituted for Lucas Biglia with twenty minutes to go, De Visser yelled, "That bastard coach! Boooooooo! That's never allowed."
Late in the final, Argentina got another penalty. Messi took it again. De Visser's commentary: "Such a cool frog. He waits for what the keeper does. If the keeper just stands there, [Messi] has a problem." The keeper did stay standing, but the moment he merely shifted his weight onto his right leg, Messi put the ball in the other corner. Argentina were youth world champions. Messi won the Golden Boot for highest scorer and was named player of the tournament. Mikel was runner-up. Six of the Argentinians who played that day—Gago, Biglia, Zabaleta, Messi, Ezequiel Garay, and the fifty-seventh-minute substitute Sergio Agüero— would feature nine years later in the senior World Cup final against Germany in Rio de Janeiro.
___________________________________________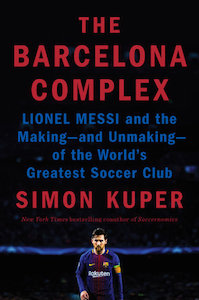 From The Barcelona Complex: Lionel Messi and the Making—and Unmaking—of the World's Greatest Soccer Club by Simon Kuper, to be published by Penguin Press, an imprint of Penguin Publishing Group, a division of Penguin Random House, LLC. Copyright © 2021 by Simon Kuper.