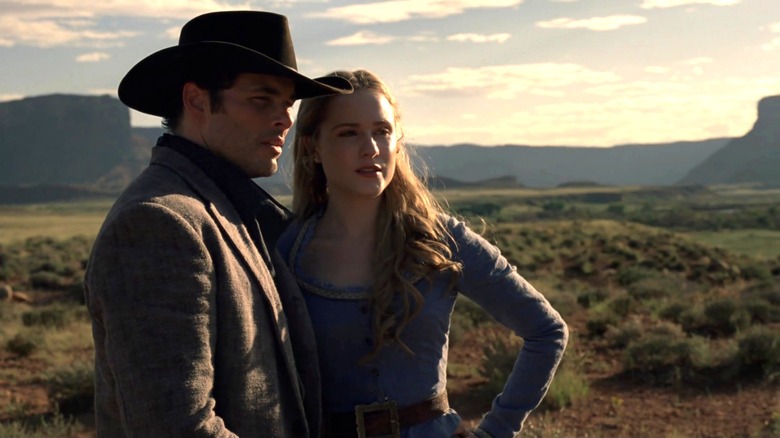 This post contains spoilers for the first season of "Westworld" and the end of "The Fabelmans."
HBO's "Westworld" is perhaps the greatest one-season show that got stretched out unnecessarily to four seasons only to be canceled just shy of the finish line. When it first premiered in 2016, "Westworld" had a lot going for it. Where else were you going to enter a saloon and hear player-piano versions of alt-rock hits like Soundgarden's "Black Hole Sun" and Radiohead's "No Surprises?"
Another thing "Westworld" had going for it — back when it was still set in the AI-powered theme park that gave the show its name — was its sweeping vistas that were already right at home in the Westerns of John Ford. These references to the legendary director's work were done by design, and they weren't the only thing "Westworld" pulled from Ford. Consider the very name of Westworld's founder, played by Anthony Hopkins: it's Robert Ford, which could be interpreted as an allusion to both John Ford and the coward Robert Ford, well-known movie assassin of Jesse James.
After the "Westworld" series premiere, many unpacked the heavy symbolism of a particular doorway shot and how it pays homage to Ford's "The Searchers"  while leading the "rancher's daughter," Dolores Abernathy (Evan Rachel Wood), and the viewer from the myth of the Old West into an interrogation of the falsity of the American dream. As cowboy Teddy (James Marsden) gets off the train in the bad little town of Sweetwater, Dolores speaks in voiceover about how Westworld's human guests are just like its robotic hosts, looking for "a place to be free, to stake out our dreams, a place with unlimited possibilities."
She could just as well be talking about America, where "The Searchers" often ranks at the top of the film canon. (The American Film Institute, for example, named it the 12th greatest film ever made.)
Where Westworld Was Filmed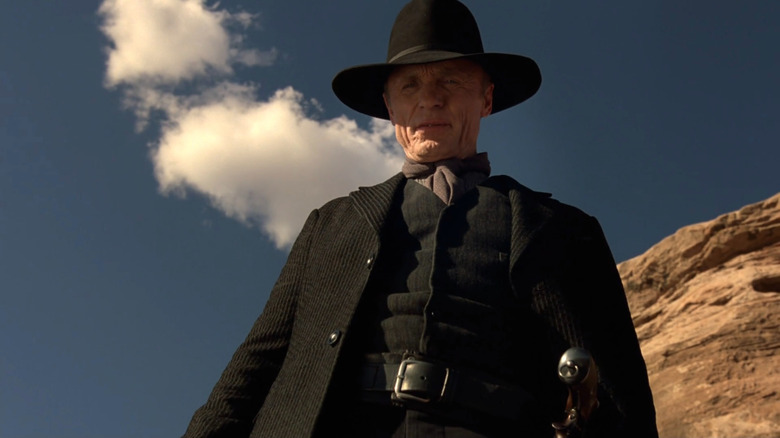 In the "Westworld" series premiere, "The Original," we see Dolores and Teddy framed against the backdrop of scenic mesas. Breathtaking helicopter shots show the two of them riding on horseback across the American frontier, the setting of so many John Ford Westerns. In a 2016 interview with Assignment X, co-showrunner Jonathan Nolan discussed why the production of "Westworld" followed Ford's films from Monument Valley, Arizona, to Castle Valley, Utah:
"When we talked about doing a Western, we went to that classic, iconic sense of the John Ford Western, the Western with that geography that is exquisitely, exclusively American. It turns out that John Ford had obviously made Monument Valley famous with his first films. His last four films were shot in Castle Valley in Moab, which is where we went back to for 'Westworld.' It's an incredibly beautiful place."
The exhilaration of Dolores and Teddy's ride across Ford's West soon gives way, however, to a much darker truth as night falls and violence comes to the ranch. Before the Man in Black (Ed Harris) temporarily "kills" the ostensible hero, Teddy, and drags Dolores off to the barn, he suggests that it's all a game of personal conquest, saying, "Winning doesn't mean anything unless someone else loses."
This also plays into what The New Yorker termed "the Western's core memory:" namely, the massacre and displacement of America's indigenous people from their homelands. In "The Searchers" — the darkness of which stuck with star John Wayne even when he wasn't on set — the Duke's flawed protagonist, Ethan Edwards, is a former Confederate soldier driven by an implacable hatred for the Comanche. They're as much of a threat to his way of life as a white settler as Westworld's Ghost Nation is to its Confederado hosts and security staff alike.
'Print The Legend'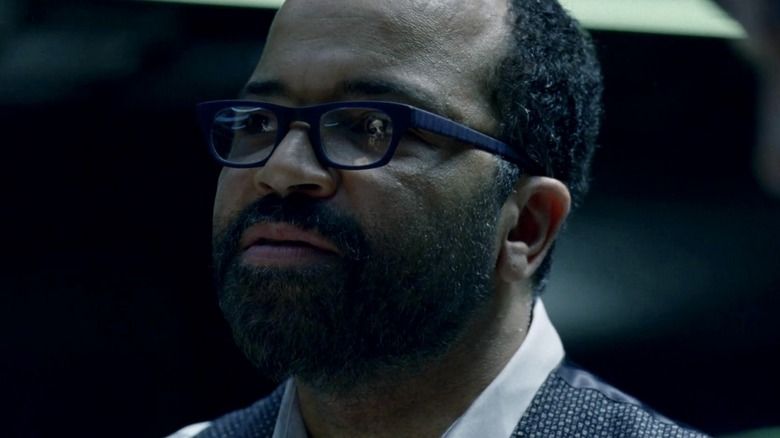 By routinely employing the Shakespearean phrase, "These violent delights have violent ends," "Westworld" seems to acknowledge — as "The Searchers" did with Ethan Edwards' backstory and revenge quest — that America is a nation forged in slavery, the theft of indigenous land, and bloody conflict, both with indigenous people and with itself in the Civil War. While the show's self-mythologizing "heroes" might succeed at the expense of others, doing so ultimately leaves them isolated like John Wayne's character.
Since "Westworld" is an ensemble show, the twisted love triangle of Dolores, Teddy, and the Man in Black isn't the only perspective we see. There's also Bernard (Jeffrey Wright), whose first question to Dolores in his baseline host test is, "Have you ever questioned the nature of your reality?" It's a deep, ontological question that also gets at the idea of, "How free are you, truly?"
For Dolores, the answer is: not very free at all. "All lives have routine," she says, yet hers is one caged by circumstance and programming, such that she can only dream of exerting free will and controlling her destiny while living out that old George Santayana quote, often paraphrased as, "Those who forget the past are doomed to repeat it."
This also applies to Bernard. In episode 3, "The Stray," as Bernard begins to uncover Westworld's secret history, he learns that Robert Ford's partner, the park's co-founder, Arnold, was scrubbed from the records, leaving Ford to take all the credit. Unbeknownst to Bernard, he himself is a host made in Arnold's likeness. Yet as Ford shows Bernard someone else's picture, he paraphrases another famous movie quote from John Ford's last great Western, "The Man Who Shot Liberty Valance" (which also starred Wayne and was fraught with production difficulty): "When the legend becomes fact, you print the legend."
Westworld And John Ford In 2023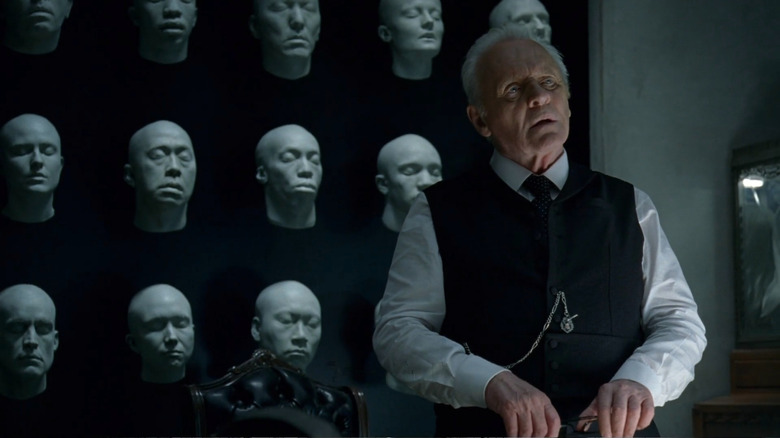 "Westworld" contains other John Ford callbacks, such as how the name of the brothel worker Clementine (Angela Sarafyan) winks at Ford's 1946 Wyatt Earp film, "My Darling Clementine." When Teddy and the Man in Black team up in pursuit of an unseen host named Wyatt, they also become Westworld's version of "The Searchers."
As a franchise, "Westworld," like Ford, also had an influence on at least one other seminal genre work. In 2023, the original "Westworld" movie — written and directed by Michael Crichton — is celebrating its 50th anniversary. In some ways, Crichton's sci-fi Western served as the cinematic prototype for his most famous novel: the 1990 techno-thriller "Jurassic Park," which sold millions of copies worldwide, and of course, provided the source material for Steven Spielberg's blockbuster film adaptation.
Though it lacks dinosaurs, Crichton's "Westworld" builds on the same basic narrative foundation of a theme park where things go horribly awry as the scientific wonders propped up as attractions begin to threaten the guests. Meanwhile, in a year when real-life researchers have been trumpeting the existential threat of AI, Spielberg nabbed multiple Oscar nominations (if not, alas, wins) for directing, co-producing, and co-writing "The Fabelmans," which sees filmmaker David Lynch donning an eye patch for a cameo as Ford.
Spielberg's young fictional alter ego, Sammy Fabelman (Gabriel LaBelle), finds himself in an office on the Paramount Studios lot, where he's surrounded by posters of Ford movies. The curmudgeonly Ford then proceeds to teach him the basics of shot composition and how it's more interesting when the horizon is at the top or bottom of the film frame. We even witness Spielberg's camera adjust itself in real-time as if to show how Ford continues to wield influence on film and television in the 21st century.
Where To Stream Westworld (And Why You Still Should)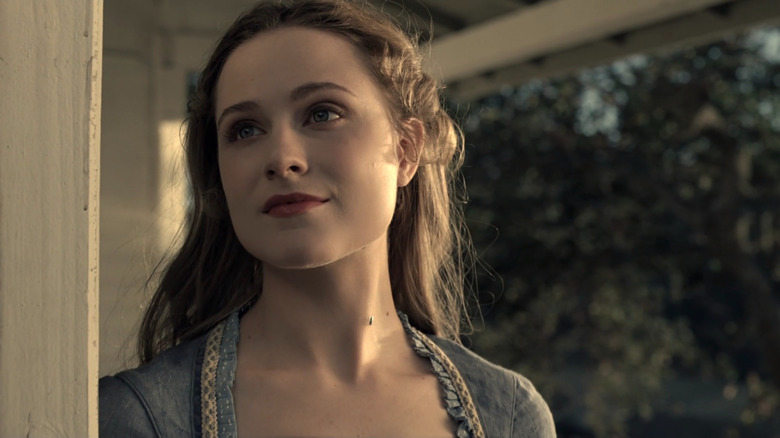 Despite being a one-time flagship HBO original series, "Westworld" was pulled from HBO Max at the end of 2022, but the bright side is that it's now streaming for free (with ads) on Roku.
With sex, violence, and sometimes unnecessary sexual violence, "Westworld" both critiqued and served "Game of Thrones"-style entertainment, even going so far as to bring in the same composer, Ramin Djawadi, who joined Vitamin String Quartet for orchestrations of songs like The Rolling Stones' "Paint It, Black" (during a shootout) and Nine Inch Nails' "Something I Can Never Have" (during an orgy).
Would the conservative John Wayne, with his distaste for "dirty" movies, have approved? Probably not. One thing's for sure: while the robotic "hosts" of Westworld are often more sympathetic than the park's flesh-and-blood guests, the show still raises profound questions in season 1 about what it means to be human. The season finale, "The Bicameral Mind," for example, takes its title from a debunked yet no less interesting theory of human consciousness, which Bernard defines as "the idea that primitive man believed his thoughts to be the voice of gods."
Robert Ford also speaks to the frustrated dreamer in all of us when he sits across from a naked Dolores (Evan Rachel Wood) in episode 5, "Contrapasso," and asks her, "Have you been dreaming again, Dolores? Imagining yourself breaking out of your modest little loop?"
By then, we've seen how Dolores is trapped in a situation beyond her control (made to suffer on repeat for the enjoyment of the depraved Man in Black). In this way, "Westworld" looks beyond movie-loving John Ford homages and speaks to themes universal enough that it keeps season 1, at least, worth watching or rewatching even after the show's cancellation.
Last Train Out Of Westworld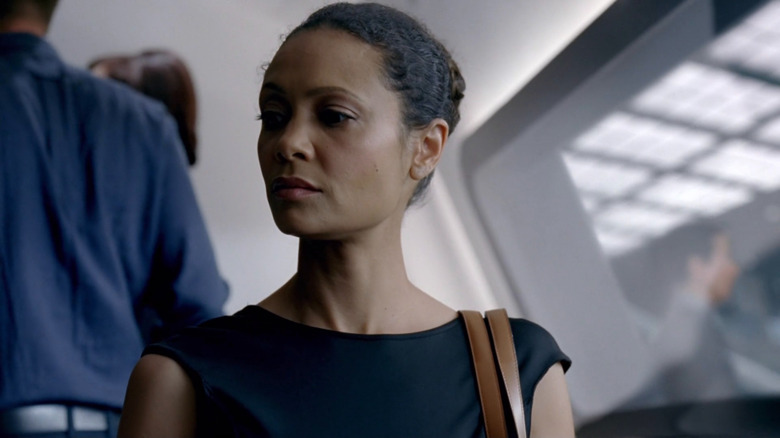 Had "Westworld" remained a special miniseries remake of Michael Crichton's film, it might have gone out on top, the way HBO's "Watchmen" did. As it is, season 1 — with its soundtrack from WaterTower Music — was such a watercooler phenomenon that Redditors got out ahead of it and predicted a key twist in the finale before it aired.
From there, "Westworld" started losing momentum and was almost undone by its own inability to outsmart its audience (or remain coherent while trying). As we noted after its cancellation, "Westworld" had been hemorrhaging viewers since season 1. Another reason why this may have happened is that, by season 3, "Westworld" had all but abandoned its own high concept: that of a sentient android theme park made to look like a John Ford Western. It was as if the series got drawn back into the franchise's failed "Future World" loop again.
Inside Westworld, characters lived the very "stories we tell ourselves of what could be, who we could become." Viewers across all seasons were free to project onto those characters, perhaps seeing glimpses of their own unrealized potential as Maeve (Thandiwe Newton), for instance, learned to control her own fate along with other hosts, or Caleb (Aaron Paul) later struggled to rise above the algorithms dictating his social status.
When Robert Ford archly enunciates, "You've been content in your little loop," it's as if he's daring the audience not to live lives of complacency. In the end, "Westworld" was never short of such ideas, but beyond season 1, it wasn't always able to execute those ideas in a compelling fashion. Still, while the Sweetwater train may not have reached its season 5 destination, as long as "Westworld" was in John Ford terrain, it provided one hell of a ride.
Read this next: The Moments That Defined TV In 2022
The post Westworld Shared More Than Its Filming Location With John Wayne's The Searchers appeared first on /Film.