[Click here to view the video in this article]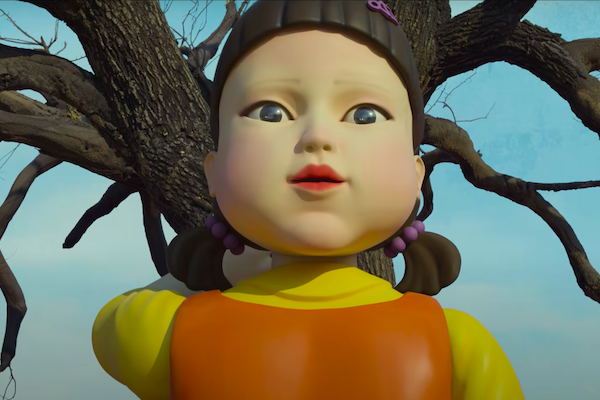 Image via Netflix
Netflix's latest hit series Squid Game features a huge animatronic doll in the first game in the first episode, who introduces the game's players to the literal life-or-death stakes in the game series they signed up for.
Depending on the viewer, sights of this doll—or even the mere memory of it—will either thrill or send a cold shiver down their spine, alongside flashbacks of the show's penchant for the gruesome.
Now, imagine stumbling upon the exact same doll in a rural area of South Korea.
Spotted by fans, the doll was on display for a short period of time at Macha Land, a horse carriage museum, about three hours away from the capital. Located in Jincheon County, it saw the larger-than-life figure displayed prominently at the entrance of the museum to "welcome" its visitors.
Passersby who were aware of the doll's role in the game were also understandably creeped out by it. Some speculated that the figure had belonged to the museum before the show borrowed it.
However, South Korean newspaper
Hankook Ilbo
reports that the doll was indeed made for Squid Game, but after the producers were finished using it, its manufacturers wanted to keep it. Due to its size, though, it's not like any of the producers could just put it away in a cupboard at home.
So they'd asked the museum to store it for them, like many other items they had made before. However, due to a miscommunication somewhere along the line, the doll didn't end up in storage—quite the opposite, actually.
The museum posted on its website last Monday that staff would be wrapping up the doll and removing it from the entrance, according to publication
Says
.
The news outlet also reported that the doll's right hand was damaged during transport, leading to an "amputation" of the extremity. As of now, it sits quietly in the storage room of a museum. Perhaps singing the haunting melody, perhaps waiting for its revenge.
오징어게임 무궁화인형 현제?
진천 마차마을 여기서 가저다 섰다고 하네요#오징어게임 #부산 #섹트 #무궁화인형 pic.twitter.com/v8GFD7bHke
— 첫눈처럼 (@Flight_sky_soo)
September 30, 2021
[via
Hypebeast
, image via
Netflix
]