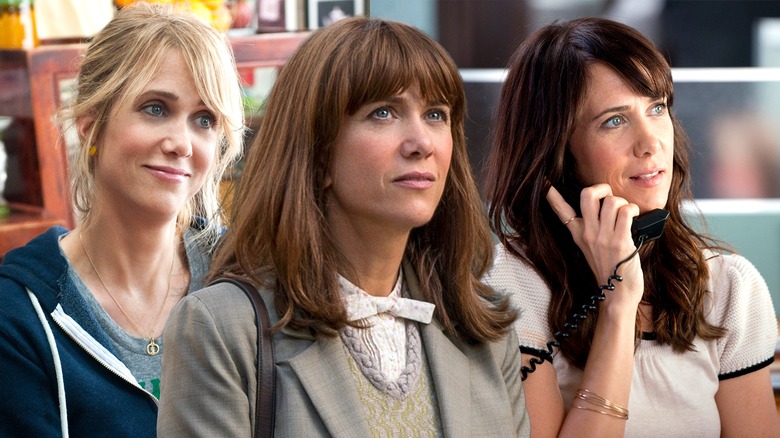 When it comes to comedy, "Saturday Night Live" is one of the best gigs an actor can get. The show has produced some of the biggest stars in the business: Bill Murray, Eddie Murphy, Will Ferrell, Tina Fey, Amy Poehler, and many more. But that list of comedy greats isn't complete without Kristin Wiig, who was a cast member on "SNL" from 2005 to 2012. Wiig's work on the show resulted in some of the most memorable sketches of the 21st century. Who could forget Gilly, the overly-excited Sue, or the beloved Target Lady?
While she was on the show, Wiig began dipping her toe into feature films, with small parts in comedies like "Knocked Up" and "Forgetting Sarah Marshall." Her biggest career moment came in 2011 with the release of "Bridesmaids," which she co-wrote and starred in alongside Maya Rudolph. Wiig also has a number of indie movies on her filmography, including "Friends with Kids" and "Pretty Bird," and became part of the DC Extended Universe with her appearance as Cheetah in "Wonder Woman 1984."
Wiig's unique style of comedy, which leans into physical awkwardness and all-around eccentricity, has earned her a devoted fanbase. But her work in indie dramas proves that she can take on more serious roles as well — no pratfalls needed. In honor of all the laughs she has given us over the years, let's take a trip down memory lane. Here are the best movies of Kristen Wiig's career.
The Secret Life Of Walter Mitty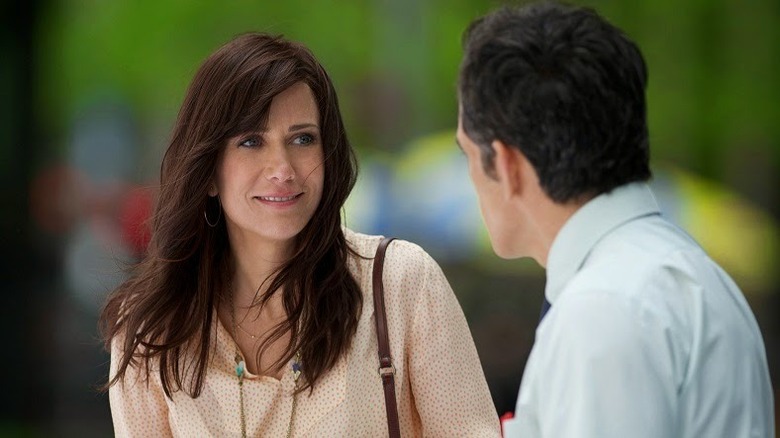 "The Secret Life of Walter Mitty" is a film with grand aspirations that it can't quite reach. Ben Stiller plays the title character, an uninspired man who works at the failing LIFE Magazine as a "negative assets manager." Bored at his job and in his personal life, Walter spends his time making up stories in which he's an adventurous hero. In real life, Walter has feelings for his coworker Cheryl (Kristen Wiig), but is too afraid to act on them.
"The Secret Life of Walter Mitty" is almost entirely devoid of cynicism, and Ben Stiller gives what's probably the most earnest performance of his career. Wiig is sweet but wildly under-utilized as Walter's love interest, a role that could've been much more dynamic than it is. The film doesn't fully meet its lofty goals — what exactly the film is trying to say isn't always clear — but there's a lot to be said for its originality and the big swings it takes. Stiller turns in a great performance, and it's really a shame that Wiig isn't given more to work with, as she could've elevated the film with a little more material. As it stands, "The Secret Life of Walter Mitty" is a nice-enough movie that doesn't use Wiig to her full potential.
Ghostbusters (2016)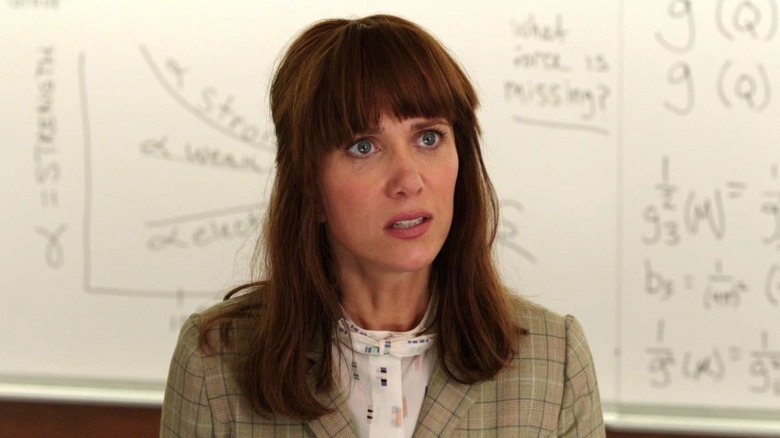 If you follow pop culture at all, you're probably not surprised that the most controversial movie of Kristen Wiig's career is the all-female reboot of the 1984 classic "Ghostbusters." The concept for the film immediately provoked outrage among fans (mostly male ones) who saw the original film as a sacred object. Looking back, it's absurd to think that something so lighthearted and silly incited such anger, but internet discourse has a way of blowing things out of proportion.
"Ghostbusters" itself is entertaining, but certainly not worth starting a riot over. Wiig plays a physicist who teams up with a paranormal researcher (Melissa McCarthy) to prove that ghosts exist. To do so, they enlist the help of a wacky engineer (Kate McKinnon) and an MTA worker (Leslie Jones) who knows the city better than anyone. Obviously, hijinks of the highest order ensue, and the four women find themselves battling to save New York from dangerous paranormal forces.
Frankly, it would be very hard to put these four women in a movie together and have it not be funny, and "Ghostbusters" succeeds in reminding us that great comedians don't need much to make us laugh. The writing could have been sharper and less childlike, but Wiig and her costars admirably lean into the goofiness. It may not be the highest point of Wiig's career, but it's far from the lowest, despite what the angry detractors say.
Welcome To Me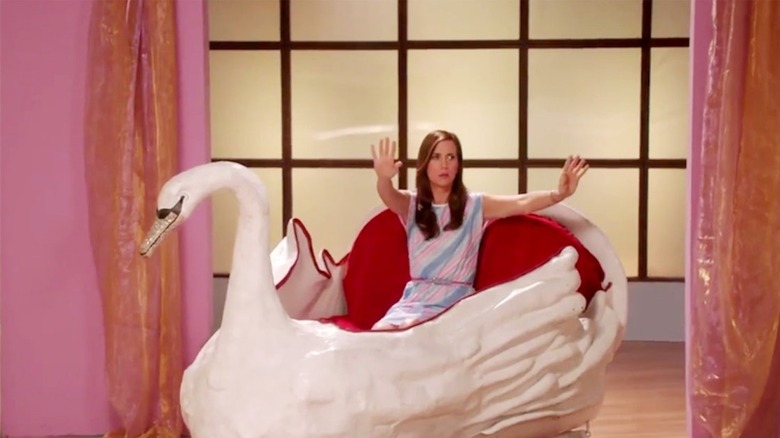 2014's "Welcome to Me" helped prove that Kristen Wiig has what it takes to carry a dramatic piece. Wiig plays Alice Klieg, a woman with bipolar disorder who keeps her TV on at all times. Obsessed with talk television and "The Oprah Winfrey Show," Alice decides to create her very own TV program when she wins $86 million in the lottery. She buys a spot on TV with her winnings and produces "Welcome to Me" a talk show in which she arrives on screen riding in a giant swan boat and hosts wacky segments like "Smelling Things Before They Happen."
"Welcome to Me" — the movie, not Alice's show — doesn't quite stick the landing, but Wiig's performance keeps it afloat even during the otherwise dull moments. It's a credit to both Wiig's acting and Shira Piven's direction that Alice, despite her oddness, never becomes the movie's punchline. Though it's billed as a "dark comedy," Wiig's performance is entirely sincere, and this allows the film to land on an emotional level rather than a wholly absurdist one. Though "Welcome to Me" is never quite as interesting as it could be, Wiig shows that she can play eccentrics empathetically just as well as she can play them for laughs.
Adventureland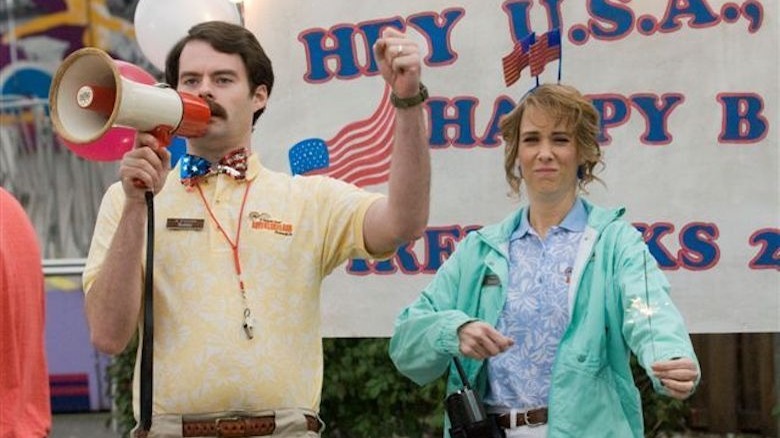 "Adventureland" is a classic 2000s coming-of-age comedy, and it feels nostalgic in more ways than one. Set in the summer of 1987, the film follows James Brennan (Jesse Eisenberg), a recent college graduate with big plans. However, instead of traveling to Europe as he hoped, James ends up working at a run-down amusement park called Adventureland, where he starts a relationship with one of his co-workers, Em (Kristen Stewart). Kristin Wiig plays Paulette, who manages Adventureland alongside her husband, Bobby (Bill Hader).
Young adult comedies are often raunchy, but while "Adventureland" doesn't shy away from crass humor, it's mostly a heartfelt story, not a sarcastic, cynical one. The coming-of-age maladies are equal parts hilarious and tragic, and the film's nostalgia-baked premise isn't overdone. Wiig doesn't have a huge role in the film, but Paulette's quiet understanding — and indeed, her generally calm demeanor — shows off a side of Wiig we hadn't yet seen at this point. It's a sweet film with a lot of charm, and had Wiig played a larger part in it, it might be higher up on the list.
The Despicable Me Series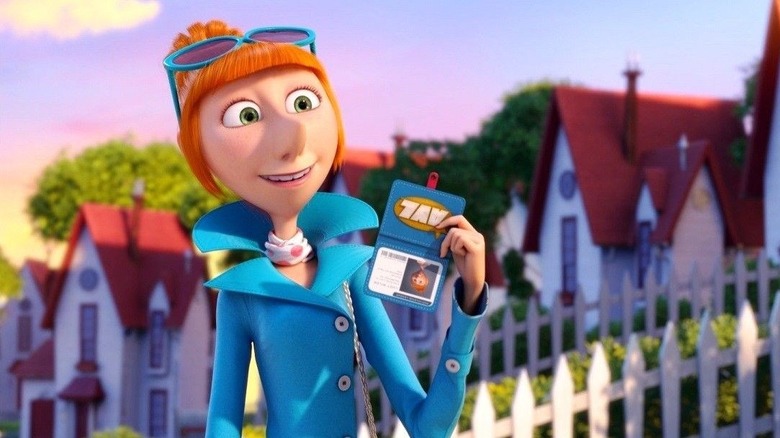 Animated films are a steady source of employment for comedians, and Kristen Wiig is no stranger to the genre. Wiig voiced a character in the 2010 film "Despicable Me," the movie that launched the global phenomenon known as the Minions. But they're just bit players here; the movie really centers on Gru (Steve Carell), an established supervillain whose work is overshadowed by the arrival of a new supervillain, Vector. As a result, Gru must take his villainy to new heights — literally. Along with his Minions, Gru plans to steal the moon, but becomes distracted by the arrival of three adorable orphan girls. Kristen Wiig plays Miss Hattie, the owner of the orphanage where the girls live.
At the time of its release, "Despicable Me" was part of a wave of successful, well-received animated films not made by Pixar, debuting alongside movies like "Coraline" and "How to Train Your Dragon" (in which Wiig also stars). Though perhaps not quite as "adult-friendly" as some Pixar films, "Despicable Me" is nonetheless an entertaining romp for viewers of all ages. Steve Carell in particular impresses as the voice of Gru; his strange vocal timbre gives the film a lot of charm.
Kristen Wiig doesn't have a huge part in the first "Despicable Me," but she returns in the second and third films in the series as a totally new character, Lucy Wilde. Though the third film doesn't reach the bar set by its predecessors, "Despicable Me 2" is great fun and Wiig's more prominent role is a large reason why. Family movies like these may not be for everyone, but there's plenty of fun to be had here.
The Skeleton Twins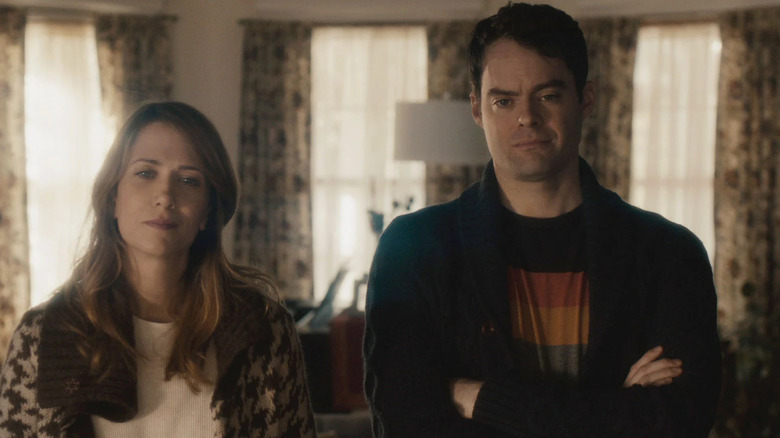 In "The Skeleton Twins," Kristen Wiig stars alongside another "Saturday Night Live" alum, Bill Hader. Wiig and Hader play estranged twins with major struggles in their lives. Unbeknownst to each other, the twins attempt to commit suicide on the same day, which leads to their reunion after spending 10 years apart. Milo (Hader) reconnects with his first love from high school, although it doesn't end well. Meanwhile, Maggie (Wiig) is hiding the fact that she doesn't want to have a baby from her husband, Lance (Luke Wilson).
Given that suicide is one of its main topics, "The Skeleton Twins" stretches the limits of what can be called a dark comedy. While the film's impulse to pile on tragedy after tragedy becomes a little tiresome, Wiig and Hader are excellent in their roles, and their prickly sibling dynamic really brings the film to life. The scene in which Maggie and Milo sing Starship's "Nothing's Gonna Stop Us Now" is a highlight, while other moments are worthy of tears.
There's not a ton about "The Skeleton Twins" that makes it stand out from a filmmaking perspective. We've seen this type of dark comedy before, though the lead performances are so good that any problems with the script become less noticeable. Kristen Wiig has been in a number of "edgy" indie films like this — enough that they sometimes run together — but this is one of the better ones.
If you or anyone you know is having suicidal thoughts, please call the National Suicide Prevention Lifeline​ by dialing 988 or by calling 1-800-273-TALK (8255)​.
The How To Train Your Dragon Series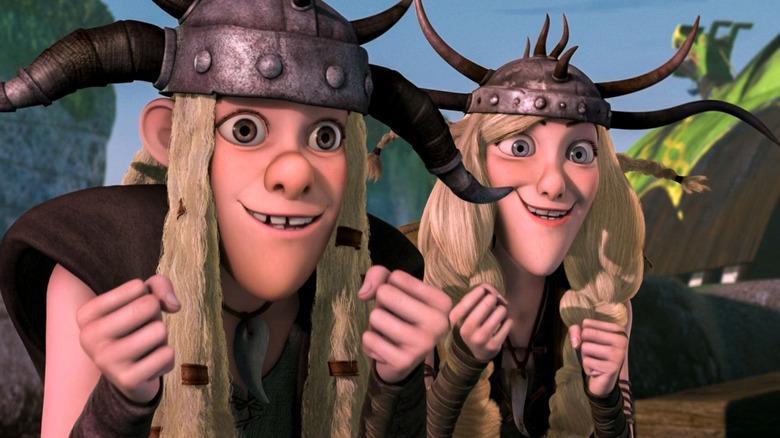 "How to Train Your Dragon" is the kind of animated film that you have to try really hard not to enjoy. There's something so charming and sweet about it that you forget about any preconceived notions you have about movies for children. The film follows a Norse teenager named Hiccup (Jay Baruchel) who's a bit of an outcast on his dragon-fighting island. Though the Vikings train to become dragon slayers, Hiccup unexpectedly befriends a dragon named Toothless instead of killing him, proving that there may be a new way forward for his people.
What follows is a story that is equal parts moving and exciting, with flying sequences that are just as thrilling as you would hope. Our awkward hero is surrounded by goofy characters who provide much of the film's humor, including two voiced by T.J. Miller and Kristen Wiig, who play a pair of tempestuous twins named Tuffnut and Ruffnut. "How to Train Your Dragon" is also a family drama, as Hiccup must stand up to his father (Gerard Butler), the chieftain of the island who doesn't understand his son's way of thinking. Things get more complicated with the arrival of Hiccup's long-lost mother (Cate Blanchett) in the second film.
Amazingly, the second and third films in the series are actually worthy follow-ups to the original, continuing the balance of humor and heart that makes the first film so brilliant. Though Hiccup and Toothless are the heart of the series, secondary characters like Ruffnut bring a lot of well-earned laughs to the table, and the project marks a considerable high point in Wiig's career.
Barb & Star Go To Vista Del Mar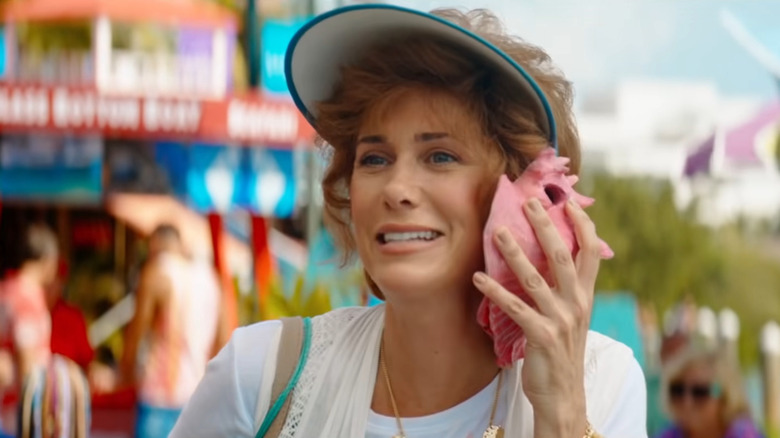 The 2021 film "Barb & Star Go to Vista Del Mar" feels like an extended "Saturday Night Live" skit. In this case, that's a very good thing. Barb (Annie Mumolo) and Star (Kristen Wiig) are lifelong friends who leave their small Midwest town and travel to a resort in Del Mar, Florida, where they plan to have the time of their lives. Unfortunately, they're thwarted by a villain named Sharon Fisherman (also played by Wiig) who intends to wreak havoc on the community. Barb and Star also encounter a handsome gentleman named Edgar (Jamie Dornan) who may not be what he seems.
"Barb & Star" is totally silly all the way through, and that's exactly what makes it so great. Wiig and Mumolo, who also wrote the film, take the bit as far as it can possibly go, and it's a delight to see two hilarious women get free rein to be as weird as they possibly can. It's not a movie that's meant to make you think or ponder the state of the world. It exists exclusively to garner laughs, and that it does. The supervillain plot is absolutely absurd, but it doesn't need to be logical to be entertaining.
In a perfect world, Barb and Star would get their own franchise and we could see them traveling to exotic locales around the world. ("Barb & Star Go to Machu Picchu"? "Barb And Star Go to Reykjavík"?) But, as it stands, we at least have one film where Kristen Wiig gets to go positively hog wild and turn the silliness up to 11. The film needs to be included in the canon of great Kristen Wiig movies, especially since her comedy DNA is all over it.
Walk Hard: The Dewey Cox Story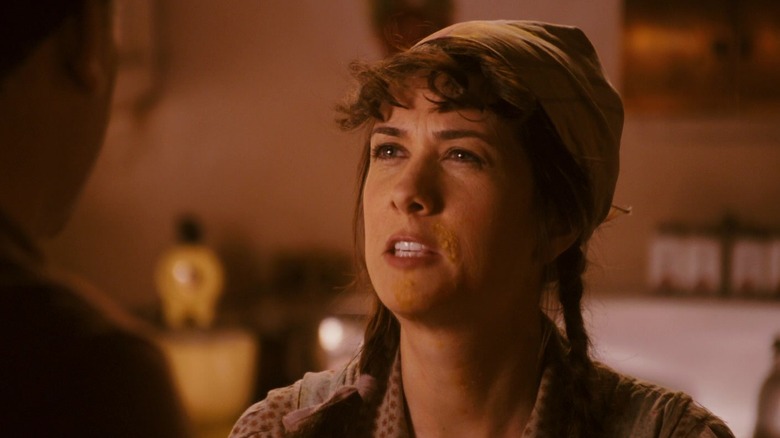 The biopic parody is a fairly niche genre, and not many films pull it off well. One that does, however, is 2007's "Walk Hard: The Dewey Cox" story, which had something of a winding road to success. Though it was received well by critics at the time, it totally bombed at the box office. Since then, though, it has become something of a cult classic, with viewers finally recognizing its comedic brilliance.
John C. Reilly plays the title character, a young man from Alabama who becomes a rock star. Dewey struggles to make a name for himself, battling drug addiction, changes in the music industry, and anger management issues. The film most clearly pokes fun at "Ray" and "Walk the Line," but it's such a brilliant take on the biopic that it's really a parody of the entire genre. It also has an incredible supporting cast, including Kristen Wiig, who plays Dewey's childhood sweetheart, Edith, with whom he has a child.
It's hard not to think of "Dewey Cox" every time you watch a music biopic because of how effectively it skewers the genre, but it's also an incredibly well-made (and well-acted) film with some surprisingly great original songs. Wiig is hilarious as Dewey's 12-year-old girlfriend, a perfect send-up of Johnny Cash's absurdly unsympathetic first wife in "Walk the Line." Her performance is an impeccable interpretation of an ingenious script.
Whip It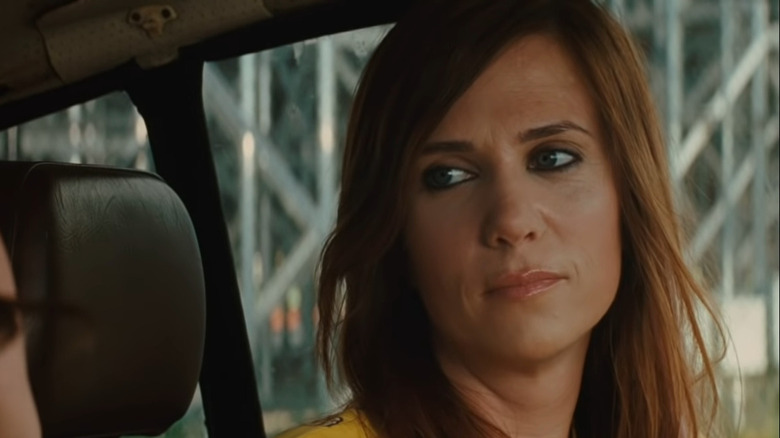 There's nothing like a great coming-of-age drama, and "Whip It" is one of those rare gems. In it, Elliot Page plays Bliss, a bored teenager who lives in small-town Texas. While visiting Austin, Bliss encounters the Hurl Scouts, a roller derby team. She tries out for the team and gets accepted, but lies to her mother (Marcia Gay Harden) about her whereabouts. The Hurl Scouts are filled with colorful characters, including the accident-prone Smashley Simpson (Drew Barrymore, who also directed the film), and Maggie Mayhem (Kristen Wiig), a single mom.
"Whip It" is a classic story about a young person who's trying to balance their family's expectations with their own hopes and dreams, but sensitive directing and some really grounded acting make it a step above the rest. Page is typically accessible in the lead role, and Maggie gives Wiig a chance to play more of a maternal character, something it turns out she excels at. In a surprising turn of events, Wiig actually plays the straight man — Barrymore is the lovable loose cannon — and her performance is understated but feels quite lived-in.
"Whip It" blends the best elements of the genres it pulls from – sports movies, coming-of-age dramas, and comedies – in order to create a really charming piece of work. All of the actors in it bring their A-game (let's not forget the badass Juliette Lewis, who plays the closest thing the film has to an antagonist), and it remains one of the best movies in Wiig's filmography.
The Diary Of A Teenage Girl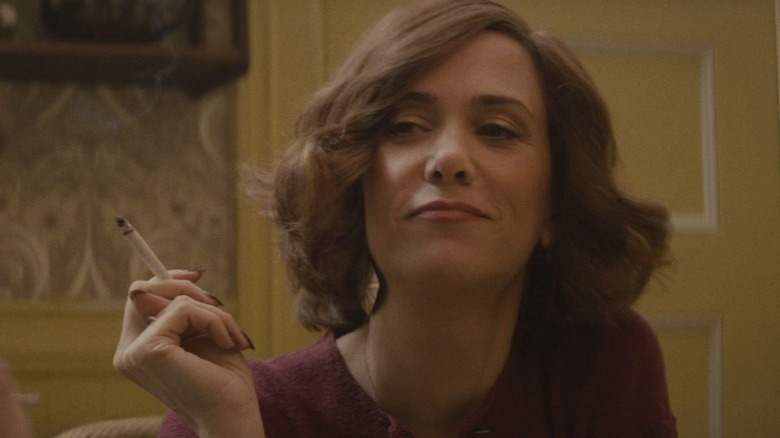 "The Diary of a Teenage Girl" is far and away the best indie film Kristen Wiig has ever starred in. Directed by Marielle Heller, who went on to direct another great non-comedic performance from a comedian with the Melissa McCarthy vehicle "Can You Ever Forgive Me," the film follows a 15-year-old girl named Minnie (Bel Powley) who strikes up a relationship with her mother's boyfriend. Kristen Wiig plays Minnie's free-spirited mother, Charlotte, and ​​Alexander Skarsgård plays her boyfriend, Monroe.
Despite its salacious subject matter, the film never feels exploitative. Minnie's perspective is so sharply drawn that you feel thankful to be invited into her weird and wacky world (one that includes an occasional animated imaginary friend.) Wiig trades her slapstick goofball routine for a more grounded performance, playing a mother who is more aloof than maternal. Charlotte is a bit of a "cool mom" character, but one in the 1970s, and her own stunted adolescence complicates her relationship with her teen daughter.
It's one of the best performances of Wiig's career, and Heller was right to cast her against type. But the film is filled with wonderful performances. Christopher Meloni also features as Minnie's stepdad, and Bel Powley provides the film's driving force. "The Diary of a Teenage Girl" contains some of Wiig's best work, but there's one film that utilizes her many talents like none other.
Bridesmaids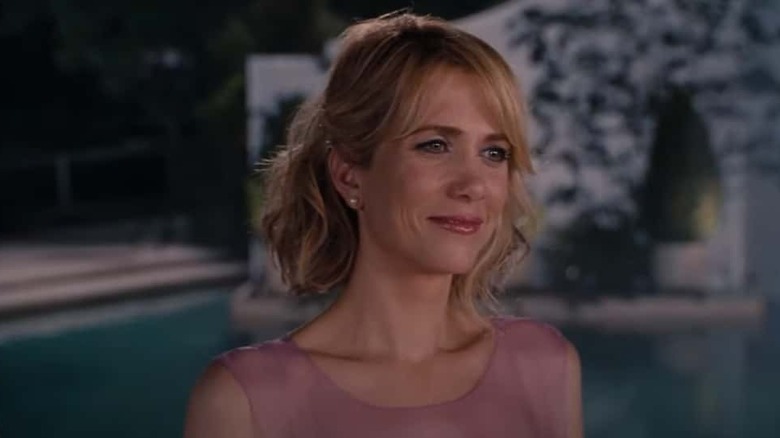 Kristen Wiig has been in some great movies over the course of her career, but one stands above the rest. That film, of course, is "Bridesmaids." Though the film's ensemble cast is incredible, it's Wiig who emerges as the hero. Not only did she co-write the film with director Paul Feig and Annie Mumulo, but her hilarious performance as resentful baker Annie is comedy gold. 
The film's endless hijinks begin when Annie learns that her best friend, Lillian (Maya Rudolph), is getting married. Naturally, Annie serves as the maid of honor, and the buildup to the wedding becomes more and more absurd as the days go on. The film is a classic, sure, but it's important to emphasize just how good Wiig and her co-stars are. Annie could easily come off as a pathetic character — and she sometimes does — but Wiig is so game to bravely embarrass herself that we can't help but feel for her.
It's truly amazing just how many gags, jokes, and shenanigans are packed into the movie's two-hour runtime, and yet the hijinks never distract from the film's heart, which is the relationship between Annie and Lillian. It's that mix of humor and heartbreak that propels the film from an forgettable buddy comedy to a truly joyous cinematic experience, and Wiig deserves every amount of praise she's received for her role in the smash hit.
Read this next: The 20 Most Influential Comedy Stars In Movie History
The post The 12 Best Kristen Wiig Movies, Ranked appeared first on /Film.