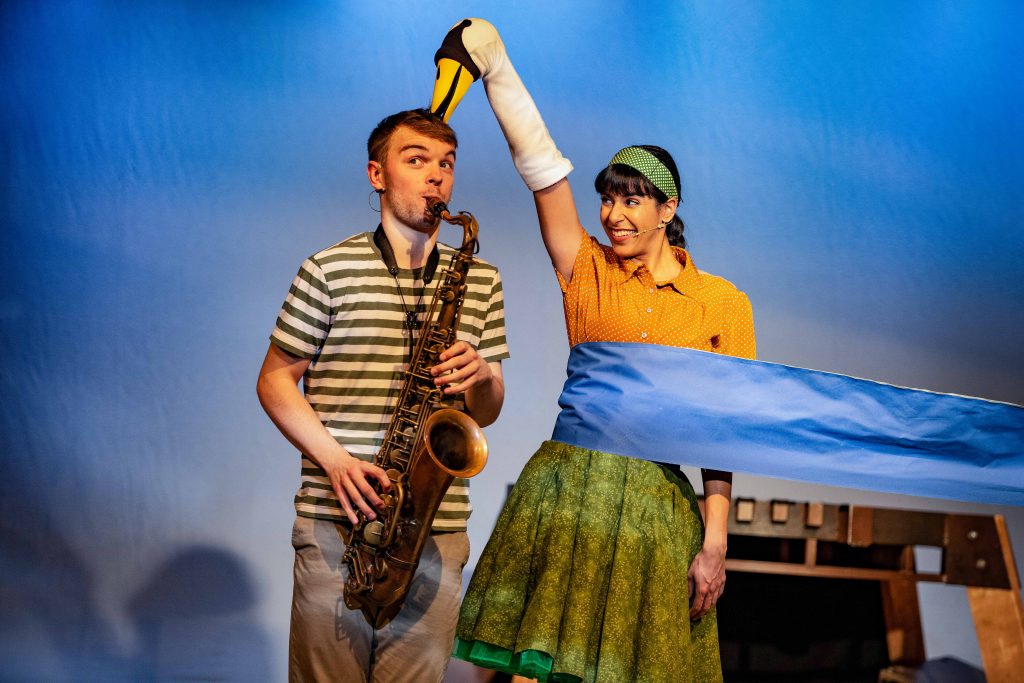 Stick Man – A previous cast. Photo Mark Senior
It's been a busy weekend, one way or another, with Saturday's shenanigans including an unplanned diversion to Seven Sisters. Just look at these lovely sunflowers:
So it was a tired mother and daughter that sat on the 38 from church to Shaftesbury Avenue. But we perked up wandering through Chinatown as there was just so much to look at. Eva was particularly taken with this display of "random Chinese snacks" as she put it. I think she was angling for some mochi. We've eaten a lot of mochi lately.
But lunch seemed a more sensible idea, so we swung by Burger King for a vegan whopper and a strawberry lemonade for the little lady. We used to frequent that branch after church in the comedy store and I remember it as being very busy and stressful. But actually, it was pretty calm our food arrived quickly. Maybe because of the guy with the megaphone outside telling people not to go into. I dunno.
Anyway, we were being surprisingly efficient so got to the Leicester Square Theatre with time to spare before the show started. Eva filled it by waxing lyrical about the armrests – they were apparently the "perfect solution" although I wasn't 100% clear on what the problem was. Still, the seats were comfy and there was lots of legroom for the massive coats I was hauling around.
I was hoping the seats weren't too comfy, given how little sleep I was operating on but I shouldn't have worried. This show was lively enough to keep even the tiredest parent engaged. And the tiredest kid as well.
The "Stick Man" book follows the trusted Julia Donaldson formula of a main character going on a journey and meeting different characters along the way. Like "The Gruffalo", there is an edge of danger in Stick Man's journey as every section puts him in peril and takes him further away from the family tree. I'll admit now that I have occasionally teared up over the ending of this book but I know for a fact that I'm not the only one. So how would all this peril translate itself to the stage?
Stick Man – A previous cast. Photo Mark Senior
The answer is with megaphones, upbeat songs and a 1950s aesthetic. The story was told by three performers – I believe we saw Aaron Douglas as the Stick Man, Lois Glenister as Stick Lady Love and Lucas Taylor as Actor-Musician. They alternate characters with dizzying speed and Lucas seemed to be playing a different instrument in every scene. The original text is scattered throughout the show but in between each "Stickman, beware!" is a bit of a elaboration, whether that's "The Girl" showing off her hula-hooping skills or a grumpy swan expressing her dislike of freeform jazz by sticking her beak into a saxophone. At one point, the Stick Man breaks the fourth wall entirely to recap the story so far and to try and get the audience to agree that he's pretty hard done by.
I do agree with you Stick Man, although living in a small tree with three kids doesn't sound like much fun either.
There was also a call on the audience during the mid-way "beach" segment where we were all asked to play catch with an invisible beach ball. They asked for anyone who was good at catching to put their hands up so Eva, well aware of her lack of sporting prowess, put her hands straight down instead. Pity, she missed out on a good game of invisiballball.
As ever, Eva is not quite target demographic for these shows but mature content stresses her out so she's more than happy to come to adaptations of Julia Donaldson with me. Looking at the littlies around us, it did seem well-aimed – the 55 minute run time held their attention and putting the lights up during the invisiballball game gave them all a bit of a break from having to sit and listen. The plot moved relatively quickly but lingered over banter-filled interactions and the occasional bit of toilet humour, all of which I think helped the preschoolers to stay focused.
Stick Man – A previous cast. Photo Mark Senior
And yes, Eva did enjoy it too. She was really impressed by the lighting during the snow scene – I heard a little gasp from her as the snowflakes seemed to swirl around us. And she'd completely forgotten the ending, which I don't think I'm spoiling by saying it was Christmas-themed. She said to me afterwards that the ending was both "easily forgettable and surprising". By which I think she meant, she hasn't read the book for a while and only had a hazy memory of it. Suffice to say, it all worked out well and yes, I did feel a bit teary as Stick Man reunited with his family. I've said before how triggering family reunions are. Don't judge me.
I mentioned the 1950s aesthetic earlier and it was pulled through in both the costumes and the music. Think neat blouses, prom-dress skirts and statement sunglasses.  But it was all in woodland shades of green and brown, to reflect the stick-theme. I realise I've explained it but really could just share a production image with you. This was a previous cast but you get the idea:
Stick Man – A previous cast. Photo Mark SeniorSo if it could keep the attention of a room full of preschoolers and a few very tired adults, it must be good, right? I think the familiar Julia Donaldson rhymes and the Christmassy ending would make this a comforting Christmas treat for little ones. And don't we all need a bit of comfort in these uncertain times? It's funny, lively and interactive. Oh, and there's a dog in it which obviously gets points from Eva.
After the show, we wandered through Leicester Square towards a tiny Pret as I'm still maxing out that coffee subscription. We passed the Swiss Centre bells, which seem a tad out of tune nowadays. Maybe it's just me but something wasn't quite right. Eva agreed as she called them "annoying beyond wit". So we turned back towards Chinatown and were mooching round the "random Chinese snacks" shop when Eva decided she needed the loo. I realised that a Pret coffee subscription is essentially a free pass to also use their toilets but, for once, there was not a Pret in sight. So we went to Foyles and used theirs, with Eva somehow getting two new books bought for her on the way out. I'm not sure how that happened but safe to say, we paid for that pee. Funnily enough, I'd first gone to that floor in Foyles on another Donaldson/Scheffler-themed trip out, when Roo and I met the Gruffalo eight whole years ago.
Post-Foyles, things went downhill as we found out the Elizabeth Line doesn't run from Tottenham Court Road on a Sunday and so we had to get the Central Line back to Liverpool Street. Probably best for me to leave you mid-Chinatown. It may be chaotic but at least it's not the Central Line.
"Stick Man" runs until 2nd January  – for tickets and more info, click here
Disclaimer: I received free tickets in exchange for a review. All opinions remain honest and my own.