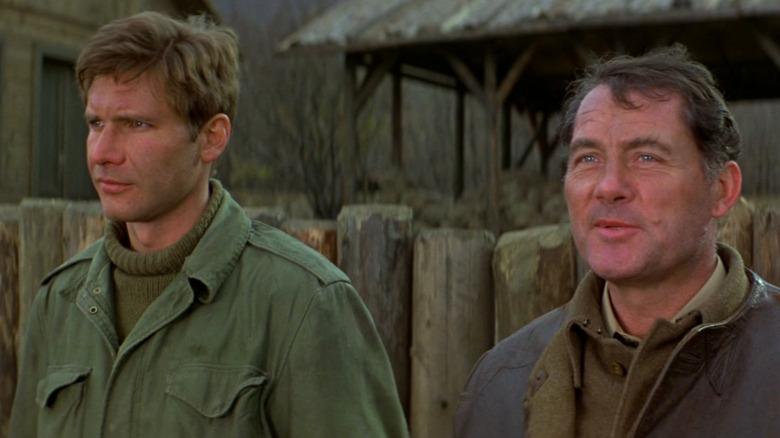 George Lucas didn't just revolutionize the film business with "Star Wars" in 1977, he also turned relative unknowns Mark Hamill, Carrie Fisher, and Harrison Ford into overnight superstars. These actors entered homes all over the United States as Kenner action figures, and their images adorned everything from bed sheets to lunch boxes. They were recognizable superstars to children and adults alike.
There was no roadmap to deal with this kind of stardom. The three principal actors knew a second journey to that galaxy far, far away loomed on the horizon, but what they should do in the interim was something of a puzzle. Were they box-office draws outside of "Star Wars?"
Hamill and Fisher were so young and fresh-faced that it wasn't clear how they could capitalize on their unprecedented fame. They were still ingenues. Ford, however, was well into his 30s, and, after a decade-long struggle to make good on his big-screen promise, was at last primed to become a matinee idol. Perhaps ill-advisedly, he wasn't picky. He claimed a supporting role in Jeremy Paul Kagan's well-intentioned, but inert drama "Heroes," and, feeling the need to make a big movie, signed on to play Lt. Col. Mike Barnsby in Guy Hamilton's "Force 10 from Navarone."
The sequel to J. Lee Thompson's hit "The Guns of Navarone" made good box-office sense on paper, but it arrived 17 years after the original. Gregory Peck and Anthony Quinn had aged out of the roles they made famous, so Robert Shaw, hot off his portrayal of the shark-hunter Quint in "Jaws," took on the former's part, while Ford stepped in for Richard Harris as Barnsby. Terrific replacements, obviously, but the production would be dogged by behind-the-scenes snafus. Ford had a particularly rough go, but he did get on well with the notoriously ornery Shaw.
Ford More Than Earned His First Big Acting Paycheck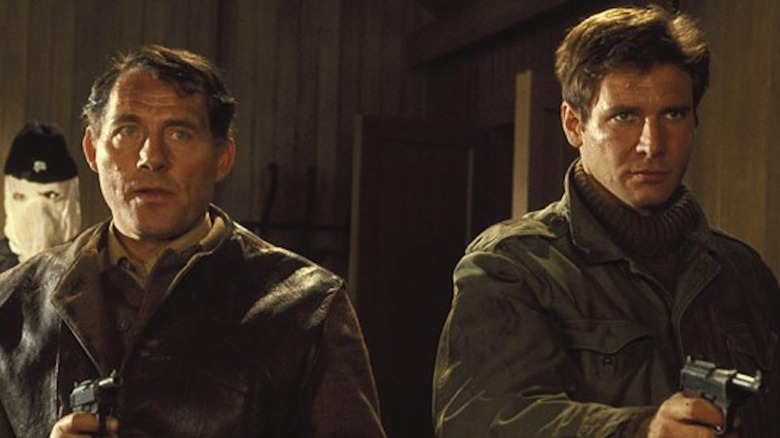 "Force 10 from Navarone" provided Harrison Ford with his first above-the-title credit, and, in later years, he admitted that he took the role for the money. In Brad Duke's "Harrison Ford: The Movies," the star says his decision was "important because in order to be considered for certain parts in Hollywood, you have to have a certain price tag attached to your name. If you're in the high-priced category, you've got a head start."
The film cost $11 million, a hefty sum in 1978, but Guy Hamilton, a top-flight action filmmaker who'd kicked the James Bond franchise into commercial overdrive with "Goldfinger," seemed a safe bet to at least deliver a satisfying, hit movie. Unfortunately, the weather in Yugoslavia and England, where Hamilton shot on location, forced the production over-schedule and over budget. Everyone was miserable. Robert Shaw, as had become his custom, fortified himself with booze. This predilection could render him difficult, if not impossible to direct, but he did not inflict his ill temperament on Ford.
Companions In Life And Death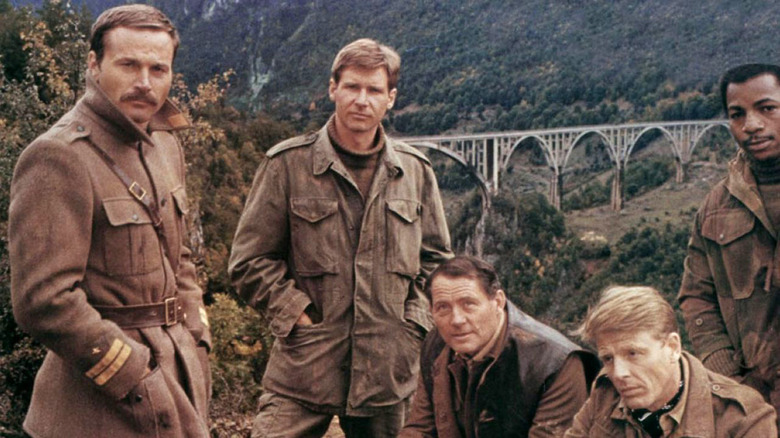 Harrison Ford might've been playing the game in 1978, but he'd nearly derailed his career by taking his craft more seriously than the art-averse overlords at Columbia Pictures' New Talent Program preferred. He'd proved his detractors disastrously wrong, and, now that he was starring in a big-budget film partially financed by Columbia, probably felt a "f*** 'em" kinship with the hell-raising Robert Shaw.
Oh, to have been a fly on the barroom wall when these two bent the elbow. The two became good friends and made a promise that the last man standing would attend the other's funeral. Even considering Shaw's alcohol intake, Ford surely didn't expect the obligation to be fulfilled prior to the release of "Force 10 from Navarone" in December 1978. But Shaw's heart gave out four months prior while he was driving his family to their home in Tourmakeady, Ireland. Due to a scheduling conflict, Ford could not attend his friend's funeral, but forging a bond with Shaw remains his favorite memory of making what turned out to be a perfectly okay movie. Per Brad Duke's book:
"It was a tough job and it was tough for both of us," said Ford. "We got to know each other quite well and it was quite a shock, his death. I liked him. It was well worth the experience."
Read this next: The 15 Best Historical Epic Movies Ranked
The post Robert Shaw Made Force 10 From Navarone's Brutal Shoot Worth It For Harrison Ford appeared first on /Film.