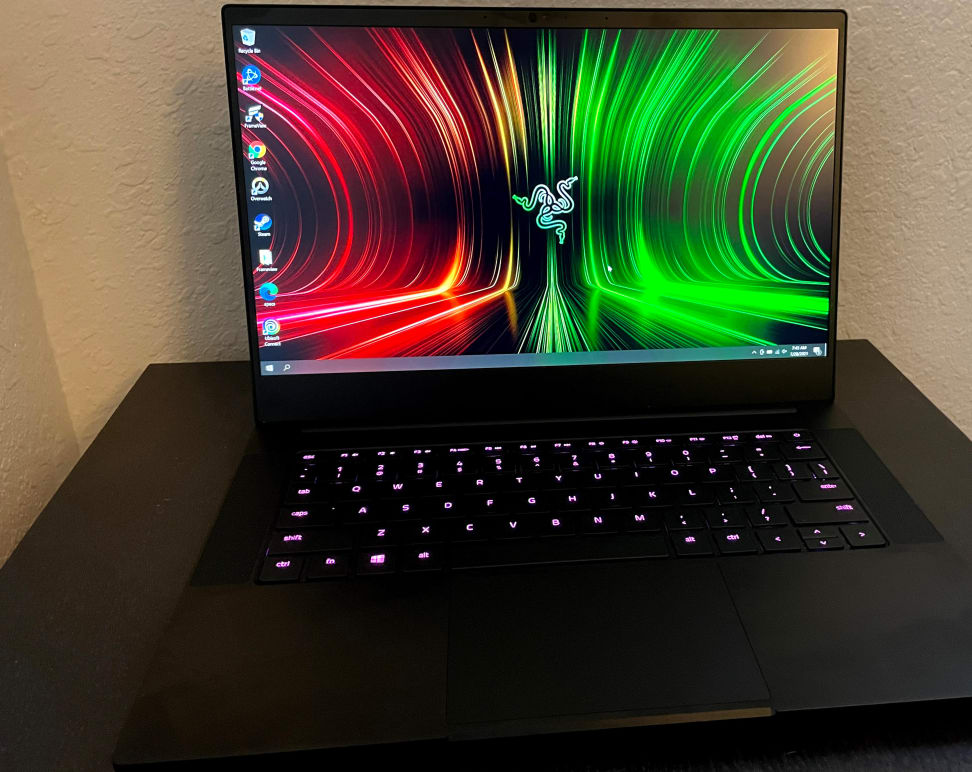 — Recommendations are independently chosen by Reviewed's editors. Purchases you make through our links may earn us a commission.
The Razer Blade 14 (available at Amazon)is a capable gaming laptop in a slick, glowing package, but its performance comes at a price. You won't be displeased with its lovely looking (calibrated) IPS display, anodized-black finish, and ample connectivity, but the Blade 14's gaming performance doesn't blow past its less-expensive competition. You're paying a surcharge for style.
The Razer Blade 14 is a gorgeous gaming laptop, but it's underpowered for the price.
About the Razer Blade 14
Here are the specs on the model we tested:
Processor: AMD Ryzen 9 5900HX
Memory: 16GB DDR4-3200MHz
Storage: 1TB NVMe M.2 SSD
Display: 14-inch QHD (2560 x 1440) factory-calibrated IPS, 16:9, 165Hz, 100% sRGB, AMD FreeSync Premium
Ports: 2x USB-C (USB 3.2 Gen 2), 2x USB-A 3.2 Gen 2, 3.5mm mic/headphone combo, HDMI 2.1
Graphics: Nvidia GeForce RTX 3070
Wireless: Wi-Fi 6 802.11AX, Bluetooth 5.2
Battery: 61.6Wh
Weight: 3.92 pounds
Dimensions: 0.66 x 8.66 x 12.59 inches
Warranty: 1-year base warranty
The Blade 14 also comes in two other configurations on Razer's website: the $1,799 version drops your display down to 144Hz with a 1080p native resolution alongside an RTX 3060 GPU. The $2,799 version uses the same configuration we reviewed but bumps up the graphics to an RTX 3080.
What we like
Gorgeous construction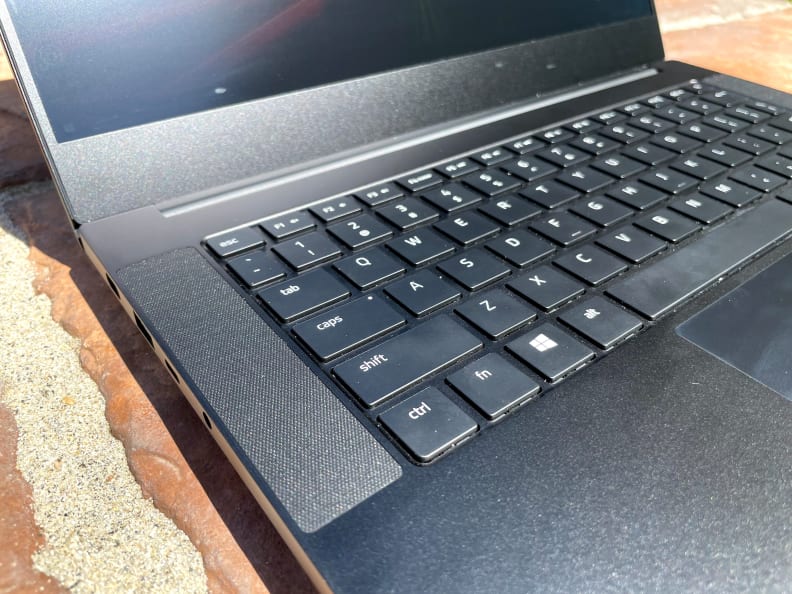 The Razer Blade 14 looks as good as it feels to use. The laptop's anodized-black finish is a great complement to any gaming den and helps its RGB keyboard pop with color. The lighting provides a rainbow pattern by default, which you can easily customize or replace with Razer's Synapse software. The keys have a low actuation height and hardly any backlight bleed. They glow brightly, but if you feel it's too much you can tweak the illumination via a hotkey or Synapse itself.
At just 0.66-inches thick and just shy of four pounds, Razer's 14-inch gaming laptop is easy to stuff into a bag and carry around. While the laptop's factory-calibrated 16:9 IPS display has a bezel, it's pretty tight around the sides and chunky only at the top and bottom, mostly thanks to the laptop's (Windows Hello-ready) 720p webcam.
Even though laptop speakers are almost universally meh, the Blade 14 gives you the best possible chance to enjoy decent sound by sandwiching its compact, glowing keyboard between two narrow speakers. The audio quality didn't blow us away, even with the Blade 14's THX-based shenanigans fired up, but this placement helped the laptop sound better than usual—about the best you can ask for on a gaming laptop. Thankfully, an included mic/headphone combo port on the laptop's left side gives you an easy out.
Our main critique of the Razer Blade 14's construction is that its aluminum finish really shows off hand smudges. Even if you aren't eating while you game, make sure you pick up a cheap microfiber cloth if you want the laptop to look its very best.
Great, but not gonzo gaming performance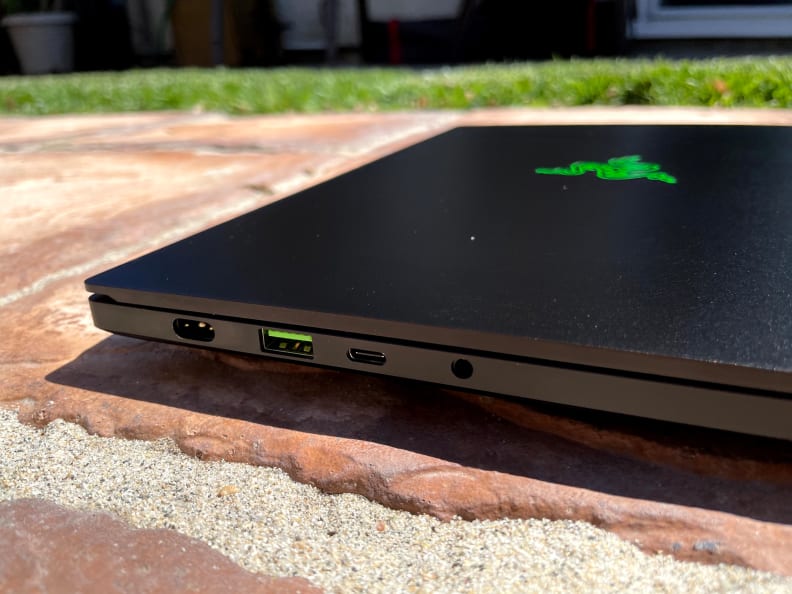 With the Blade 14's one-two punch of an AMD Ryzen 9 5900HX CPU and Nvidia GeForce RTX 3070 GPU, we expected some pretty high numbers on our gaming benchmarks—and we weren't disappointed. Though none of our tested games were able to max out the 165Hz refresh rate of the laptop's 1440p display at the highest possible graphics preset, the frame rates we saw on games like Shadow of the Tomb Raider, Total War: Warhammer II, and Far Cry 5 were nothing to get sad about.
When we tested these titles at ultra quality settings on the Blade 14's native resolution, we experienced between 58 and 81 frames per second. When we dialed the resolution back to 1080p, the laptop was a hair away from triple-digits on most of these titles—with AMD FreeSync working to minimize tearing and stuttering.
A beefier benchmark like Control gave the Blade 14 a challenge. While our frame rates on low and medium quality settings were more than acceptable—ranging from 98 to 135 fps—cranking the game to the highest graphics settings and enabling high-quality ray tracing (a resource-intensive graphics setting that enables realistic lighting effects) netted us a less-impressive frame rate of 47 at 1080p. By itself, that's not a terrible number given what you're asking the laptop to do, but it was a lower frame rate than what we've experienced on cheaper top-tier gaming laptops, such as Acer's Predator Helios 300 or Lenovo's Legion 5 Pro Gen 6.
The slightly slower gaming performance on the Blade 14 is likely a result of Razer's decision to cap the power draw of the included RTX 3070 GPU at a max of 100W. That constrained power profile means the GPU will have lower performance compared to a gaming laptop that's running the unrestrained 130W version. However, Razer's concessions do allow the Blade 14 to enjoy a smaller form factor—a reasonable trade-off unless you're the kind of gamer that always tries to push the limits on the most graphically challenging games you can find.
Surprisingly good battery life
Battery life isn't the most interesting thing to talk about, but it is an essential component of portable electronic devices. On our basic battery testing, where we lowered the display's brightness to as close to 200 nits as possible and surfed the web until the battery died, the Blade 14 blew us away—so much so that we ran the entire benchmark again just to make sure we didn't mess anything up.
On our battery tests, the Blade 14 netted between 6.5 to 7 hours of uptime, placing among the very best of the gaming laptops we've tested. That number is obviously going to be a lot smaller when you're using the Blade 14 for some heavy gaming, but that shouldn't come as a shock to anyone who has ever tried to fire up some Total War in a coffee shop. (All five of you.) With the Blade 14, you can do all the basic, boring stuff for nearly a full work day's worth of time, but don't expect to blast through a GPU-punishing game for very long.
What we don't like
Vapor-chamber cooling sounds cool, feels warm
Razer goes to great lengths to show off the Blade 14's fancy "liquid-vapor cooling" setup, but we can't say it helped the laptop generate less heat. While we played some Shadow of the Tomb Raider, the laptop reached 38 degrees Celsius (100 degrees Fahrenheit) where your wrists normally rest below the keyboard, which was warm bordering on uncomfortable. The bottom of the Blade 14 measured right around 40-45 C (104-113 F), which made it a little unpleasant to keep on skin or shorts, but below scalding territory. For everyday tasks, the laptop's bottom was right around 33 C (91.5 F), which didn't bother us at all.
Since the primary intake fans for Razer's internal cooling contraption are located on the laptop's bottom panel, you'll need to remember not to cover them completely with your legs while you lap-game (if that's your thing). You'll know when you do, though, as the medium-to-loud din of the Blade 14's fans will rev up to a high whir.
It's the little things
Cooling concerns aside, the Blade 14 doesn't contain a single, whopping flaw that would make us squirm, but a few little details here and there add up to a slightly annoying experience: The uncanny ability of the laptop's exterior to attract smudges we mentioned previously; the terrible-quality webcam that's so bad we'd only use it for Windows Hello log-ins; Razer's own Synapse software, which you use to customize all of its fun, glowing parts, doesn't come pre-installed on the system; the lack of an Ethernet port (forgivable given the laptop's size, but just one more dongle you'll have to deal with).
There's also upgradability. While you can replace the Blade's built-in M.2 SSD with something else down the line, you can't supplement your storage by adding another drive. You also can't upgrade the Blade 14's memory whatsoever. This is only slightly more of an issue given that Razer sells only three versions of the Blade 14 and none of them are configurable. What you see on the website's specs sheet is what you get.
Finally, the Blade comes with a massive power brick and fairly bulky, proprietary laptop connector. That's pretty standard for gaming laptops, but we still don't love it.
Should you buy it?
Yes, just note the caveats
The Razer Blade 14 sits amongst the stars. It doesn't shine the brightest, but it performs well, and the concessions Razer makes to create a beautiful PC package are reasonable. You won't crank out 160 frames per second in your favorite games using the laptop's native resolution, highest quality settings, and tons of ray tracing, but you'll get great results in all but the most graphically demanding games. Even then, you can always enable Nvidia's DLSS (Deep Learning Super Sampling) technology in a game's menu to give your frame rates a boost.
If price and speed are your highest concerns, you'll want to do a little comparison shopping. Competing laptops like Lenovo's Legion 5 Pro Gen 6 and Asus' ROG Strix G15 AMD Advantage Edition might be a slightly better fit than the Blade 14, assuming you can stomach their other trade-offs: potentially less storage, so-so keys and trackpads, similar heating issues, and lack of that classic, Razer-green glow.
But Razer has come up with a solid package here. You can't customize the Blade 14, and it's not going to be the absolute speediest thing on the planet, but this laptop is going to get the job done for the majority of ways you're using it—in this case, most of the games you're playing. It's fast enough, portable enough, and offers enough connectivity to warrant consideration if you're shopping for a next-gen gaming laptop.
The product experts at Reviewed have all your shopping needs covered. Follow Reviewed on Facebook, Twitter, and Instagram for the latest deals, product reviews, and more.
Prices were accurate at the time this article was published but may change over time.