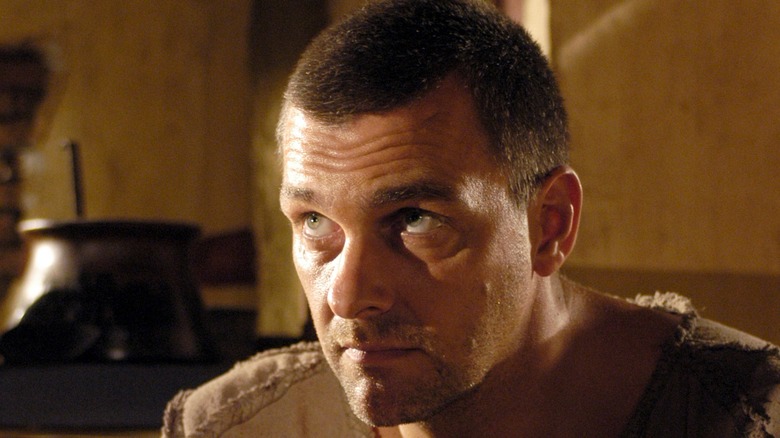 Thirteen! In incredibly sad news today, actor Ray Stevenson has suddenly passed away at the age of 58. With noteworthy performances in "Thor," "RRR," and "Vikings," Stevenson may be best known for his breakout role in HBO's swords and sandals epic television series, "Rome." In a time before George R.R. Martin's "Game of Thrones" took to the skies to become the network's flagship series, "Rome" was one of the most ambitious shows on primetime when it premiered back in 2005. 
Lasting just two seasons, "Rome" centered around the relationship between two Roman soldiers in the 13th legion of Julius Caesar's army: the steadfast Lucius Vorenus played by Kevin McKidd and the brash, unpredictable Titus Pullo played by Stevenson. Due to its enormous cost, "Rome" came to an abrupt end, but not before amassing a core group of dedicated fans who fell in love with Stevenson's roguish performance as Pullo. Arguably, the show's most memorable moment comes when Pullo is forced to fight in a gladiatorial pit and is saved by Vorenus as they shout out "Thirteen!" to win the crowd over. (I almost want to pump my fist in the air just thinking about it.)
For Stevenson, the Han Solo-esque role of Titus Pollo was the start of a brand new chapter for the actor, and it served as the perfect showcase for his unique combination of raw charisma and intimidating physicality. It was a rare stroke of luck for the late performer, who was already in his 40s when he joined the Screen Actors Guild after landing the coveted role.
'It's Where My Life Completely Changed'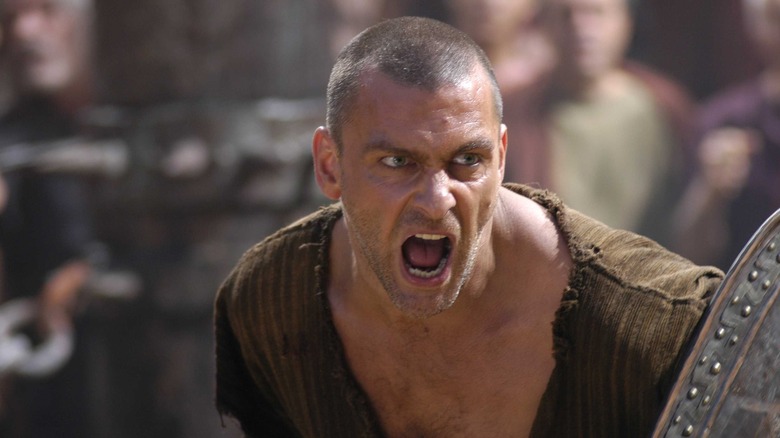 It's a shame that Stevenson didn't get to enjoy a longer series run as Titus Pullo in "Rome," but the budget started to balloon as the story began to venture into Egypt to explore the love affair between Marc Antony (James Purefoy) and Cleopatra (Lyndsey Marshal) and it was just too pricey for HBO. Over a decade removed from the role, Stevenson told Backstage how much of a lasting mark the show had left on him:
"At that time I realized what it was to get out of your own way and trust your instincts, and trust that a lot of your work has been done subconsciously and silently. And also focusing on the career I'm having rather than the career I should be having. It's this moment now and that's all that matters. This moment, this production, the actors around me, the director I'm working with. It's where my life completely changed."
For those that haven't seen Stevenson's incredible work on "Rome," now is as good a time as any to travel back to the year 44 B.C. to witness the life and death of Julius Caesar as seen through the eyes of two heroes who have since been lost to history. 
Fortunately for Stevenson's many fans, he will be appearing in the upcoming Disney+ series "Ahsoka" as a mysterious former Jedi named Baylon Skoll. Audiences are certainly in store for another memorable performance that should help honor his memory and introduce him to an entirely new galaxy of "Star Wars" fanatics. I only wish he was here to see all the accolades that are going to come his way when "Ahsoka" premieres this August. 
Read this next: Why These Actors Left Hit TV Shows
The post Ray Stevenson Views Rome As His Favorite And Most Important Project appeared first on /Film.