Q-bitz Solo is the perfect puzzle game that kids can play independently or everyone can play together as a family. It's also great for road trips or plane rides!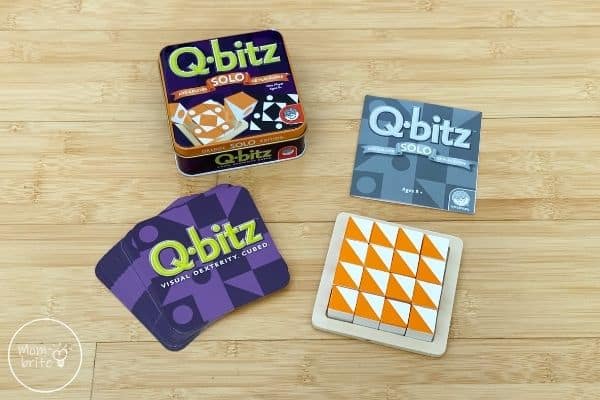 Need a game that will challenge your kid's visual agility and memory? Q-bitz Solo does all that and more.
My kids love puzzle games and have been playing them frequently. We incorporate logic games like Smart Farmer and Apple Twist in our homeschool curriculum to test their thinking skills.
When they first opened the Q-bitz Solo box, they thought that it was going to be a no-brainer. But they quickly learned that the puzzles require a lot more focus and critical thinking skills to recreate the patterns on the cards.
How to Play Q-bitz Solo
There are many ways to play the Q-bitz Solo game. If you want to play alone, you flip a card and study the pattern printed on the cards. Then you manipulate the cubes to copy the pattern.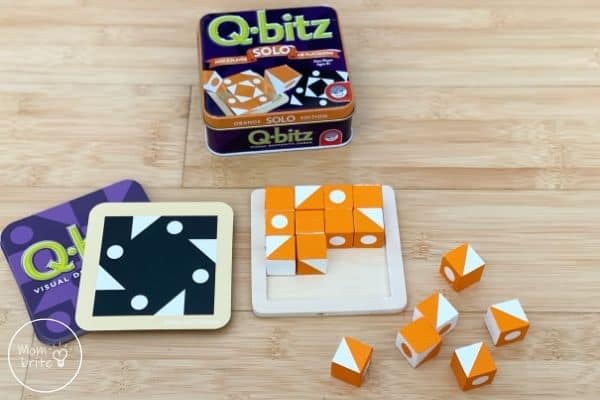 However, the patterns do not indicate the edges of a cube, so you have to figure out where a cube starts and ends. And since the blocks have similar yet contrasting prints, it's not easy to figure out how to turn the blocks so the right side faces up.
Once your child masters copying the patterns on a card, you can challenge them by asking them to recreate the pattern by memory. Show them the card and let them study it for 10 seconds, and then take it away.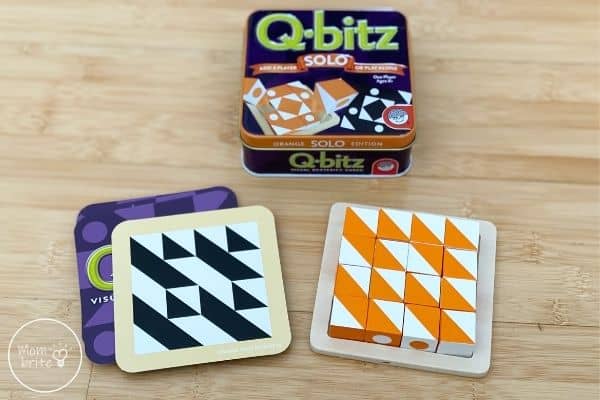 You also have the option of setting a timer and see how fast your child can finish a puzzle. My kids love to race against the timer and try to improve their time every time. They also like to race against each other to see who can recreate the pattern first.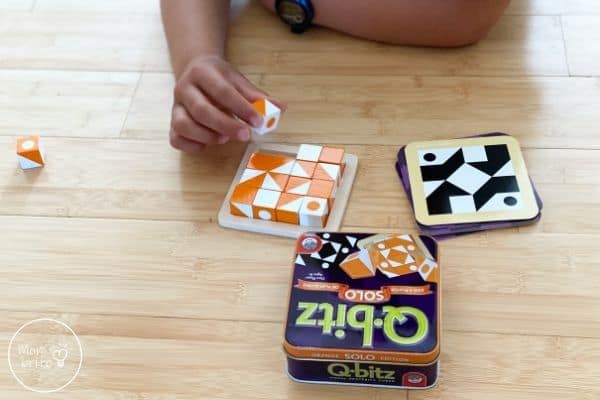 Another way to play is to roll the cubes on the table like dice. Use the cubes as rolled (face up) and place as many as possible that fit in the pattern on the card. Then re-roll the remaining dice and repeat the process until you recreate the pattern.
The Q-bitz Solo game includes:
20 Q-bitz cards
Wooden tray
16 cubes
Rule book
Tin box
Final Thoughts About Q-bitz Solo
Q-bitz Solo is recommended for kids ages 8 and up. However, my 5 years old is able to play it with a little help. My son is 7 years old and he could copy the patterns on the cards without any problem.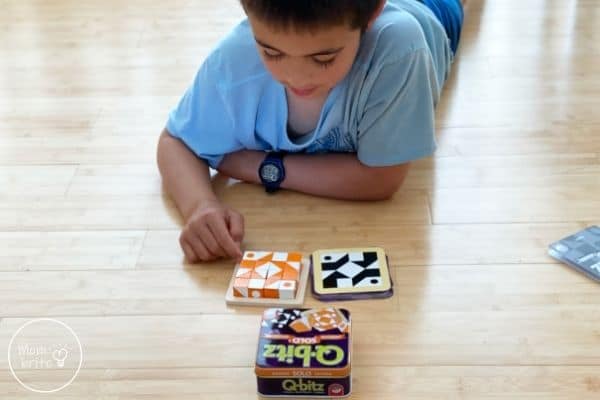 Q-bitz Solo is part of Timberdoodle's Elite 2nd-Grade Curriculum Kit. To learn more about other thinking-skill resources for your 2nd grader, check out the curriculum kit here.
---
Related Posts: