The 2022 Winter Olympics in Beijing will kick start in less than 200 days! That means the city is kicking into high gear to prep for the games. Here's what's been happening.
The Water Cube completes its transformation into the Ice Cube
If Elsa was able to turn the entire castle's ballroom into a winter wonderland, China can also transform the iconic aquatic center into the Ice Cube in 11 days. (Excuse the reference). The Water Cube, also known as the world's fastest swimming lanes, has been upgraded to host curling events, becoming the first arena to have a curling track built over a swimming pool.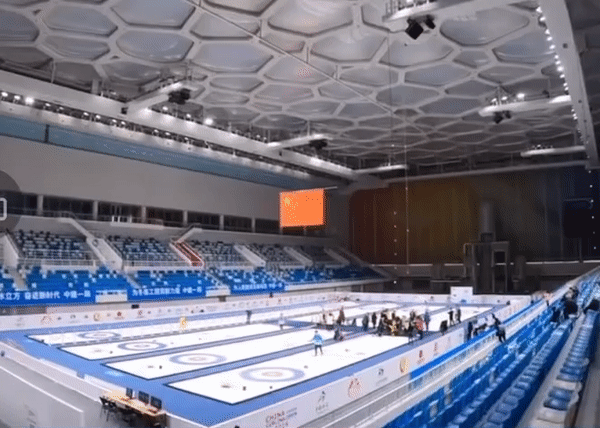 All eight venues completed
The completion of all eight venues has arrived faster than you'd think! As of now, Beijing already has all the major venues geared up for the upcoming Winter Olympics.
Some of the highlights of these successful completions include the National Speed Skating Oval – a platform that will be used for freestyle skiing and curling, the Wukesong Ice Sports Center – the camp for all that ice hockey action and the National Alpine Skiing Center –  a newly-built hotspot in Yanqing for all that bob sled races.
Keep an eye on the autumn
As the Winter Olympics draws near, a series of test events will be unfolding in October – including the ones for the international speed skating, figure skating, and wheelchair curling.
Don't leave November behind as there will be more test events coming, including snowboarding and freestyle skiing.
What's coming for the 100-day countdown?
If you have even the slightest memory of the 2008 Beijing Olympics, you'll know what's to expect at the 100-day countdown mark for the Winter Olympics: More and more volunteers will start to sign up to prep for the games. The glorious medals and the uplifting slogans for the Winter Olympics will be released. The torch-relay routes will arrive and runners will get ready for carrying the torch while running. The plans and details for closing ceremonies will also be unveiled. Expect to see a full-on spectrum of rehearsals and prepping going on as Beijing gets excited for the Winter Olympics!
READ: The Show Must Go On: Your Guide to Catching the Tokyo Summer Olympics
Images: Unsplash, Weibo