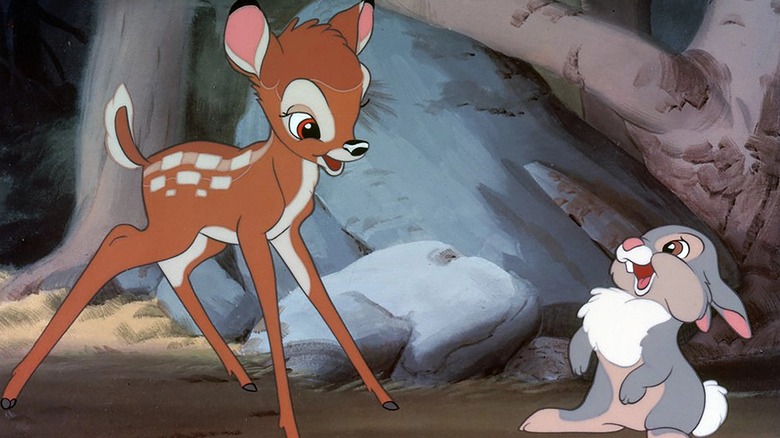 For many movie fans who watched "Bambi" at a tender age, the Disney movie may seem as horrifying as it is cute. After all, before the sweet yearling at the heart of the classic 1942 film has a chance to so much as finish gulping down his first taste of spring grass, his mother is shot by hunters. Bambi's mother's death may be mild by adult standards, but for a kid, it's a harrowing introduction to the world of Disney. But at least in the world of Walt Disney, Bambi has a happy ending. The same can't be promised for "Bambi: The Reckoning," an upcoming horror film that Bloody Disgusting reports is in the works from the director of "Winnie the Pooh: Blood and Honey."
That's right: the future prince of the forest is the latest lovable childhood icon to get the slasher treatment from Rhys Frake-Waterfield, the filmmaker who's already taken advantage of America's growing list of public domain works with a bloody re-imagining of A.A. Milne and E. H. Shepard's Winnie the Pooh. While the copyright for the Disney version of "Bambi" hasn't lapsed, the story the film is based on, Felix Salten's 1923 novel "Bambi: A Life in the Woods," entered the public domain in January 2022. That means the story is fair game for creative reinterpretation at the hands of Frake-Waterfield.
Winnie The Pooh And Peter Pan Are Also Getting The Slasher Treatment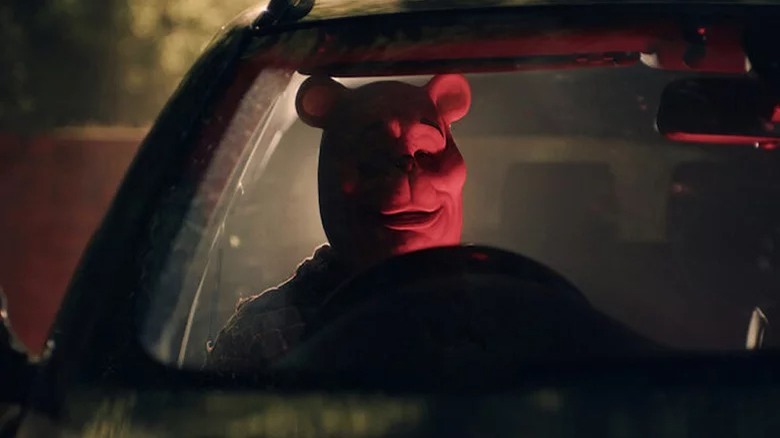 And it sounds like the filmmaker definitely plans to come up with a new interpretation of a classic. "The film will be an incredibly dark retelling of the 1928 story we all know and love," Frake-Waterfield tells Dread Central. "Finding inspiration from the design used in Netflix's 'The Ritual,' Bambi will be a vicious killing machine that lurks in the wilderness." Gone is the big-eyed, shaky-legged baby deer audiences love. Instead, this time, Bambi's going to have a bad case of rabies and a folk horror monster inspiration.
Frake-Waterfield's works have garnered major responses from fans of horror and kids' classics alike, despite the fact that most of them haven't been released yet. "Winnie the Pooh: Blood and Honey," a microbudget slasher that's set for a February 2023 release, has a trailer that features Pooh and Piglet as two killers (who are clearly humans in bear and pig masks) stalking Christopher Robin (Nikolai Leon) and others after their old friend abandoned them years ago. The Hollywood Reporter also says the filmmaker is also working on a film called "Peter Pan: Neverland Nightmare," which will put a dark spin on yet another classic tale.
People Are Hungry For The Dark Side Of Children's Media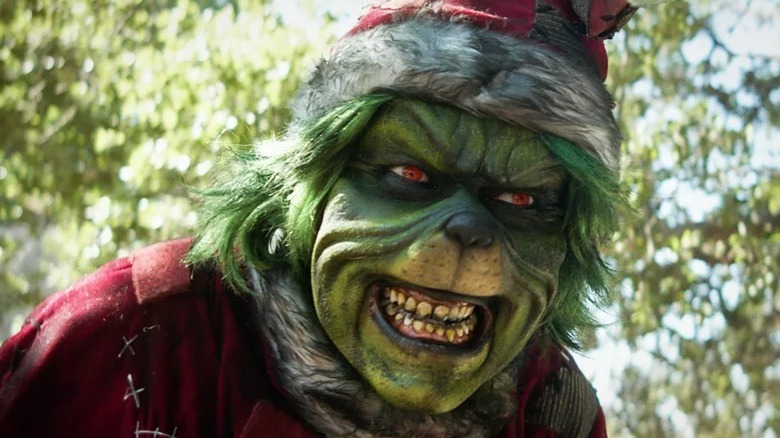 While the bloody take on Winnie the Pooh will by no means overtake the original in terms of popularity (it's set for a single-day theatrical release in the U.S. via Fathom events), the very concept of Disney-adjacent classics reimagined as horror films has already garnered strong responses. The trailer drop inspired enough mixed responses to warrant an Independent article titled "Is nothing sacred?" but it also delighted and intrigued horror fans. It's also not the first of its kind, as an unofficial "How the Grinch Stole Christmas" horror parody, Steven LaMorte's "The Mean One," hits theaters this week.
These films are clearly meant to shock and entertain, but they also fuel a seemingly ravenous public interest in the idea of media that "ruins our childhoods." Countless YouTube videos, memes, and listicles have been devoted to trying to unearth the dark side of children's media, or in some cases, invent one when there is none. Drake-Waterfield's films seem poised to poke fun at that now-familiar idea by taking it to its logical endpoint. While adults can endlessly debate the possibility of secret phallic imagery or references to suicide in their favorite childhood media, Winnie the Pooh fans will now be able to say for sure that their beloved, honey-loving bear was, at least for a little while, a cold-blooded killer. The lurid possibility of a royally messed-up spin on a once-pure childhood memory is now being made winkingly explicit.
Public Domain Allows For Endless Creativity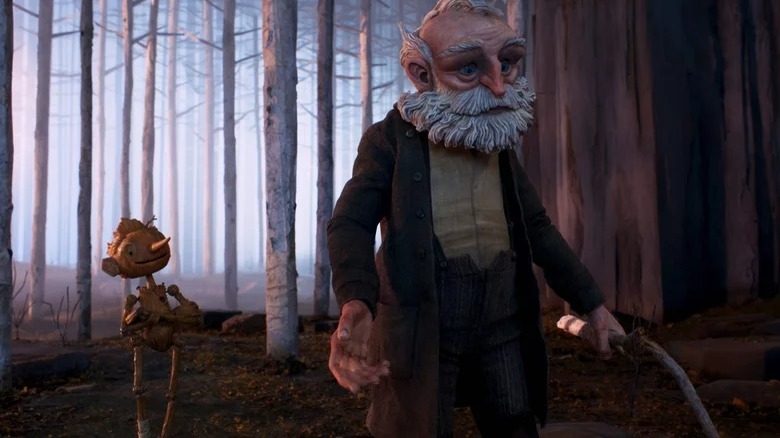 Whether or not Frakes-Waterfields' movie will be good enough to warrant the dramatic hype — and several other nightmare-inspiring spins on classics — remains to be seen, but that's the magic of the U.S. public domain system. Works whose intellectual property rights lapse after a set amount of time become fair game for everyone, from artists to filmmakers to musicians. Copyright law is complex and evolving, but without the concept of public domain, the world might not have films like Brian Henson's "The Muppets Christmas Carol," Sidney Lumet's "The Wiz," or Guillermo del Toro's stop-motion take on "Pinocchio."
Public domain levels the playing field among storytellers, allowing works to become bona fide classics as they're continually reimagined with all-new perspectives that often shine a new light on their already rich characters and themes. Sure, these slashers may not be that deep, but the good news is, if you don't like the idea of "Bambi: The Reckoning," "Winnie the Pooh: Blood and Honey" and movies like them, you can just ignore them and return to the 100 Acre Wood you know and love. Just watch out for the Heffalumps and Woozles — those guys are nearly as nightmarish as killer Pooh and Piglet.
Read this next: The Highest Rated Horror Movies Of All Time
The post Not Even Bambi Is Safe From The Horror Genre appeared first on /Film.