— Recommendations are independently chosen by Reviewed's editors. Purchases you make through our links may earn us a commission.
Review body
MSI is known for its flashy and well-made gaming laptops, but the company also makes great laptops for students, content creators, and business-folk. So it comes as no surprise that its Summit E13 Flip Evo 2-in-1 (available at Amazon for $1,799.00) is impressive on many fronts. It also comes with the MSI Pen, a stylus that's a great addition for artists and writers. It's an incredibly niche laptop with a high price tag to match, and most people could make-do with cheaper alternatives. But those alternatives might not be able to do everything the Summit E13 Flip can.
Some 2-in-1s are cheaper and perform slightly better, but they don't have the same feature set at the Summit E13 Flip.
About the MSI Summit E13 Flip Evo
We loved the Summit E13 Flip we tested, which was kitted out with 1TB of storage, 32GB of memory, a top-line Intel Core i7-1185G7 processor, and the complementary MSI Pen for $1,899 at MSRP. However, unless you plan on opening some huge Photoshop or Premiere files, the cheaper version with 16GB of memory makes a lot more sense for most people. It's currently $300 cheaper than the 32GB version, putting its $1,599 MSRP price tag within range of similarly equipped 2-in-1s from Lenovo, HP, or Dell.
There are also new versions coming out soon with the Intel Core i7-1135G7 and the Intel Core i7-1195G7, which will have slightly different performance than the CPU we tested.
Processor: Intel Core i7-1185G7
Operating System: Windows 10 Pro
Storage: 1TB NVMe SSD
Memory: 32GB (16GB x 2) LPDDR4X-4267
Display: 1920 x 1200 13.4-inch Touch Screen with support for MSI stylus Pen (MPP2.0)
Battery: 4-cell 70WHr battery with 65W USB-C charger
Ports: USB-A 3.2 Gen 1; 2 x Thunderbolt 4; 1 x USB-C 3.2 Gen 2; 3.5mm headphone jack
Connectivity: Intel Wi-Fi 6E AX201; Bluetooth 5.2
Included Accessories: MSI Pen and laptop sleeve
Weight: 2.98 lbs
Dimensions: 11.82 x 8.75 x 0.59 inches
Warranty: One-year limited warranty
What we like
It's beautiful and smart
MSI is known for its distinctively designed laptops, and the Summit E13 Flip is another fine example. The copper-colored edges and matte black aluminum finish on our review unit radiate a level of class and beauty that's unmatched by most 2-in-1s. Everything about this laptop feels sturdy, like it's made to withstand the terrors of a daily commute.
The narrow bezels give the 16:10 ratio display a lot of room to work with. In tablet mode, the 2-in-1 laptop is thick, but comfortable, and the hinges keep the display in place. The sides of the laptop are smartly designed: the left has a magnet to hold the included stylus, and the right has a slider to enable or disable the webcam. It also has several Thunderbolt 4 ports and USB ports for a wide range of input options.
Loaded with features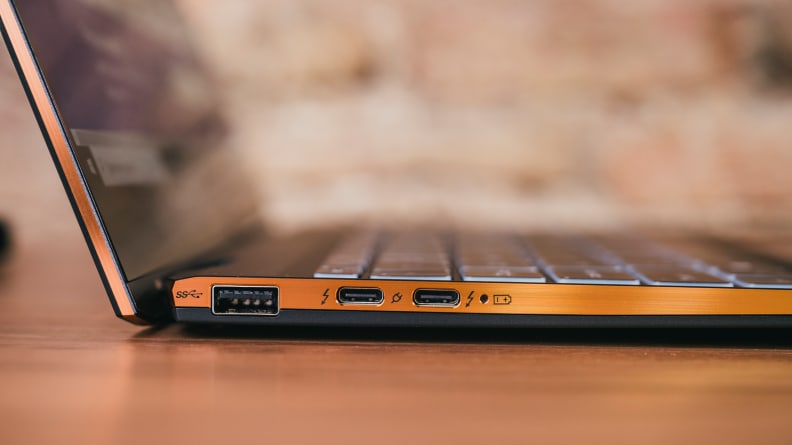 When you open the laptop, you will see a variety of extra touches. The keyboard includes a fingerprint scanner and media keys for webcam, microphone, touchpad, and monitor mirroring options. If you're a fan of Windows Hello, you can sign into the Summit E13 Flip with fingerprint and facial recognition, as well.
But the Summit E13 Flip's standout feature is technically not part of the laptop: the MSI Pen. The MSI Pen is a nimble stylus that glides across the Summit E13 Flip's beautiful screen. It's pressure sensitive, so you can write with varied line strokes for more realistic handwriting or an artistic experience. When I drew some sketches in Clip Studio Paint, I never had a problem with the Stylus's pressure curve or input.
Vivid and responsive display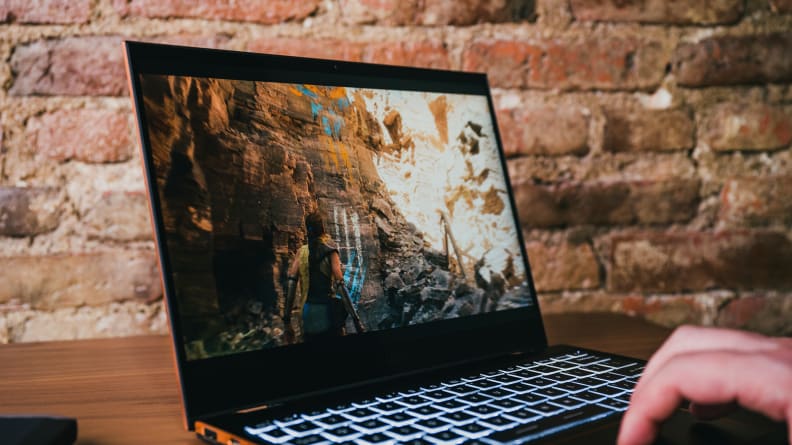 The Summit E13 Flip's screen can go up to 515 nits—way brighter than a MacBook Pro, and bright enough that you could take it on a sunny picnic without any issues. The colors are on point, with bright and vivid tones throughout the full sRGB color gamut. If you need to do color-sensitive work as a student or starting professional, the screen will do for sRGB, but it may not be the best for HDR content as the display does not officially support it.
The touch screen is very responsive and easy to use in tablet mode or regular mode, and the pen works just as well. However, the laptop's touch screen does not have palm rejection, so the stylus works best when your hand is off the screen. Compared to the Apple Pencil for iPads, the MSI Pen is a decent option for Windows 2-in-1s, but it would have been better with palm rejection. I found it uncomfortable hovering my hand above the screen, which made drawing lines and tilted strokes difficult.
What we don't like
It doesn't outperform the competition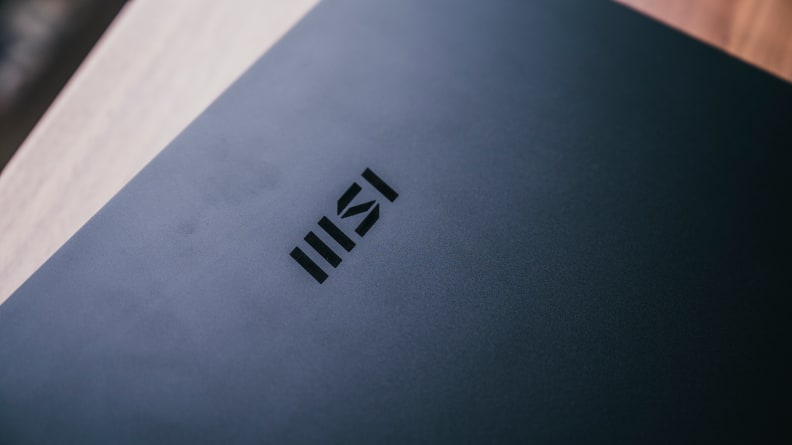 The MSI Summit E13 Flip is no doubt a powerful machine, but there is room for improvement. Our model's CPU multi-core performance is slightly slower than some of the other premium notebooks we've tested, like the new Dell XPS 13. Apple's M1 chip in the MacBook Pro 13 and MacBook Air has about twice the amount of multi-core performance, though, which means the Summit E13 Flip is not the fastest laptop for tasks like 3D rendering and video transcoding. (But there will be a higher tier model available with the Core i7-1195G7 soon.)
When rendering a 3D scene of a BMW car in Blender, the Summit E13 Flip took seven minutes and 57 seconds to produce the still image. That's over a minute longer than it took the M1 MacBook Air to render the same scene, and nearly three minutes more than the Asus Zenbook with a current-gen Ryzen 7.
The gap grows wider when we compare the E13 to the MacBook Air's video encoding: in Handbrake, the Summit took 14 minutes and 42 seconds to encode a 12-minute film in 4K to 1080p, twice as long as it the MacBook Air. The Summit E13 Flip performs about as well as any other laptop with the Intel Core i7-1185G7 and integrated graphics, but it's disappointing to see this laptop bested by laptops that cost way less money (even if those laptops lack the same features).
Its GPU power is passable, but this laptop is no gaming machine. The Summit E13 Flip pulled 22 frames per second in Shadow of the Tomb Raider at 1080p on the highest graphical preset, which is fine for integrated graphics. It's not great, but it's playable. (If you want higher frame rates, turn the resolution down to 720p and set the graphics preset to low.) Laptops with AMD integrated graphics or Apple M1 processors beat it by a few frames (between two and 10 frames per second depending on the laptop), but those looking for a better gaming experience should be looking at laptops with discrete graphics cards, like the Asus ROG Zephyrus G14 or the HP Pavilion Gaming 15.
This laptop's strength lies in its single core performance. In Geekbench 5, which we use to test raw processing power, it scored 1468 points, one of the highest scores we've seen from a laptop. The HP Spectre 14t and Dell XPS 13 2-in-1 are the only 2-in-1s to edge it out by less than forty points, although the Apple M1 pulls ahead by 18% with 1730 points.
This means the Summit E13 Flip is fantastic for multitasking, so you won't see much lag if you're running Spotify, two dozen Chrome tabs, a PDF viewer, and Slack at the same time. While it's a little disappointing to see the HP Spectre 14t and Dell XPS 13 2-in-1 basically match its performance for hundreds of dollars less, the MSI Summit E13 Flip makes up its value again with its expanded feature set over these 2-in-1s.
Battery life falls a little short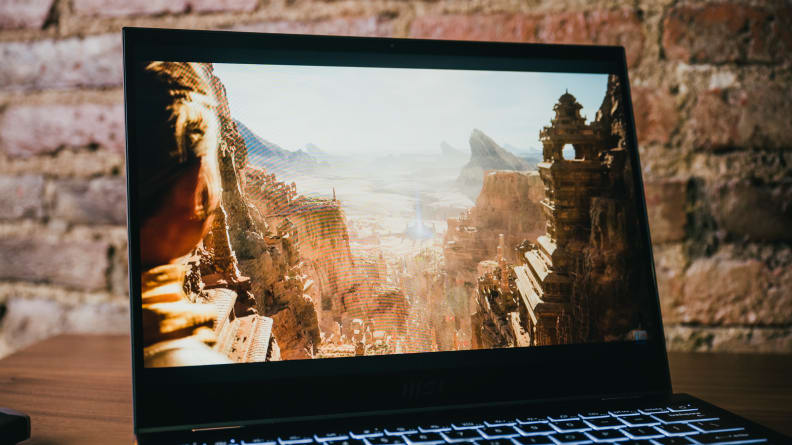 Intel massively stepped up its game from the last generation with its low-power processors. The Summit E13 Flip is Intel Evo certified, which means that it should meet Intel's standards for a great laptop: at least 9 hours of battery life during regular use (Evo-certified laptops also have other features, like one second wake-up from sleep and quick charge over USB-C).
For our battery benchmark, we cycle through Google Chrome pages at 200 nits brightness until the laptop dies—a simulation of how most people use laptops a majority of the time. It died just before reaching eight hours of runtime, which is an hour short of its battery claim. For an actual workday, this is enough to get you through your work when you factor in snack breaks, time away from your keyboard, and idle time. However, you may find yourself looking for an outlet if you'll need to stay logged in after hours. It's certainly not a bad battery life, but it's disappointing to see it doesn't live up to its Evo certification badge.
The keyboard is made for heavy hands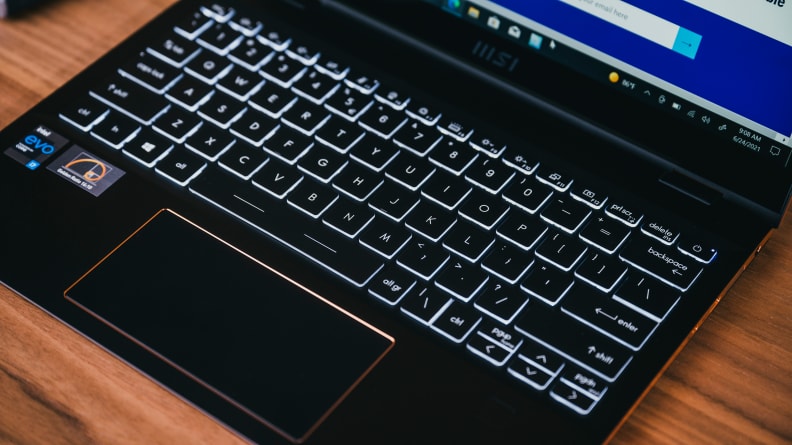 If you are a light typer, you may not like this laptop. The keys feel mushy, and their actuation point is well past the initial tap. That means every keystroke might not be registered if you don't press firmly enough. I was constantly missing keys while typing for that reason. (There isn't any tactile feedback to signal that, yes, the key was actuated.) If you're a heavy typer, this might not be a problem for you, but if you're used to typing lightly and quickly, you will spend a lot of time hitting backspace and correcting typos.
It runs hot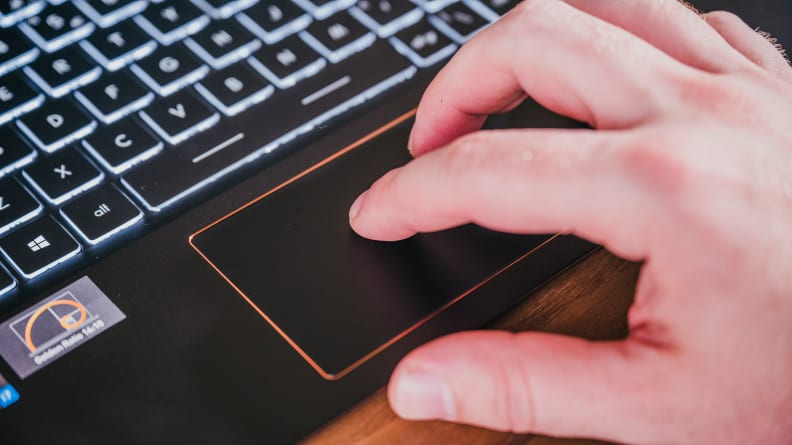 If you intend to do more than web browsing on this machine, then consider it a portable desktop because you may find it too hot for your lap. The bottom of the chassis stays around 32 degrees Celsius (89.6 Fahrenheit) when idle, but temps quickly climb to 41 C (105.8 F) after running the Basemark benchmark three times, which measures web browser performance. That's a little hotter than a jacuzzi, and that's only for moderately intensive tasks.
The processor also runs too hot for its own good. When we ran Cinebench (another program that measures processing power) for ten minutes, the CPU stayed around 98 C on all of its cores—two degrees away from its maximum operating temperature. Sadly, this means the Summit E13 Flip is prone to thermal throttling, which means that its performance is being affected by too-hot temperatures. (When a CPU temperature rises to a critical point, in this case about 95-98C, the PC caps its performance so it doesn't get any hotter.)
It shouldn't run too hot if you're just watching Netflix, but the Summit Flip 13 can definitely get toasty depending on how you're using it. It's clearly a laptop made for moderate productivity, like Photoshop and 1080p film editing, but so are most other laptops in its price range.
Some features aren't intuitive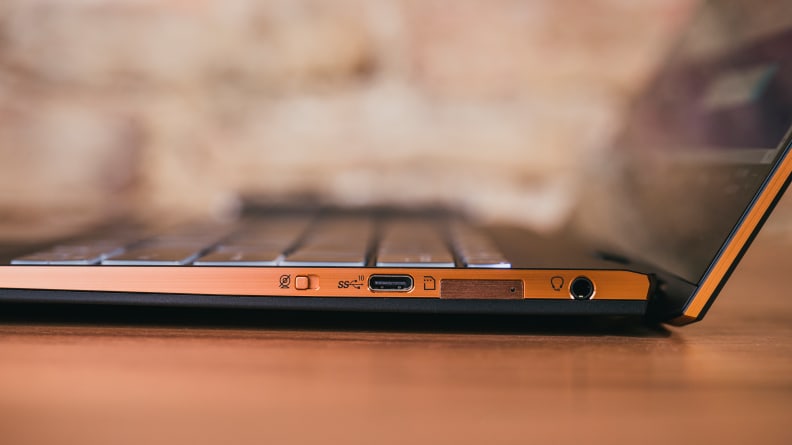 While the Summit E13 Flip offers some amazing features, it can be hard to figure out how they work. All MSI laptops ship with the webcam disabled by default, and the Summit E13 Flip won't let you activate the webcam via Windows if your webcam side button is disabled. That means you must slide this button, and then turn on the webcam in Windows with either the media key shortcut or in the Windows camera settings menu. Hard-wiring an on/off switch for the webcam is great for privacy, but a simple webcam cover would have provided the same functionality while being a lot more intuitive.
The MSI pen is one of the laptop's best features, but it takes some setup. It doesn't come charged out of the box, so you'll have to charge it via USB-C first. And when it's time to put pen to (virtual) paper, you need to hold the pen in such a way that your hand does not touch the screen. As we previously mentioned, palm rejection is practically absent on the Summit E13 Flip, so it will register your palm as a second input most of the time.
Should you buy it?
Yes, if you need a professional-tier 2-in-1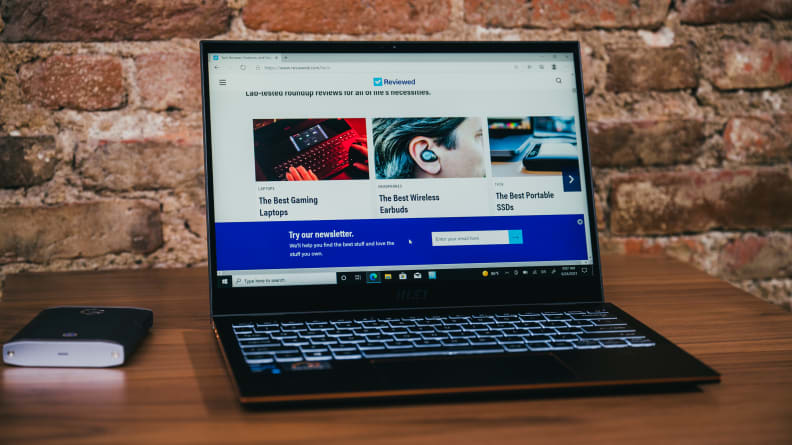 The MSI Summit E13 Flip Evo is a gorgeous laptop inside and out. The laptop's touch-sensitive screen is extremely bright and vibrant, able to adapt to many working environments. MSI includes a pressure-sensitive stylus, which extends the screen's functionality to be a great note-taking and illustration device. With an energy-efficient Intel Core i7 processor, the Summit E13 Flip provides plenty of performance for running Photoshop or studying dozens of academic papers at a time.
When you look beyond the great first impression, however, the cracks start to show. Its rivals provide the same performance for less money, albeit with a slightly different feature set. Its keyboard is also not for everyone, as it takes more pressure than most keyboards to register the keystrokes. If you prefer a lighter keyboard and a similar 2-in-1 experience, the Dell XPS 13 2-in-1 and the HP Spectre 14t are fantastic alternatives with great keyboards, long battery lives, and excellent performance, but you're on your own for stylus solutions.
The 2021 iPad Pro offers much faster performance, a display with a wider color gamut and higher refresh rate, and great palm rejection with its Apple Pencil, though you'll be limited to iPadOS apps and an arguably worse 2-in-1 experience with the separately sold Magic Keyboard for about the same overall cost of the MSI Summit E13 Flip with 16GB of RAM.
Overall, we love the MSI Summit E13 Flip Evo, even if it's expensive. It's good at what it's supposed to do: record touch inputs and satisfactorily run demanding productivity software like Photoshop, Blender, and Premiere without gurgling under the weight. It also looks stylish while doing so. It's more expensive than most other 2-in-1 laptops with its specs, but its stylus implementation makes it a worthwhile companion for illustrators and researchers who will be doodling and writing 24/7.
The product experts at Reviewed have all your shopping needs covered. Follow Reviewed on Facebook, Twitter, and Instagram for the latest deals, product reviews, and more.
Prices were accurate at the time this article was published but may change over time.