— Recommendations are independently chosen by Reviewed's editors. Purchases you make through our links may earn us a commission.
Lenovo's Legion 5 Pro Gen 6 (available at Lenovo) is a lesson in balancing the right components with the right design and features at a competitive price. There's at least one feature that everyone will love, whether that's the excellent display, incredible gaming performance, or a wide array of connectivity ports. The Legion 5 Pro is a jack-of-all-trades that has you covered no matter what you need to get done.
There are few quirky things about this laptop, mainly an off-center trackpad and the direction heat is expelled from inside the chassis, (the latter can be uncomfortable if your mouse hand is too close to the laptop), but they don't ruin the overall useability and that's what counts the most.
The Legion 5 Pro misses some of the finer details, but it excels at everything else.
There are plenty of fine details Lenovo did get right, including the webcam privacy shutter, six hours of battery life (which is above average for a gaming laptop), and a hardware combination that takes full advantage of AMD's multi-core processing prowess and Nvidia's multifaceted RTX graphics card. The Legion 5 Pro is for whoever needs to edit video, render 3D images, create spreadsheets, play games—all the things!
About the Lenovo 5 Pro Gen 6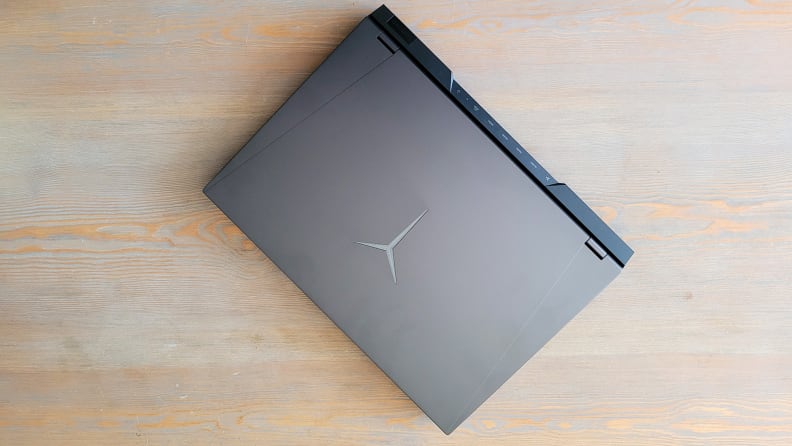 Here are the specs on the model we tested:
Processor: AMD Ryzen 7 5700H
Memory: 16GB DDR4 3200MHz
Storage: 512GB NVMe M.2 SSD
Display: 16-inch QHD (2560 x 1600) IPS, 16:10, 500 nits, 165Hz, 100% sRGB, VeSA DisplayHDR, 400-certified, Dolby Vision-enabled, Nvidia G-Sync
Ports: 2x USB-C (USB 3.2 Gen 2), 4x USB-A 3.2 Gen 1, 3.5mm mic/headphone combo, HDMI 2.1, Ethernet
Graphics: Nvidia GeForceRTX 3070
Wireless: WiFi 6 802.11AX (2 x 2), Bluetooth 5.1
Battery: 4-cell 80Wh
Weight: 5.4 pounds
Dimensions: 1.1 x 14.01 x 10.4 inches
Warranty: 1-year base warranty
This laptop can also be configured with a lower-end Ryzen 5 5600H and/or an RTX 3060, along with up to 32GB of RAM and up to two M.2 SSDs (one 512GB and one 1TB).
What we like
Keys are snappy with enough travel distance
The Legion 5 Pro may not have top-of-line mechanical switches like the Razer Blade 15 or the Alienware M15 R4, but the keys are pleasantly snappy and for low profile keys there's enough travel to make it feel like you're getting a good press. One disappointing feature of any modern gaming laptop is a mushy, or soft, keyboard. (Like the membrane switches on a run-of-the-mill office keyboard.) Even if there's enough key travel, and the response time is fast, mushy keys can be the difference between surviving a standoff with one health point or going back to your save point for the 37th time.
The full-sized keyboard layout is a little smooshed, thanks to Lenovo's addition of a Numpad, but the size of the main keys themselves are just right. My fingers naturally adapted to their positions, and rarely did I reach for a key and hit something else (other than the occasional typo).
The keyboard also has RGB lighting, which you can customize in the included Lenovo Vantage software. You can't customize on a per-key basis (a feature usually reserved for really high-end gaming laptops), but you can divide the keyboard into four separate sections by color if you wanted. You can also opt for a static color, a rotating wave of colors, or turn all the RGB off.
Near-perfect ray tracing performance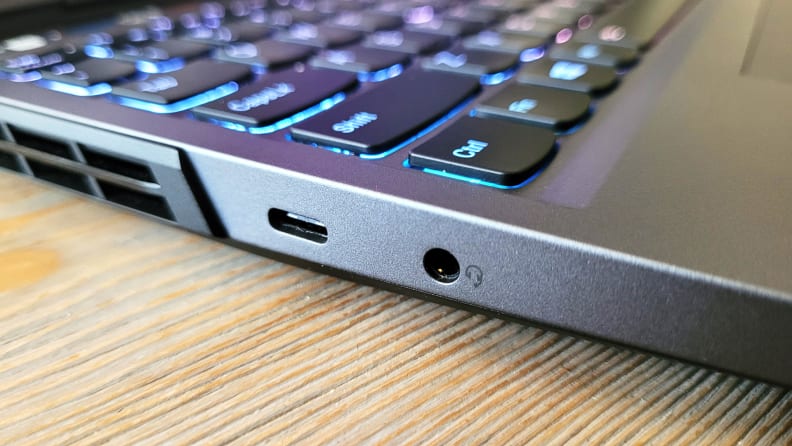 Ray tracing—the fancy, realistic lighting effect common in newer games—takes a lot of GPU resources. But you don't need the top-of-the-line RTX 3080 graphics card to hit high frame rates in ray-tracing enabled games. The Lenovo 5's RTX 3070 hit nearly, or just over, 60 fps at a 1080p resolution on Ultra (or the highest graphing setting) and ray tracing turned on in games like Control, Metro Exodus, and Cyberpunk 2077. It can even surpass that by at least 20 frames with Nvidia's special DLSS tech-enabled, which upscales the game resolution with AI to put less of a burden on the GPU architecture. This allows games with resource-hogging effects like ray tracing to perform better.
In non-ray tracing games like Shadow of the Tomb Raider, Total War: Warhammer II, and Far Cry 5, the Legion 5 Pro can easily reach between an average of 84 fps and 110 fps at the same resolution and the same graphics settings, depending on the game. The RTX 3070 even outperformed AMD's RX 6800M by 5 to 10 fps, even though the RX 6800M was paired with a faster processor, a Ryzen 9 5900HX, in the Strix G15 we previously tested. The same is true for any RTX 3070-based laptop paired with an Intel Core i7-10870H. The RTX 3070 in mobile form is an all-around winner.
An esports-level refresh rate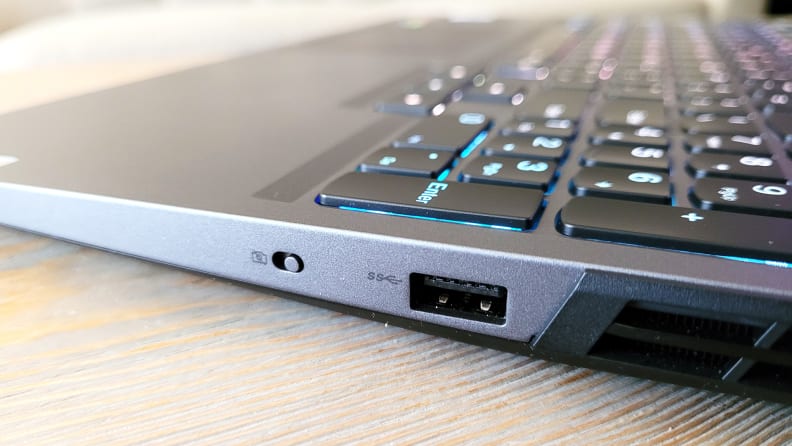 The Legion 5 Pro's 165Hz refresh rate is more than enough to make any esports game like Overwatch or League of Legends run super smoothly. The higher the refresh rate, the more frames the display can show per-second, and when you're playing games that rely heavily on split-second decisions, sometimes those extra frames make the difference between surviving a stand-off with a point of health left. For single-player games that prioritize graphics over competition, a 165Hz refresh rate smooths out object blur while moving or panning the camera, so everything looks sharper and more vibrant.
Additionally, the display is Quad HD (2560×1600 resolution), which has sharper images and improved clarity over a Full HD (1920 x 1080 resolution) display. Adding that extra resolution to the high refresh rate really make visuals pop. Making this display QHD instead of a FHD (AKA 1080p HD) also makes more sense because of its aspect ratio: 16:10 instead of the usual 16:9 you normally see with gaming laptops.
The 16:10 ratio makes this display ever so slightly larger. Higher resolution looks even better on a bigger display, and that translates to improved game play—not only do you get the first shot off on the enemy team, you get to see how pretty it looks while you're doing it.
What we don't like
Heat pours out from the sides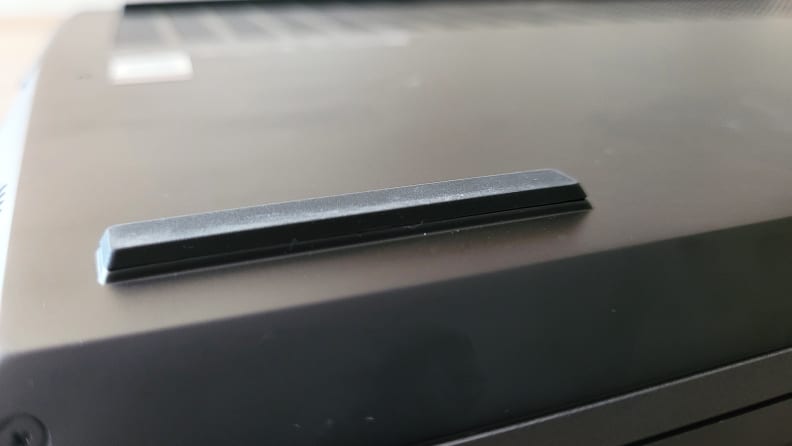 Normally, expelling hot air from a laptop is a good thing. It's why you often hear the fans whip around like a turbo jet engine when the components are pushed hard, especially while gaming or rendering a complex 3D image. Not only do the fans in this Legion 5 Pro do that, but it even has feet on the bottom of it so the laptop can really push all that hot air through the gap they create. The fans, the feet—they both do exactly what they're designed to do.
The problem is all that heat gets pushed right into your mouse hand, regardless of whether you use your right hand or left. Heat pours from each side of the Legion 5 Pro. There are two air vents on the back side, but not as much hot air escapes from there. Most of it is from the bottom vent, and the feet are what help the hot air escape from the sides.
Moving your mouse hand further away from the laptop helps, but depending on how far away you need to move it for your own skin comfort, it might not be the most comfortable position to game in for an extended period of time. I had to move my hand a few inches away so my skin wouldn't feel like I was blasting a hair dryer directly at it.
The CPU and chassis run hot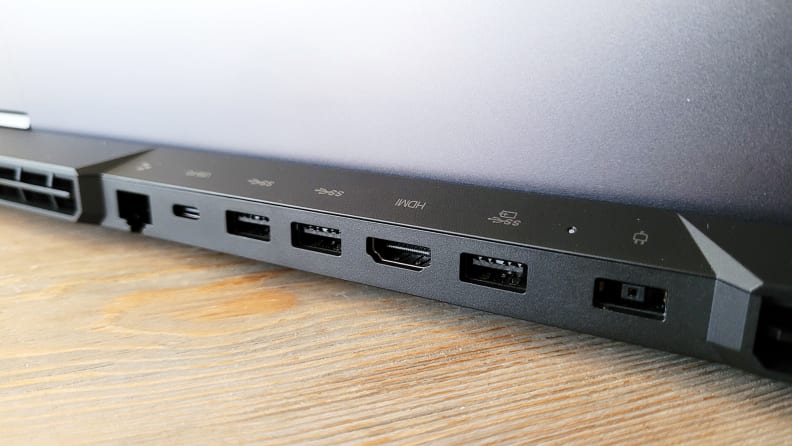 As if dumping hot air straight onto your mouse hand wasn't band enough, it can be a tell-tale sign that the CPU is reaching its thermal limits. While this Legion 5 Pro had an average CPU temperature of 73.6 degrees Celsius (163.4 degrees Fahrenheit) while gaming, it easily peaked at 89.1 Celsius (192.38 Fahrenheit). That's still a bit below the Ryzen 7 5700H's max temperature threshold, but any CPU that can easily get into the 80-90 degree range is at risk of decreased longevity. Hardware components plus lots of heat equals bad news bears.
It's not all bad news for the processor in this Legion 5 Pro, though. Because the CPU's thermal threshold is 105 degrees Celsius, it never actually gets hot enough to throttle the processor. In other words, there isn't enough heat flowing through it to dip its speed. (We were able to confirm this by running HWInfo, a program that monitors the vital signs of all the major hardware components inside a computer.) Whether you're gaming or creating an animated short film with fancy lighting effects, you'll still get the most out of the hardware.
But again, all that heat has to go somewhere, and when it's not escaping from the sides, it's being absorbed by the chassis. The area around the WASD keys stays at a comfortable temperature, but the other side of the keyboard is noticeably warmer, peaking at 50.9 Celsius (123.6 Fahrenheit). Ideally, that number should not exceed, or even reach, that temperature, and there are other gaming laptops with similar performance that maintain a much cooler chassis. Asus' ROG Strix G15 AMD Advanced Edition is one example, with a chassis that stays around 40 degrees Celsius.
The trackpad is off-center
Instead of shrinking the size of the arrow keys to align them with the spacebar and other keys at the bottom, Lenovo opted for full-sized arrow keys, which pushes them out of alignment. The result is sort of like one square of a Tetris piece fitting into a row, but the other squares jut out at the top because it's the wrong shape. This, in turn, pushes the trackpad to the left.
If you're used to the trackpad on your laptop being dead center, you'll have to retrain your muscle memory to adjust for the positioning here. It took me a few days to adjust, but after smashing my index finger onto the trackpad and wondering why the laptop wasn't registering my clicks, I finally trained myself to move my hand a little further to the left. (I'm not looking forward to untraining with the next laptop I get my hands on.)
The trackpad is perfectly aligned with the spacebar and the Alt keys, but if you measure the distance from each edge of the pad to each edge of the laptop, it's three inches from the left and 6.5 inches from the right. That puts the base of my thumb squarely over the top left corner of the trackpad, and yes, I accidentally left-clicked so many times while writing this review.
Should you buy it?
Yes, there are too many great things about this laptop to ignore it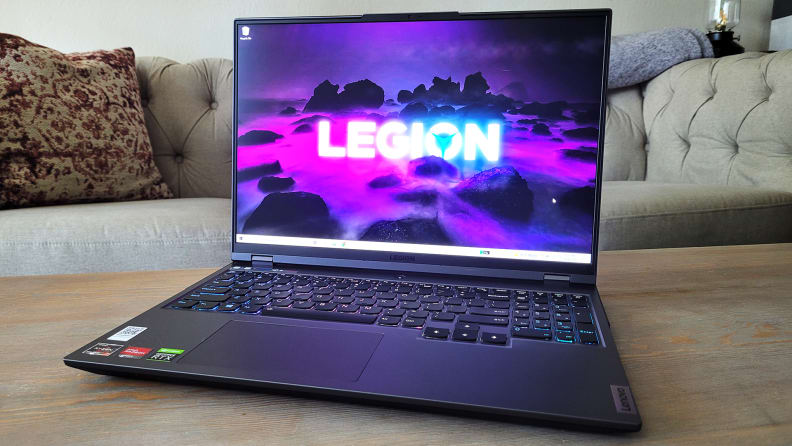 No laptop is going to be perfect, even ones with a price point like Lenovo Legion 5 Pro Gen 6. For the performance, versatility, and build quality, its price point seems about right, but the thermal design is not up to par with what one would normally expect from a gaming laptop of this caliber. It's not bad, but compared to what Lenovo has been able to do with other Legion models, and what other laptop makers have been able to do, the way this one expels heat leaves me scratching my head. Same with the off-center trackpad.
While those issues aren't total deal breakers, this laptop isn't available at the moment anyway. Lenovo currently lists it as temporarily unavailable, and it's not available from 3rd-party sellers either. We reached out to Lenovo to confirm this, however more units should be available from Lenovo direct and from Walmart near the end of June or beginning of July. In the meantime, something like the Asus ROG Strix G15 AMD Advantage Edition or HP Omen are great alternatives to this Legion laptop. Both have comparable configuration options for close to the same price, or cheaper.
The Lenovo Legion 5 Pro Gen 6 is an incredible machine that, excluding a few design choices, hits all the right notes: Decent battery life, snappy keys, high-end performance, vibrant display, and so many connectivity ports. If you need a laptop for both gaming and creative work, this one can go the distance.
The product experts at Reviewed have all your shopping needs covered. Follow Reviewed on Facebook, Twitter, and Instagram for the latest deals, product reviews, and more.
Prices were accurate at the time this article was published but may change over time.