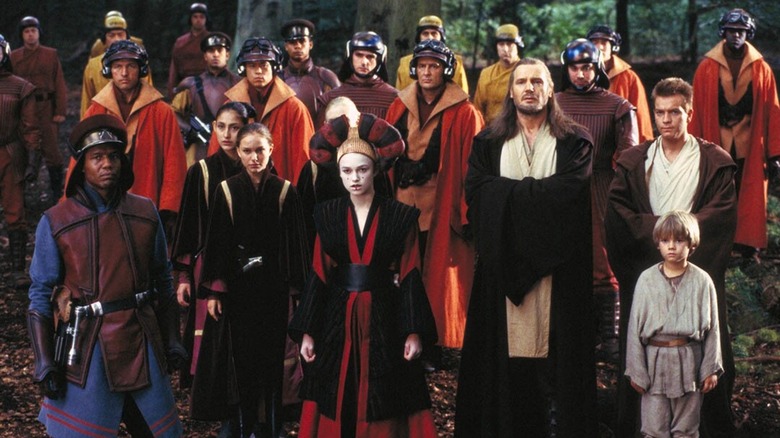 Even for someone who has had a remarkable career, if part of that career includes "Star Wars" in any capacity, that will always be an immortal calling card. Period. Such is the case with Keira Knightley, the star of "Pirates of the Caribbean" and "Atonement," among many other big things. But Knightley's first, big break was starring a bit-part in "Star Wars: The Phantom Menace" as Sabe, one of the Royal Handmaidens of Naboo who was assigned to Queen Amidala (Natalie Portman). Despite the immortality of it all, Knightley has almost no memory of making the film. Almost.
Speaking to Total Film in 2020 (via GamesRadar), Knightley was reflecting on her impressive career and was asked about her time filming "The Phantom Menace." The film was a gigantic moment in pop culture history, bringing "Star Wars" back to the masses for a new generation after it had been away for the better part of two decades. But all Knightley remembers is an uncomfortable wardrobe situation.
"I mean, I was 12. I literally don't remember... I remember the headdress being so heavy, it gave me a headache. I really remember the headache from one of the headdresses. And I remember being in the background for such a long time that I'd actually fallen asleep. I was just sitting in a chair, and I was in the background, but I couldn't keep my eyes open. I really remember that. But apart from that, I don't remember anything else about it."
An Immortal Bad Memory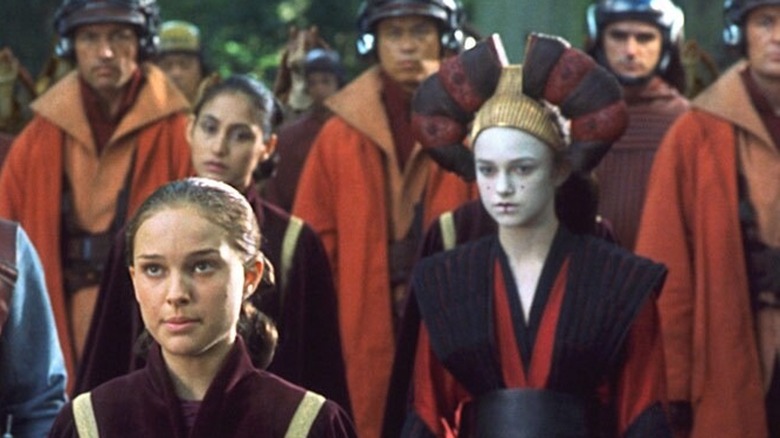 Many of us would probably be hard-pressed to recall too many memories from when we were 12, but we'd also probably likely to think that if we were a part of "Star Wars" at that age, the memory recall would be a little better. That's not the case for Knightley though. In that same interview, she even had something similar to say about 2003's "Pirates of the Caribbean: The Curse of the Black Pearl," a massive blockbuster that started a huge franchise. "The first Pirates, I was 17. I don't remember it that well. Overwhelming? Yeah. The problem is, I don't really know what I remember," Knightley said. So this isn't just isolated to a galaxy far, far away. Those early hits from her career are not well remembered.
After appearing in "The Phantom Menace," Knightley's career took off like a rocket. In the decade that followed, she appeared in "Bend It Like Beckham," "Love Actually," "Pride & Prejudice," the Best Picture-nominated "Atonement," and the entire "Pirates of the Caribbean" trilogy. A remarkable run, to be certain. It's the sort of run that any actor would dream of having, with everything from acclaimed dramas to a blockbuster franchise in the mix.
Be that as it may, her bit-part in Episode I, which is not exactly one of the most roundly-beloved "Star Wars" movies we've ever had, is going to be remembered by a great many people, even if Knightley doesn't remember it beyond the discomfort. So it goes.
Read this next: Andor Character Guide: Meet The Cast Of The Rogue One Prequel Series
The post Keira Knightley's Only Star Wars Memory Is Of An Uncomfortable Costume Piece appeared first on /Film.