Each month, the programmers at the Criterion Channel produce incredible line-ups for their subscribers. For July, the Channel will feature films from Wong Kar Wai, Chris Marker, Mani Ratnam and more!
Below you'll find the programming schedule for the month, along with a complete list of titles that Criterion has in store for us. Don't forget to check the Criterion Channel's main page regularly though, as they occasionally will drop surprises that aren't included in the official press release.
Don't subscribe yet? Start a 14-day free trial
FEATURED SERIES
Premiering July 1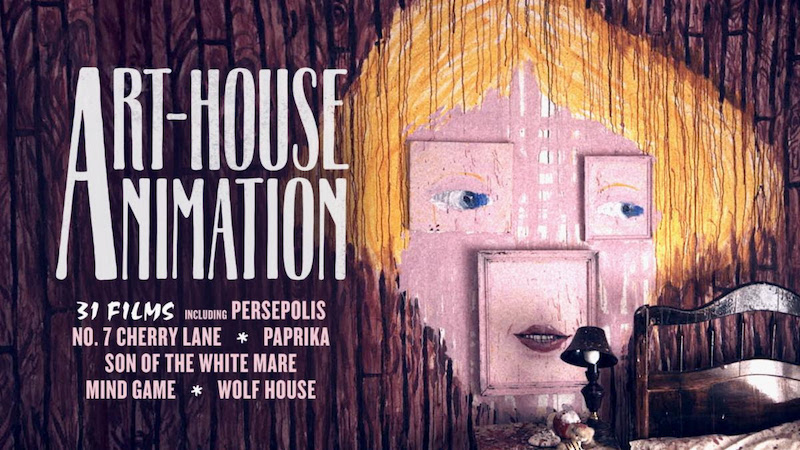 Art-House Animation
The endless possibilities of animation are on dazzling display in this round-the-world showcase of some of the medium's most innovative, boundary-pushing, and mind-enhancing examples. Far from cuddly kid's stuff, these optical wonders are frequently dark, transgressive, sexually charged, and psychologically complex, using the anything-goes potential of animation to evoke expressionistic inner worlds and transport viewers to realms of the fantastical and the bizarre. Czech stop-motion surrealism (The Fabulous Baron Munchausen, Alice), Hungarian psychedelia (Son of the White Mare), visionary Japanese anime (Mind Game, Paprika), American underground experimentation (Consuming Spirits), hallucinatory Chilean horror (The Wolf House), Palestinian political satire (The Wanted 18), and many more fantasias leap off the screen in this epic animation celebration that will leave your imagination whirling and your retinas reeling.
Journey to the Beginning of Time, Karel Zeman, 1955
Invention for Destruction, Karel Zeman, 1958
The Fabulous Baron Munchausen, Karel Zeman, 1962
Belladonna of Sadness, Eiichi Yamamoto, 1973
János vitéz, Marcell Jankovics, 1973
Fantastic Planet, René Laloux, 1973
Watership Down, Martin Rosen, 1978
Son of the White Mare, Marcell Jankovics, 1981
Plague Dogs, Martin Rosen, 1982
Alice, Jan Švankmajer, 1988
Faust, Jan Švankmajer, 1994
Mind Game, Masaaki Yuasa, 2004
Paprika, Satoshi Kon, 2006
Persepolis, Marjane Satrapi and Vincent Paronnaud, 2007
Waltz with Bashir, Ari Folman, 2008
A Town Called Panic, Stéphane Aubier and Vincent Patar, 2009
Mary and Max, Adam Elliot, 2009
Chico & Rita, Tono Errando, Fernando Trueba, and Javier Mariscal, 2010
The Rabbi's Cat, Joann Sfar and Antoine Delesvaux, 2011
Alois Nebel, Tomáš Luňák, 2011
Tatsumi, Eric Khoo, 2011
The King of Pigs, Yeon Sang-ho, 2011
It's Such a Beautiful Day, Don Hertzfeldt, 2012
Consuming Spirits, Chris Sullivan, 2012
Aya of Yop City, Marguerite Abouet and Clément Oubrerie, 2013
Rocks in My Pockets, Signe Baumane, 2014
The Wanted 18, Amer Shomali and Paul Cowan, 2014
The Girl Without Hands, Sébastien Laudenbach, 2016
Tower, Keith Maitland, 2016
The Wolf House, Cristóbal León and Joaquín Cociña, 2018
No. 7 Cherry Lane, Yonfan, 2019

Neonoir
While film noir had its heyday in the disillusioned postwar era of the 1940s and '50s, its seductively moody style and dark, cynical edge have continued to inspire more recent filmmakers—freed from the constraints of the Production Code—to put their own, often subversive stamps on the genre. Featuring unforgettable femme fatales (Kathleen Turner in the Double Indemnity–inspired Body Heat, Linda Fiorentino's ice-cold bad girl in The Last Seduction) and world-weary private eyes (Jack Nicholson in Chinatown; Elliott Gould and Robert Mitchum offering their respective takes on Raymond Chandler's legendary detective Philip Marlowe in The Long Goodbye and Farewell, My Lovely), this selection of some of the finest neonoirs spotlights the myriad ways in which the hard-boiled vocabulary of noir has endured and evolved over the decades. From the blaxploitation boom (Across 110th Street) to Hollywood's post-Watergate cynicism (Night Moves, Cutter's Way) to the New Queer Cinema (Swoon) and beyond, these films prove that noir is more than just a single era or movement—it's a state of mind.
Cotton Comes to Harlem, Ossie Davis, 1970
Across 110th Street, Barry Shear, 1972
The Long Goodbye, Robert Altman, 1973
Chinatown, Roman Polanski, 1974
Night Moves, Arthur Penn, 1975
Farewell, My Lovely, Dick Richards, 1975
The Killing of a Chinese Bookie, John Cassavetes, 1976
The American Friend, Wim Wenders, 1977
The Big Sleep, Michael Winner, 1978
Eyes of Laura Mars, Irvin Kershner, 1978
The Onion Field, Harold Becker, 1979
Body Heat, Lawrence Kasdan, 1981
Thief, Michael Mann, 1981*
Blow Out, Brian De Palma, 1981
Cutter's Way, Ivan Passer, 1981
Blood Simple, Joel Coen and Ethan Coen, 1984
Body Double, Brian De Palma, 1984
The Hit, Stephen Frears, 1984
Trouble in Mind, Alan Rudolph, 1985
Manhunter, Michael Mann, 1986
Mona Lisa, Neil Jordan, 1986
The Bedroom Window, Curtis Hanson, 1987
Homicide, David Mamet, 1991
Swoon, Tom Kalin, 1992
Suture, Scott McGehee and David Siegel, 1993
The Last Seduction, John Dahl, 1994
Brick, Rian Johnson, 2005
*Available September 1

World of Wong Kar Wai
With his lush and sensual visuals, pitch-perfect soundtracks, and soulful romanticism, Wong Kar Wai has established himself as one of the defining auteurs of contemporary cinema. Joined by such key collaborators as cinematographer Christopher Doyle; editor and production and costume designer William Chang Suk Ping; and actors Tony Leung Chiu Wai and Maggie Cheung Man Yuk, Wong (or WKW, as he is often known) has written and directed films that have enraptured audiences and critics worldwide and inspired countless other filmmakers with their poetic moods and music, narrative and stylistic daring, and potent themes of alienation and memory. Whether tragically romantic, soaked in blood, or quirkily comedic, the seven films collected here are an invitation into the unique and wistful world of a deeply influential artist.
Features
As Tears Go By, 1988
Days of Being Wild, 1990
Chungking Express, 1994
Fallen Angels, 1995
Happy Together, 1997
In the Mood for Love, 2000
2046, 2004
Shorts
Hua yang de nian hua, 2000
The Hand, 2004

Paul Muni: An Actor Among Stars
In an era when movie stars were often better known for their glamorous images than for their performances, Paul Muni stood out for his almost religious devotion to the art and craft of acting. Honing his skills in the Yiddish theater—where he learned to use makeup to facilitate his remarkable physical transformations—Muni shot to film stardom in 1932 with his electrifying turns in the gangster classic Scarface and the hard-hitting prison exposé I Am a Fugitive from a Chain Gang. Marketed by Warner Bros. as "the screen's greatest actor," Muni was given the rare privilege of choosing his roles, an opportunity he used to make a series of acclaimed biographical dramas—including The Story of Louis Pasteur, for which he won the Academy Award for best actor, and The Life of Emile Zola—built around his intensely researched, meticulously realized portrayals of men who changed the course of history. Though he worked only sporadically in films throughout the 1940s and '50s, choosing instead to concentrate on his equally successful stage career, Muni left behind a legacy of quality and integrity that set a new standard for serious screen acting.
Scarface, Howard Hawks, 1932
I Am a Fugitive from a Chain Gang, Mervyn LeRoy, 1932
Black Fury, Michael Curtiz, 1935
The Story of Louis Pasteur, William Dieterle, 1936
The Life of Emile Zola, William Dieterle, 1937
Commandos Strike at Dawn, John Farrow, 1942
A Song to Remember, Charles Vidor, 1945
The Last Angry Man, Daniel Mann, 1959
CRITERION COLLECTION EDITIONS
Premiering July 1

Being There: Criterion Collection Edition #864
Peter Sellers gives one of his most finely tuned performances in this deeply melancholy and hilarious satire from Hal Ashby.
SUPPLEMENTAL FEATURES: A documentary on the making of the film; interviews with Sellers, Ashby, and author Jerzy Kosinski; and more.

Slacker: Criterion Collection Edition #247
Shot on 16 mm for a mere $3,000, Richard Linklater's breakout feature—released thirty years ago—is one of the key films of the American independent-film movement of the 1990s.
SUPPLEMENTAL FEATURES: A new introduction by Linklater for the film's thirtieth anniversary; It's Impossible to Learn to Plow by Reading Books (1988), Linklater's first full-length feature; three audio commentaries featuring Linklater and members of the cast and crew; deleted scenes; and more.

Hoop Dreams: Criterion Collection Edition #289
Two ordinary inner-city Chicago kids dare to reach for the impossible—professional basketball glory—in this epic chronicle of hope and faith, one of the great works of American nonfiction cinema.
SUPPLEMENTAL FEATURES: Audio commentaries by the filmmakers and their subjects, a documentary following up with the film's characters, and more.

Hedwig and the Angry Inch: Criterion Collection Edition #982
With this trailblazing musical, writer-director-star John Cameron Mitchell and composer-lyricist Stephen Trask brought their signature creation from stage to screen for a movie as unclassifiable as its protagonist.
SUPPLEMENTAL FEATURES: Audio commentary featuring Mitchell and cinematographer Frank G. DeMarco, a conversation among cast and crew members, programs on the making of the film, and more.

A Room with a View: Criterion Collection Edition #775
Merchant Ivory Productions, led by director James Ivory and producer Ismail Merchant, became a household name with this acclaimed E. M. Forster adaptation starring Helena Bonham Carter and Daniel Day-Lewis.
SUPPLEMENTAL FEATURES: A TV segment about Merchant Ivory Productions and interviews with Ivory, cinematographer Tony Pierce-Roberts, costume designer John Bright, and actors Helena Bonham Carter, Simon Callow, and Julian Sands.

Othello: Criterion Collection Edition #870
Shot over the course of three years in Italy and Morocco, this fiercely independent film joins Macbeth and Chimes at Midnight in making the case for Orson Welles as the cinema's most audacious interpreter of the Bard.
SUPPLEMENTAL FEATURES: Audio commentary from 1995 featuring filmmaker Peter Bogdanovich and Orson Welles scholar Myron Meisel; Filming "Othello," Welles's last completed film; a documentary about actor Suzanne Cloutier; and more.

Anatomy of a Murder: Criterion Collection Edition #600
A virtuoso James Stewart plays a small-town Michigan lawyer who takes on a difficult case in this gripping envelope-pusher from Hollywood provocateur Otto Preminger.
SUPPLEMENTAL FEATURES: Interviews with Otto Preminger biographer Foster Hirsch and critic Gary Giddins, an archival conversation between Preminger and William F. Buckley Jr., and more.
EXCLUSIVE STREAMING PREMIERES
Thursday, July 1

No. 7 Cherry Lane
The first animated film by celebrated director Yonfan is an exquisite, sumptuously stylized ode to young love, cinema, and the world of 1960s Hong Kong that has earned comparisons to the lush, languorous romanticism of Wong Kar Wai. Set amid the turbulent social unrest of Hong Kong's 1967 anticolonialist riots, No. 7 Cherry Lane unfolds as an almost hypnotic daydream of bittersweet nostalgia and heady eroticism in which a taboo love triangle plays out between a Proust-reading university student, a self-exiled Taiwanese divorcée, and her ravishingly beautiful daughter. Stunningly realized through a mix of colored-pencil and charcoal drawings on rice paper and studded with references to literature and international art cinema—in particular the films of French screen siren Simone Signoret—this singular achievement in adult animation casts an intoxicating spell all its own.
Wednesday, July 7

Preparations to Be Together for an Unknown Period of Time
The second feature by Hungarian director Lili Horvát is a slippery, seductive investigation of memory, obsession, and delusion. After twenty years in the United States, Hungarian neurosurgeon Márta (Natasa Stork) returns to Budapest for a romantic rendezvous with János (Viktor Bodó), a fellow doctor she met at a conference. The only problem: when she arrives, János is nowhere to be seen and, when she at last tracks him down, claims the two have never met. What ensues is a tantalizing psychological puzzle that toys brilliantly with the conventions of film noir and with the viewer's own sense of reality.
Thursday, July 15

You Will Die at Twenty
Winner of the Lion of the Future Award for best debut film at the Venice Film Festival, Amjad Abu Alala's revelatory first feature is a visually sumptuous coming-of-death fable. During a child's naming ceremony, a sheikh predicts that Muzamil (Mustafa Shehata) will die at the age of twenty. Haunted by this prophecy, his mother (Islam Mubarak) becomes fiercely protective of him. As Muzamil escapes his mother's ever-watchful eye, however, he encounters friends, ideas, and challenges that cause him to question his destiny. Sudan's first-ever Oscar submission, You Will Die at Twenty is a moving reflection on what it means to live in the present from a captivating new cinematic voice.
CRITERION ORIGINALS
Thursday, July 22

Observations on Film Art No. 43: Flash Cuts and Long Takes in Le bonheur
One of the most provocative films by the great Agnès Varda, Le bonheur interrogates our ideals of marriage, fidelity, and happiness through the sun-dappled tale of a young husband and father (Jean-Claude Drouot) who begins an affair with an attractive postal worker. In this edition of Observations on Film Art, Professor Jeff Smith considers the way that Varda experiments with long takes and quick cutting in this film. The unpredictable rhythms of Varda's editing choices build tension, contributing to her unsettling exploration of the contradictions hidden beneath the brightness of the film's visual palette.
THREE DIMENSIONS
Thursday, July 8

Three by Mani Ratnam
One of the most renowned directors working in India's Tamil-language cinema, Mani Ratnam combines explorations of hot-button social and political issues with vivid human stories to create films that are at once thought-provoking, moving, and immensely entertaining. This sampler of his extensive and acclaimed body of work features three of his finest: Nayakan, a masterful crime epic inspired by The Godfather; Bombay, a groundbreaking and controversial tale of an interfaith Muslim-Hindu romance; and Kannathil muthamittal (A Peck on the Cheek), a powerful look at the Sri Lankan Civil War through the eyes of a young girl.
Nayakan, 1987
Bombay, 1995
Kannathil muthamittal (A Peck on the Cheek), 2002
TRUE STORIES
Monday, July 5

A Bigger Splash
Jack Hazan's intimate, daring narrative-nonfiction hybrid captures the agonized end of the lingering affair between painter David Hockney and his muse, Peter Schlesinger, and stands as a tender portrait of gay male romance in the 1970s.
Monday, July 5

A Day on the Grand Canal with the Emperor of China
David Hockney takes viewers on a journey through seventeenth-century China via a magnificent, seventy-two-foot-long scroll painting in this captivating art-history lesson.
Monday, July 5

Andrei Tarkovsky: A Cinema Prayer
The life, art, and inner world of Russian master Andrei Tarkovsky is revealed in this appropriately hushed, reverent tribute from the filmmaker's son.
Monday, July 12

Two Films by Nikolaus Geyrhalter
Visionary documentarian Nikolaus Geyrhalter explores humankind's place on Earth via the indelible impact we have had on its landscapes in a pair of mesmerizingly dystopian works of real-life science fiction.
Homo Sapiens, 2016
Earth, 2019
Monday, July 12

The Black Power Mixtape 1967–1975
Drawn from a treasure trove of 16 mm material shot by Swedish journalists who came to the U.S. to seek out stories of unrest and revolt, this landmark documentary offers an exhilarating, unprecedented account of an American revolution.
Monday, July 19

American Movie
It takes a village to make a movie—but what happens when that village is Menomonee Falls, Wisconsin? This cult-favorite documentary captures one DIY filmmaker's bizarre, comical, and poignant quest to make his movie, his way.
Monday, July 26

Film and Notfilm
Witness the legendary, controversial collaboration between Samuel Beckett and Buster Keaton and discover the story of how this singular, once-in-a-generation meeting of two artistic giants came about.
Thursday, July 29

Postcards from the Future: Four Films by Chris Marker
Described by Alain Resnais as "the prototype of the twenty-first-century man," French cine-essayist and multimedia visionary Chris Marker always seemed prophetically ahead of his time—so much so that even now, one hundred years after his birth, his playful, philosophical, and deeply personal ruminations on time, memory, and the rapid advancement of life on this planet still feel bracingly modern, full of secrets and surprises remaining to be discovered and deciphered. This centenary celebration brings together two formative early works, the typically idiosyncratic travelogues Sunday in Peking and Letter from Siberia, alongside his twin masterpieces: La Jetée, a radical tale of time travel told through still images, and Sans Soleil, a mind-bending free-form travelogue that journeys from Africa to Japan.
Sunday in Peking, 1956
Letter from Siberia, 1957
La Jetée, 1963
Sans Soleil, 1983
More documentaries featured in this month's programming:
Hoop Dreams, Steve James, Frederick Marx, and Peter Gilbert, 1994
Waltz with Bashir, Ari Folman, 2008
The Wanted 18, Amer Shomali and Paul Cowan, 2014
Tower, Keith Maitland, 2016
Beyond the Visible — Hilma af Klint, Halina Dyrschka, 2019
WOMEN FILMMAKERS
Wednesday, July 14

Clockwatchers
Parker Posey, Lisa Kudrow, Toni Collette, and Alanna Ubach star in Jill Sprecher's lost indie gem, a deadpan satire of the soul-draining, muzak-set absurdity of 1990s corporate culture.
Wednesday, July 21

Beyond the Visible — Hilma af Klint
Discover the fascinating life and colorful, sensual art of the recently rediscovered mystic and pioneer of abstract painting.
Wednesday, July 28

The Grand Bizarre
The dazzling debut feature from experimental animator Jodie Mack is an eye-popping and ear-pleasing study of textile patterns around the world that unfolds as a colorfully kinetic collage of design, tourism, language, and music.
More women filmmakers featured in this month's programming:
Persepolis, Marjane Satrapi and Vincent Paronnaud, 2007
Swimmer, Lynne Ramsay, 2012
Aya of Yop City, Marguerite Abouet and Clément Oubrerie, 2013
Rocks in My Pockets, Signe Baumane, 2014
Practice, Iyabo Kwayana, 2017
This Magnificent Cake!, Marc James Roels and Emma De Swaef, 2018
Preparations to Be Together for an Unknown Period of Time, Lili Horvát, 2020
SATURDAY MATINEES
Saturday, July 3

Ernest & Celestine
An unlikely bond between a bear and a mouse blossoms in this joyful Oscar nominee, a playfully kinetic ode to friendship and the limitless possibilities of animated storytelling.
Saturday, July 10

Our Vines Have Tender Grapes
Edward G. Robinson and Margaret O'Brien star in this lovely evocation of rural American life, as seen through the eyes of the young daughter of a Norwegian immigrant family.
Saturday, July 17

The Painting
This visually sumptuous, wryly inventive animated parable about the inhabitants of a work of art is a feast for both the eyes and the imagination.
Saturday, July 24

Mr. Hobbs Takes a Vacation
James Stewart is the aggravated everyman who needs a vacation from his vacation in this high-spirited family comedy.
Saturday, July 31

Nocturna
This visually stunning, wildly inventive fantasy explores the mystery of the night in a sweeping nocturnal adventure full of Alice in Wonderland–like characters and moody, dream-inspired landscapes.
SHORT-FILM PROGRAMS
Tuesday, July 6

Faces in the Crowd
Practice and Sans Soleil
Iyabo Kwayana and Chris Marker meditate on the relationship between the group and the individual in a portrait of students practicing martial arts and a captivating poetic travelogue.
Tuesday, July 13

Circles of Life
This Magnificent Cake! and La ronde
A rotating cast of characters traverse from one vignette to the next in a brilliant and unsettling stop-motion marvel and an enchanting romantic roundelay.
Tuesday, July 20

Swimmer
Stunning monochrome cinematography and impressionistic sound design turn a young man's aquatic odyssey into a ravishing sensory experience in this short film made to commemorate the 2012 Olympic Games in London.
Tuesday, July 27

Respect Your Elders
The Backseat and Thank You and Good Night
Multigenerational Jewish families squabble while lending one another a hand in a sharply observed short and a brilliant docu-fantasy.
DOUBLE FEATURES
Friday, July 2

Road Rage
Thelma & Louise and The Living End
Ride along as a pair of defiantly unconventional road movies take detours into lawless abandon.
Friday, July 9

Candid Cameras
Living in Oblivion and Delirious
Tom DiCillo and Steve Buscemi take hilarious, caustic aim at the absurdities of the entertainment industry in a pair of whip-smart showbiz satires that pull back the curtain to reveal the inflated egos and relentless hustle behind the glamorous facade.
Friday, July 16

Trials and Error
Knock on Any Door and Anatomy of a Murder
Surprise witnesses, explosive revelations, and life-or-death stakes: the high drama of a jury trial is on display in a pair of noir-tinged courtroom procedurals built around commanding performances from Humphrey Bogart and James Stewart.
Friday, July 23

Musante Mayhem
The Incident and The Bird with the Crystal Plumage
Tony Musante gets mixed up in something sinister in a terrifying exercise in nerve-shredding suspense and a landmark Italian giallo.
Friday, July 30

Felonious Femmes
Too Late for Tears and The Last Seduction
Femme fatales of '49 and '94: Lizabeth Scott and Linda Fiorentino are diabolical delights as unforgettably ruthless women involved in high-stakes robbery and dangerous double crosses.
Plus: New Additions to Previous Programs

Now Playing in 30 Years of The Film Foundation: Drums Along the Mohawk
In November, we kicked off our thirtieth-anniversary celebration for film-preservation powerhouse The Film Foundation, founded by Martin Scorsese in 1990. This month's spotlighted restoration is one of John Ford's richest evocations of American history and its myths—a glorious Technicolor epic set during the Revolutionary War.
Complete list of films premiering on the Criterion Channel this month:
2046, Wong Kar Wai, 2004
Across 110th Street, Barry Shear, 1972
Alice, Jan Švankmajer, 1988
Alois Nebel, Tomáš Luňák, 2011
American Movie, Chris Smith, 1999
Anatomy of a Murder, Otto Preminger, 1959
Andrei Tarkovsky: A Cinema Prayer, Andrei Tarkovsky, 2019
As Tears Go By, Wong Kar​ Wai, 1988
Being There, Hal Ashby, 1979
Belladonna of Sadness, Eiichi Yamamoto, 1973
The Bedroom Window, Curtis Hanson, 1987
Beyond the Visible – Hilma af Klint, Halina Dyrschka, 2019
The Big Sleep, Michael Winner, 1978
A Bigger Splash, Jack Hazan, 1973
The Bingo Long Traveling All-Stars & Motor Kings, John Badham, 1976 *
Black Fury, Michael Curtiz, 1935
The Black Power Mixtape 1967–1975, Göran Olsson, 2011
Blow Out, Brian De Palma, 1981
Body Double, Brian De Palma, 1984
Body Heat, Lawrence Kasdan, 1981
Bombay, Mani Ratnam, 1995
Born Yesterday, George Cukor, 1950
Brick, Rian Johnson, 2005 *
Chico & Rita, Tono Errando, Fernando Trueba, and Javier Mariscal, 2010 *
Chinatown, Roman Polanski, 1974 *
Clockwatchers, Jill Sprecher, 1997
Commandos Strike at Dawn, John Farrow, 1942
Consuming Spirits, Chris Sullivan, 2012
Cotton Comes to Harlem, Ossie Davis, 1970
Cutter's Way, Ivan Passer, 1981
Days of Being Wild, Wong Kar​ Wai, 1990
A Day on the Grand Canal with the Emperor of China, Philip Haas, 1988
Delirious, Tom DiCillo, 2006
Drums Along the Mohawk, John Ford, 1939
Earth, Nikolaus Geyrhalter, 2019
Ernest & Celestine, Stéphane Aubier, Vincent Patar, and Benjamin Renner, 2012 *
Eyes of Laura Mars, Irvin Kershner, 1978
Farewell, My Lovely, Dick Richards, 1975
Faust, Jan Švankmajer, 1994 *
Film, Alan Schneider, 1965
The Girl Without Hands, Sébastien Laudenbach, 2016
The Grand Bizarre, Jodie Mack, 2018
The Hand, Wong Kar​ Wai, 2004
Hedwig and the Angry Inch, John Cameron Mitchell, 2001
Homo Sapiens, Nikolaus Geyrhalter, 2016
Hoop Dreams, Steve James, Frederick Marx, and Peter Gilbert, 1994
I Am a Fugitive from a Chain Gang, Mervyn LeRoy, 1932
The Incident, Larry Peerce, 1967
It's Such a Beautiful Day, Don Hertzfeldt, 2012
János vitéz, Marcell Jankovics, 1973
Kannathil muthamittal (A Peck on the Cheek), Mani Ratnam, 2002
The King of Pigs, Yeon Sang-ho, 2011
Knock on Any Door, Nicholas Ray, 1949
The Last Angry Man, Daniel Mann, 1959
The Last Seduction, John Dahl, 1994
The Life of Emile Zola, William Dieterle, 1937 *
Living in Oblivion, Tom DiCillo, 1995
The Long Goodbye, Robert Altman, 1973
Manhunter, Michael Mann, 1986
Mary and Max, Adam Elliot, 2009
Millennium Actress, Satoshi Kon, 2001
Mind Game, Masaaki Yuasa, 2004
Mr. Hobbs Takes a Vacation, Henry Koster, 1962
Nayakan, Mani Ratnam, 1987
Night Moves, Arthur Penn, 1975
No. 7 Cherry Lane, Yonfan, 2019
Nocturna, Adrià García, Víctor Maldonado, 2007
Notfilm, Ross Lipman, 2015
The Onion Field, Harold Becker, 1979
Othello, Orson Welles, 1951
Paprika, Satoshi Kon, 2006 *
The Painting, Jean-François Laguionie, 2011 *
Persepolis, Marjane Satrapi and Vincent Paronnaud, 2007 *
The Plague Dogs, Martin Rosen, 1982
Practice, Iyabo Kwayana, 2017
Preparations to Be Together for an Unknown Period of Time, Lili Horvát, 2020
The Rabbi's Cat, Joann Sfar and Antoine Delesvaux, 2011 *
Rocks in My Pockets, Signe Baumane, 2014 *
A Room with a View, James Ivory, 1985
Scarface, Howard Hawks, 1932
Slacker, Richard Linklater, 1990
Son of the White Mare, Marcell Jankovics, 1981
A Song to Remember, Charles Vidor, 1945
The Story of Louis Pasteur, William Dieterle, 1936
Suture, Scott McGehee and David Siegel, 1993
Swimmer, Lynne Ramsay, 2012
Swoon, Tom Kalin, 1992
Tatsumi, Eric Khoo, 2011
Tess, Roman Polanski, 1979
Thelma & Louise, Ridley Scott, 1991
This Magnificent Cake!, Emma De Swaef and Marc James Roels, 2018
Too Late for Tears, Byron Haskin, 1949
Tower, Keith Maitland, 2016
A Town Called Panic, Stéphane Aubier and Vincent Patar, 2009 *
Trouble in Mind, Alan Rudolph, 1985
Twentieth Century, Howard Hawks, 1934
The Wanted 18, Paul Cowan and Amer Shomali, 2014 *
The Wolf House, Joaquin Cociña and Cristóbal León, 2018
Waltz with Bashir, Ari Folman, 2008 *
You Will Die at Twenty, Amjad Abu Alala, 2019
*Available in the U.S. only