Family reunions aren't always relaxing or looked at with anticipation. Let's face it, we have tons of people coming (OK, a few dozen), and trying to come up with ideas and events to keep everyone happy and making the best family reunion unforgettable can be pretty challenging.
The preparation alone can be challenging itself. So what are the plans for entertainment, food, drinks, and sleeping arrangements?
Yes, planning the best family reunion can be overwhelming, but it doesn't have to be.
Always remember that a family reunion is about enjoying the time and creating the best memories with your family.
With these ideas on how to make the best family reunion unforgettable, you will enjoy it as well.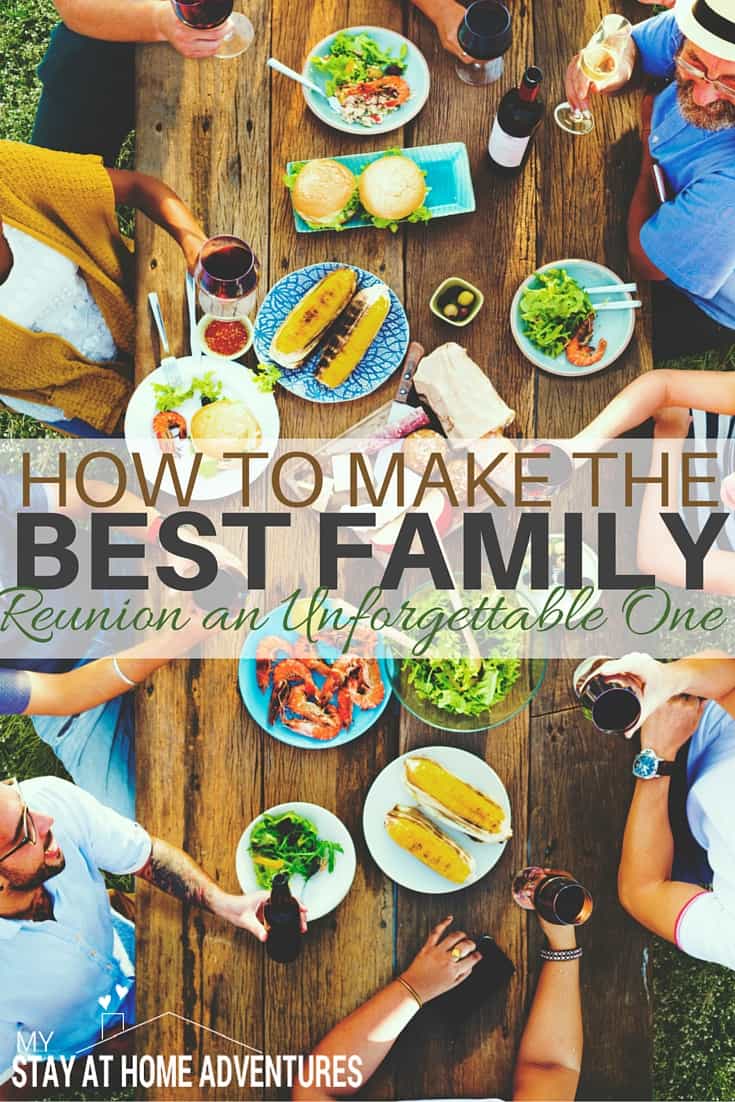 9 Tips to Make Your Family Reunion Unforgettable
Location
Finding the right place for your family reunion is important. First, look at your list of family members coming and find a location that will accommodate your guests.
For example, we rent a nice-sized area with a gazebo that fits our entire family location-wise and a pool in our township.
This place gives us enough space to play games, entertain and enjoy the entire day. The pool is only feet away, and everyone has enough room to join the celebration.
If you are planning on serving alcohol, finding a location that allows this will be more beneficial for your family than a local park.
Finding the right place for your family reunion will make it important because it is the first thing that should be on your list after estimating your guests.
Ask for help
It is OK to designate a family reunion planner; it is also OK to ask for help when needed. However, be realistic and know that the merrier and the less stressful the family reunion planning will be.
Assign everyone a job and the responsibility for a different aspect of the gathering. Also, make sure they know that they will be held accountable if the expectations were not met for the reunion.
Make everyone feel included and give them a sense of ownership to create a different atmosphere and appreciation towards the family reunion.
We give all decorations to my sister-in-law and cousins, who do a fabulous job decorating. Another cousin is in charge of baking, and the other of the candy bar.
They are good at what they do, and using their services and strength always turns out to be the best thing. Our family reunions are beautifully done and planned, and our main planner doesn't have to stress over that part of the family reunion because it is taken care of.
Also read:
Use technology
Please take advantage of technology and use it to your advantage. Send invites via social media, text message, or email. Create videos or movies to show during the family reunion.
Take photos and have a printer where you can print them instantly. Family reunions are fun and memorable, and taking a piece of that memory home will be a great touch to your family reunion.
Create a social media page or group with a personalized hashtag so everyone in your family can join the fun and later share and remember the fun times. You can also create a memorable family reunion video to share with everyone who attended.
Play games
You can't go wrong with having games at your family reunion. You will find plenty of fun games for every age simply by searching the web.  One place you can find ideas for some games for your family reunion is by clicking here.
Another site that contains 101 Fun Family Reunion Games List will surely give you plenty of ideas for everyone in your entire family reunion to enjoy some games and have fun.
Give out silly awards
One thing we love doing in our family gatherings is giving out silly prizes. So when we give out silly awards, you will have the entire family laughing and simply enjoying themselves.
There's nothing better than winning a can of canned clams for winning a silly auction.
Silly awards can be anything you wanted them to be and inexpensive. From dollar items to the lottery, the ideas are endless.
Use fun shirts
Another great way to make the best family reunion unforgettable is to create fun shirts.
Companies like Rush Order Tees or Spread Spirit lets you create our custom t-shirt in minutes. Since our family is pretty big, we love to have our own colorful and "powerful" shirts for each family.
Having family create their custom shirts and bring them to the reunion will create a fun and competitive environment.
Suppose you want to keep the family reunion shirt one style that is possible as well. The good news is that the sites mentioned are all risk-free.
Create a theme
If a theme party is your family-style, have fun and enjoy having a theme your family will enjoy. There are plenty of family reunion themes online, and you can find some ideas by clicking here.
Create a menu
One of my favorite things is not only because I get to pick the menu, but having the event menu planned and saves you time and money when done correctly.
Design a family cookbook
If you have a family like mine, you will know that almost everyone in the family is the "self-proclaimed family chef."
When it comes to the reunion, you know we all look forward to our favorite family dishes that we have come to love and enjoy.
Designing a family cookbook is a great idea that everyone will love and can take home. This is also great for future generations to have so the next family reunion maybe they will create these dishes.
Right now, you have great ideas to make the best family reunion memorable. With family cookbooks, personalized shirts, games, and so much, this will be the best family reunion your family will never forget.
What other ideas do you have that makes your family reunion unforgettable?
The post How to Make the Best Family Reunion Unforgettable appeared first on My Stay At Home Adventures.