Chromebook, Mac, or PC? And how much memory and storage should you get? These tips from experts can help you decide. By Melanie Pinola
Whether you're buying the first laptop for your fifth-grader or a graduation gift for your 18-year-old, deciding which model to get can feel like homework. Beyond the basics—Chromebook, Mac, Windows?—it's easy to get bogged down in laptop specs, from the screen resolution to the processor to how much memory and storage space your kid will truly need. What works well for a budding videographer might be overkill for a kid writing history papers.
If you're lucky, your child's school can provide a laptop for education needs. During the pandemic, many districts invested in Chromebooks and tablets for distance learning.
But your child may want to own a computer for entertainment, such as playing Minecraft or watching Disney+, which often isn't allowed on school devices, or for personal projects, from producing podcasts to creating anime. And buying a laptop for your kid frees you up from having to share yours, too.
Below, we'll walk you through the major factors to consider before you buy a laptop for your child: What's the right age to get one? What do you need to know about school-issued laptops? And what are the essential laptop features to look for based on your kid's grade level? 
In addition to answering these questions, we'll point out a few ways you can save money on your child's laptop.
At What Age Do You Buy Your Child a Laptop?
The first thing to ask is whether your child is truly ready for a laptop. 
"Some schools still discourage screen use before fourth grade," says Jenifer Joy Madden, a certified digital wellness educator and author of parenting book "How to Be a Durable Human." "Children need to establish certain basic skills, such as how to hold a writing instrument, work cooperatively with other kids in the classroom, and know how to read on paper, before technology is introduced."
Children also should demonstrate a measure of responsibility before being bestowed a device, she says. Every child is different—and so is every parent. Some people might be comfortable giving an inexpensive Chromebook to a precocious 8-year-old, while others prefer to have their teens share a family desktop computer. 
Questions to ask yourself include: Can your kid handle expensive equipment without breaking it? Are they likely to follow your rules about how to use the laptop and practice online safety? Do they even need a laptop? 
And, of course, your budget matters a lot, too.
If your kid doesn't need a laptop for schoolwork, you might be better off buying an inexpensive tablet. The Amazon Fire Kids Edition, $100, doesn't win any awards for fast performance or screen sharpness, but it comes with robust parental controls. It's also housed in a rugged case for those inevitable drops.
You might also consider a desktop computer if your kid doesn't need to carry the device around. That's easier to upgrade and repair than a laptop, can be placed in a central location for better monitoring, and is not likely to be pushed off a couch.
But for mobility—from doing homework at the dining table to watching YouTube Kids in the den—a laptop can't be beat. Once your kid has earned the right to a little independence, go ahead and purchase one if you can afford it. Your best option? That depends on your budget, and on how the device will be used.
Amazon Fire Kids Edition (16GB)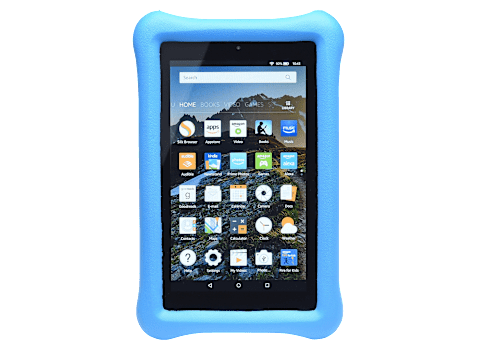 Check With Your Child's School
Some school districts supply students with laptops they can take home—usually Chromebooks, because they work well with Google Classroom and many are inexpensive. If your child is getting a computer from school, be sure to read the technology use policy. It might forbid students from using the laptop for nonschool purposes. 
Note that school-issued devices may also monitor kids' computer activity and collect sensitive data, as the Center for Democracy and Technology reports. This parent toolkit offers tips and advice to protect your child's online privacy when using a computer from school—or any computer, for that matter.
If you decide to buy a laptop for your child, check to see which operating system the school uses. It makes sense to use the same thing for your kid's home computer because it will be familiar—whether it's a Mac, a Chromebook, or a Windows PC.
Laptops for Elementary School Students
It doesn't make sense to buy a high-end laptop for children who really need only basic-level computing. For that reason, many parents turn to Chromebooks, which tend to be kid-friendly, less expensive, and easier to use than their Mac and Windows counterparts.
Chris Holtzem, a teacher and technology manager at Aspen Academy, an independent school in Colorado, recommends a Chromebook because he says they excel at both safety monitoring and durability. "You can set this up as a 'child device' and you (as the parent) can control the settings, as well as what is accessible and what is not."
Mac and Windows computers also have family settings. But Holtzem says that with a Chromebook, "the computer is set up this way from the get-go, which makes it difficult for children to find ways around it."
However, Chromebooks do have some disadvantages. They might struggle with some demanding tasks that are common in remote schooling. "As more video calls have multiple attendees who might all have their cameras on, it's better to have a faster processor that can keep up with the demand," says Antonette Asedillo, who leads laptop testing at CR. "You might also have other programs or multiple browser tabs open—some Chromebooks have slower processors that might struggle with that level of multitasking." Two of my friends who have children in different school districts told me that the school-issued Chromebooks they received were so slow they had to buy their kids Windows laptops to handle things like virtual classes.
So whether to get a Mac or Windows laptop or a Chromebook will depend on what your child will be doing on it. If it's just simple web browsing and general homework that doesn't require demanding software, an inexpensive Chromebook could suffice and save you some money. You can get a well-rated Chromebook for as little as $250. 
And because Chrome OS can run Android apps, kids can play simple mobile games like Lego Star Wars and Animal Crossing: Pocket Camp on the Chromebook if you've decided to wait on buying them a smartphone.
If your kid has already started doing things like photo editing or programming, a more powerful Windows laptop may be necessary. 
Windows 10 and 11 have an S Mode that makes Windows run a lot like Chrome OS: It allows apps to be installed only from the Windows Store, uses Microsoft Edge for safer browsing, and saves files to the cloud. These security and performance features may tip your decision to buy a Windows laptop for your child, because you can later permanently take the laptop out of S Mode when your kid needs to run an app that isn't available in the Microsoft Store.
What about macOS? MacBooks would work, too, but the cheapest MacBook Air is $999, which is probably too much to spend for a young child when some very good Windows laptops cost less than $600. 
When it comes to features, a touchscreen can be handy for children who might not have the dexterity for typing or using a touchpad. And a convertible computer—a 2-in-1 laptop that can be used like a tablet—might be helpful for kids trying to focus on an educational video. 
These extras aren't essential, though. Ample storage space may be more important when kids have to store a lot of schoolwork on them over the years. When my daughter was in elementary school, her digital artwork, animations, and saved game files easily pushed a small drive to its limits. 
On Chromebooks, most work would be done in the cloud, so storage becomes less important. But if your kid needs to download schoolwork for offline use, 64 gigabytes for a Chromebook would be a good place to start.
For memory, 8GB is generally better, especially for Windows laptops, but 4GB should be fine for elementary school kids.
When looking at our laptop and Chromebook ratings—available to CR members—also check the models' predicted reliability and customer satisfaction ratings. Based on surveys of CR's members, these scores can point you toward brands that produce models that are not only durable but also likely to please you.
HP Chromebook 14B-NA0010WM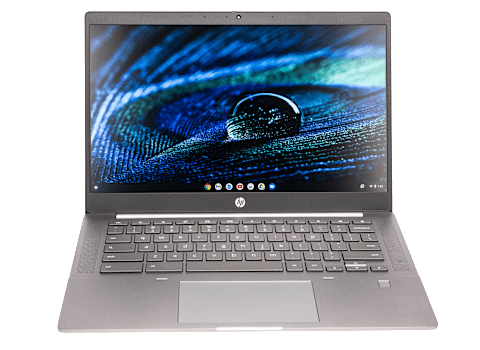 Lenovo Chromebook Flex 5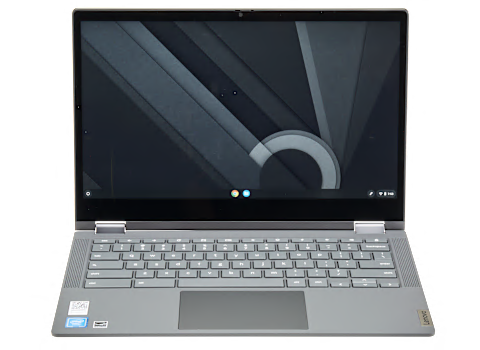 Laptops for Middle School and High School Students
The same advice about checking with your child's school applies for older students, but now buying a laptop can be trickier. A teenager may need a more powerful laptop—say, one with a midrange Intel Core i5 or Ryzen 5 processor that can do more multitasking and handle demanding tasks like video production and photo editing.
If your child is at an age where college is just a few years away, you'd want to factor that in, too, and get a laptop that can work for their undergraduate studies. According to CR's most recent survey on laptops and Chromebooks, CR members keep a laptop for a median of about five years.
Note that colleges may have laptop guidelines for some fields of study. For example, Cornell recommends that its architecture students get a Windows laptop with an Intel i7 or i9 processor and a dedicated video card. For art majors, the university recommends a MacBook Pro. So if your kid is close to deciding or has already decided on a field of study and perhaps a college, they should check with the school.
For middle school, high school, and college students, portability and battery life will be important if they'll be schlepping the laptop around campus along with heavy books. They will probably be happiest with laptops that have 14-inch or smaller screens, weigh less than 3 pounds, and have enough battery life to last at least a whole school day. (If needed, you can buy a 24-inch external monitor to leave on a dorm-room desk for under $200.)
Other ergonomic considerations include a comfortable keyboard and responsive touchpad. We recommend shopping for a laptop with your kid in a store so that they can get a feel for it.
Macs may be a more appropriate option for this age group, too. And if your child has friends who play games or messaging apps that can run only on Mac or on Windows, that might factor into your decision, as well.
CR's guide to the best laptops of the year—available for members—offers some top picks for both Mac and Windows laptops.
Acer Aspire 5 A515-56-363A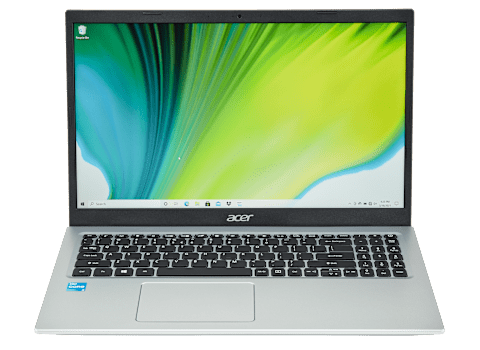 Microsoft Surface Laptop Go 2 (128GB)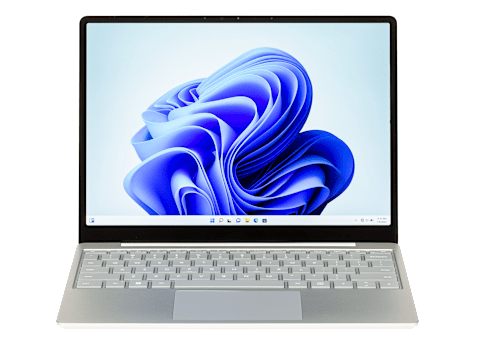 Save Money on Your Child's Laptop
When shopping for a new laptop for your kid, take advantage of laptop deals—particularly during back-to-school season and the runup to the holidays—and education discounts. 
For example, Microsoft offers an education discount for K-12 and higher-education students, teachers, and parents. That includes a 10 percent discount on select laptops. Lenovo has a similar program.
Apple's student discount varies depending on the MacBook model and is available to current or newly accepted college students or their parents. Samsung, similarly, offers discounts on select products when you verify your college student eligibility.
Your kid probably doesn't need a brand-new laptop, so consider buying a refurbished one to save a couple hundred bucks. Apple has a great refurbished program that includes a 1-year warranty, part replacement (if necessary), and a brand-new box with all accessories and cables. 
If you're not buying directly from the manufacturer, check whether a reseller is "certified," which indicates the laptop has been inspected and may have been upgraded with new parts to make sure it's in good condition. You'll also want to check whether the laptop comes with a warranty and a money-back guarantee. Amazon, Best Buy, and Walmart give buyers a 90-day warranty.
Another option? Buy yourself a new laptop and give your child your hand-me-down.
Consumer Reports is an independent, nonprofit organization that works side by side with consumers to create a fairer, safer, and healthier world. CR does not endorse products or services, and does not accept advertising. Copyright © 2023, Consumer Reports, Inc.