The latest Pixel phones gain a new chip, plus camera and video tricks The Pixel 7 (left) starts at $600, while the Pixel 7 Pro costs $900 and up.
By Melanie Pinola
In the sea of smartphones, Google's Pixel lineup has long stood out for its stock Android interface, capable cameras, and competitive prices. This year, as expected, Google has added a few notable hardware and software improvements to the new Pixel 7 and 7 Pro.
First and foremost is Tensor G2, the successor to Google's home-brewed chipset, which the company introduced with last year's Pixel 6 phones. According to the company, Tensor enables the phones to perform advanced AI and machine learning tasks, such as generating captions from calls and videos. The new Tensor version adds even more skills, particularly for photos and videos.
I asked Google to borrow press samples of the Pixel 7 and 7 Pro to see some of those tricks firsthand while we wait for the final results from CR's own lab testing. As always, CR purchases the phones it tests at a retail store to ensure we're getting the same devices you would.
Both Pixel phones are available for purchase now. The 6.3-inch Pixel 7 starts at $600 and comes in black ("Obsidian"), white ("Snow"), and a light yellow-green ("Lemongrass"). The 6.7-inch Pixel 7 Pro starts at $900 with the same black and white colors plus a "Hazel" option, which looks greenish-gray.
Here are my impressions after using the phones over several days for typical things like browsing the web, watching videos, playing games, and taking photos and videos.
Pixel 7 and 7 Pro Design
The new Pixels keep the previous phones' distinctive horizontal bar, which houses the rear cameras. This year, however, the camera bar wraps all the way around the sides of the phone for a more cohesive look. The Pixel 7 has a matte aluminum frame and camera bar, while the Pixel 7 Pro has a polished, shinier frame and bar.
I have to say that the design looks quite elegant, especially with the subdued Hazel and contrasting rose gold colors on the Pixel 7 Pro review unit I got. Though I don't typically think of phones as fashion accessories, this is the kind of phone that you'd want to show off if you ever find yourself at a fancy soiree.
You should still put the phone in a sturdy case, though, because the rounded edges and slick back make the device a bit slippery to hold.
Both phones have a bright OLED display, which looked sharp to me even under direct sunlight. And both have the simple Android 13 interface, uncluttered with additional apps or user interface overlays that other manufacturers like Samsung and OnePlus add.
Setup and Performance
Both models have Face Unlock, a first for Pixel phones. (Up until now, you had to use a PIN or your fingerprint, a feature that recently produced some glitches). The review units I tried out unlocked flawlessly every time using Face Unlock, and when I turned that off, with Fingerprint Unlock.
During setup, I had an issue with the Pixel 7's onscreen keyboard: I couldn't call it up, whether I was trying to set up a password or search Google. At first, I thought I got a dud phone, but after fiddling with the keyboard settings a few times—ultimately turning off "voice typing" and adding and removing the U.S. keyboard—it started working. This is just an FYI should you encounter this odd behavior. 
As noted above, the phones have bright OLED screens. The Pixel 7 Pro has a 120Hz refresh rate, which makes for smoother scrolling and animations than the older Pixels' 60Hz refresh rate, particularly when you're playing games. I found the phone to be quite zippy for everything from strategy RPGs like Fire Emblem Heroes to games that require lots of finger dexterity, like Fruit Ninja. The Pixel 7, which has a 90Hz refresh rate, wasn't a slouch, either.
Because Google touts the Pixels' AI and machine learning capabilities, powered by its second-generation Tensor G2 chipset, I also tried the Recorder app, unique to Pixel phones, which can now identify different speakers as it transcribes the audio into text. It's a reporter's dream tool.
Unfortunately, I found it to be hit-or-miss depending on the environment. During a long car ride with a few friends and music playing softly in the background, the app failed to detect some of our conversations and made quite a few mistakes on the speech it did pick up. In ideal circumstances—a room with minimal background noise and everyone speaking loudly—the app performed better, though not with 100 percent accuracy. (Note that it's not just the Pixel; a CR analysis shows that speech-to-tech tech falls short on a number of platforms.)
We'll know more about how the phones stack up to the competition performance-wise once we've run our gamut of tests. Our performance ratings take into account processor speed, upload and download speeds, and the amount of available storage compared with the stated storage, which varies quite a bit depending on the size of the operating system and how much other software comes preloaded. The Pixel 7 comes with 8 gigabytes of memory and either 128GB or 256GB of storage, while the 7 Pro has 12 gigabytes of memory and 128 GB, 256GB, and 512GB storage options.
Pixel 7 and 7 Pro Cameras
Both phones have the same camera setup as last year's models. The Pixel 7 has a 50-megapixel wide and 12-megapixel ultrawide lens on the back, while the 7 Pro adds a 48-megapixel zoom camera. 
But Google has made a few camera hardware tweaks. The 7 Pro now has 5x optical zoom compared with last year's 4x zoom. The 7 Pro can also zoom in digitally up to 30x compared with the previous generation's 20x. I tested this out in a large pumpkin field in Long Island, N.Y., zooming in on pumpkins of various sizes and colors. The photos I took all came in sharp, to my eyes at least.
Additionally, both phones now have autofocus for close-up images. I don't often feel the need to photograph insects on flower petals, but if macro photography is your thing, this is a welcome new feature.
The best improvements to the cameras are provided by a mix of software and hardware upgrades. Last year Google debuted Magic Eraser, a Pixel 6 exclusive feature that removes random objects and people from your photos. With the Pixel 7 and 7 Pro, in addition to Magic Eraser, you can now fix blurry photos and blur the background when taking videos thanks to Tensor G2. 
Unblur is my favorite new feature. It works not just on photos taken with a Pixel 7 or 7 Pro but on any photo taken anytime with any phone. Here's a photo from 11 years ago of my daughter on Halloween, taken with a Samsung Galaxy S2. Nothing is in focus here, but after using Unblur in the editing tools, my girl's face and some of the details of her costume are clearer.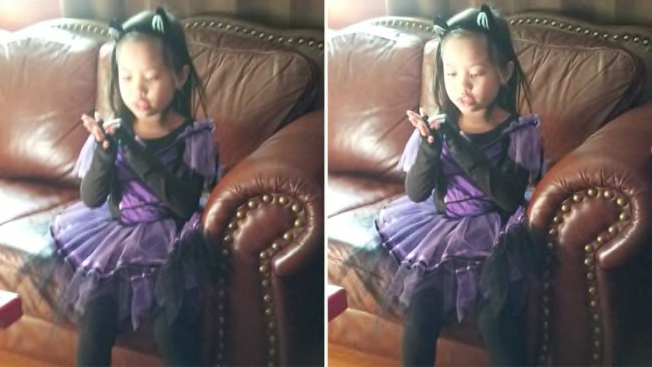 The Pixel 7 series new Unblur feature can bring blurry old photos into better focus.
Photo: Melanie Pinola/Consumer Reports
Just to set expectations, though, Unblur can't perform miracles and fix dramatically blurry photos. Maybe that's why Google didn't name the tool Magic Unblur.
On the video side, the Pixel 7 and 7 Pro now have a Cinematic Blur mode, which blurs the background behind your subject. It's pretty cool. When filming my dog running around with sticks in his mouth, the camera kept him in focus instead of my messy yard. At times it looked a bit unnatural, like in older CGI movies where the edges of the computer-drawn subjects stand out too much from the rest of the scene, but in certain situations, this might be the look you'd be going for.
We'll report back once our lab techs run the phones through more thorough camera tests to see how they compare with the best smartphone cameras.
Pixel 7 and 7 Pro Battery Life
Google says both the Pixel 7 and 7 Pro can last beyond 24 hours on a single charge and up to 72 hours on the extreme battery saver mode. They also support 30-watt fast charging.
I had no issues or concerns with the battery life during long day trips filled with photo shoots with pumpkins and children, but again, we'll know more soon once we're done testing the devices in our labs.
Consumer Reports is an independent, nonprofit organization that works side by side with consumers to create a fairer, safer, and healthier world. CR does not endorse products or services, and does not accept advertising. Copyright © 2022, Consumer Reports, Inc.