A capable gaming laptop for less than $1,000 By Nicholas De Leon
It wasn't too long ago that the idea of a $1,000 gaming laptop seemed like an impossible dream, but times have changed. Now you can walk into just about any retailer and walk out with a perfectly capable gaming laptop for that price. The question then becomes, which one? And how to choose?
We were wondering this as well, which is why we recently purchased the Dell G15 SE. We paid $959 for the notebook, which has an AMD Ryzen 7 4800H processor, 8 gigabytes of memory, 512GB of solid-state storage, and AMD Radeon RX5600M graphics. It runs Windows 10 out of the box (though this can be upgraded to Windows 11 for free, which is what we ended up doing).
Those would probably be considered midtier specs as far as gaming laptops go here in late 2022, but for the money it's not a bad package.
At the end of the day, the Dell G15 SE is simply a powerful PC that can easily serve as a school or productivity device during all those times when you're not playing games, even if you're tackling truly demanding tasks like rendering 4K video or creating 3D models. Can't say that about a PlayStation 5 or an Xbox.
Dell G15 SE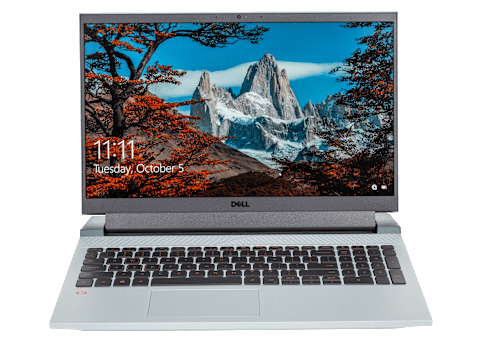 Notable Features
Gaming-capable specs: This is not quite a top-of-the-line PC, but it's not far off the mark. The aforementioned specs unlock the ability to play today's games at smooth frame rates, though perhaps not quite at "ultra" settings.
High-refresh-rate display: A high-refresh-rate display (here, 144 Hertz) enables much smoother motion that what you'd find on standard, 60Hz displays. This is mostly intended to keep games looking nice and slick, but your eyes will thank you nonetheless even just navigating around Windows or the web. The display's resolution is 1080p.
Portability, sorta? We say this all the time: You don't buy a gaming laptop for its killer battery life or get-up-and-go light weight. Still, at 5.5 pounds the G15 SE doesn't weigh too much, in our opinion, so you can slip it into a bag without too much trouble. The sheer power under the hood, however, tends to make it a battery hog, so do make sure you bring the power brick with you.
Subdued design: We have no problem with the typical gamer aesthetic, with its RBG everywhere and an overall aggressive vibe, but the G15 SE takes things in a different direction. Sure, it might look out of place in a board room, but the silver and black color scheme feels mature in a way you don't always get with gaming laptops.
How Well Does the Dell G15 SE Work?
It's very good overall. We have some nitpicks here and there, but for the money it's hard to complain.
Right up top we'll note, again, that this laptop ships with Windows 10 out of the box. Given that Windows 11 has been around for about a year now, we'll go ahead and say you might as well upgrade, especially because it's free to do so. If you're going to set up a PC and make it your own, at this point it makes sense to start with the latest and greatest operating system.
Once that's done (which may take a while, depending on the speed of your internet connection) you can really start using this thing.
I downloaded Steam, the popular video game app store, and loaded a handful of recent games to get a sense of how the laptop performs. I tried the Halo Master Chief Collection, Mortal Kombat 11, and Black Mesa, a fan project that updates and reimagines 1998's Half-Life for the modern era.
Quick version: They all played well.
We generally stuck to the games' medium graphics preset, which delivers good looking graphics at very smooth frame rates. Generally, the older the game, the more you can turn the settings up, increasing things like the resolution or shadow quality, before causing the frame rate to dip. 
The backlit keyboard is large, responsive, and comfortable to type on. There's even a dedicated number pad on the right-hand side, which is somewhat rare on laptops nowadays. 
The trackpad is functional for browsing the web or using productivity apps, but we'd highly recommend using an external mouse while playing games. You get a bunch of built-in USB ports to plug into, so you won't need to bother with a dongle or other adapter.
There's also a built-in SD card slot for easily transferring digital photos from a dedicated camera for editing in apps like Adobe Lightroom, and a built-in HDMI port for quickly connecting to an external monitor. The display is pretty big (15.6 inches), is full HD (1080p), and as mentioned refreshes at a high rate (144Hz, to be exact). We're not sure you'd need an external monitor, but the option is there.
This is not a laptop we'd recommend trying to use on battery power too often, and you should steel yourself for some very loud fan noise, but that's expected when it comes to gaming laptops and is not something unique to the G15 SE.
Who Is the Dell G15 SE For?
We think the Dell G15 SE would be good for someone looking to play PC games on a budget (well, budget as far as gaming PCs go) or someone who needs a new laptop and is intrigued by the idea of having something powerful enough to tackle creative tasks (think: Adobe Creative Cloud) and/or play games on the side. You don't need to be a gamer to appreciate this laptop, and the subdued styling means you won't be forced to look like a gamer while at the keyboard.
This would also be a good choice for any parents out there who have "gaming laptop" on their kid's wishlist. Not only will it game, of course, but feels like it would last, say, a full high school career before becoming out of date.
If you wait around for a Steam sale, which happen a few times per year offering popular games at huge discounts, or have an active Xbox GamePass for PC subscription, you (or whoever ends up using the laptop) should have no trouble finding stuff to play.
How Consumer Reports Tests Laptops
There are almost 200 laptops and Chromebooks in our ratings, with dozens of models added every year. These models are refreshed constantly, ensuring that only currently available laptops are presented to CR members.
Our experts run a series of tests to check things like how fast the laptop is able to carry out tasks like opening apps, bouncing between web pages, and processing spreadsheets. We have two separate battery tests to get a better understanding of what you can expect under different loads: One test plays back a 4K video until the battery is fully depleted, and the other tests cycles through several websites until the battery is fully depleted. Having both numbers should give you a more comprehensive idea of what real-world battery life looks like.
Consumer Reports is an independent, nonprofit organization that works side by side with consumers to create a fairer, safer, and healthier world. CR does not endorse products or services, and does not accept advertising. Copyright © 2022, Consumer Reports, Inc.