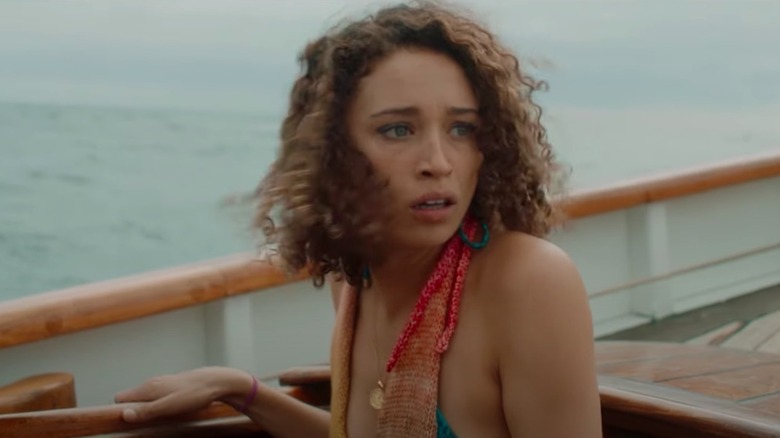 (Welcome to SlashClips, a series where we bring you exclusive clips from hot new Digital, Blu-ray, and theatrical releases you won't see anywhere else!)
In this edition:
When I Consume You
Into the Deep
Mister Limbo
When I Consume You
First up, 1091 Pictures has provided us with an exclusive clip from the supernatural horror drama "When I Consume You," the third feature from award-winning Brooklyn-based indie filmmaker Perry Blackshear ("They Look Like People," "The Siren"). Starring Evan Dumouchel and Libby Ewing, the film is now available on digital platforms.
Here is the official synopsis:
Ewing and Dumouchel play brother-sister duo Daphne and Wilson Shaw. Troubled since childhood, the two have struggled to find stability as they've grown older, and while Daphne seems to have finally gotten her life together, the darkness that's followed their family all along begins to close in more aggressively than ever before. A unique urban folktale set and filmed in Brooklyn, "When I Consume You" confronts the vulnerabilities that people struggle with every day through a genre lens to create a chillingly intimate indie horror nightmare.
Into The Deep
Next up Lionsgate has provided us with an exclusive clip from director Kate Cox's upcoming thriller "Into the Deep," which will be available in theaters on Friday, August 26, 2022. 
Here is the official synopsis:
In this intense action-thriller, Jess (Ella-Rae Smith) is swept off her feet by a mysterious stranger named Ben (Matthew Daddario), who takes her to his boat that's docked nearby. Dangerously adrift miles from shore, their romance is interrupted when Lexie (Jessica Alexander) shows up, and soon the three get wasted and play sexy games. When the party takes a sudden turn for the worse, it's clear that either Ben or Lexie is a dangerous liar. In the explosive climax, Jess must decide which one to help ... and which one to destroy.
Mister Limbo
Finally, Terror Films has provided us with an exclusive scene from the upcoming horror comedy "Mister Limbo," starring Cameron Dye from "Valley Girl" and "The Last Starfighter." From writer/director Robert G.Putka, the film is scheduled for a digital bow on September 2, 2022.
Here is the official synopsis:
Hugo de Sousa and Vig Norris also star in the film, the tale of two strangers that wake up in the middle of the desert with no memory of anything ... including their names. Are they dead? Or did they just party too hard at Burning Man?
Read this next: The Best Movies Streaming Right Now: Malignant, A Hero, And More
The post Clips Round-Up: When I Consume You Induces Panic, Into The Deep Does The Same & More [Exclusive] appeared first on /Film.