Editor's note: Snowbasin provided two half-day lessons, gear rental, a lift pass and lunch one day. Visit Ogden provided a complimentary stay at Ogden's Hampton Inn & Suites. The opinions expressed below are entirely the author's and weren't subject to review by any external entity.
---
Utah claims to have the "greatest snow on Earth" — the state even trademarked the phrase. That's quite a reputation to live up to, so I wanted to put it to the test by skiing there for the first time this winter.
After learning how to ski in Massachusetts' Berkshires last year at age 31, I was eager to try skiing again. I was itching to hit the slopes out West since the snow there (as Utah proudly proclaims) is usually better than what you'll find at East Coast resorts.
With the promise of beginner-friendly terrain, a fantastic season of snow, proximity to Salt Lake City International Airport (SLC) and plentiful transportation options that meant I could skip renting a car, I settled on Snowbasin Resort.
Here's what you need to know if you decide to visit Snowbasin in Utah.
Impressive terrain without the crowds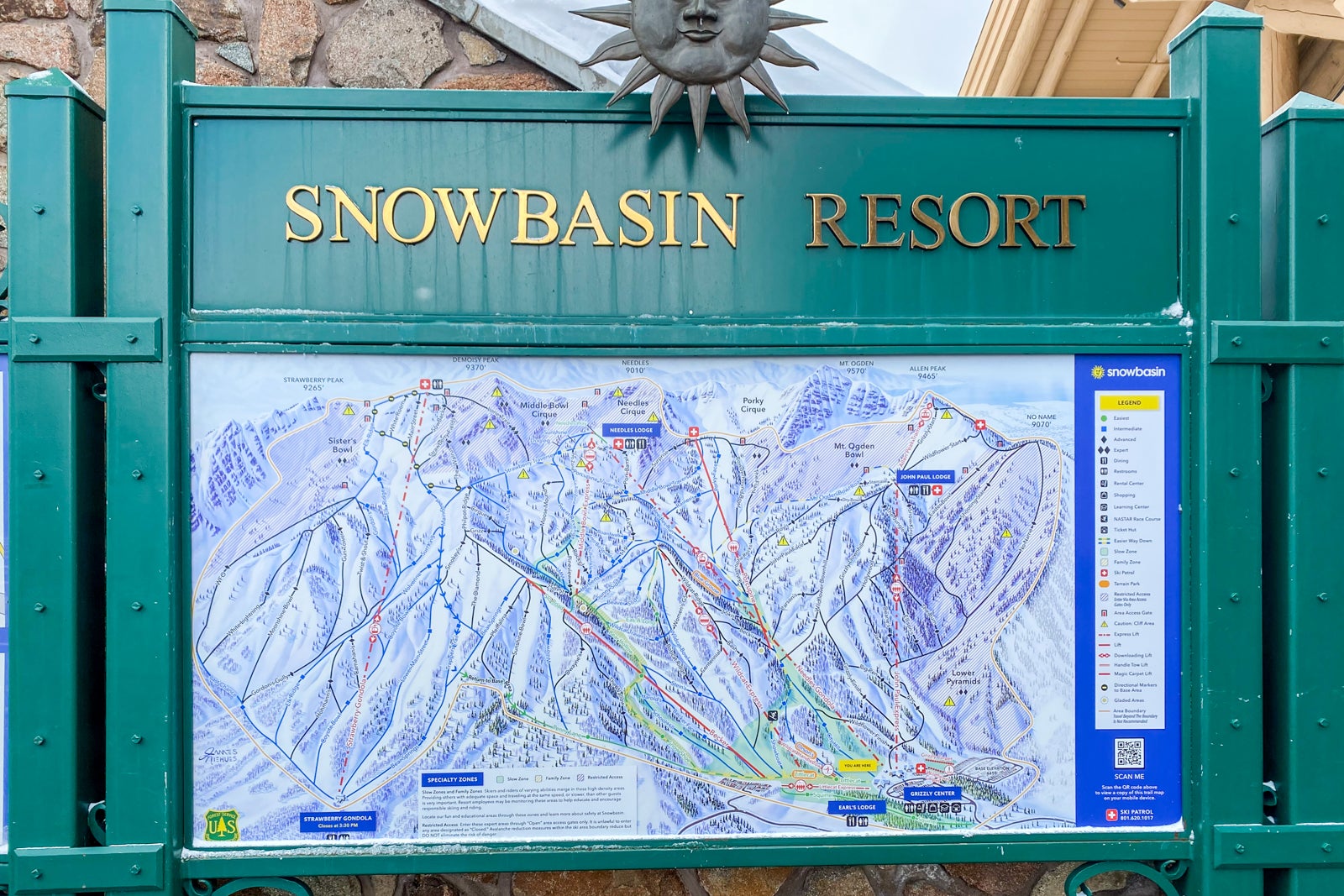 One of the largest ski resorts in the U.S., Snowbasin has over 3,000 acres of slopes and skiable terrain, and it typically sees excellent snowfall. Still, Snowbasin remains lesser known than some of Utah's bigger, flashier resorts, such as Park City Mountain and Deer Valley Resort.
While it's primarily a locals' mountain, popular with day-trippers from nearby Ogden, Snowbasin also participates in the Ikon Pass. For pass holders planning to hit multiple ski resorts in Utah, it's a great add-on destination.
The downside for some travelers is that the base area is more limited in terms of lodging and après-ski fun.
You won't find upscale ski-in, ski-out hotels, fancy restaurants or white glove services. But for snow sports purists, that's also part of its appeal. I was going to hit the slopes to improve my turns, not stay up all night at a mountainside party, so the lack of an off-piste scene didn't trouble me. I was focused on the snow, and this year was among the best in recent memory.
Taylor Hartman, Visit Ogden's director of marketing and communications, told me that at the time of my visit in early March, nearby Brighton Resort and Alta Ski Area had recently surpassed last year's snowfall. The latter boasts the highest snowpack in the world this season at more than 640 inches.
Snowbasin, which usually gets 300 inches annually, has already beaten that average; it has accumulated 448 inches so far (and there are plenty more powder days in the forecast). With the 2022-2023 season extending to April 23, Snowbasin is a great option for spring skiing. I was sure it would be the right destination for my second-ever ski trip.
Beginner friendly on- and off-piste
I was invited on this trip as a guest of Snowbasin and Visit Ogden, and as I approached the ski resort — which sits 43 miles north of downtown Salt Lake City and has 3,000 vertical feet of terrain — it seemed intimidating. All the more so since there are only 10 "easy" runs marked green across the resort's 111 trails. However, I managed to navigate the handful of trails I attempted.
What's more, I didn't have to worry about the hordes of out-of-town visitors at other nearby resorts, such as Park City Mountain Resort and Deer Valley.
Instead, the crowd seemed like a low-key mix of locals enjoying skiing, snowboarding and chowing down at Snowbasin's cache of casual dining establishments.
There was a sense of local pride, camaraderie and community, which was evident aboard the Utah Transit Authority's Ski Bus 675. I took this bus back to the Hampton Inn & Suites in downtown Ogden after my first day out. For $5 one-way (paid via cash or the UTA app), non-season pass holders can ride the ski bus between 21st Street in Ogden and Snowbasin from December to March.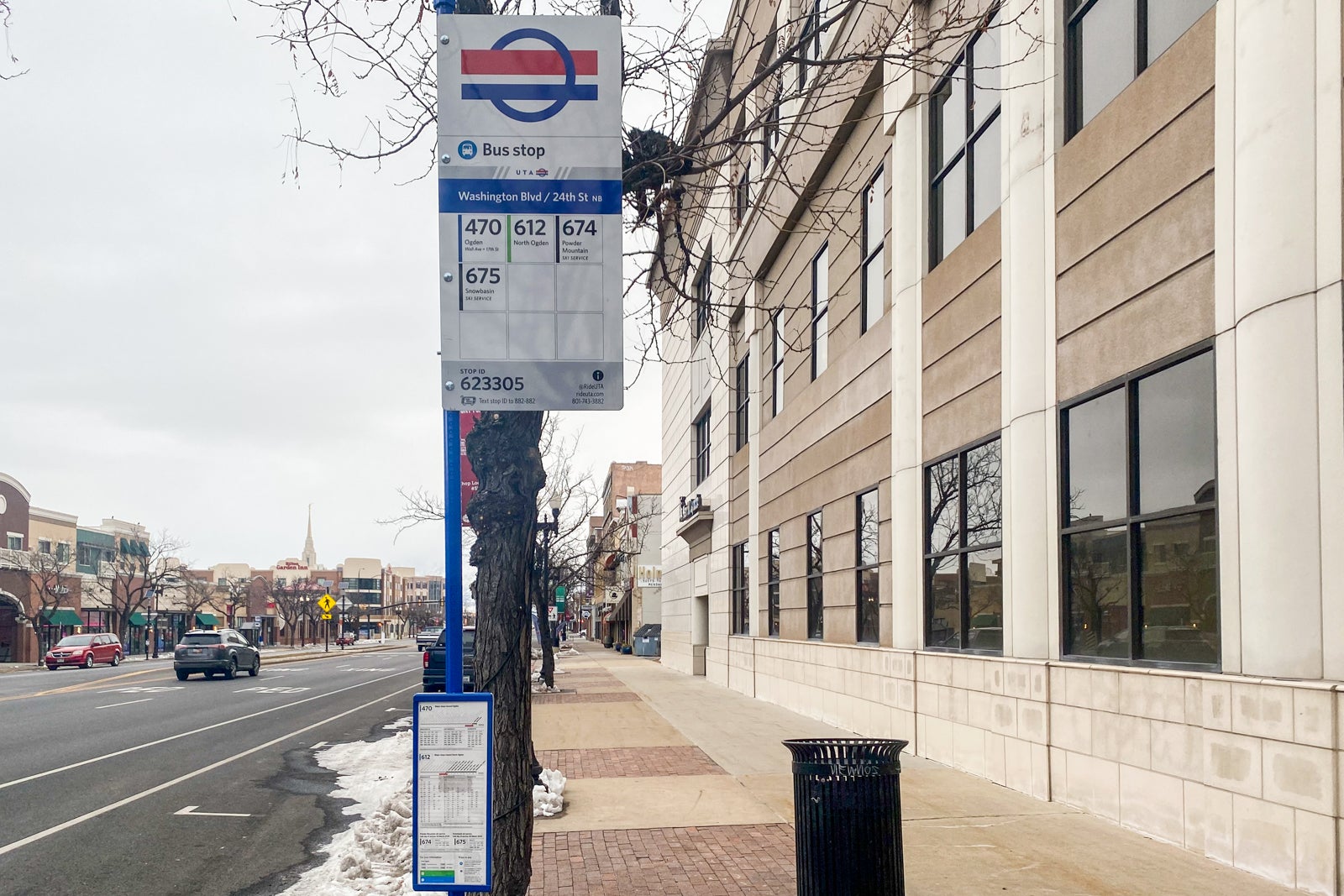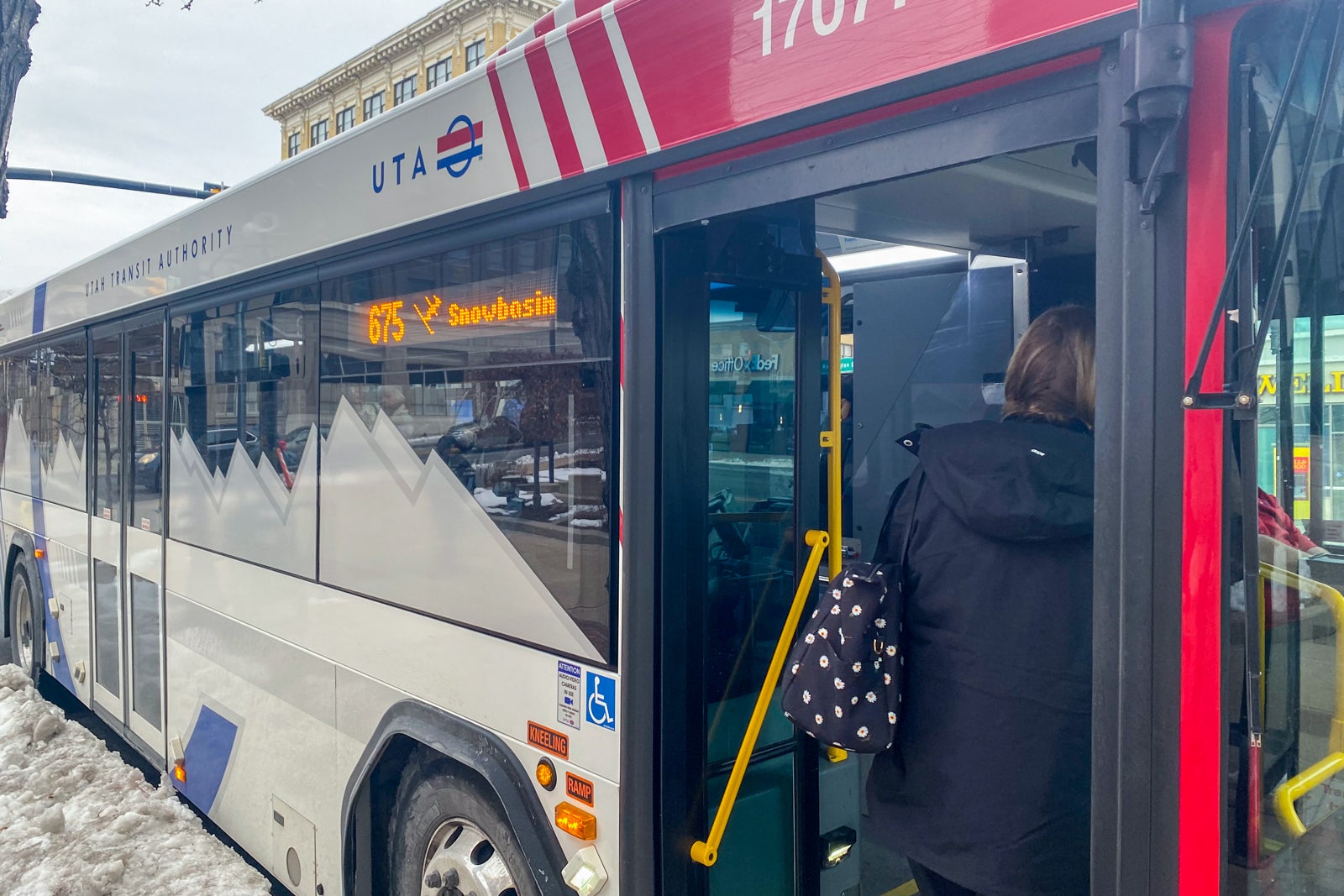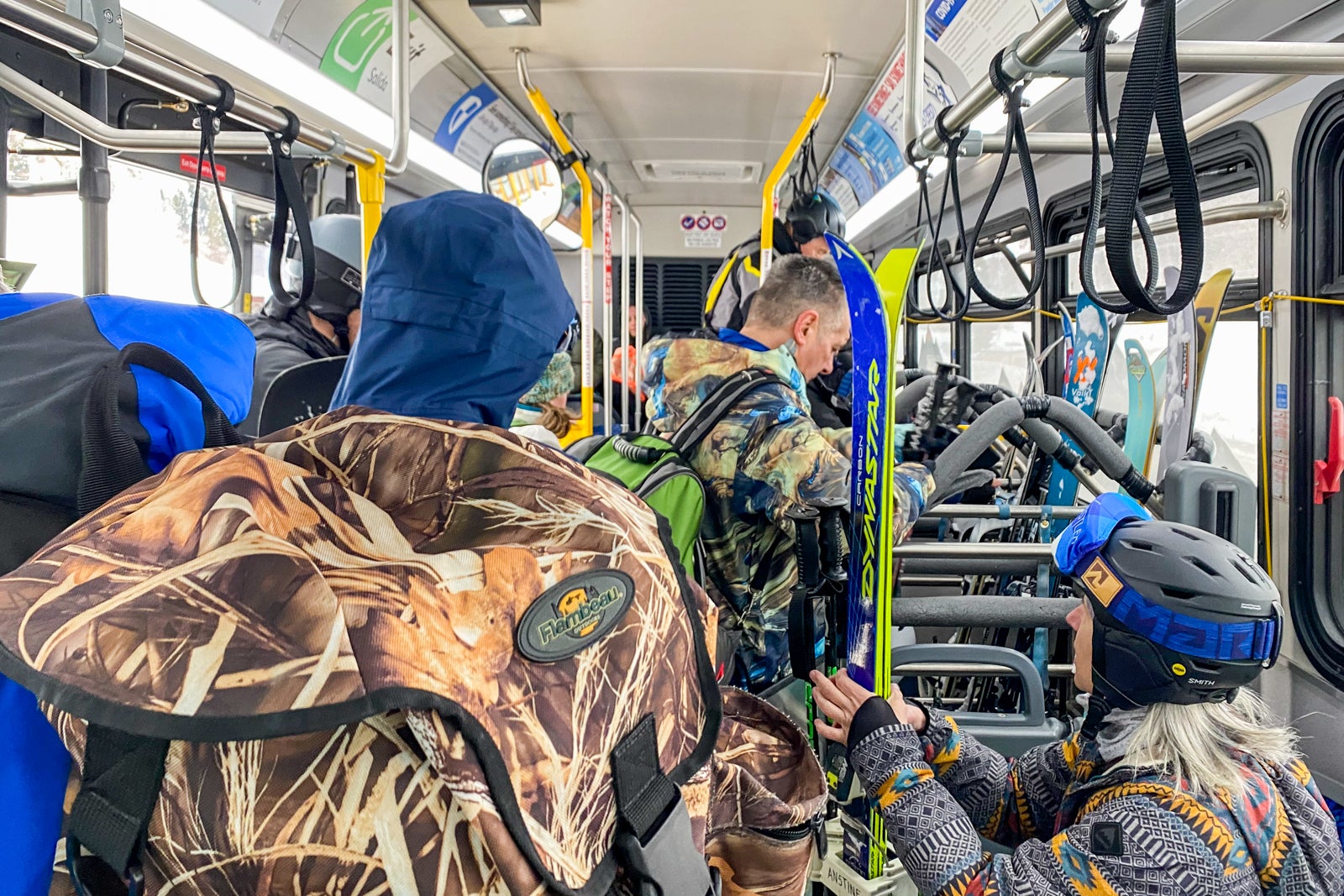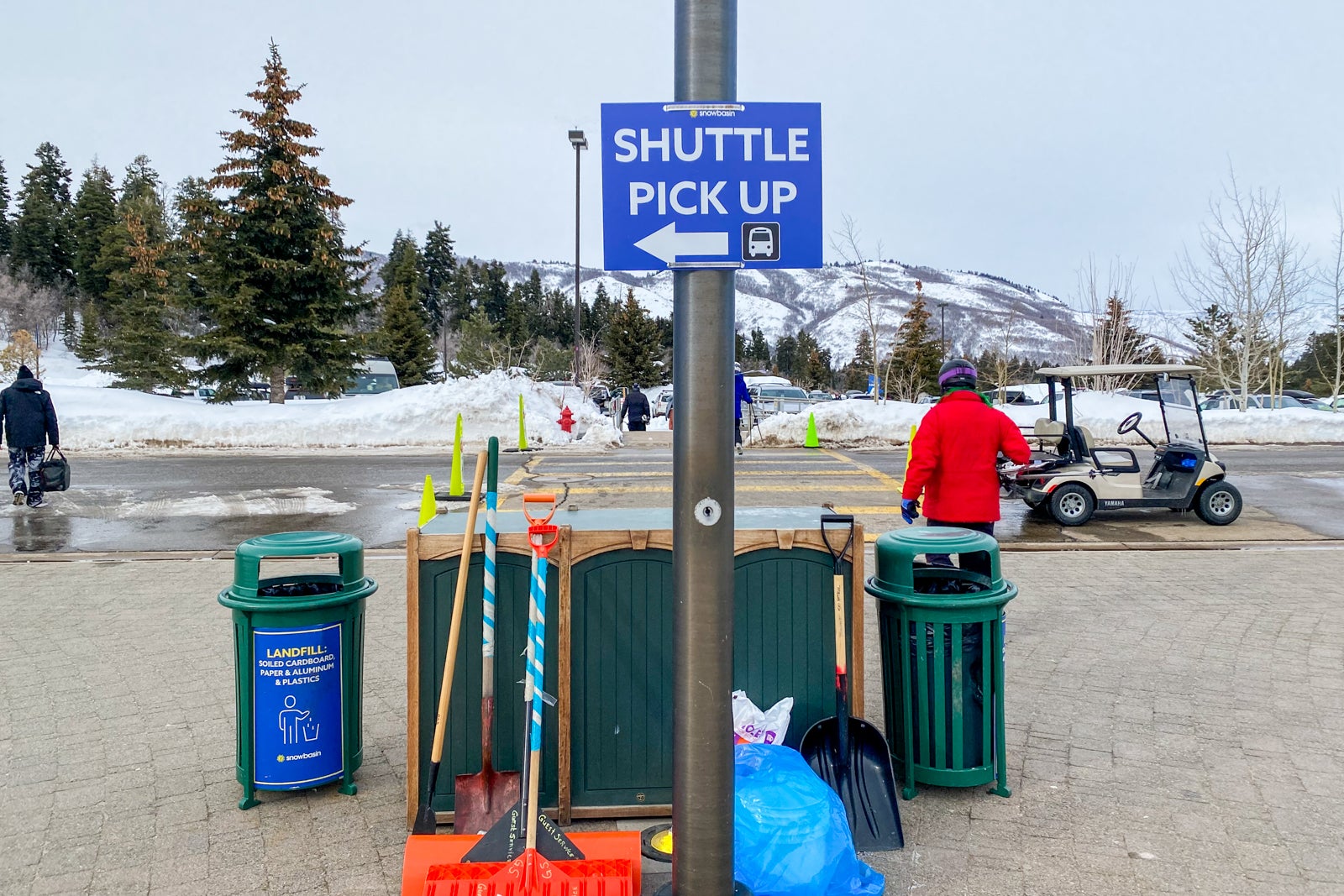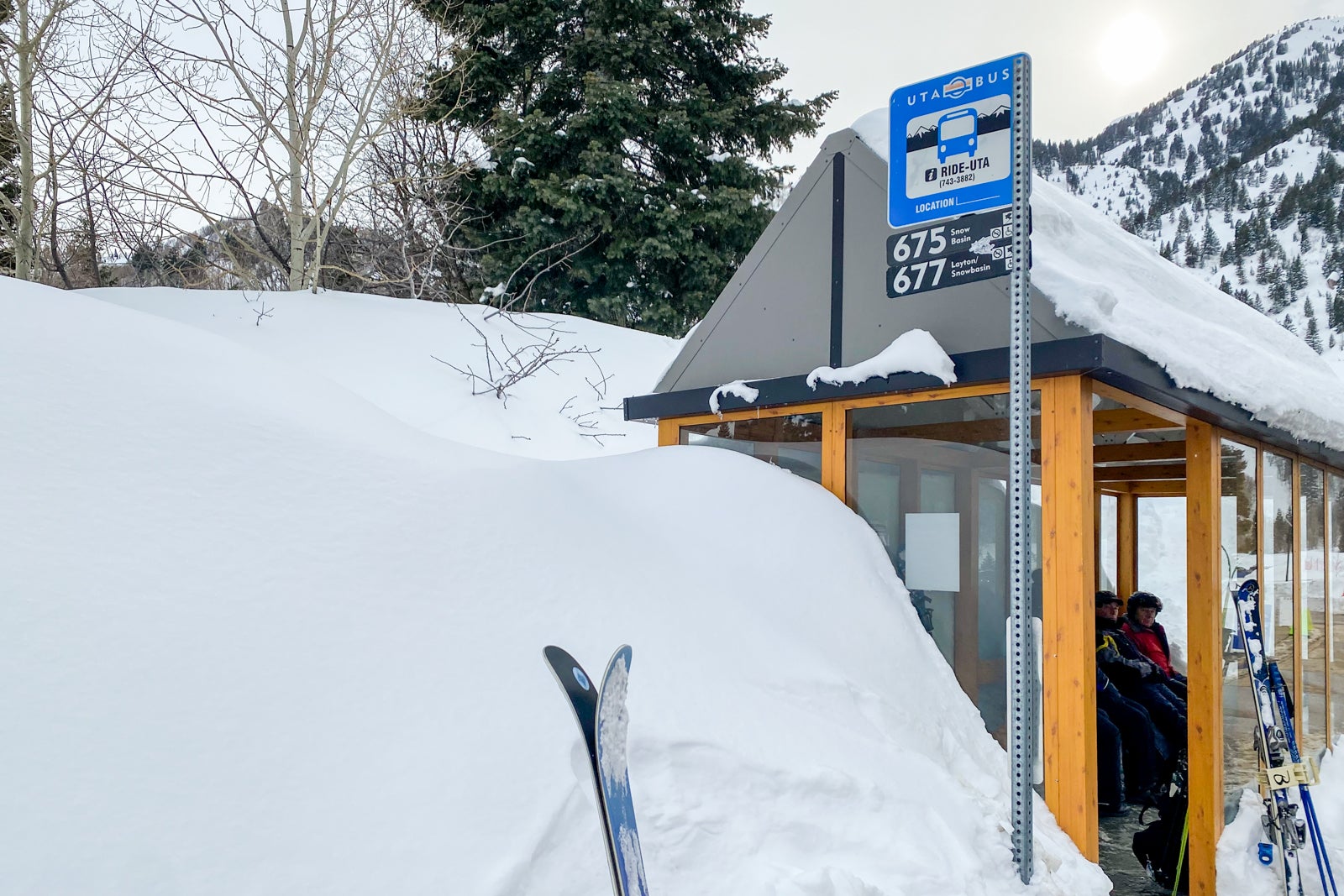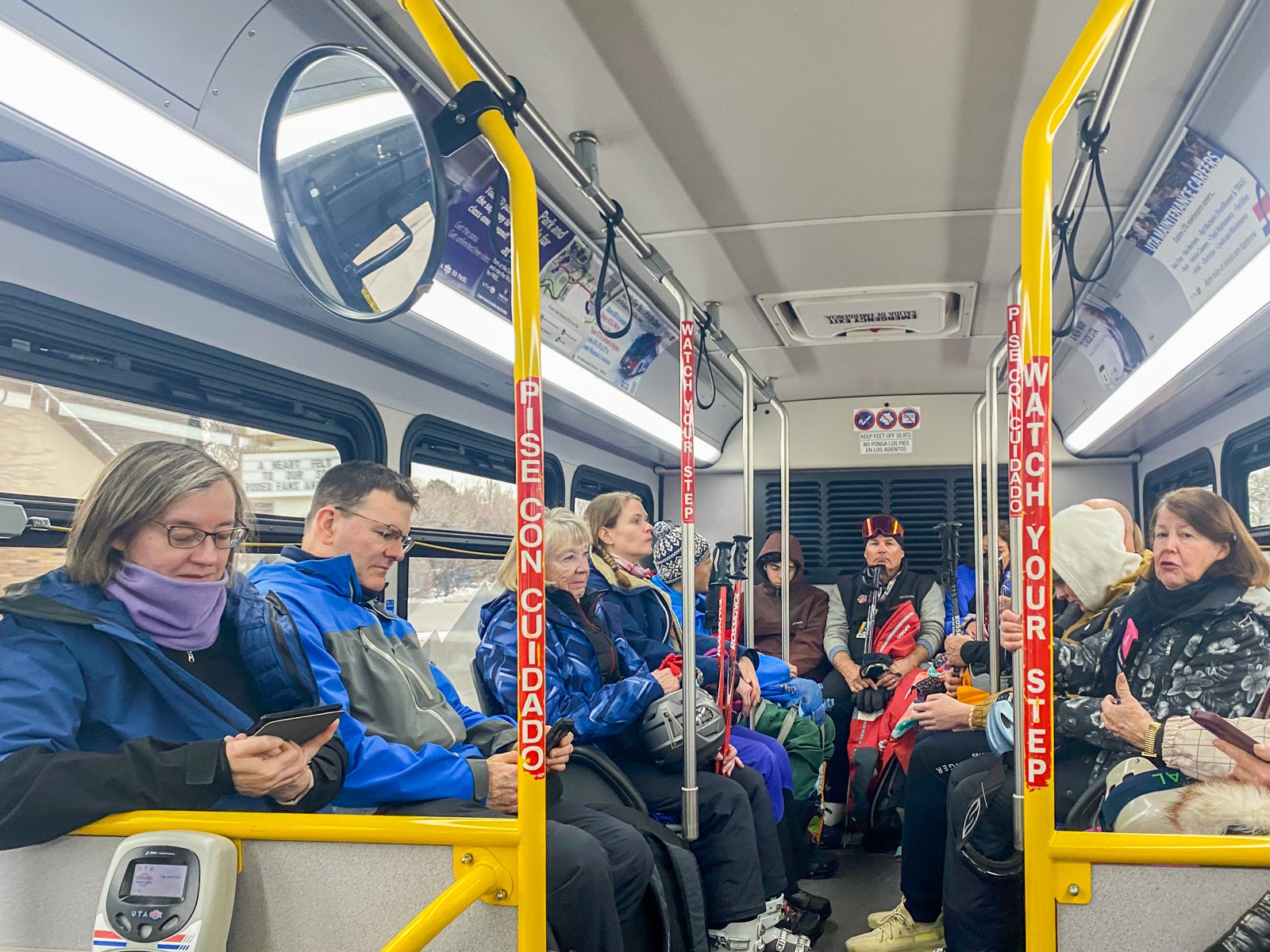 The bus is just one way the resort aims to increase accessibility to skiing. Beyond providing easy and affordable transportation between Ogden and the mountain, Snowbasin offers ample beginner-friendly terrain and learning programs so visitors of all ages and skill levels can enjoy the powder.
The second time's the charm
My two half-day lessons were complimentary because I was a guest of the resort. However, half-day (three-hour) private lessons at Snowbasin normally run $549, while an all-day (seven-hour lesson) costs $899. All-day group lessons are $219. Or, for just $70 more, you can purchase an all-inclusive package with a full-day group lesson, lift ticket and gear rental.
For comparison, Park City Mountain Resort charges $215 for a half-day group ski lesson but is much more expensive for private lessons ($1,249 for a full day and $929 for a three-hour session).
As I prepared for my first day, I asked Kayla McFarland, Snowbasin's communications manager, about the difficulty of the terrain and which trails might suit a beginner like me. She told me that "greens are everywhere." While this is technically true, whether Snowbasin is considered beginner-friendly depends on whom you ask.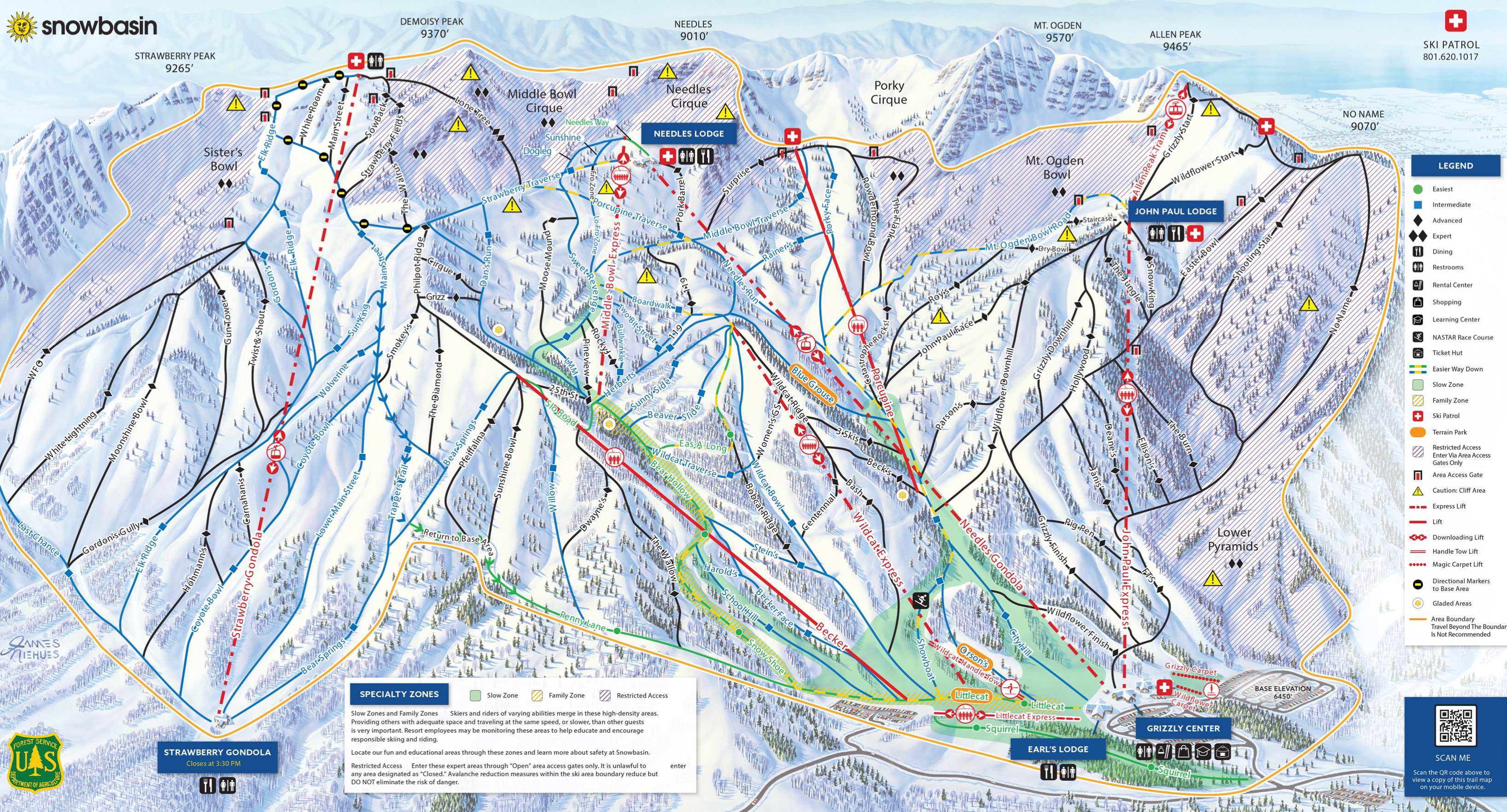 When I first told people that I was going skiing at Snowbasin, some — including Jack O'Connor, a Salt Lake City resident, avid skier and brother of my friend, Erin O'Connor, who tagged along on this trip — were surprised that it was our mountain of choice for a second-ever ski trip.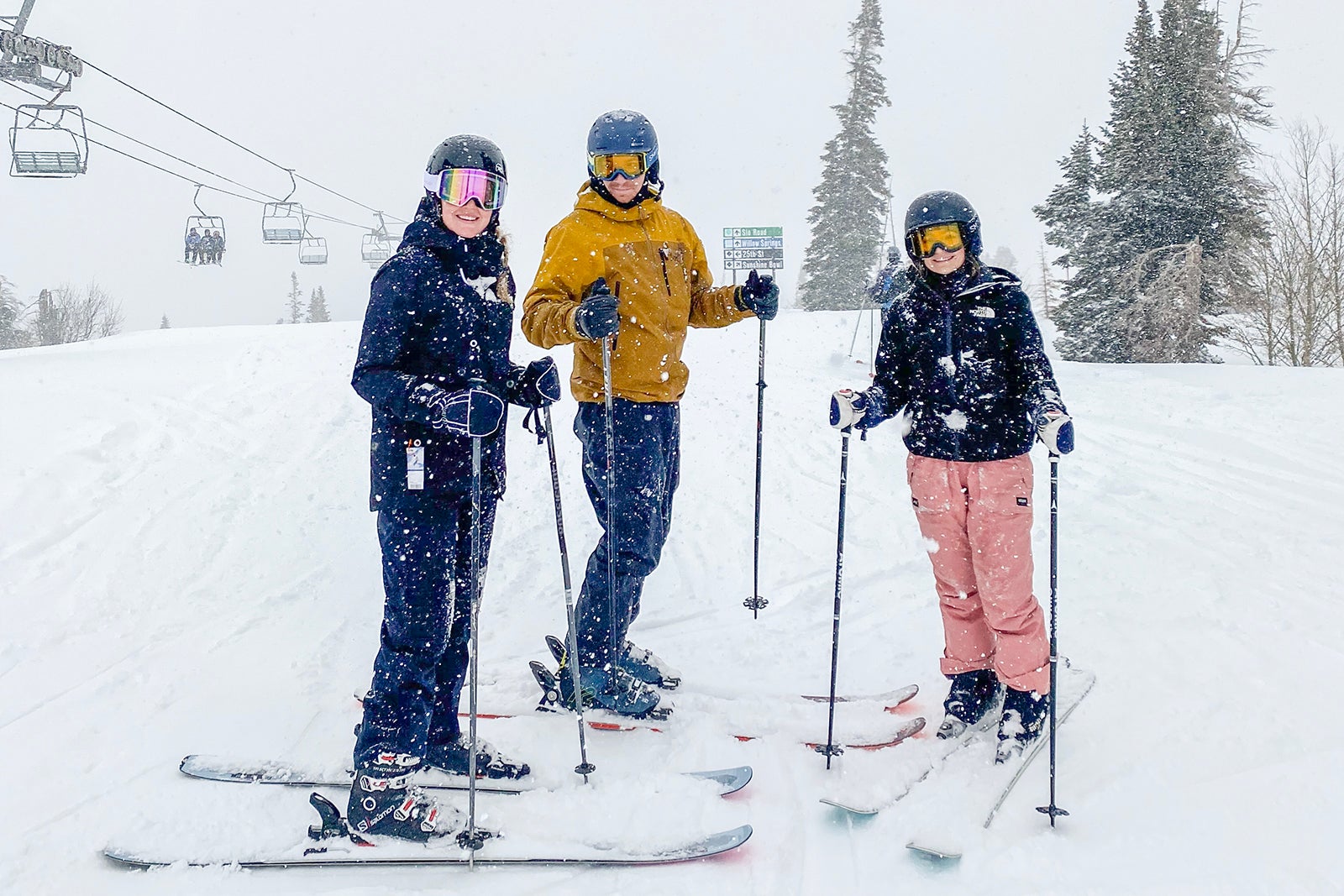 "When you told me you were learning to ski in Utah, I was surprised to hear Snowbasin, given the resort's terrain and level of difficulty, which are excellent for the intermediate to expert-level skier," he said. "You'll notice a lack of beginner terrain variety, as nearly all of the resort's handful of green runs are clustered around the mountain's base."
Snowbasin offers four ski areas in all, though: Needles, John Paul, Porcupine and Strawberry. Of these spots, Needles is the only one with access to the green runs, while the other areas vary in difficulty from intermediate to expert. Even though there aren't a ton of green runs, they are wide, which makes for less traffic, and there are a lot of groomers.
My friend and I spent most of our first lesson on Littlecat, Snowbasin's beginner-friendly bunny hill lift. Tomoko Shimbo — our instructor, a professional speed skier originally from Tokyo — patiently assessed our skill level, focusing primarily on mastering wedge versus parallel stance and wide turns.
As I said, I'm still learning.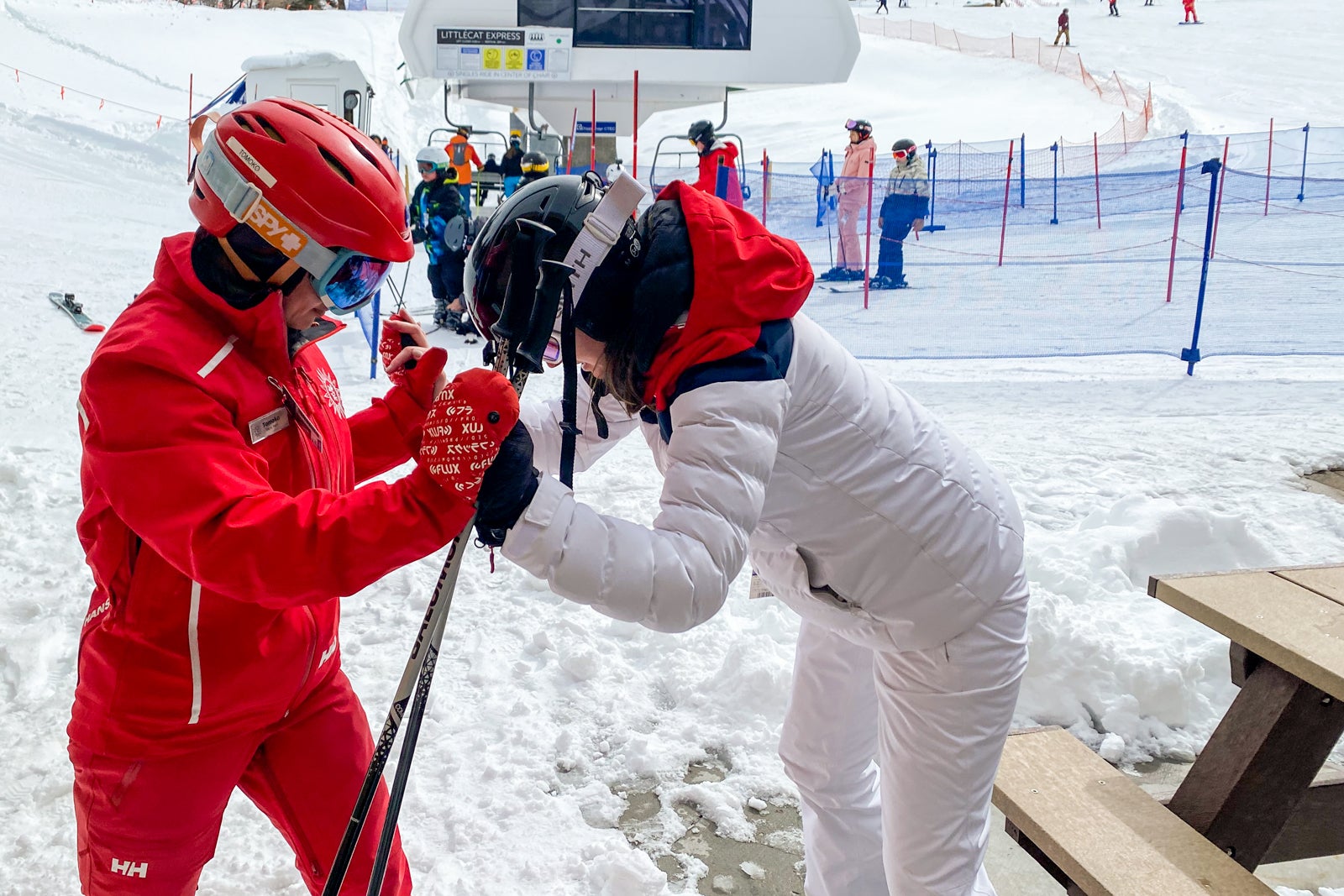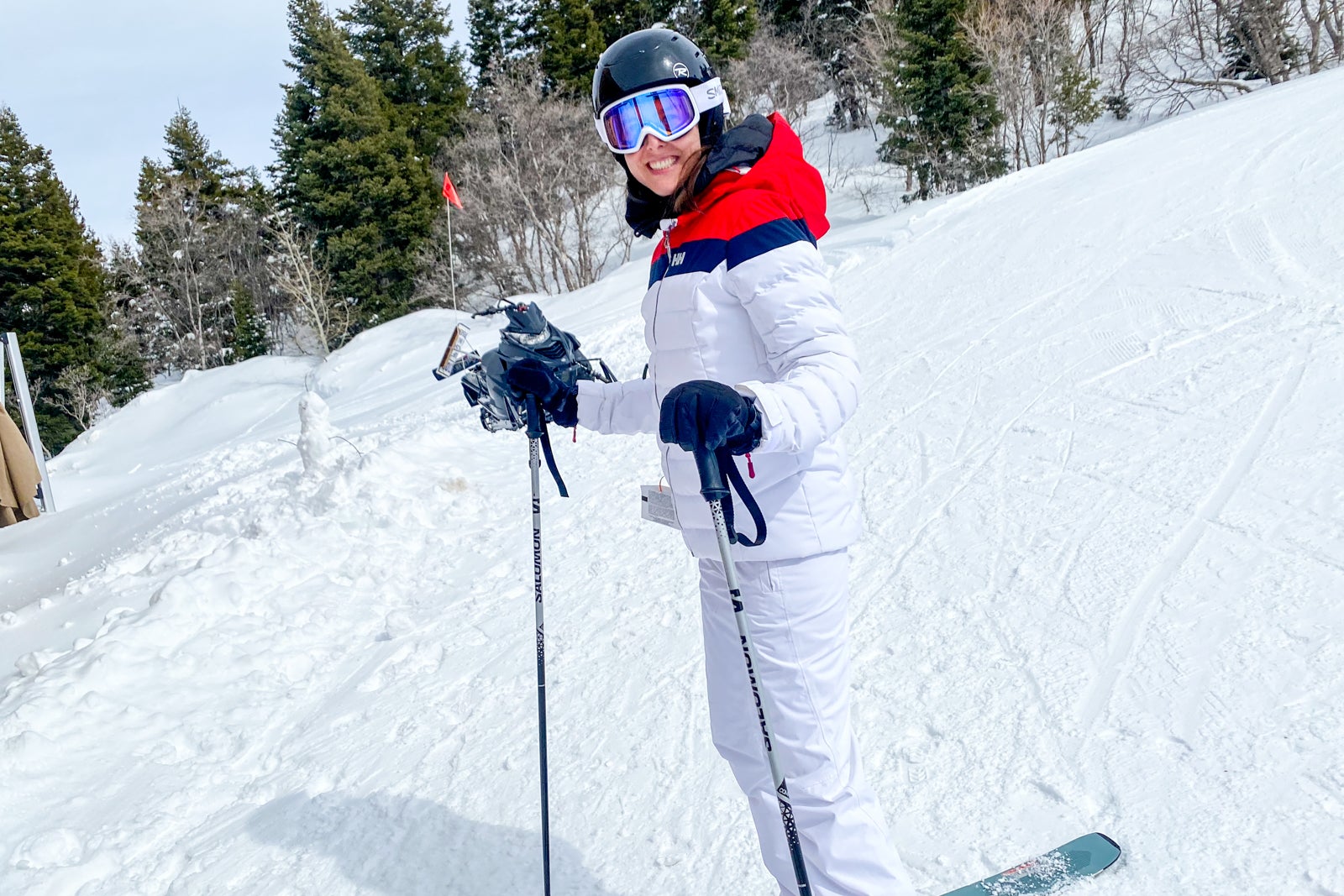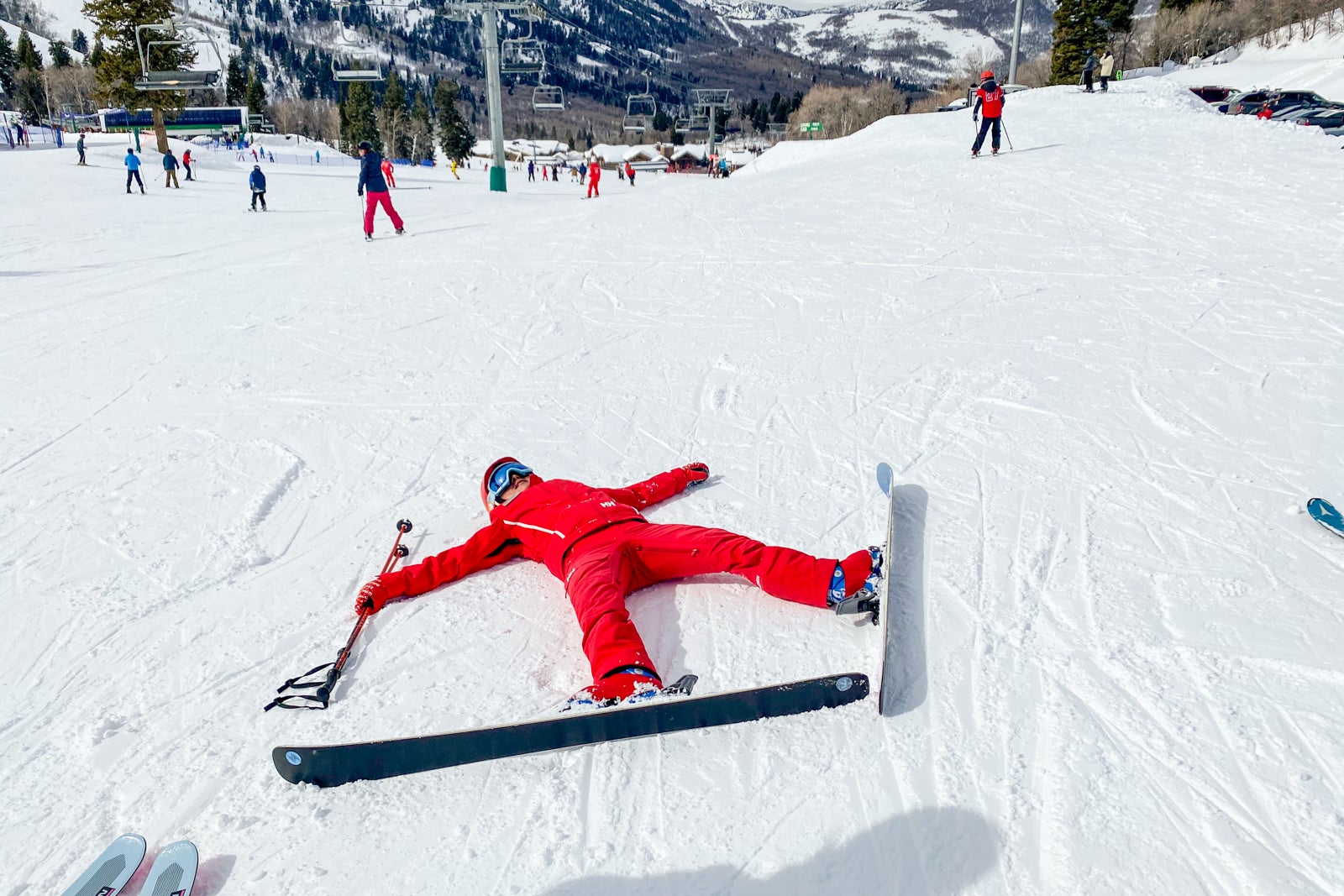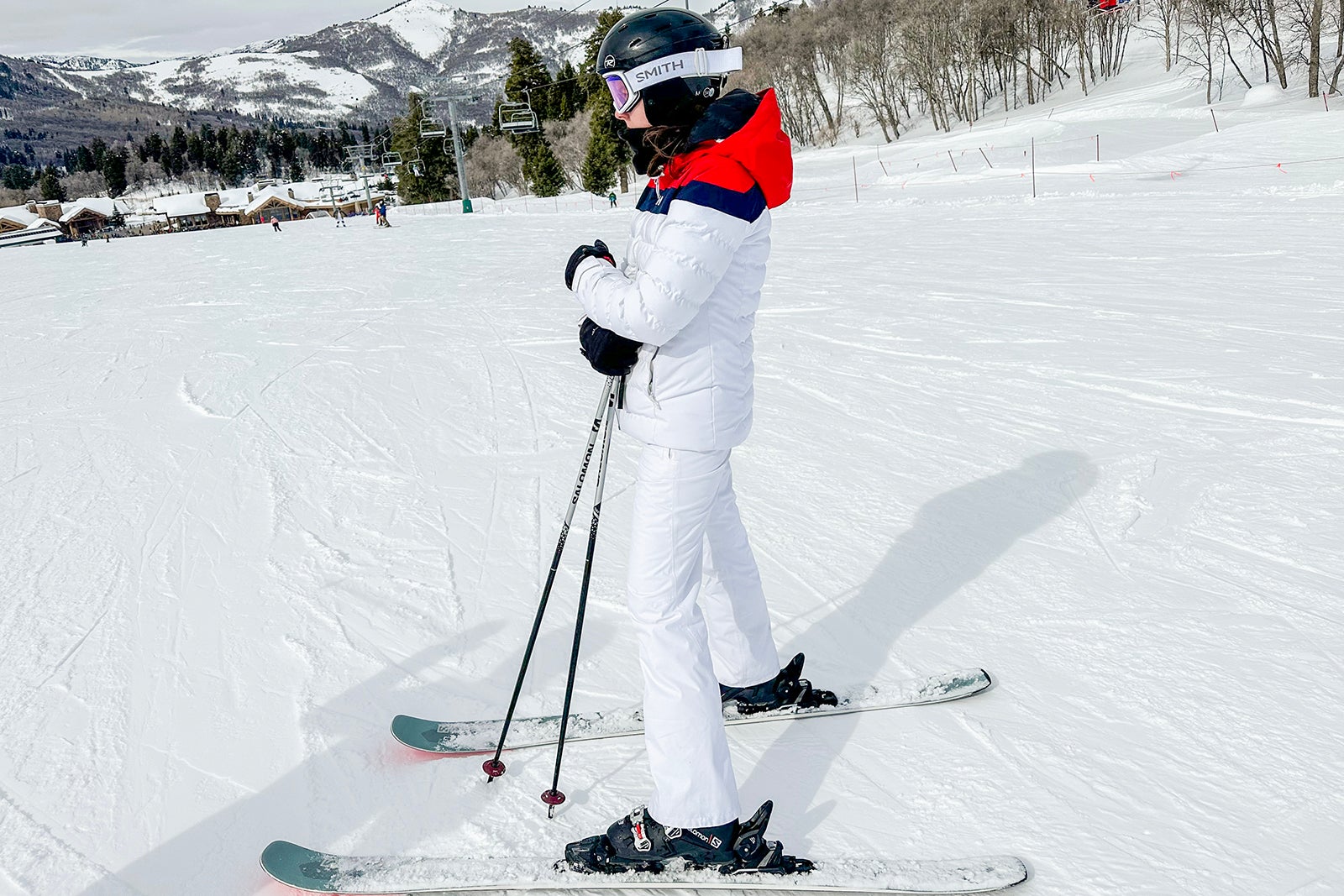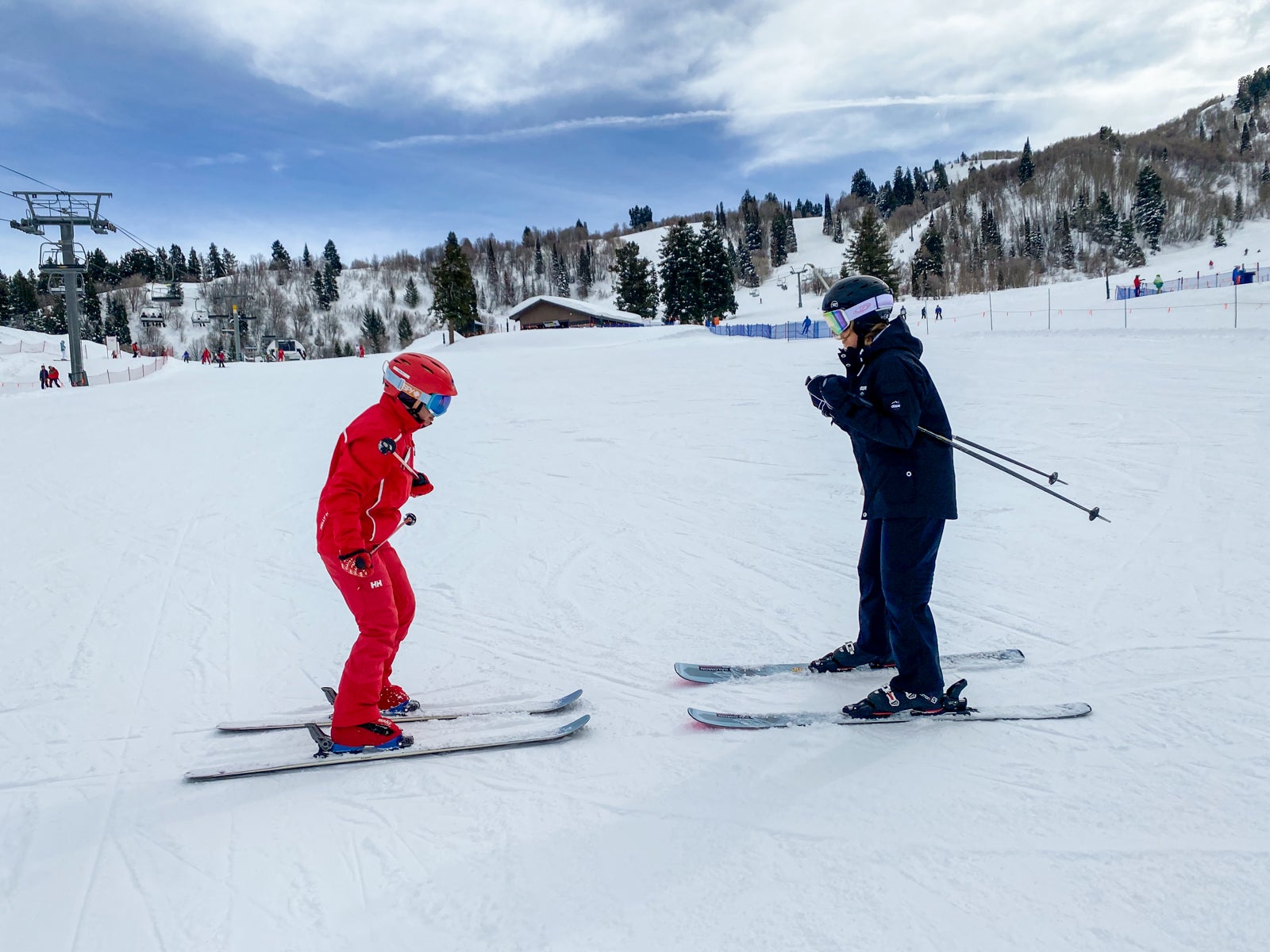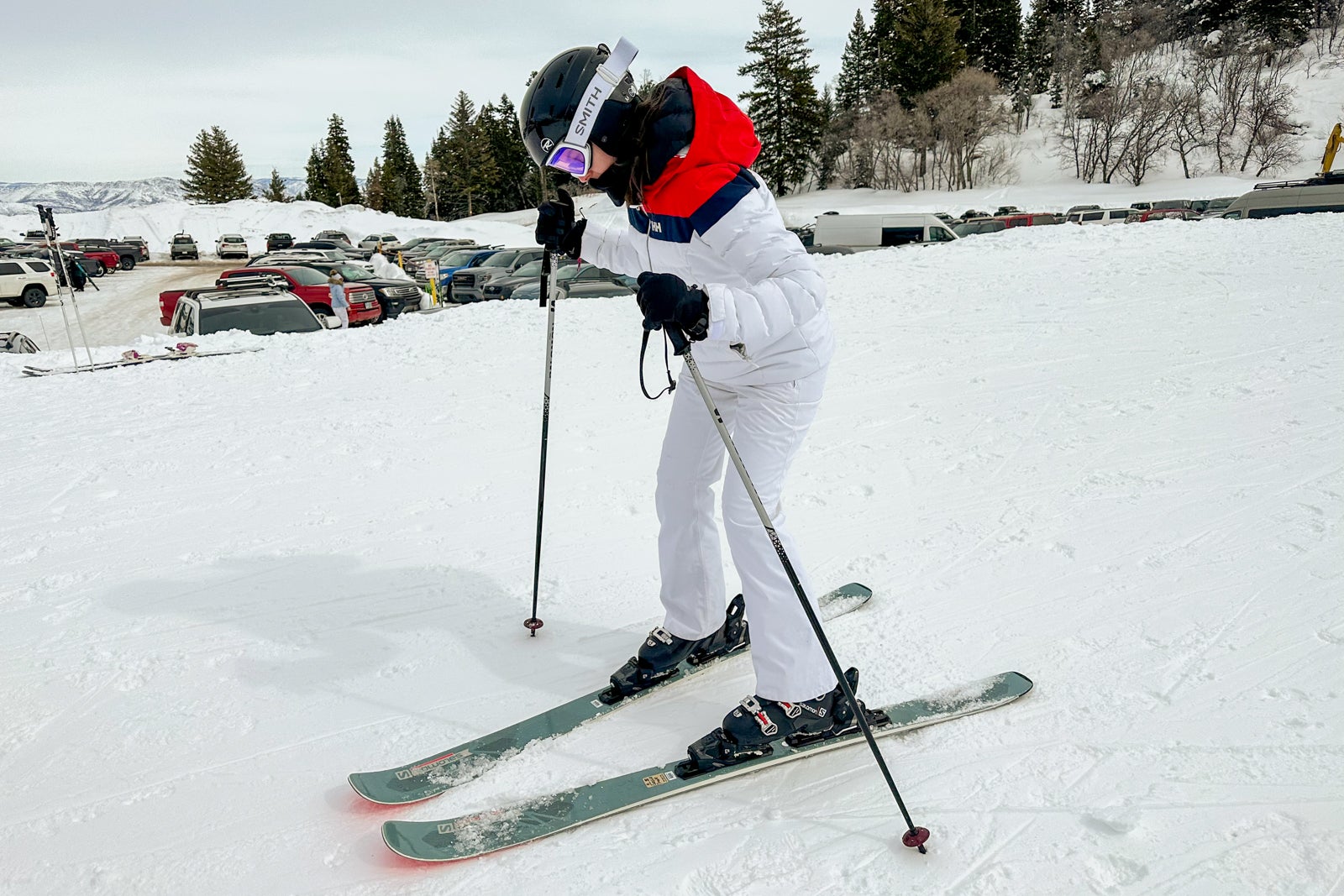 After Shimbo (graciously) deemed us "naturals," we progressed to Littlecat Terrain Park, where our success at remaining upright and moving in the correct direction happily continued.
Unlike at Jiminy Peak (the location of my first-ever ski trip), I didn't fall exiting the lift. That was a huge win for me, as I previously found hopping off the lift to be the most difficult part of skiing. In fact, at the end of my first day in Snowbasin, I had only fallen once.
I was looking forward to the next day even more. With a venti extra shot iced latte in hand, I looked around at my fellow passengers on the ski bus and started chatting with a ski instructor, Jason, who asked to be identified by his first name only.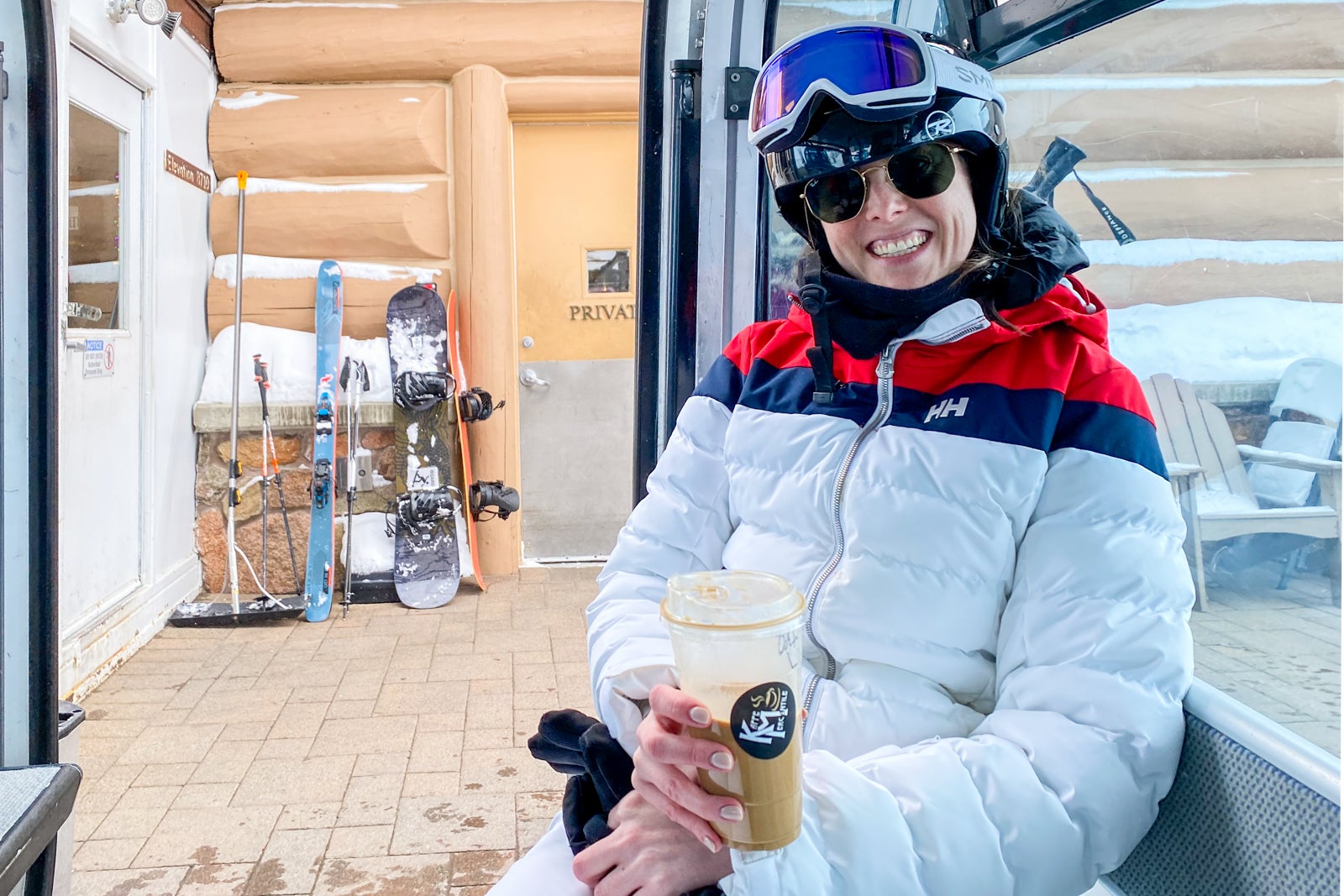 "Snowbasin offers a huge variety in skiing while being less crowded," Jason said. Snowbasin has two "magic carpets," rubber tracks that can help you dismount the lifts more easily, Jason added. Shimbo met us again that morning and put in a good word for us with our new ski teacher for the day, Jacey Davis. Davis is a former stay-at-home mom who became an instructor five years ago after learning to ski the previous year.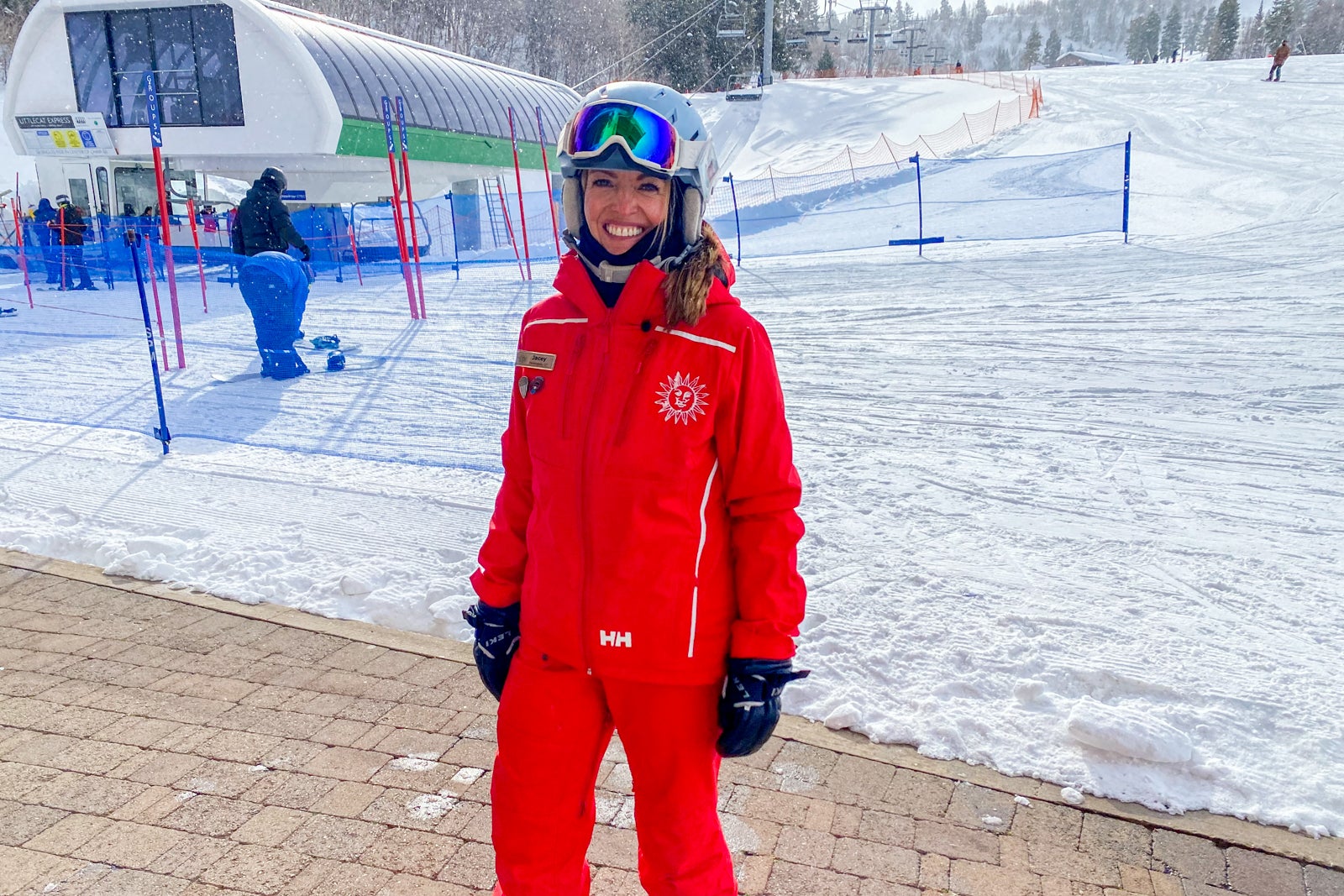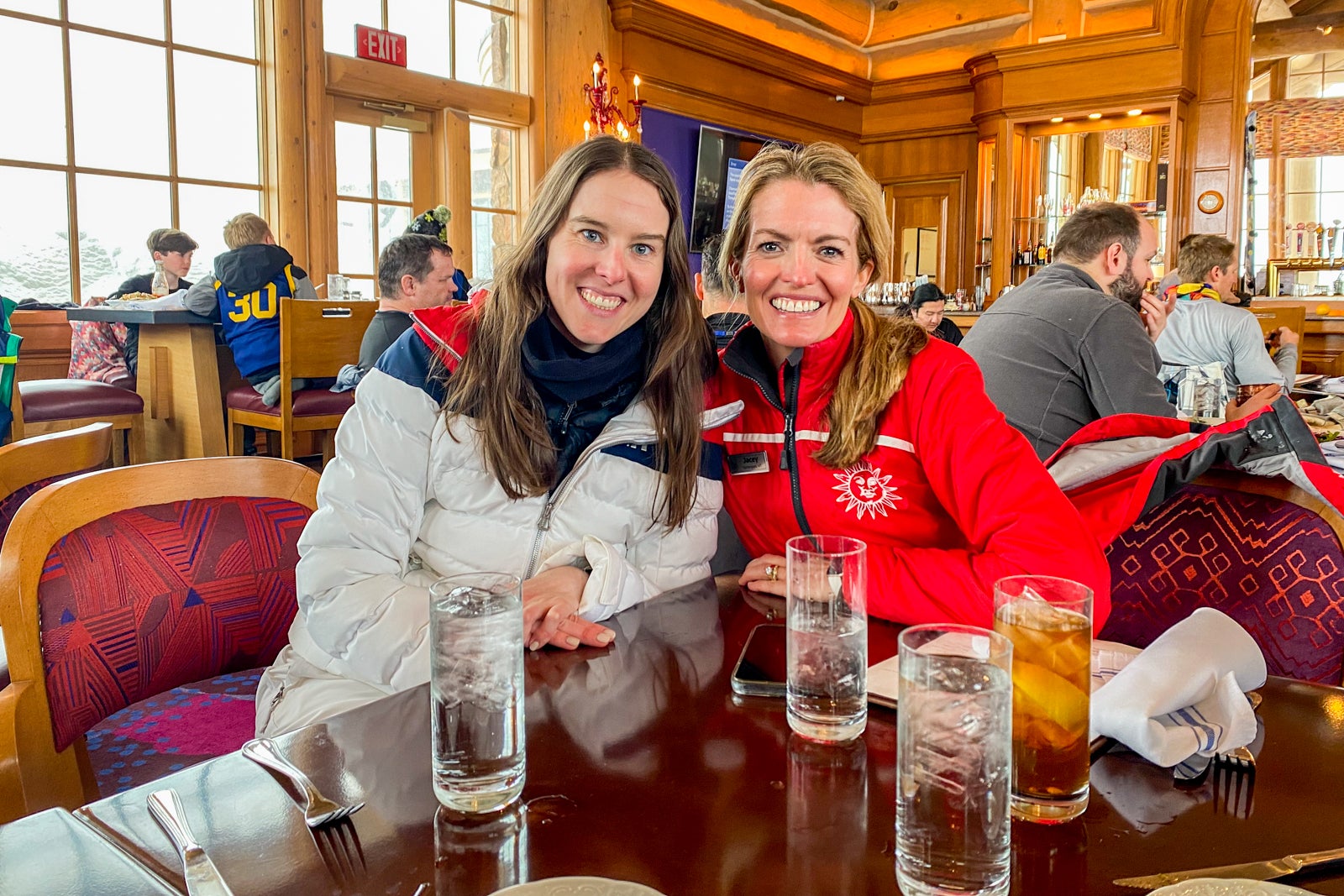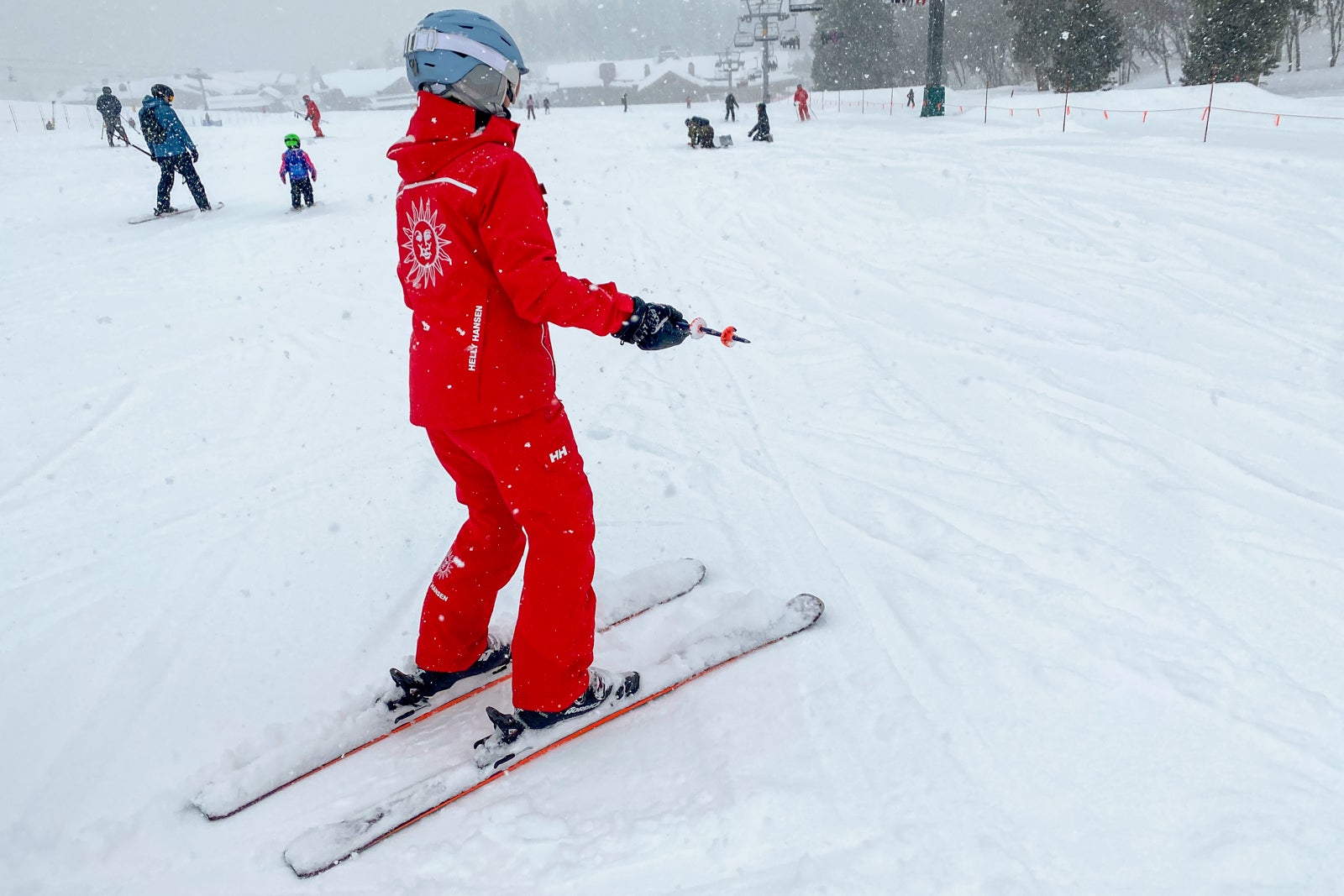 "Growing up in Utah, I only went skiing once in high school and was so scared, I wedged the entire time," Davis recalled. Wedging, also known as "pizza-ing," is a braking and turning technique taught in beginner skiing. I primarily relied on this method to stop during my first ski trip.
After much instruction from Shimbo and Davis, I advanced to "French frying," or positioning my skis parallel (like two French fries) to move forward. 
During seven runs up and down Littlecat and two through its terrain park, Davis walked us through a few technical exercises. Then, she suggested we head to the Becker trail and descend via Slo Road and Bear Hollow. The more advanced terrain was intimidating, but I felt better after Davis told me, "I think you can do it, Caroline." She also reminded me that "any trail can be mild if you know how to stop."
Buoyed by the confidence of Davis and my friends, we headed up Needles via the Becker lift. This is where my negative self-talk kicked in right on cue, and I promptly started sweating despite the cold.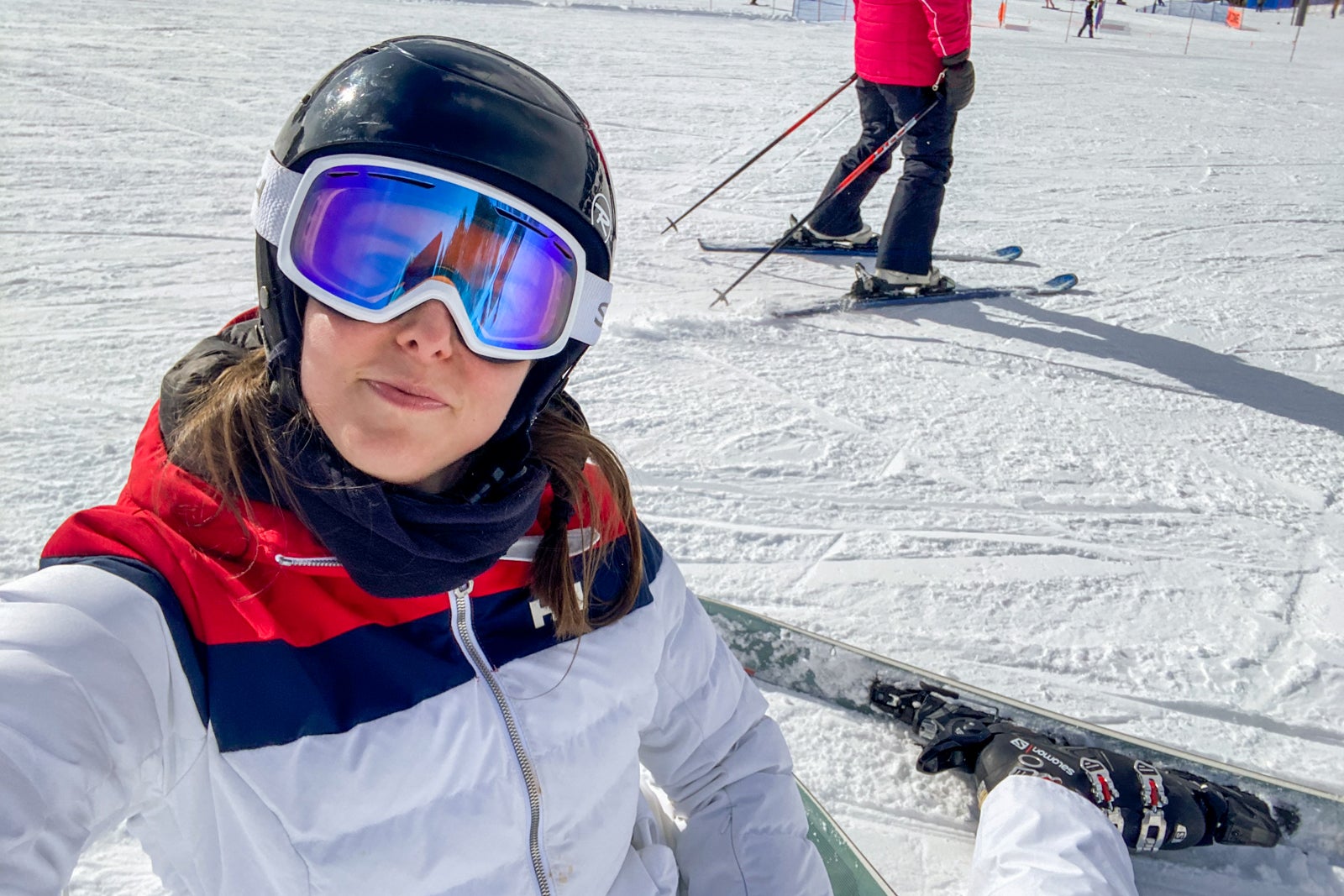 Throughout the lift's dizzying 18-minute climb, I turned to Davis several times to ask if I could take it back down rather than skiing. She told me we could but encouraged me to hold off on deciding until we were at the top and had gotten off the lift so I could assess the situation.
When we disembarked at Becker, I looked down the 1,200-foot slope. Noting my fear, Davis tried to comfort me, saying, "No hill is steep with turns." As long as I could stop and turn, things would be OK.
Before we continued, she told me to take a moment and look around at the beauty of the fresh snow on the mountain, which was coming down strong. There was newly fallen snow on Snowbasin's trails, and I was learning to ski on fresh powder for the first time.
Davis walked us through every twist and turn our descent would take, each word keeping me calm and strengthening my resolve to take on this challenge. After all, she would be with me for every swish, as would my friends.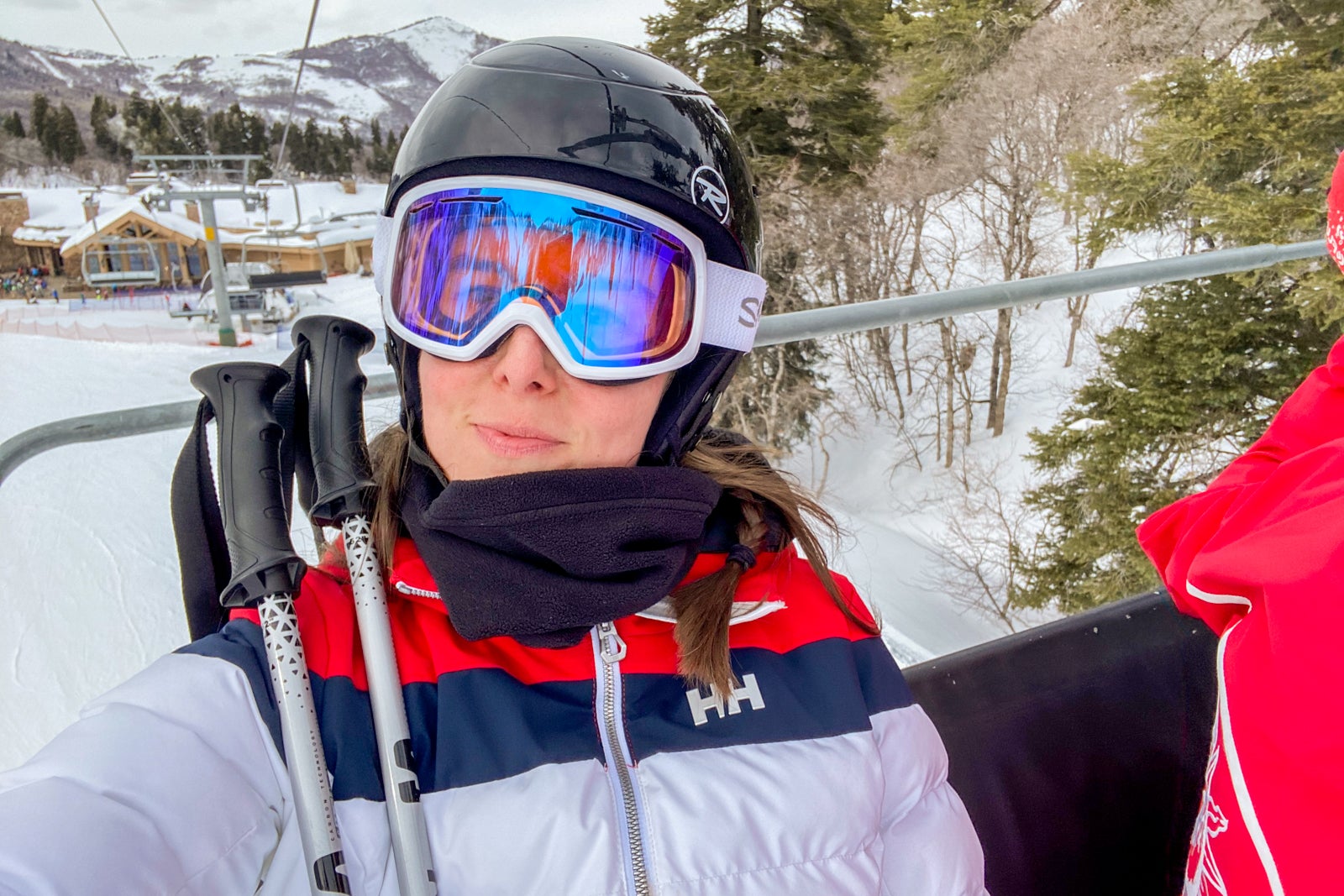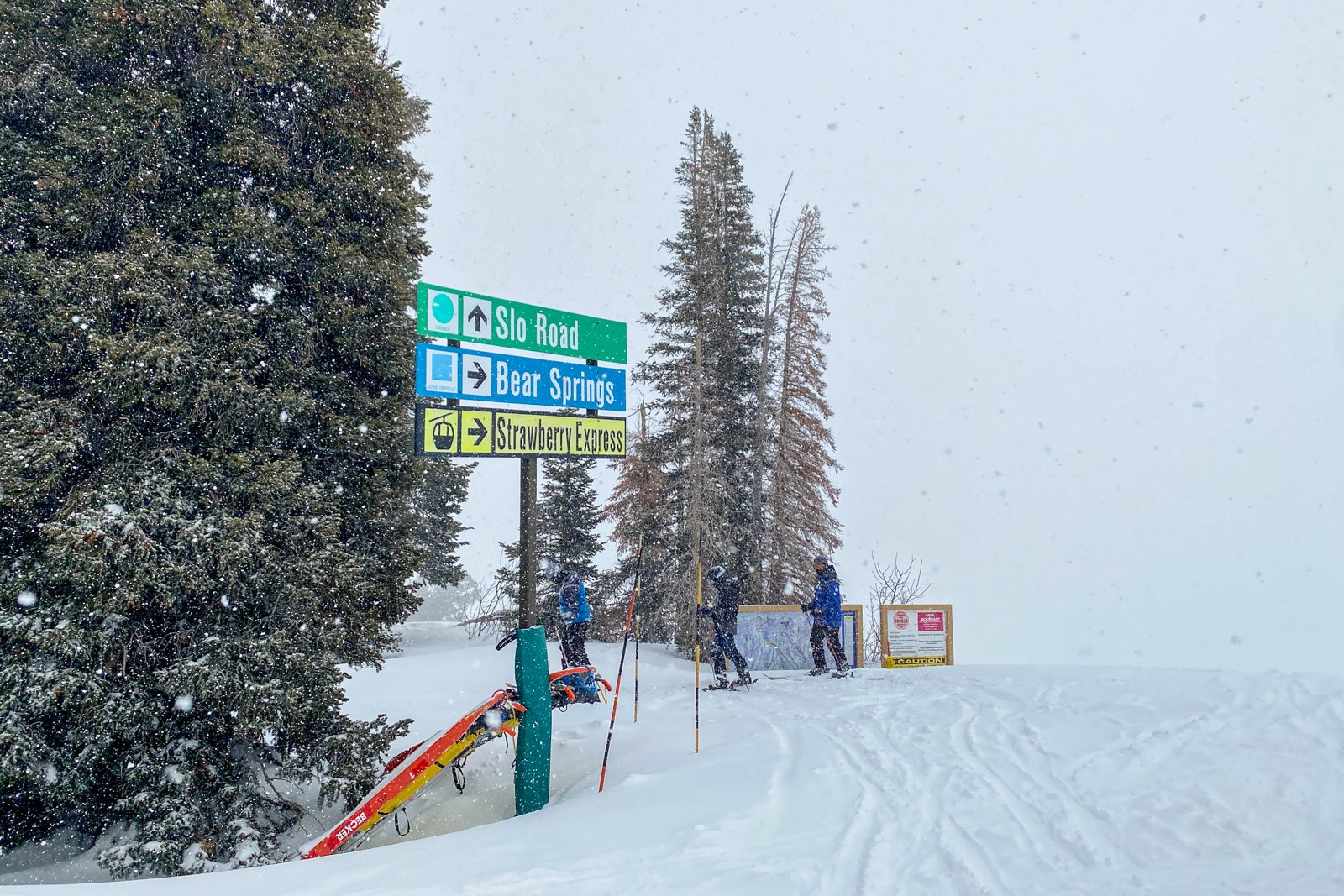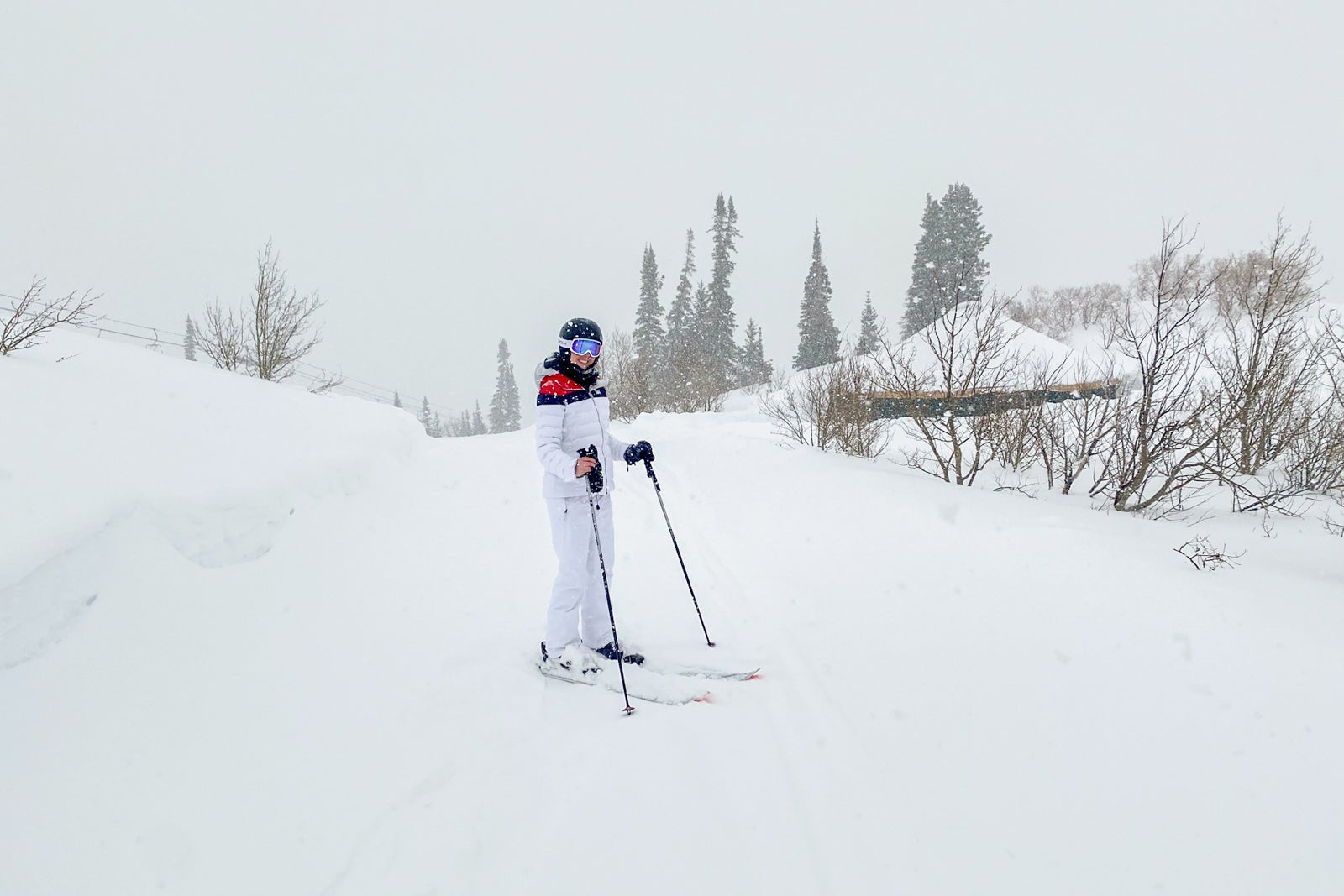 Taking it slowly and easily, the first two-thirds of our chute down the mountain went off without a hitch, though I got a little nervous when we arrived at Bear Hollow, and several trails converged.
"You were doing great, but all the other skiers and snowboarders whizzing by spooked you a little bit," Davis told me afterward. "You said, 'I think I am going to fall,' and then a few turns later, you did."
It turns out skiing might be mind over matter — at least, that's how it seems to be for me.
It's also about knowing your own limits. After a few (thankfully harmless) falls and continuing heavy snowfall that limited visibility, I decided to walk the rest of the way down to the bottom. Davis told me that, had the weather been a little better, I could have made it all the way down. Still, I was satisfied with the progress I'd made in two days.
Pricing and IKON Pass
As with most ski resorts, it's cheapest to purchase Snowbasin lift tickets in advance. Adult tickets (ages 13 to 64) cost $135 per weekday and $175 on weekends and holidays if you purchase online directly from the resort at least seven days in advance. Adults can also purchase two-day tickets for $265 during the week and $305 on weekends and holidays.
Ikon Pass holders with the full Ikon Pass or the Ikon Base Plus can use the pass to ski for five to seven days at Snowbasin (depending on the pass), with applicable blackout dates for the Base Plus pass.
Accessibility for new skiers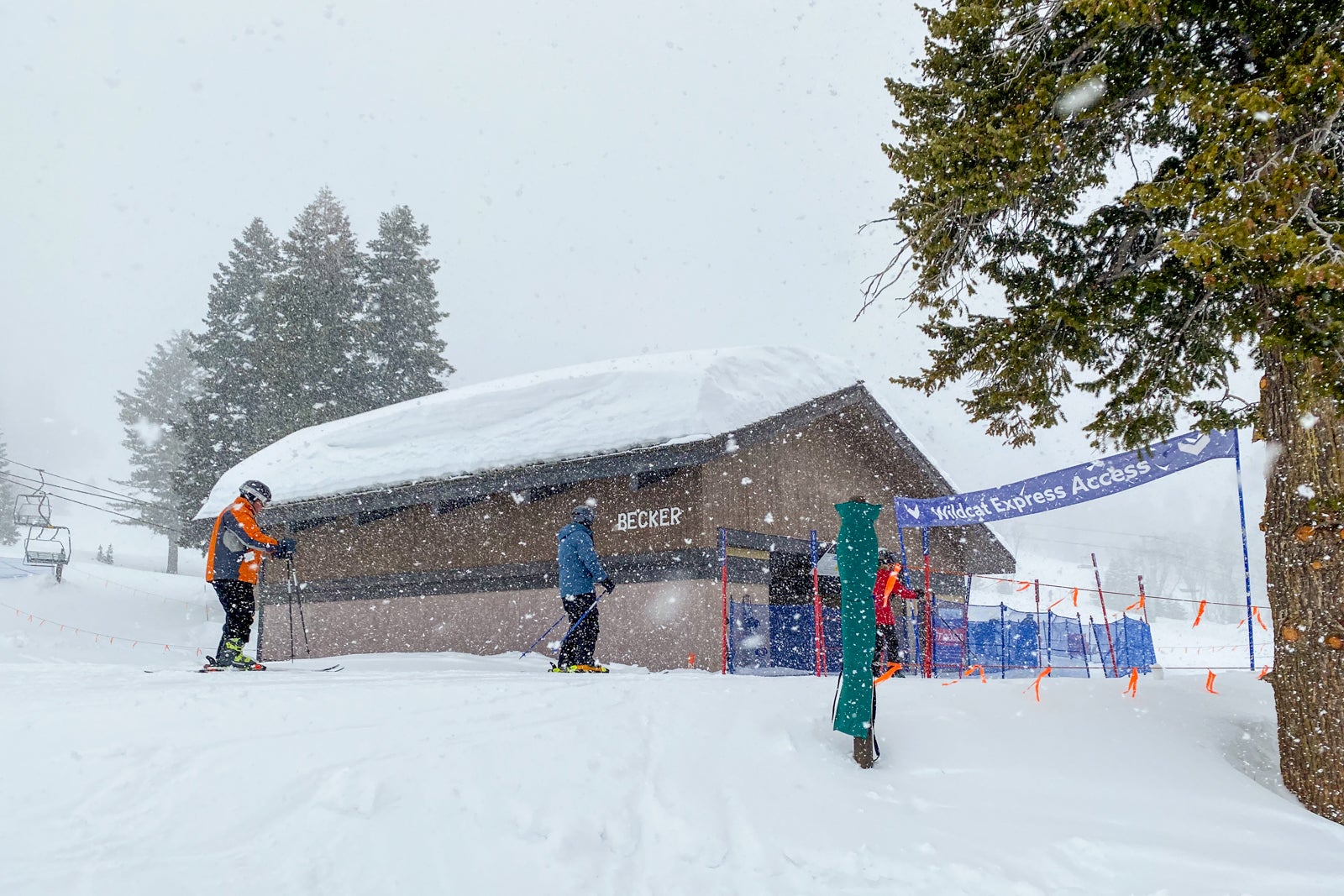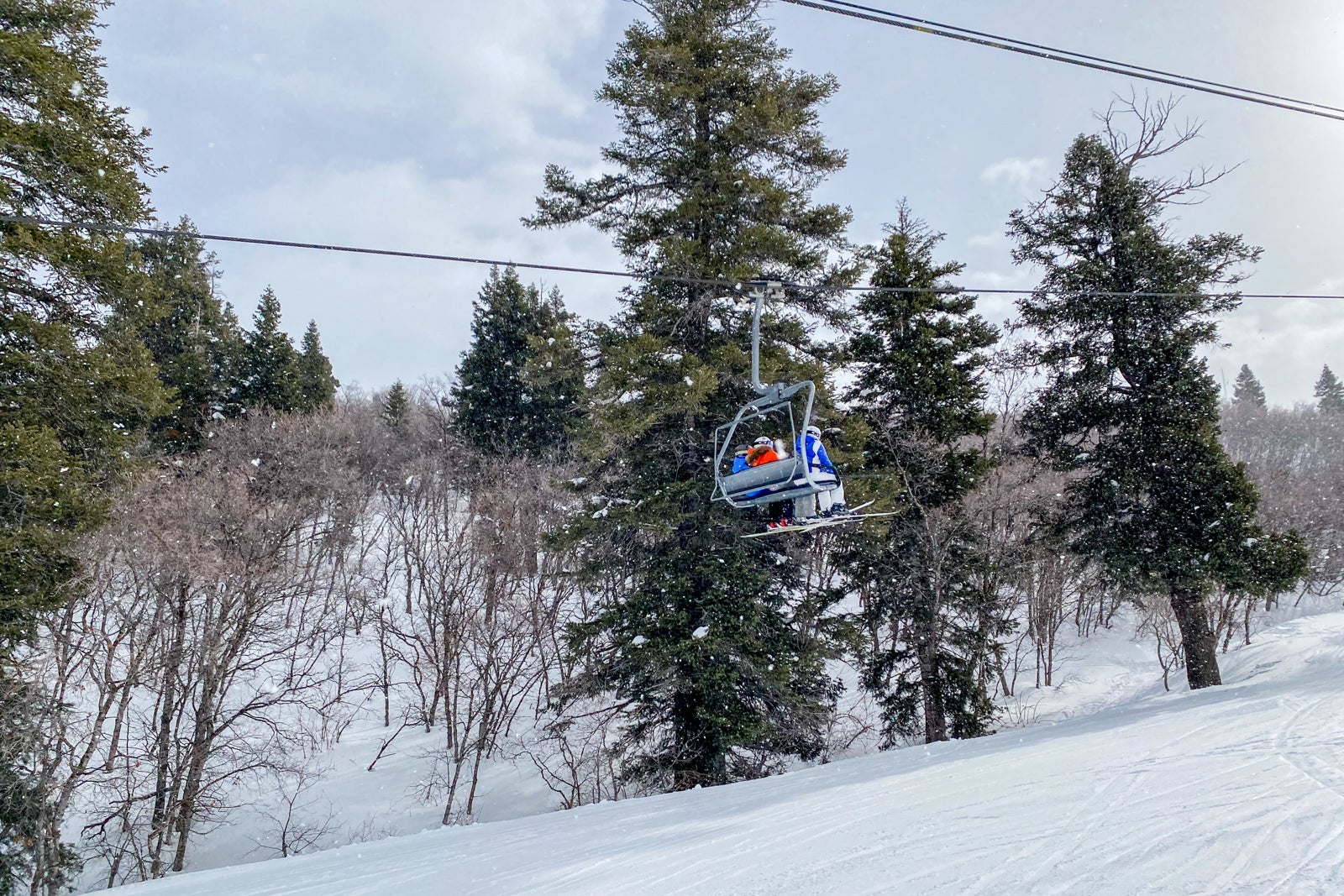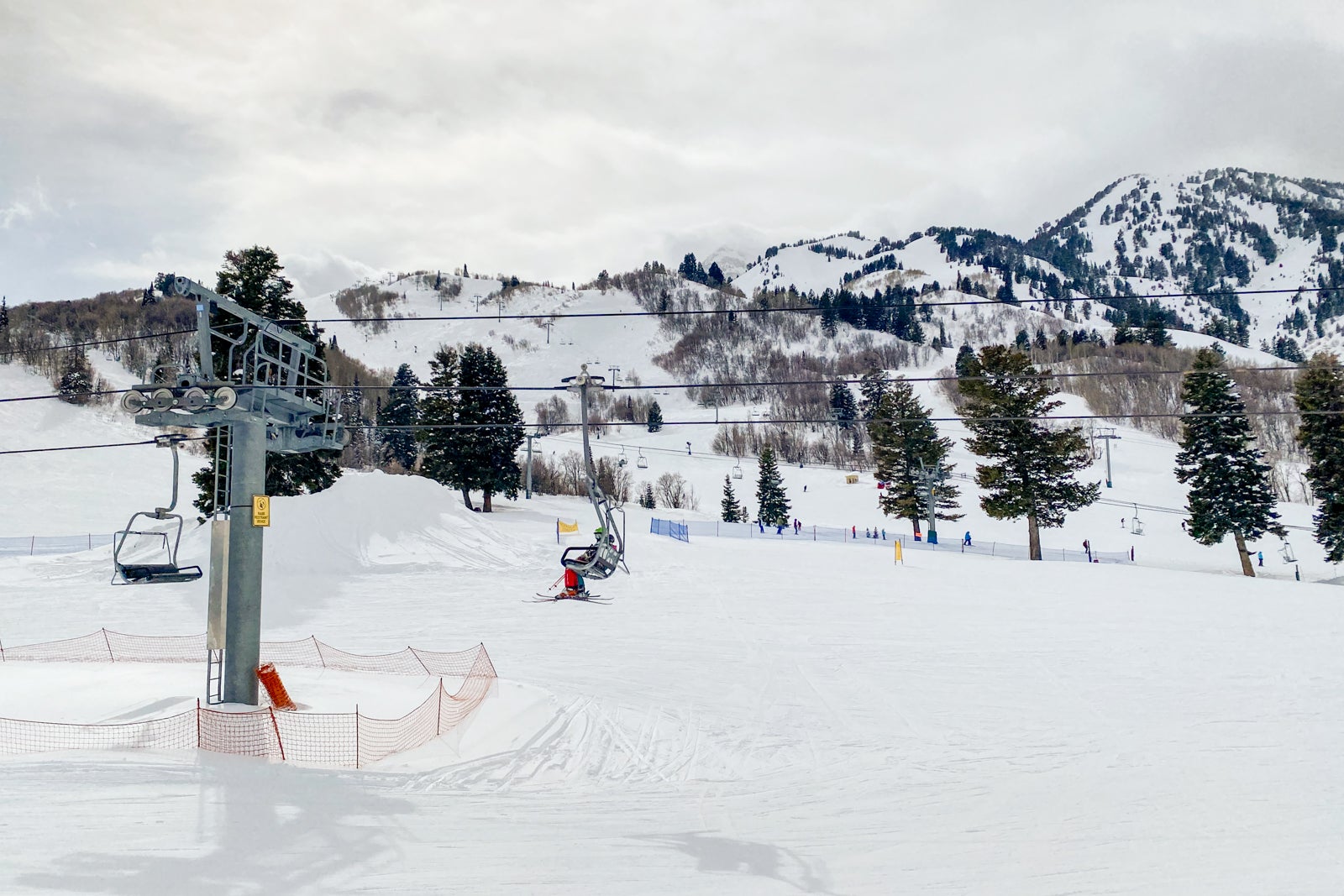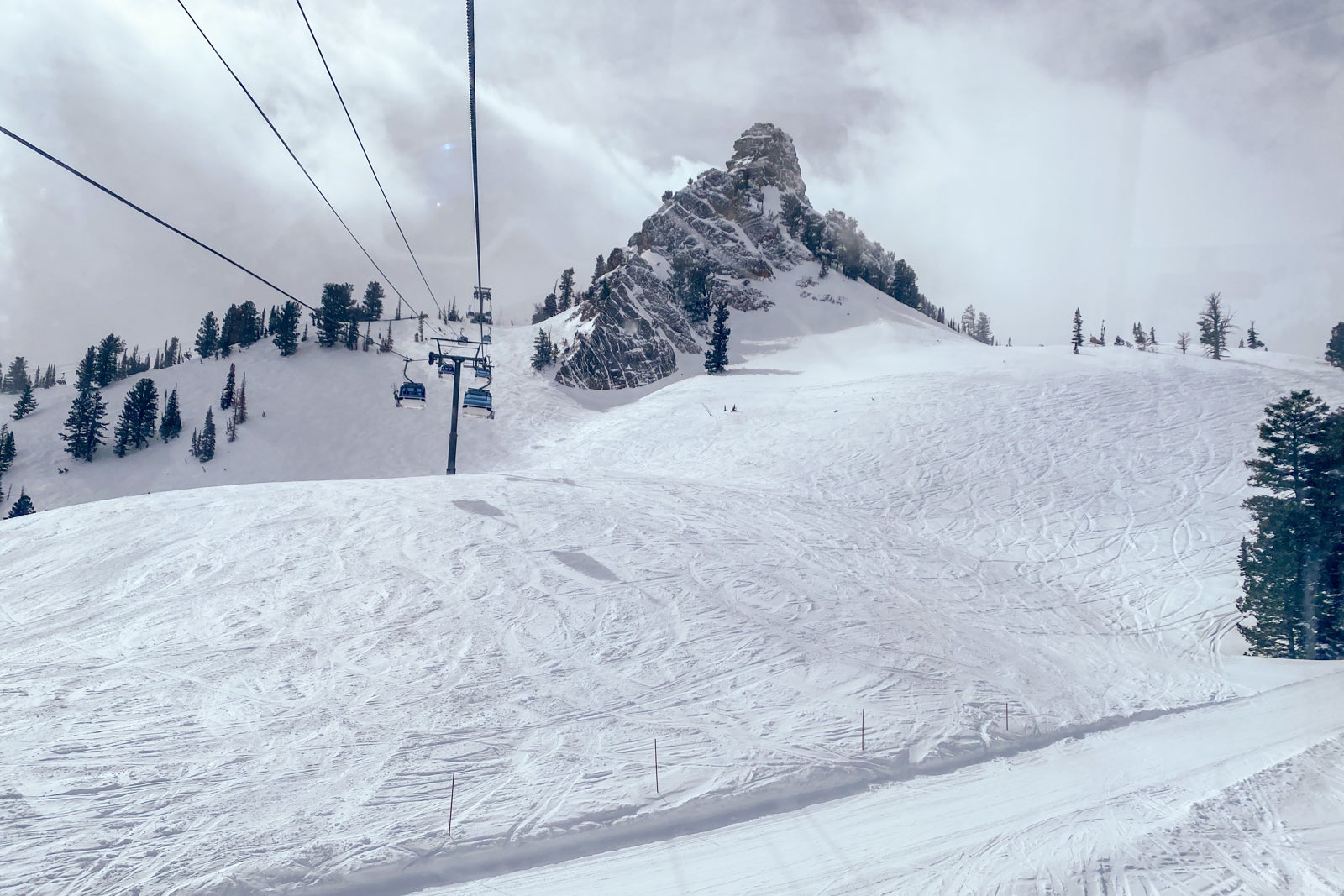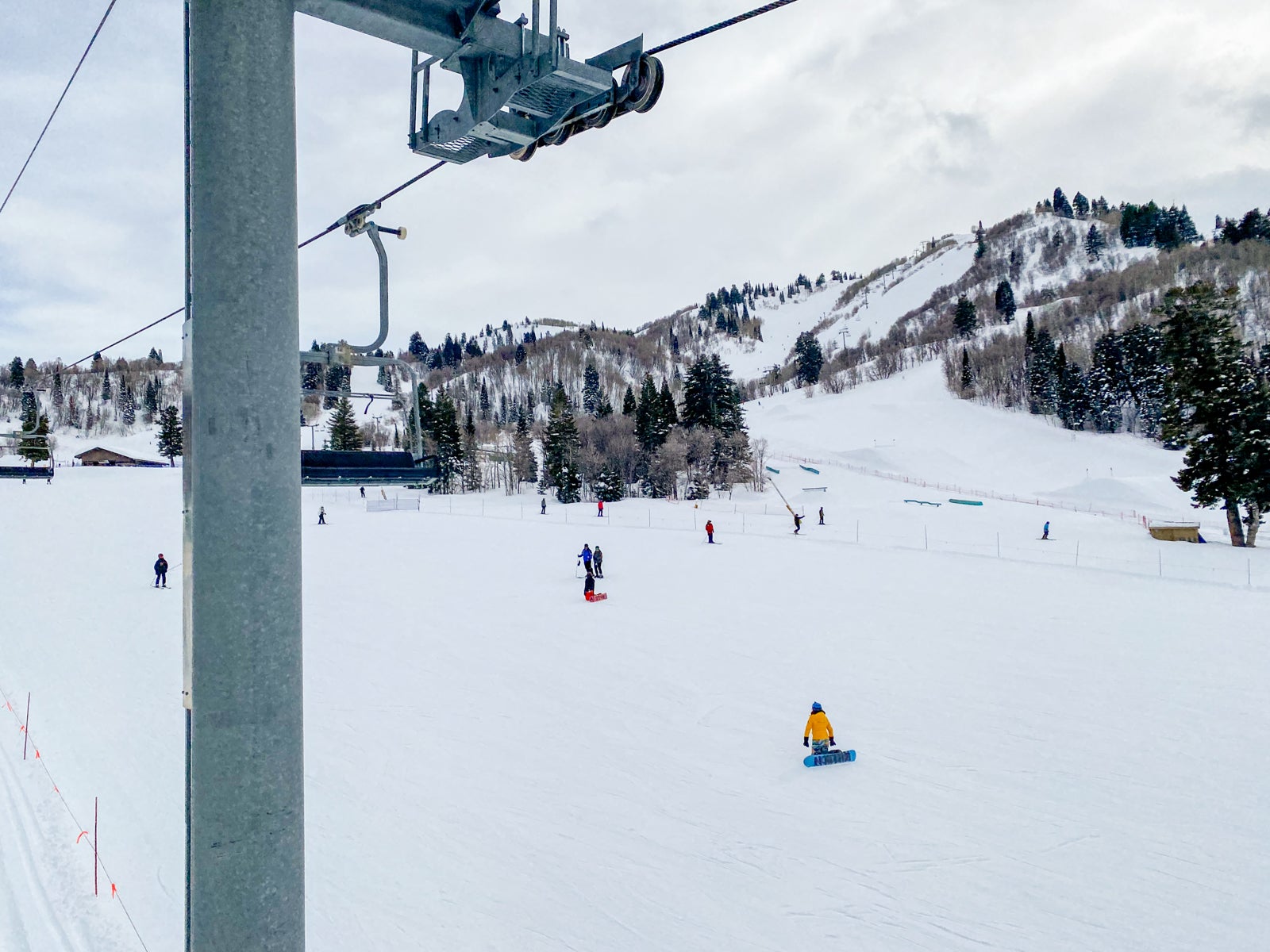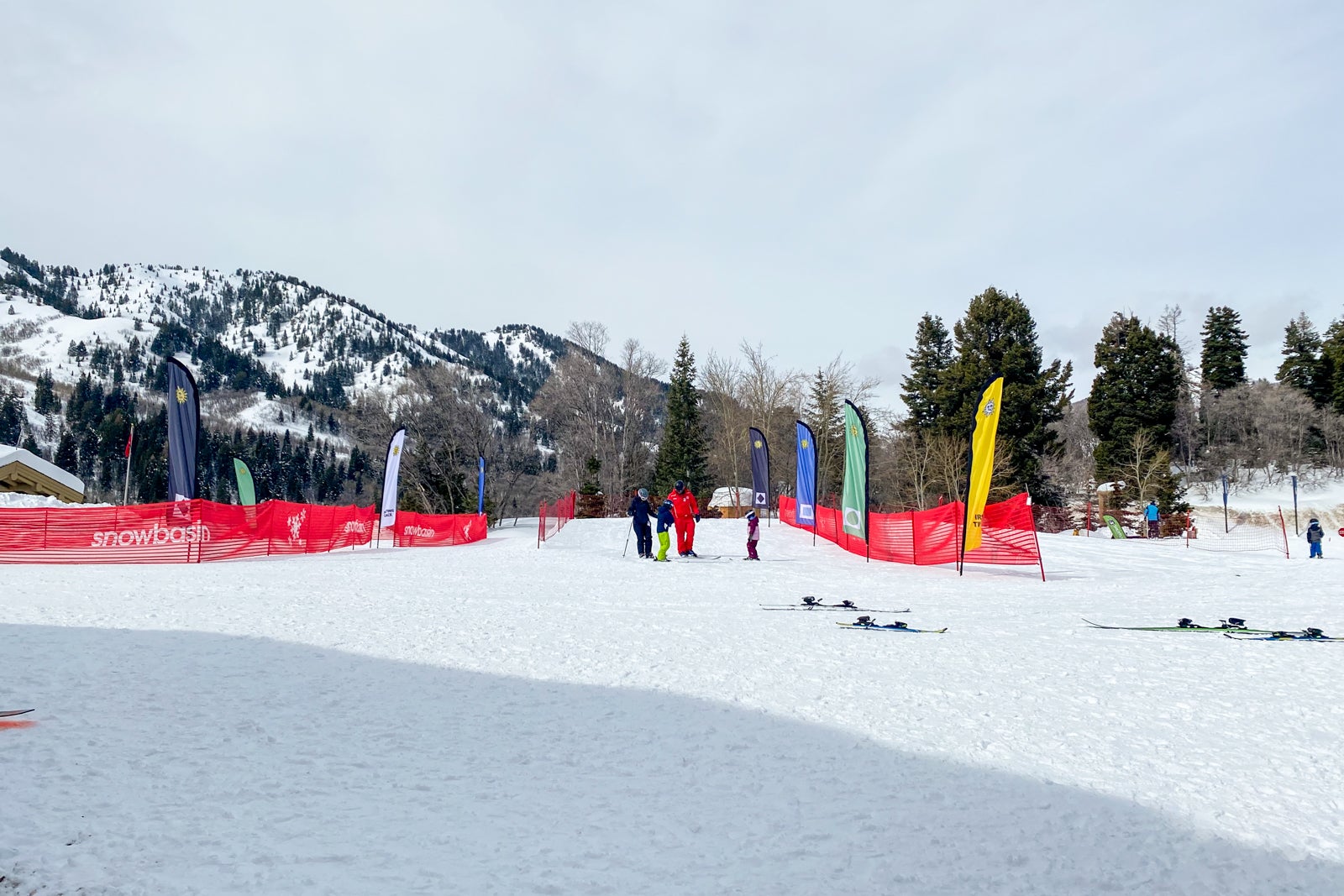 Even though Snowbasin features mostly intermediate to advanced terrain, it can still be a good mountain for new skiers to learn on. It even features the award-winning Learn and Earn Program, which breaks down barriers to the sport (like cost and geographical limitations) for first-time skiers.
Aimed mainly at locals, the three-year program groups participants by age and provides them with lessons, rentals and gear for year one at a set price once they complete three full-day lessons.
For the first year, group members get one lesson plus rentals and gear for the season; the second year includes three lessons, rentals and a season pass. Although you have to rent the gear, you ultimately get to keep it at the end of the season for the retail price. The third year includes one full-day lesson along with a season pass.
For the 2022-2023 season, the price per person to participate in the program was $799, and prices for the next season will be available in early April.
Though it's only a three-year program, Snowbasin hopes it turns people new to the sport into lifelong enthusiasts.
"It's a pathway toward growth and love of skiing," McFarland said.
Of course, I did not participate in Learn and Earn, but at the end of my two days, Snowbasin still felt accessible for a new skier like me. Its friendly instructors helped me realize I could do more than I thought, regardless of the doubts inside my head.
Plus, the welcoming, relaxed attitudes of instructors and other mountain goers make Snowbasin seem less intimidating than at first glance.
A comfortable, low-key vibe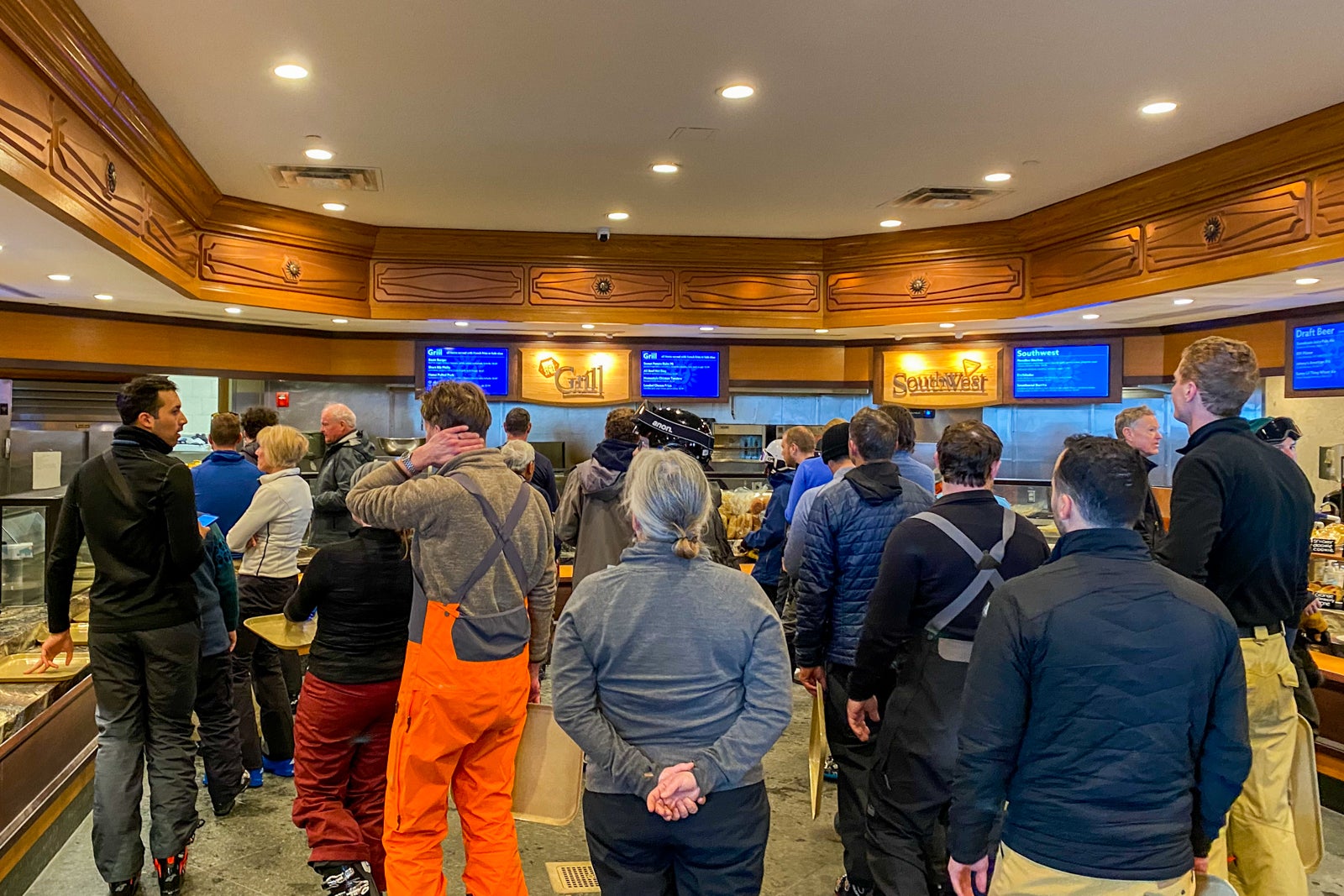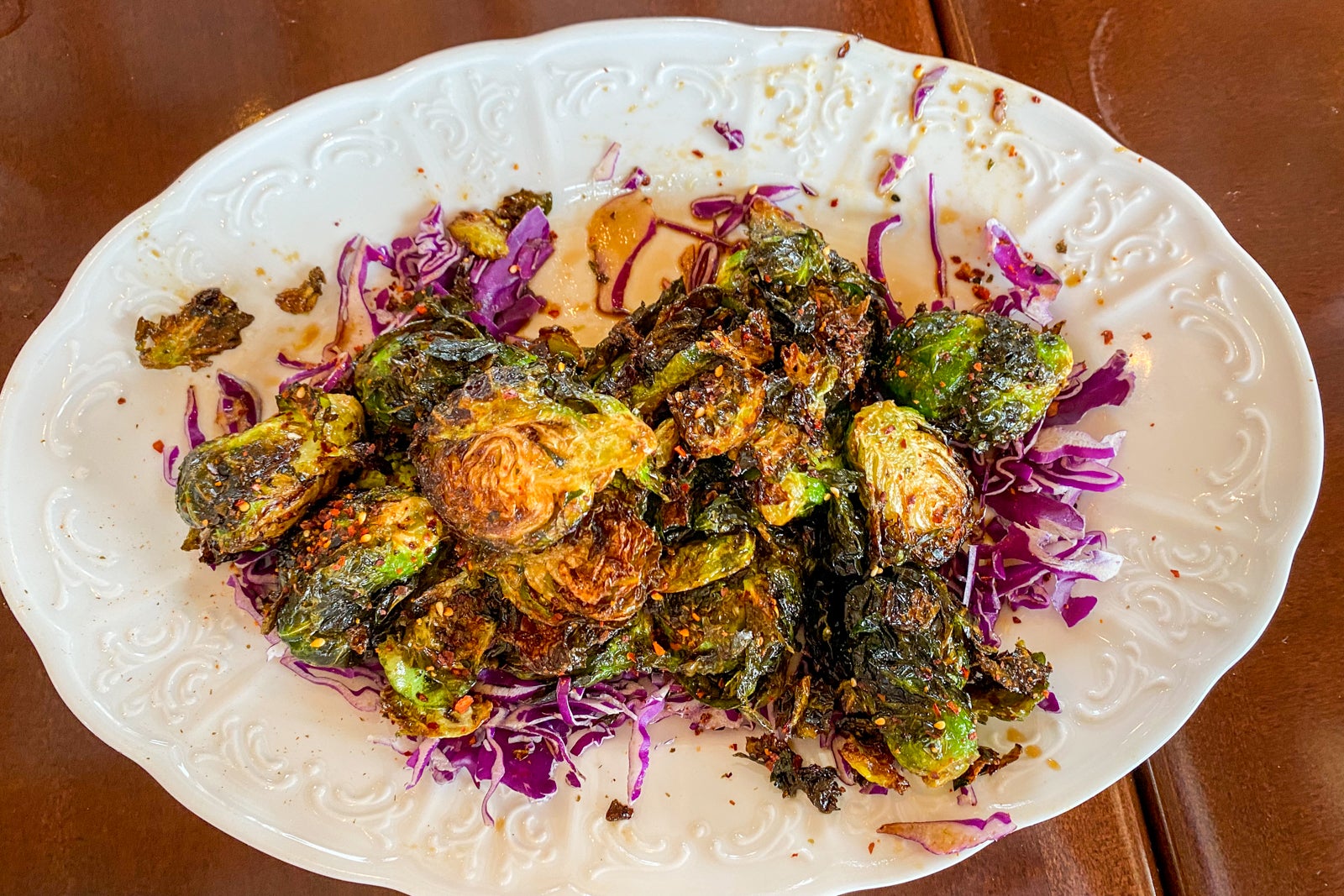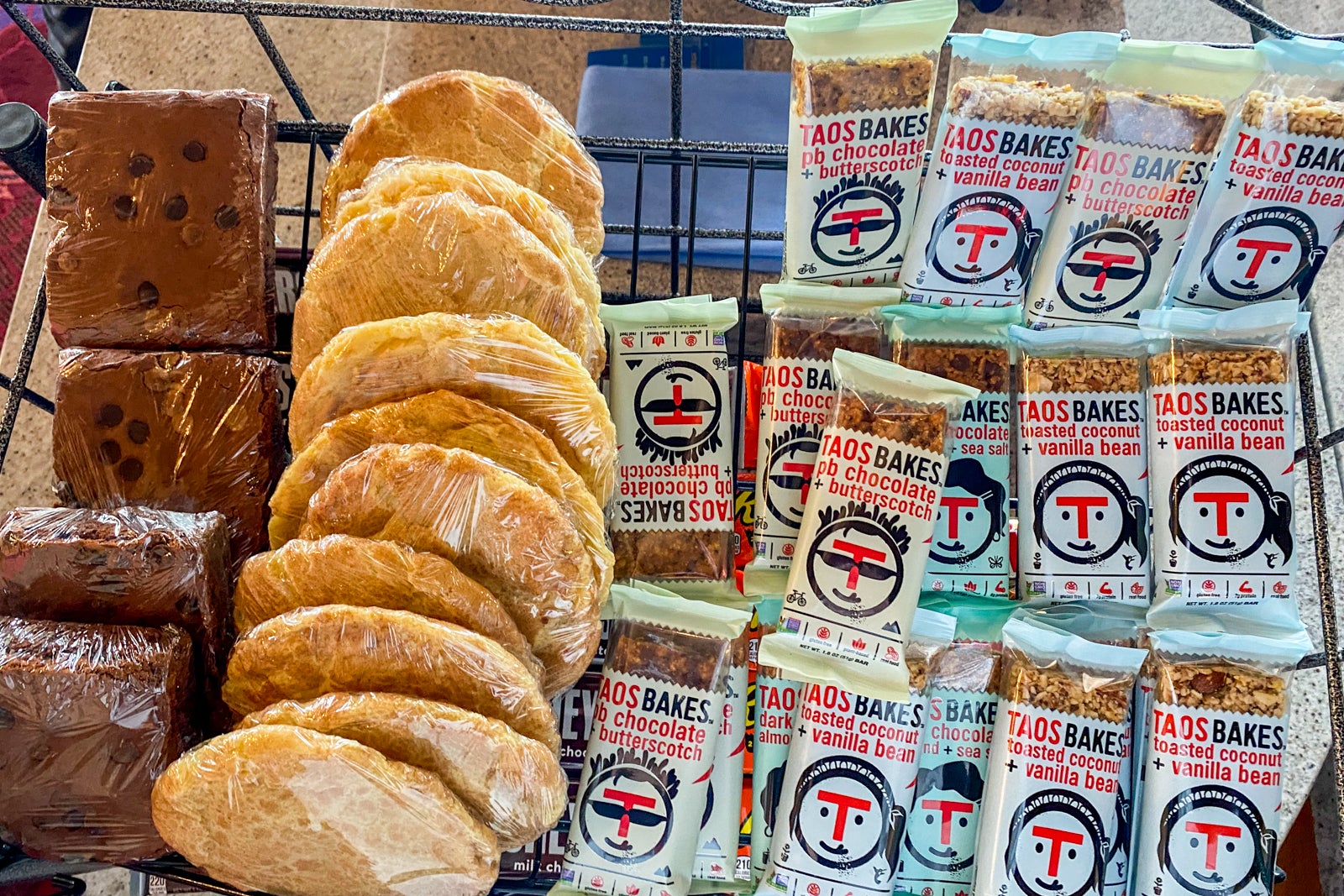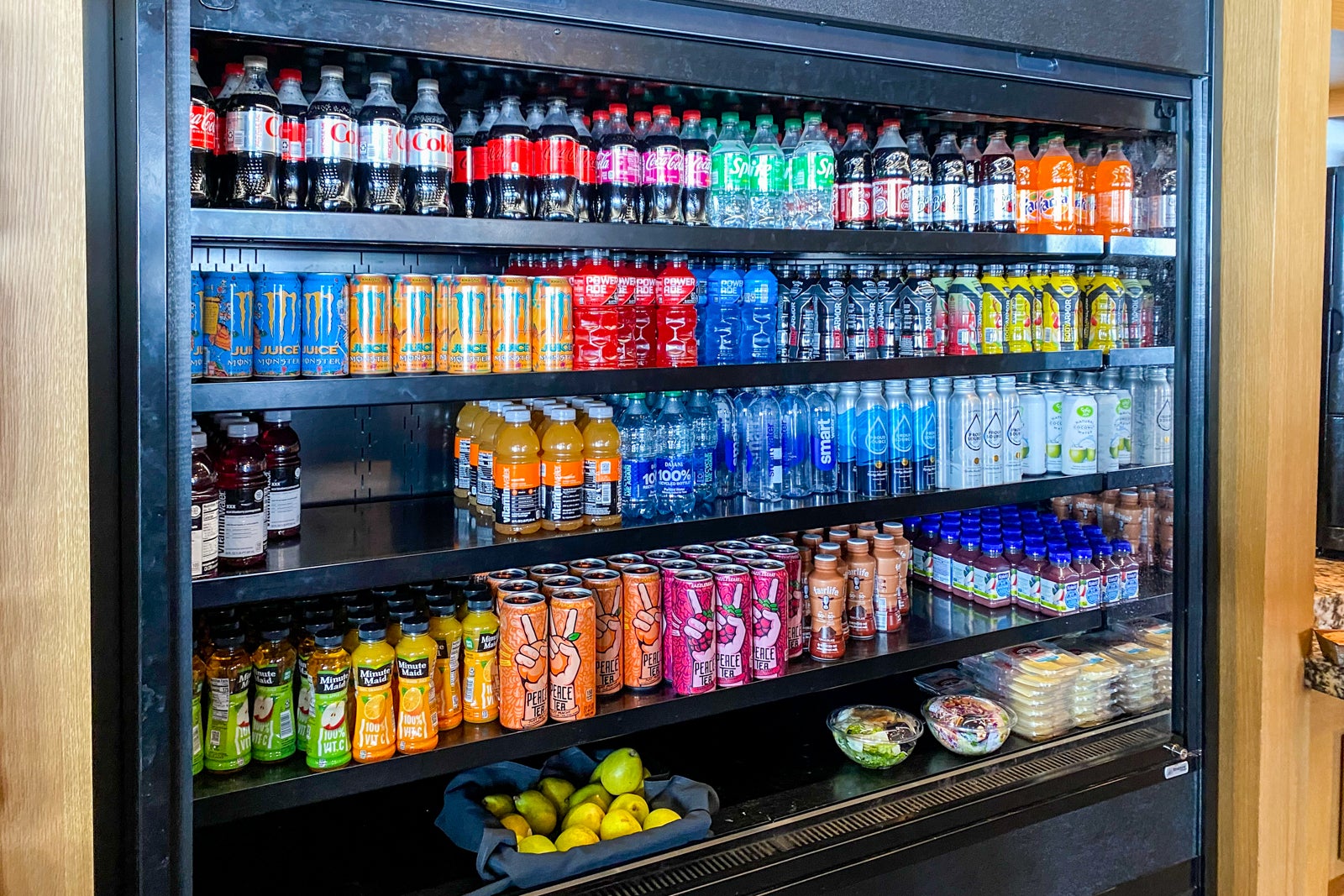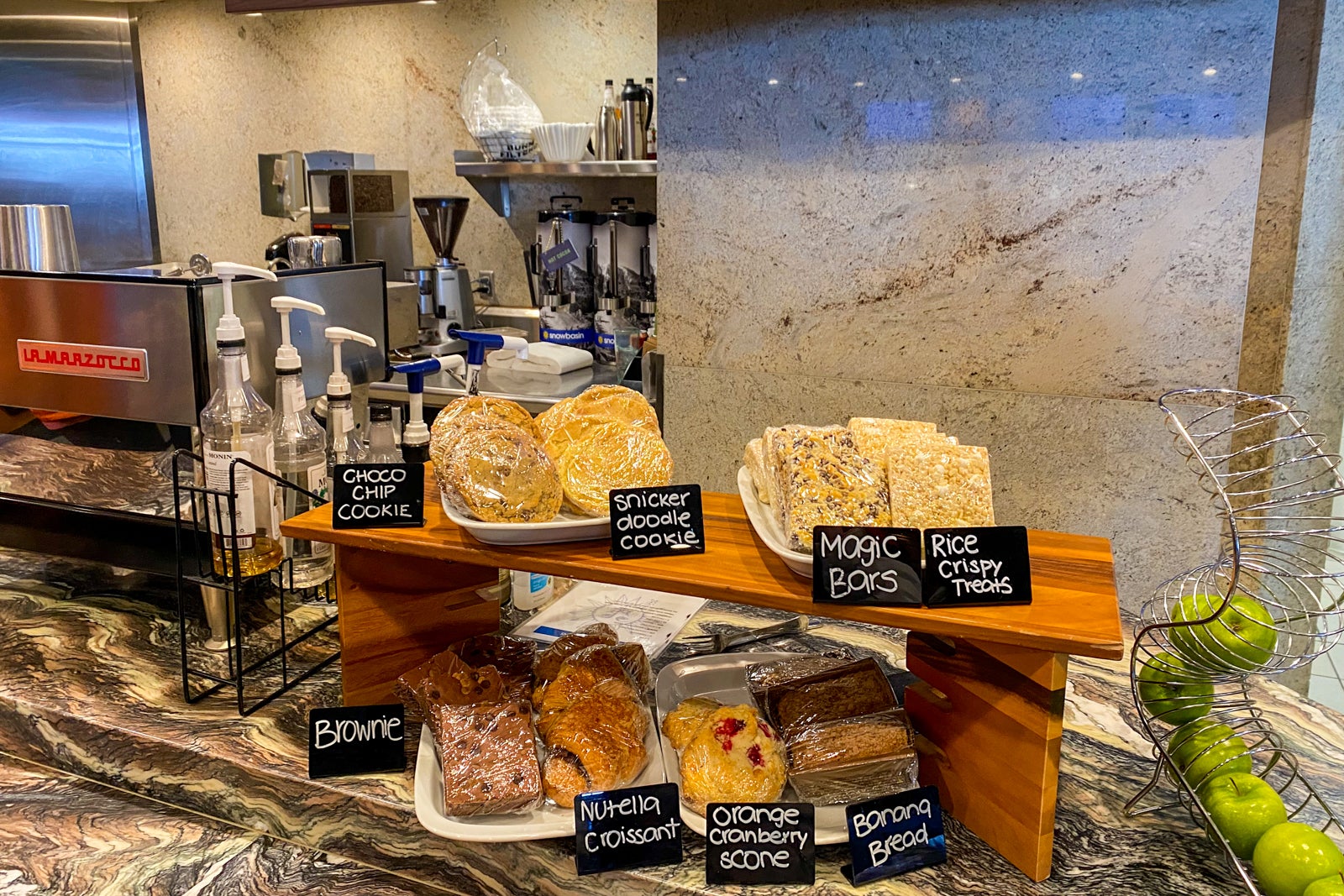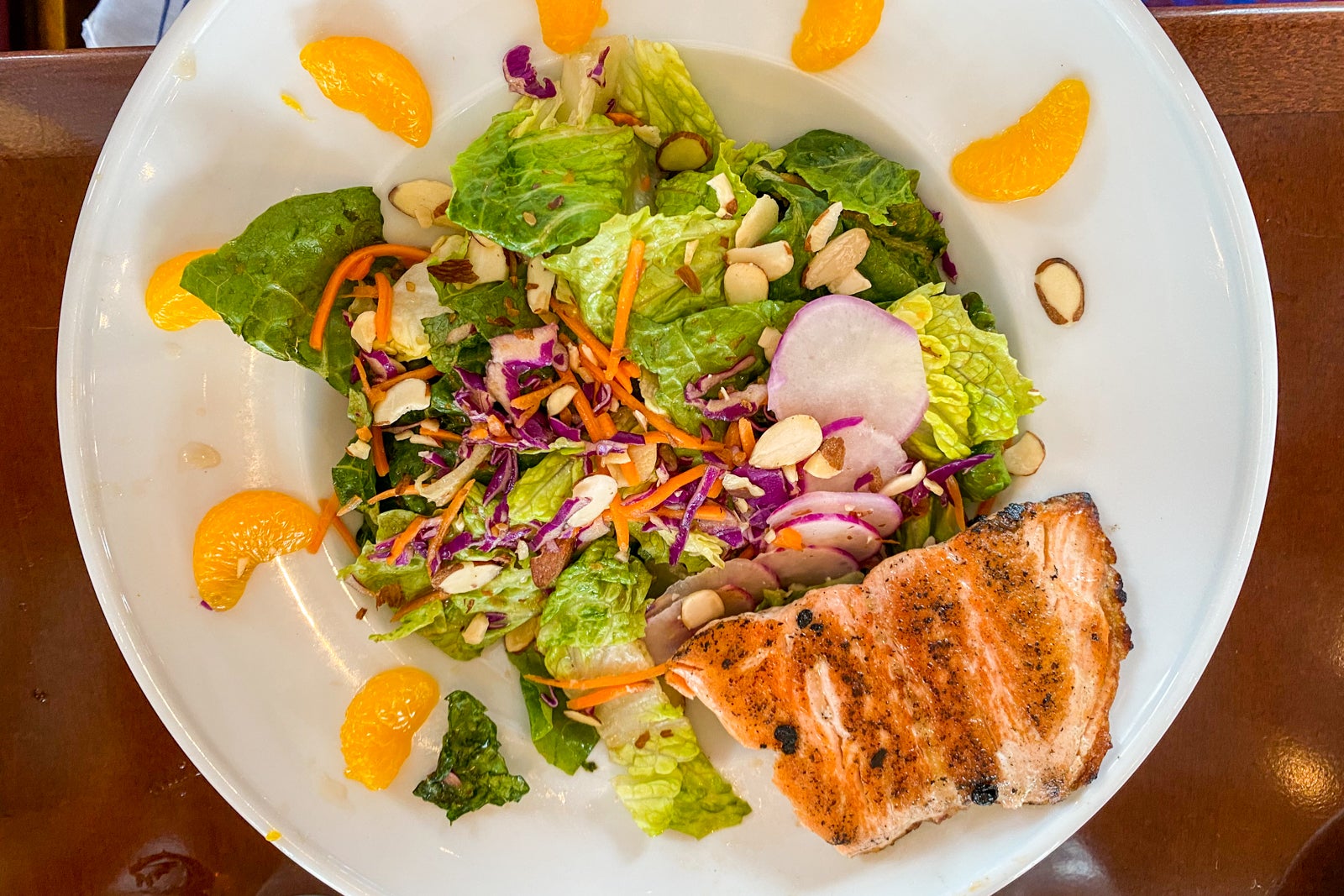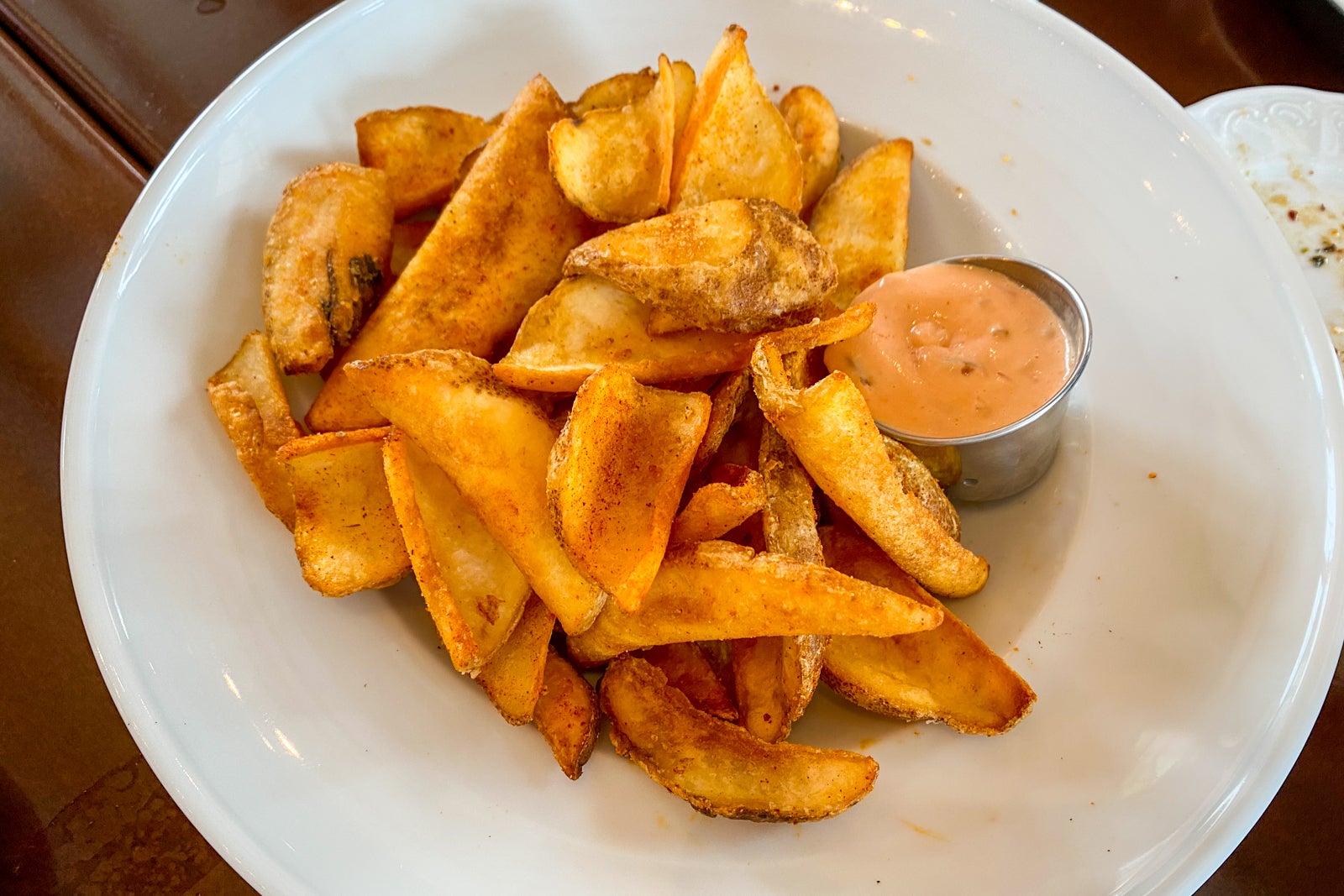 Unlike many ski mountains in the West, Snowbasin has been family-owned since 1984. Though there's no on-site lodging, there are plenty of places to satisfy your appetite after a day on the slopes.
I stayed at the Hampton Inn & Suites in Ogden, about a 30-minute drive from both Snowbasin and Salt Lake City. Ogden is an affordable, convenient place to stay for Snowbasin access. The hotel offered a comfortable place to sleep in an interesting neighborhood near the town's Historic 25th Street.
Ogden is a small town that Hartman describes as a "railroad town that never stopped working."
"Steakhouses are a dime a dozen in Ogden," he said. "It's definitely a cowboy town."
Though we did not observe any cowboys or hit up any steakhouses during our two-day stay, there were plenty of restaurants and bars within walking distance of our hotel, including breweries, multiple Thai eateries and coffee shops.
The locals exuded friendly vibes. Ogden has long attracted creatives and artists. More recently, it has also attracted techies from Salt Lake City and elsewhere who relocated during the pandemic in search of a lower cost of living and easier mountain access.
Snowbasin Resort itself has two sit-down restaurants, three quick-service lodges and a slopeside spot serving comfort classics like pizza and burgers.
My friends and I dined at Cinnabar, which offers brunch and lunch; the menu features casual bites such as Bavarian pretzels, biscuits and gravy, fries with fry sauce (a mayo- and ketchup-based Utah specialty) and nachos. There were also other eclectic dishes like potato-crusted salmon, and bangers and mash.
Depending on where you eat, you'll pay anywhere from $7 to $22 per dish.
Though the food was tasty, the decor stood out the most. Exposed timber beams, stone masonry and dramatic chandeliers create the ambiance of a classic ski resort.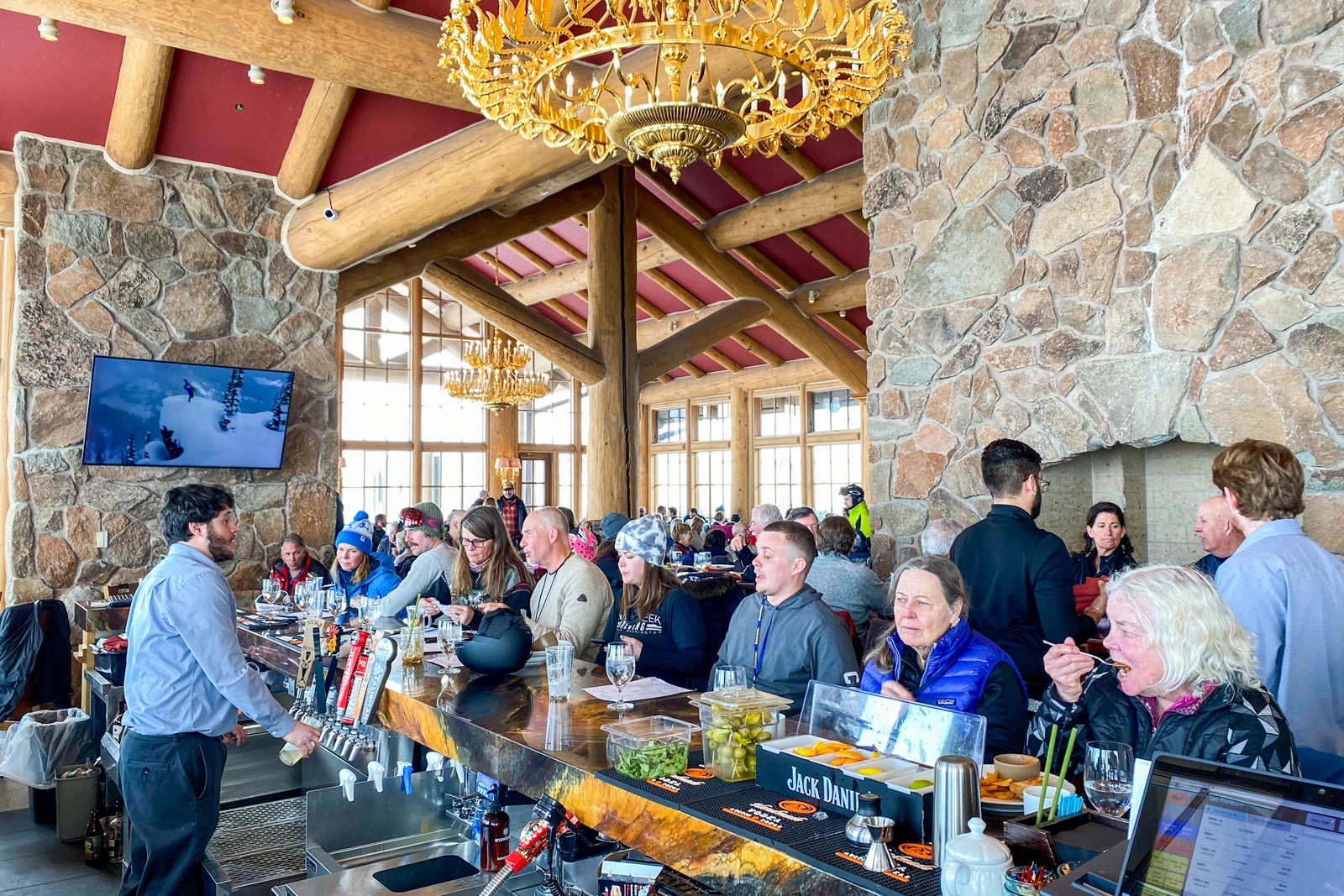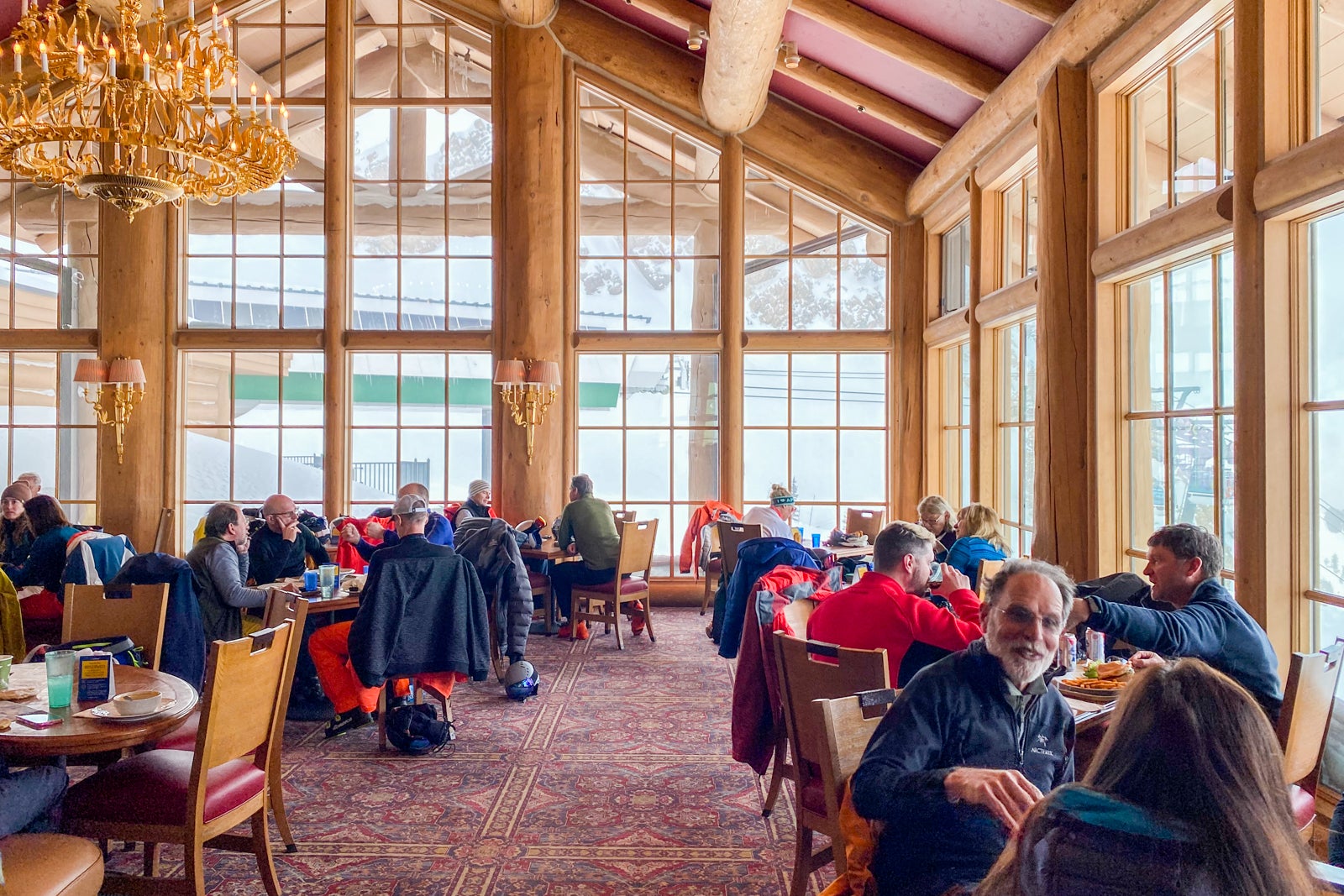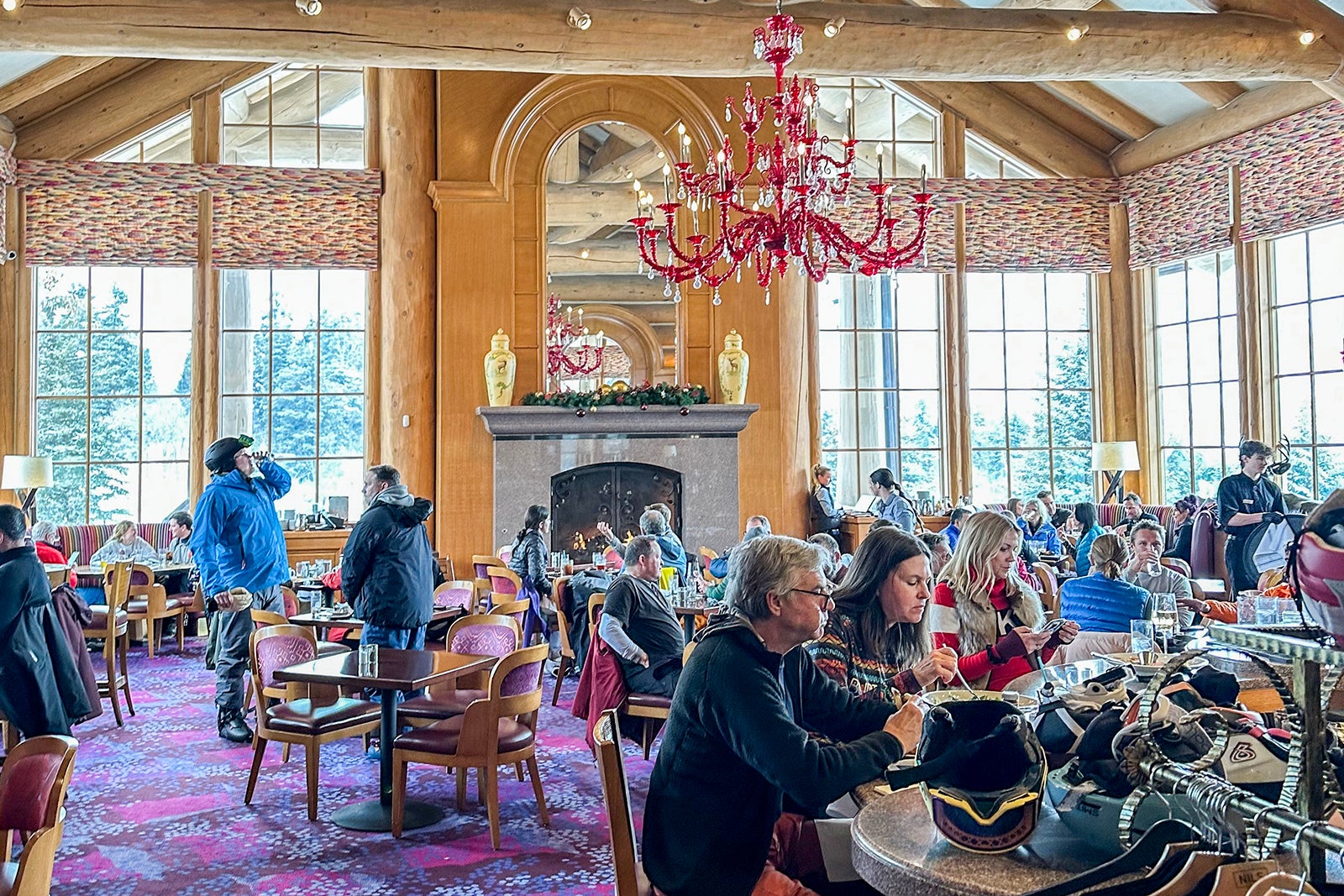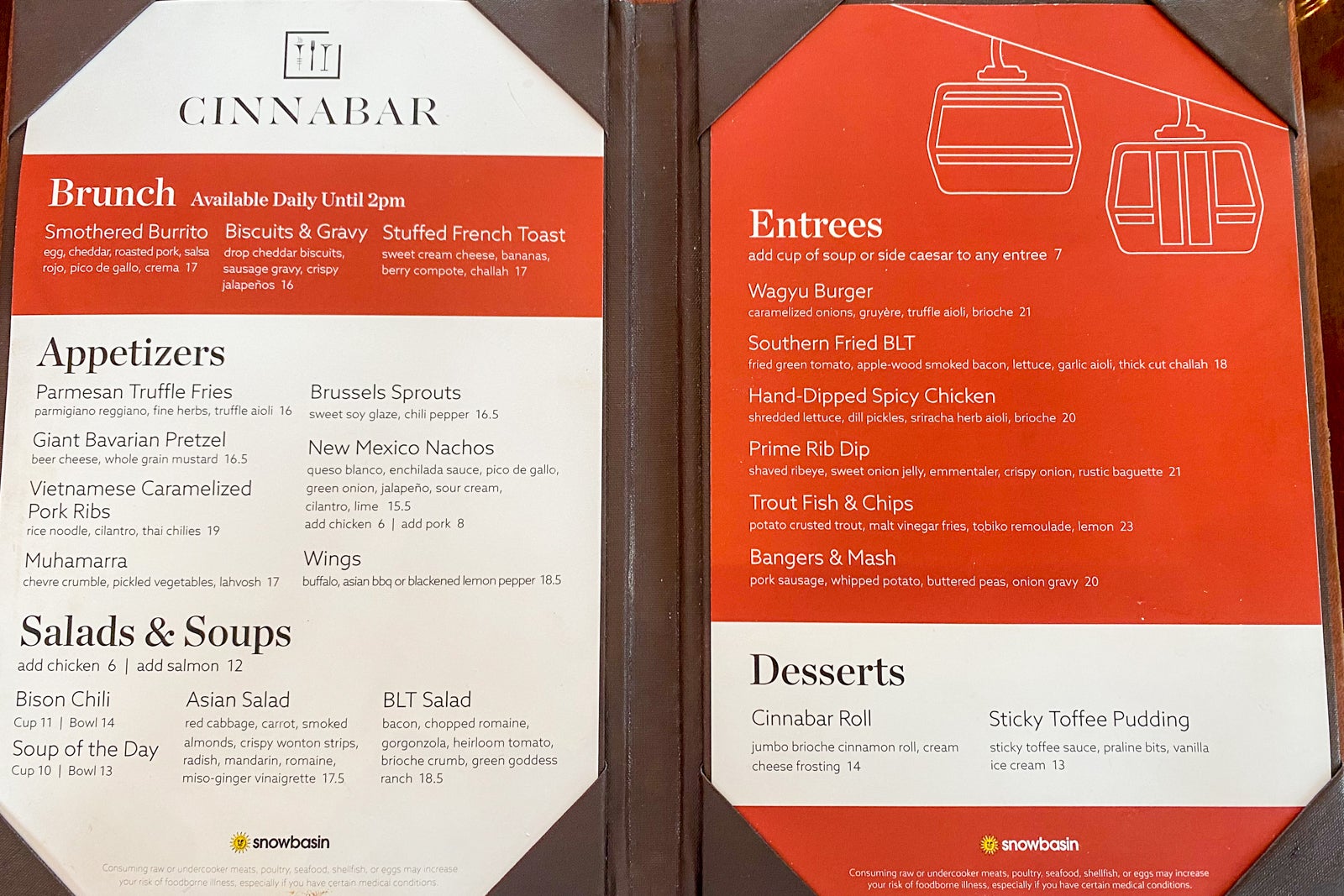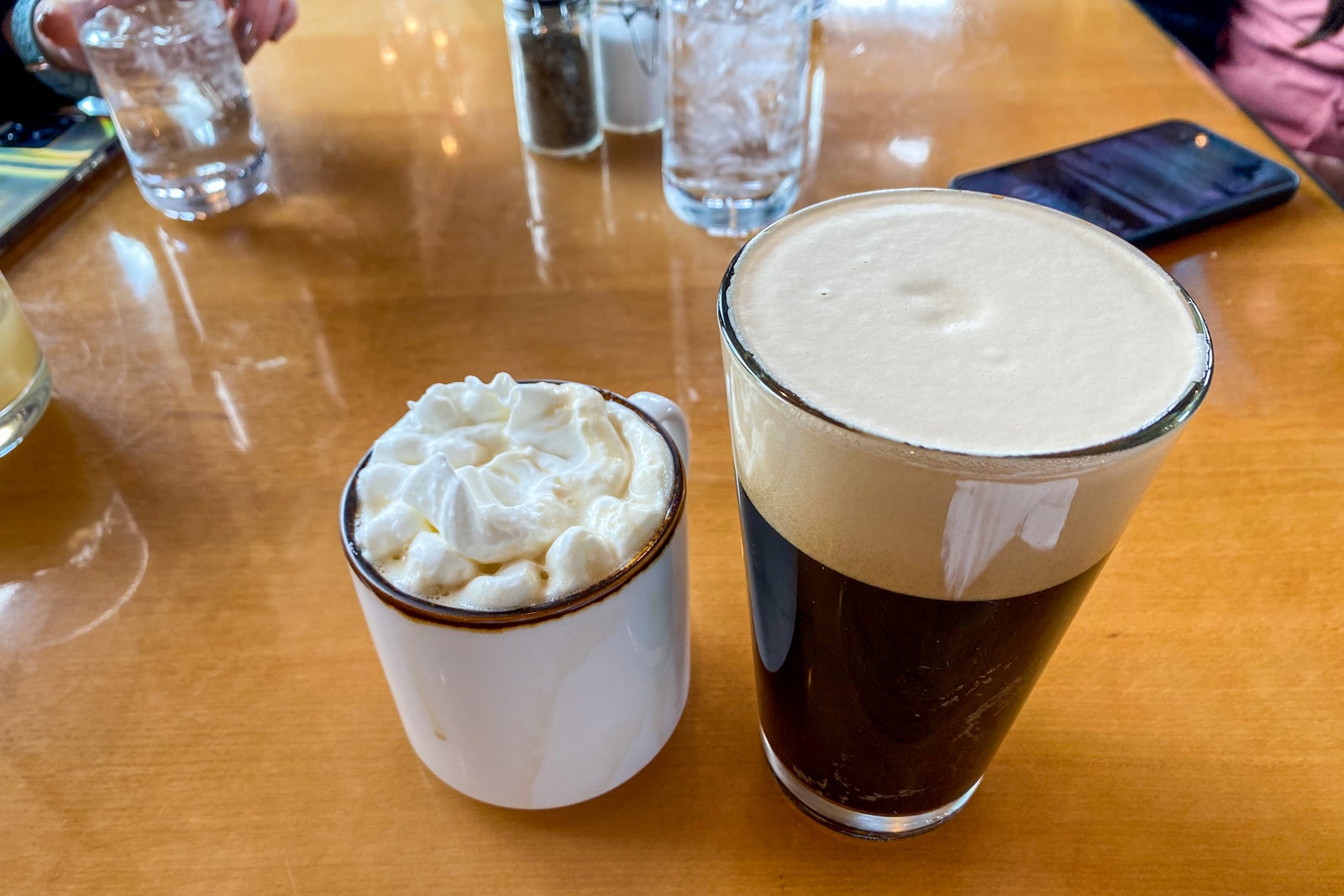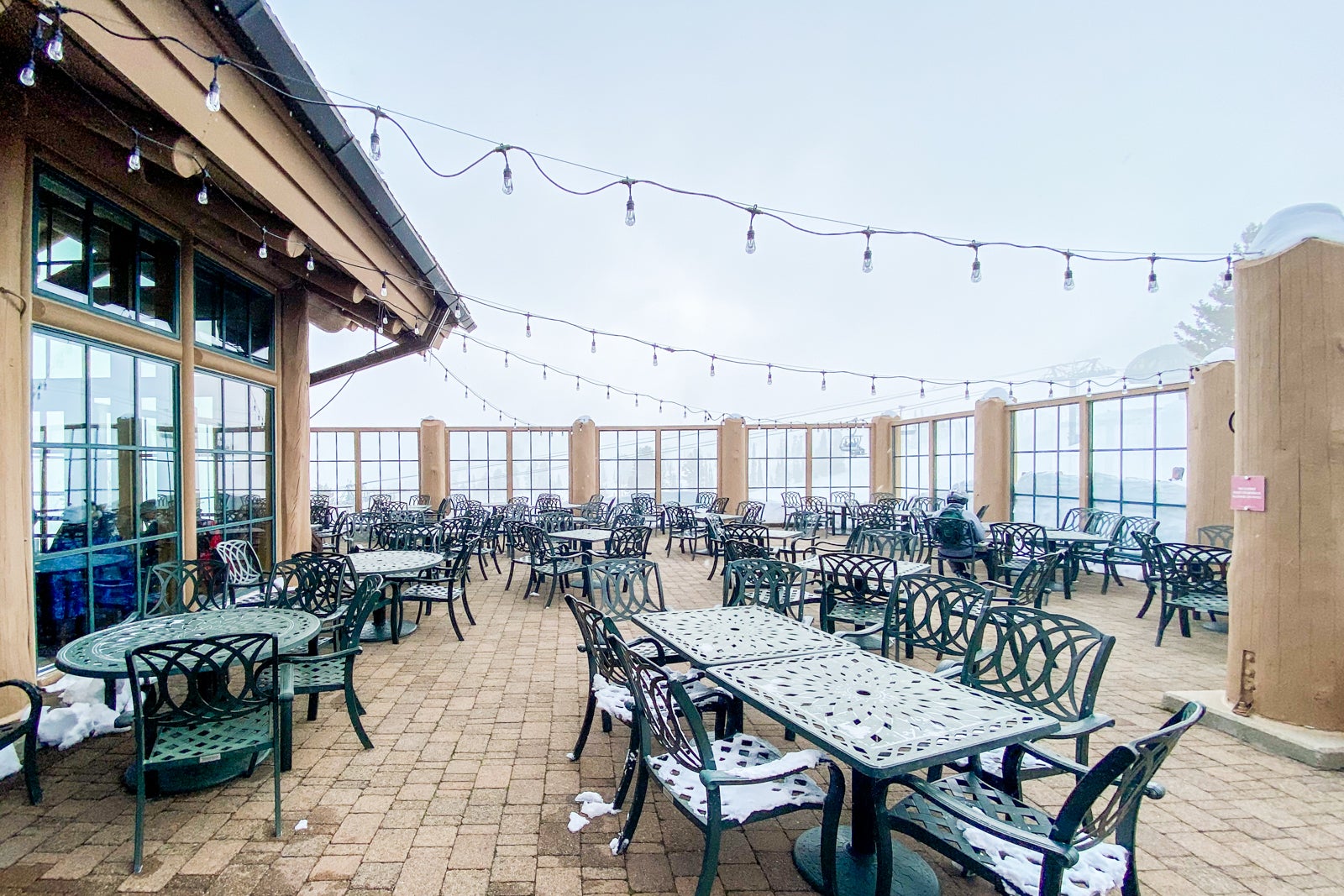 While it's not the variety of restaurants you'd find in a higher-end ski resort like Park City or Vail, Snowbasin's food is accessible and affordable. Not to mention, you won't have to fight for a seat at a table.
The future of Snowbasin
My recent visit to Snowbasin also showed how ski resorts across the U.S. and the world are coping with climate change.
"The entire West is drying up, and we are in the midst of a drought that started in 2005," Hartman of Visit Ogden told me during my visit. "But on the flip side, climate change may make a huge snow dump once every three years, as we've seen this year. The dry air makes the snow lighter and fluffier."
Utah Governor Spencer Cox most recently acknowledged this rapid decline in water in his fiscal year 2024 budget request, proposing using $133 million to address Great Salt Lake issues and nearly $218 million for statewide water conservation and supply management. Noticeably, there's no mention of ski resorts in the 188-page budget outline. But a shrinking Great Salt Lake and drastically fluctuating yearly weather patterns may severely compromise the "greatest snow on Earth."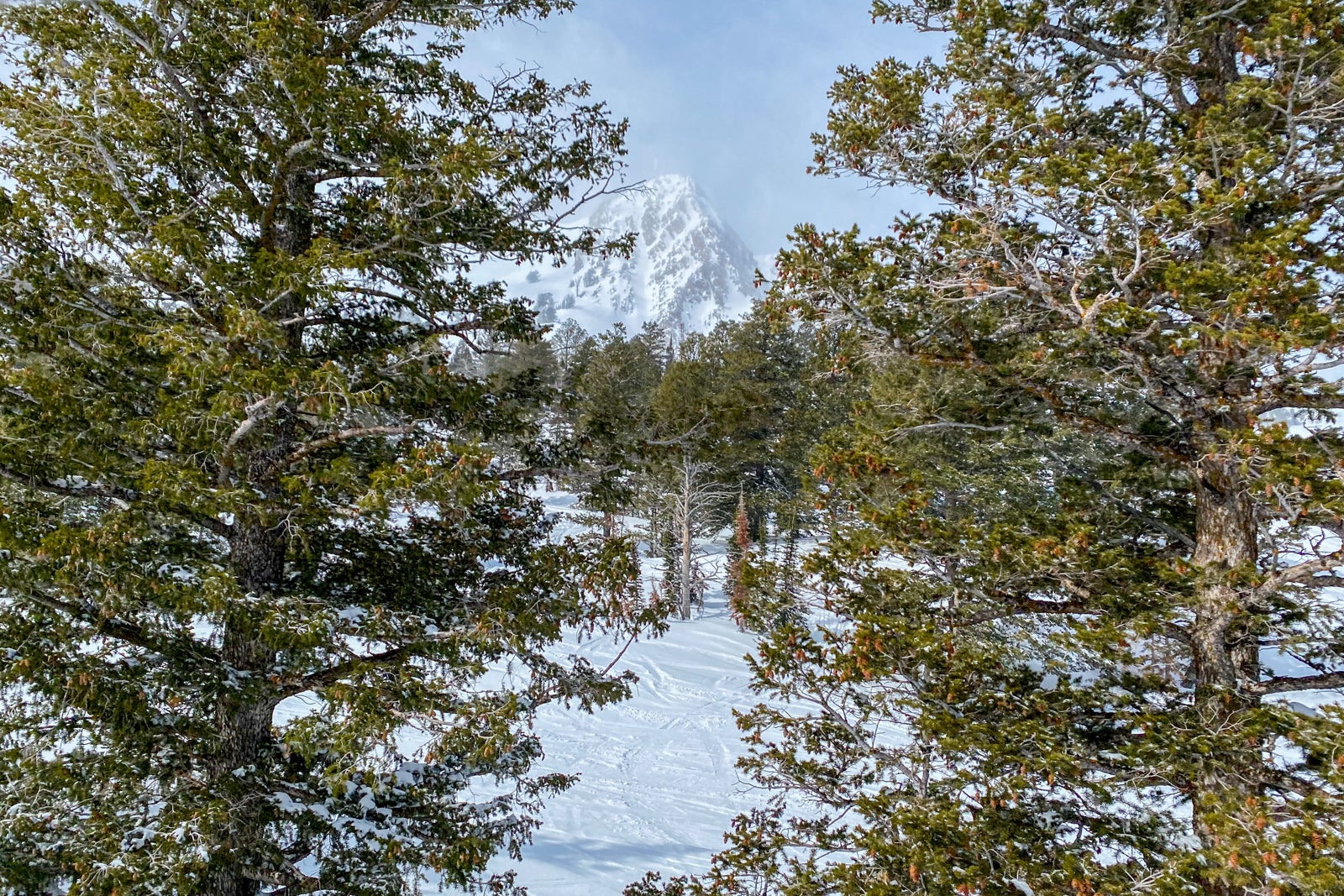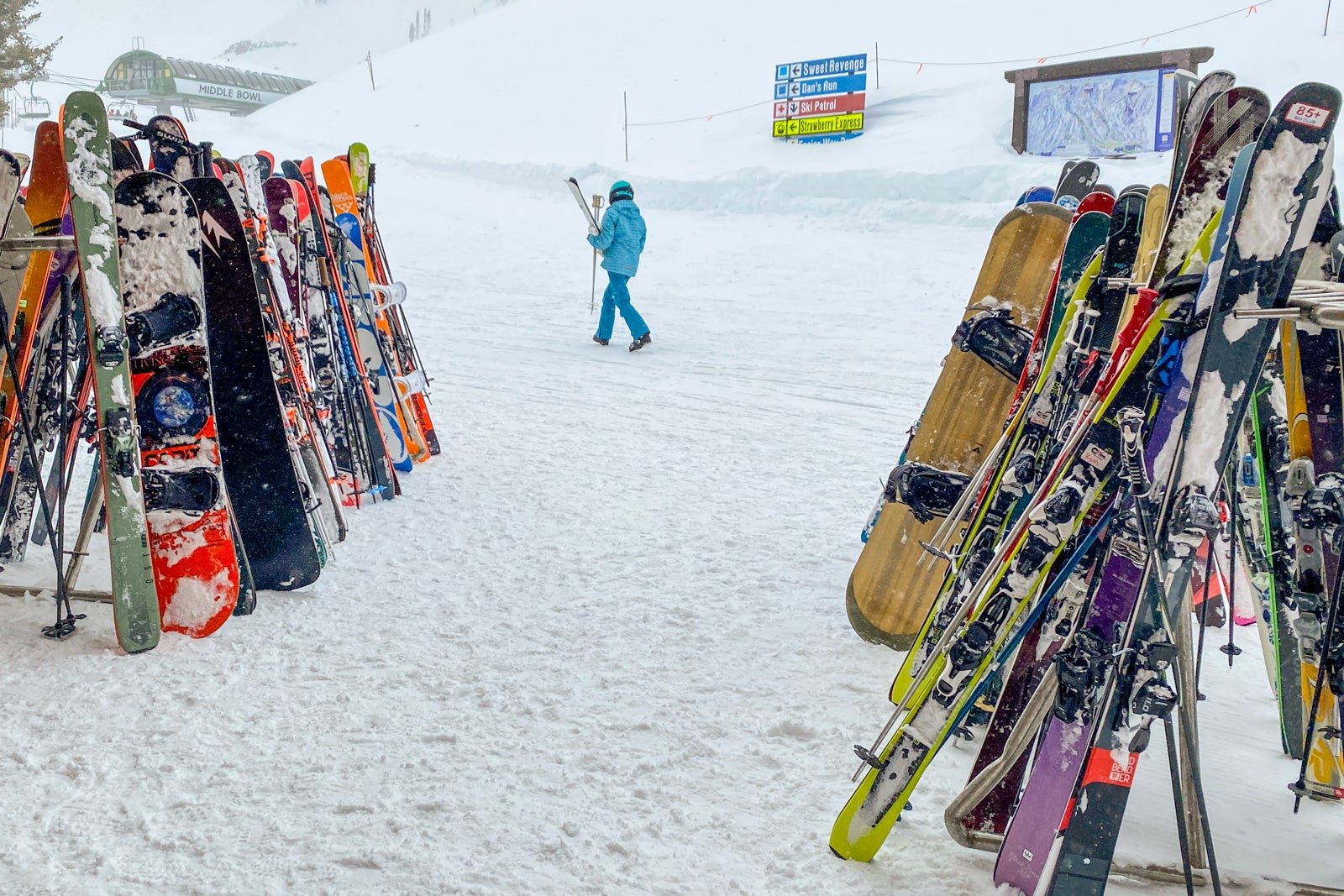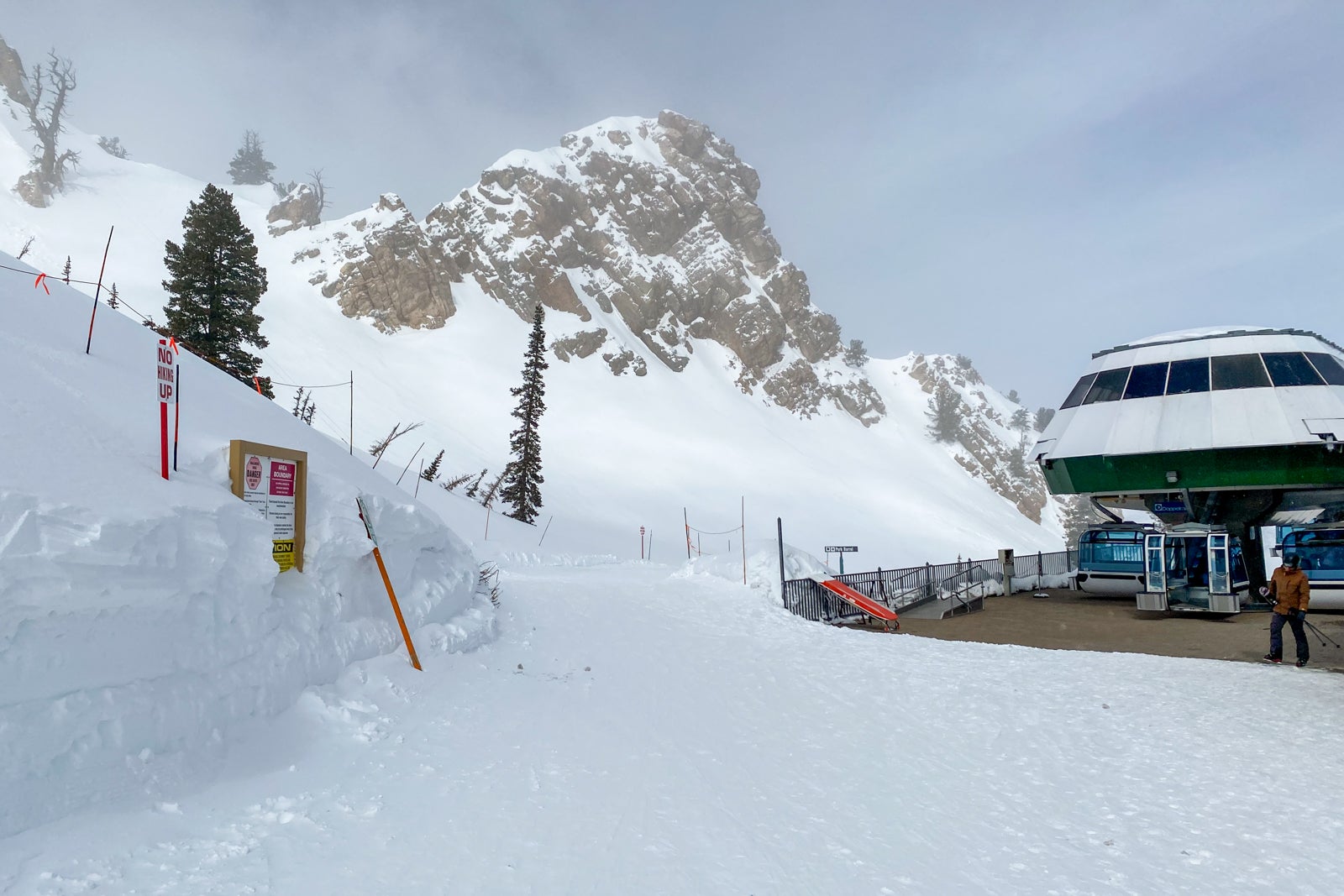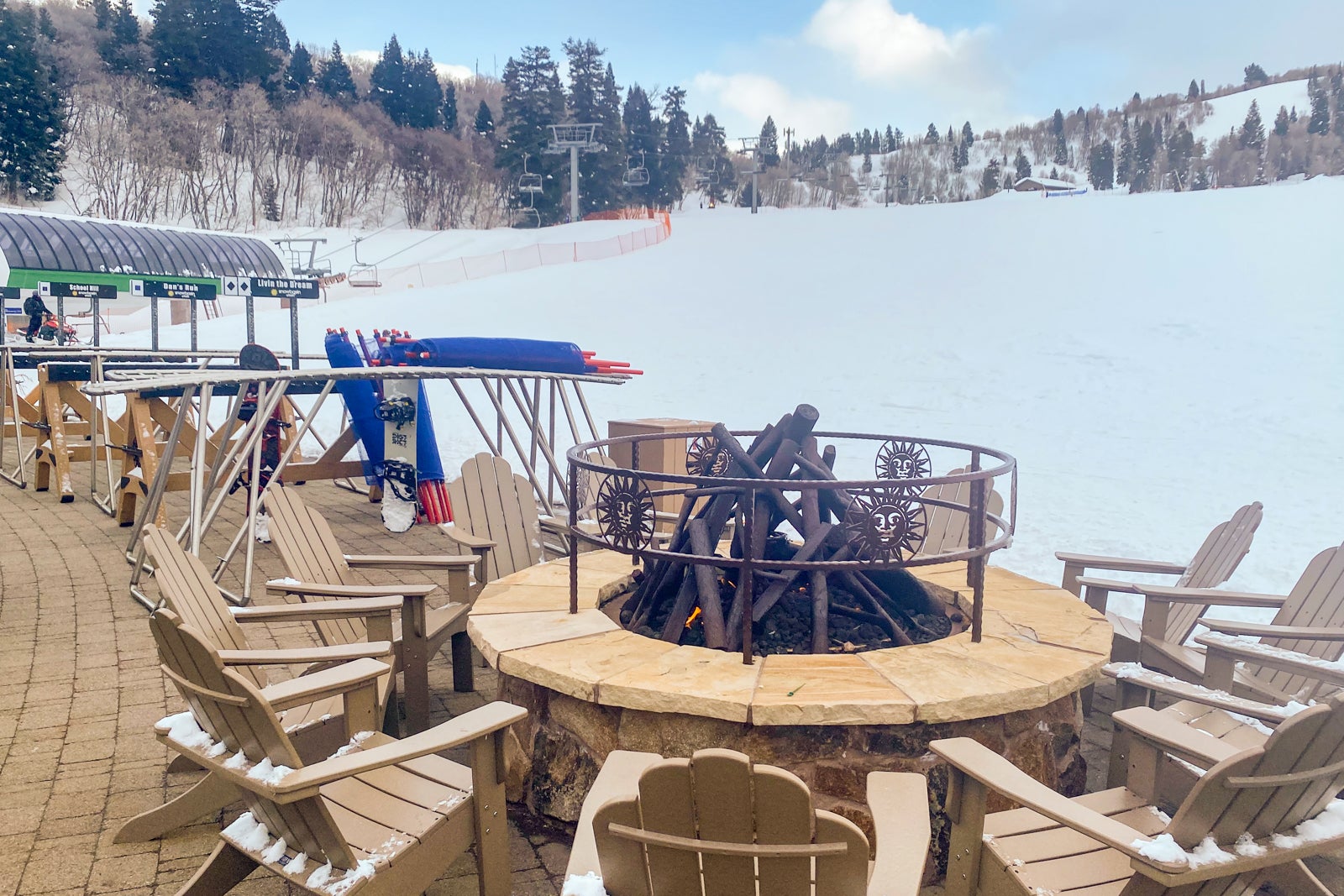 Still, locals are banking on its ability to attract skiers and other tourists for years to come.
Utah is currently bidding to host its second Winter Olympics for the 2030 games. If it's successful, some events will likely be held at Snowbasin, bringing even more attention and interest to the area.
Bottom line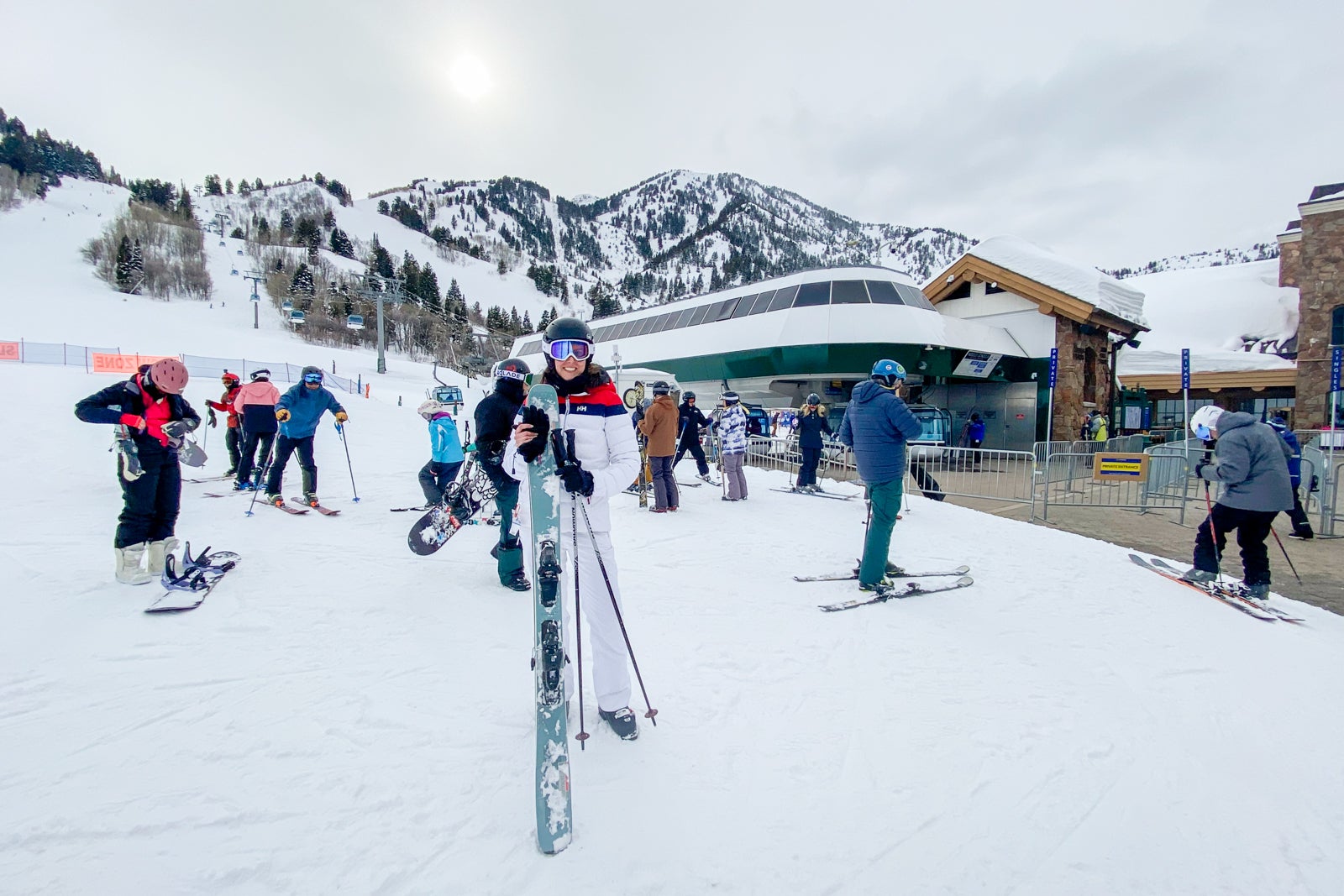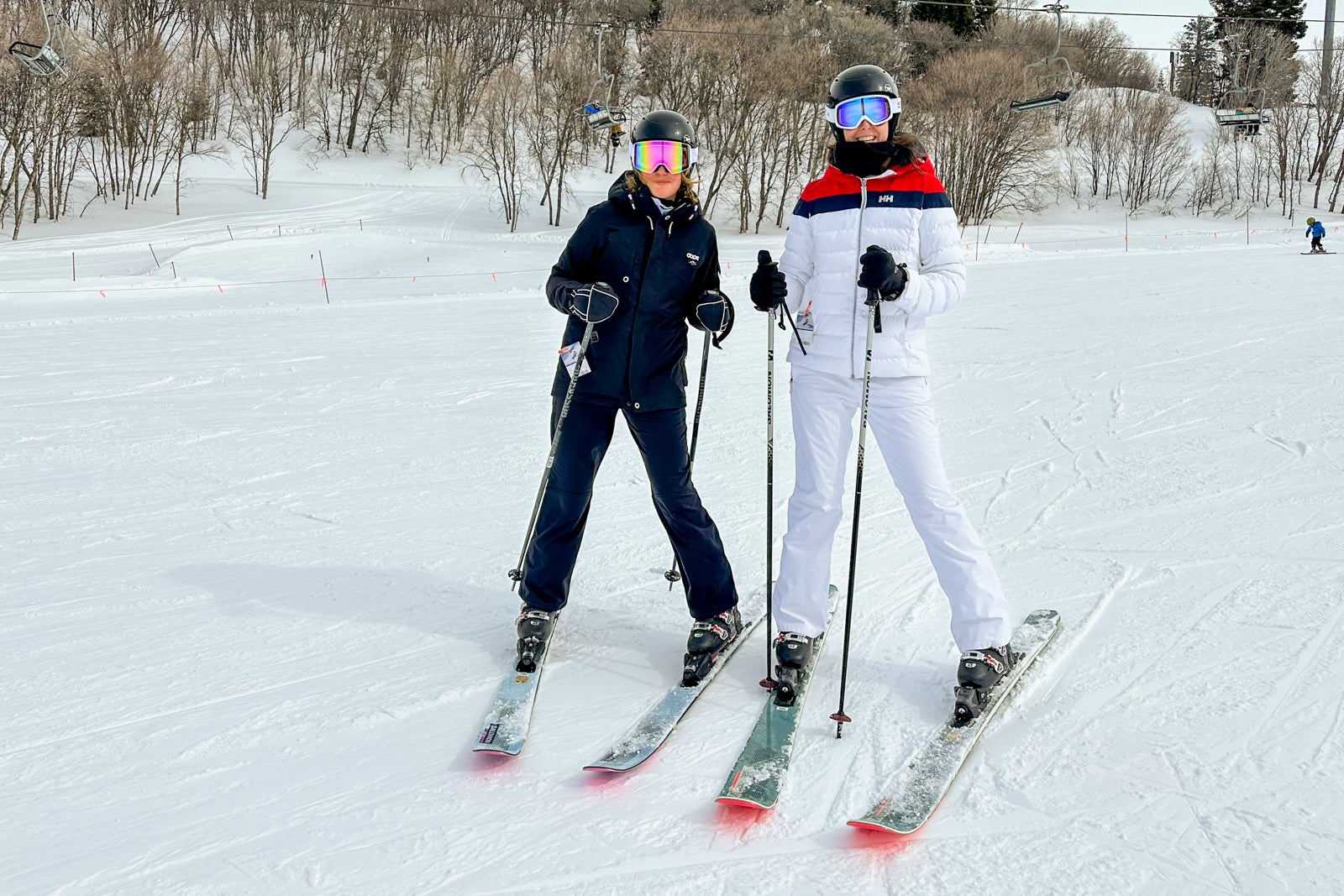 They say getting back up after falling is the hardest part of skiing, and I can attest to that after this trip. Putting one ski back on while facing uphill on an incline, then locating my poles several yards farther down the slope was no easy feat. But after my second ski trip, I'm even more hooked than when I came home from my first.
While I still had plenty of falls, I feel more confident on my skis, and I am eager to explore more of Snowbasin as well as the West's other famous ski resorts.
I'm already looking ahead to my next ski trip, which I hope will be somewhere in Colorado, as it seems to be a right of passage for skiers. I have Snowbasin to thank for that boost in my self-confidence.
Related reading: