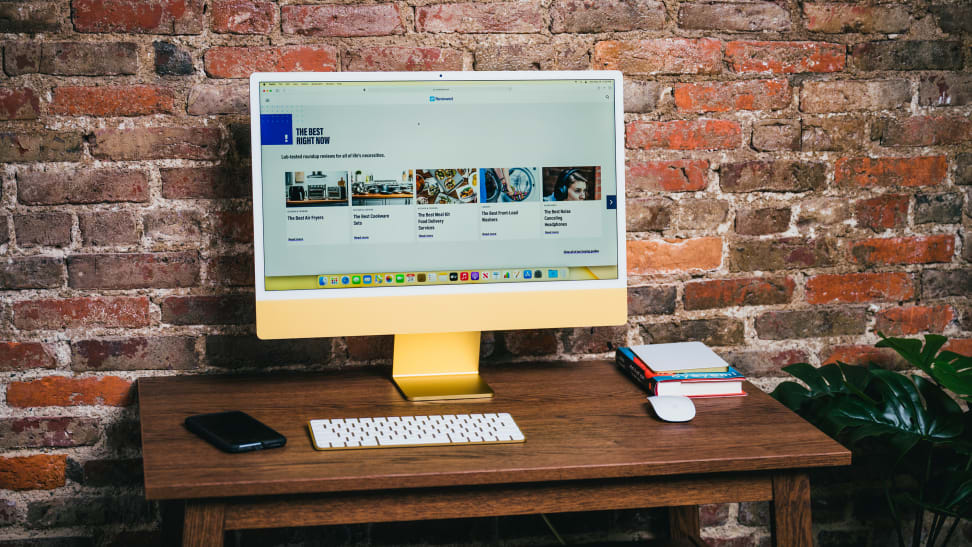 — Recommendations are independently chosen by Reviewed's editors. Purchases you make through our links may earn us a commission.
The new 24-inch M1 iMac (available at Apple) is a truly stunning all-in-one PC. With its M1 processor and vibrant 4.5K retina display, you know exactly what you're getting if you're familiar with Apple's M1 MacBooks. This iMac is a jack-of-all-trades, perfect for all but the most demanding tasks, and it comes wrapped in a candy-colored chassis that's all Apple.
While the 24-inch iMac doesn't quite replace the more powerful 27-inch Intel iMac, it annihilates the previous 21-inch iMac. We now have the M1 in the MacBook Air, MacBook Pro, Mac Mini, iPad Pro, and finally the 24-inch iMac. Despite its low power draw, the processor crushes most mobile CPUs on the market and holds its own against Intel's mid-ranged desktop CPUs.
This reasonably priced, Skittles-themed iMac can cheer anyone up.
What draws us to the iMac isn't only the processor, but rather the entire computer itself: gorgeous, brightly colored anodized aluminum across the iMac and the Magic accessories. You can match your PC to your room's color palette and it still looks sophisticated. The iMac is made to seamlessly integrate into your life, even more so if you're invested in Apple's other products.
About the 24-inch iMac All-in-One PC
The iMac starts at $1,299 and comes in green, pink, blue, and silver. The $1,499 model comes in the same colors, plus yellow, orange, and purple. We tested the higher-priced configuration in yellow. Only the higher end models come with an 8-core graphics processor, Ethernet, two extra USB-C ports, and Touch ID.
Processor: Apple M1 processor with eight main cores and eight graphics cores (seven graphics core version available)
Memory: 8GB (up to 16GB available)
Storage: 512GB SSD (up to 2TB available)
Display: 24-inch 4480p x 2520p Retina display, 500 nits, 100% DCI-P3
Display Support: Up to one external 6K display at 60Hz
Webcam: 1080p FaceTime with M1 ISP
Power: 143W Power adapter
Connectivity: Wi-Fi 6; Bluetooth 5.0
Ports: 2 x 10Gb/s USB-C; 2 x Thunderbolt 3 / USB 4; Gigabit Ethernet; 3.5mm headphone jack
Accessories: 143W Power adapter; power chord; USB-C to Lightning cable; Magic Mouse; Magic Keyboard with Touch ID; Magic Trackpad
Weight: 9.88 lbs.
Dimensions: 21.5 in. x 18.1 in. x 5.8 in.
What we like
It's extremely easy to use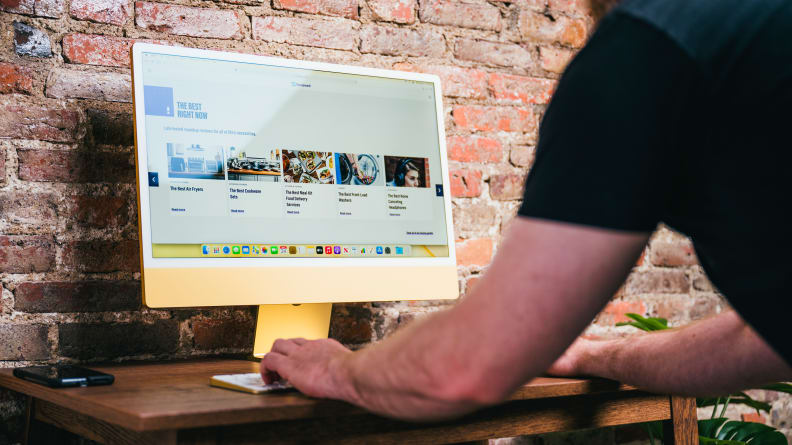 All you need to get started is already in the box: you put the iMac on your desk, plug in the magnetic power cord, and turn on the PC and peripherals. It takes two minutes to get from the sealed package to the login screen. The Magic Mouse, Keyboard, and Trackpad are no different, all of them featuring familiar touch gestures and shortcuts that are present across the rest of Apple's products.
While it would have been nice to see more ports on the new machine, the existing ports are all useful and easy to locate. On the back of the iMac are two USB-C ports and two Thunderbolt 3 ports. Unlike last generation's iMac, the headphone jack is on the M1 iMac's left side as opposed to the rear. If you need a wired internet connection, you can plug directly into Ethernet via a port on the power brick.
The iMac offers the same comfort and quality you'll get from high-end Windows all-in-one PCs, like the HP Envy 32-inch All-in-One. You don't need to spend time setting up a separate monitor, finding a good keyboard and mouse, or otherwise hassling to get a traditional desktop tower PC working. The iMac also saves a lot of space, since the entire PC only needs about a four-by-five square inch space on your desk. The keyboard and mouse are similarly small. If you can't spare a few square inches to place your iMac on a desk, then you can mount the iMac with a VESA mount to a wall or monitor arm.
It has one of the most unique aesthetics on the market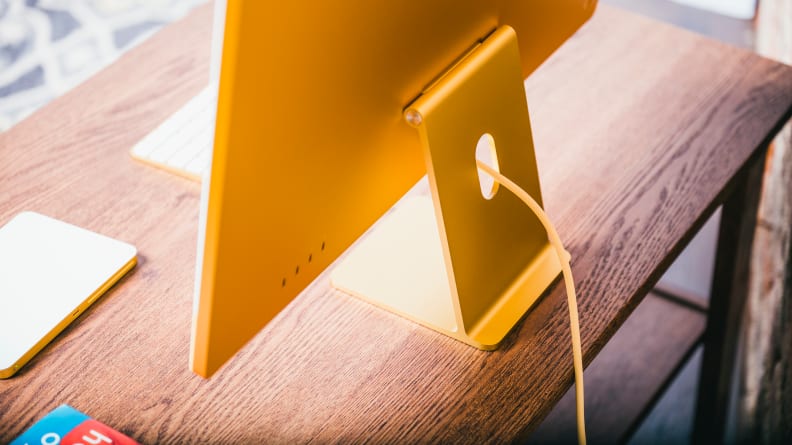 The iMac is a wonderful gift to those of us who like their tech with a bit of color. We received a Yellow iMac, which has a creamy yellow chin with a bright yellow aluminum finish on the PC, trackpad, keyboard, and mouse. It not only looks great, but it also feels sturdy. The white bezels are a nice throwback to the late '90s and early 2000's, when the iMac G3 came in translucent white and candied colors.
Every part of this package is ultra-sleek: the iMac itself is only 11.5mm thick, while the peripherals all have ultra low-profile bodies. Unlike recent generations, the iMac's included cables are thick and braided with a white and yellow diamond pattern that adds class to the setup. Arguably, the iMac would look better with a thinner "chin," or lower bezel, but it's a handy place to customize your iMac with stickers if you're into that.
The 4.5K display will please photographers
The new iMac has a phenomenal display just like the iMacs before it. The M1 iMac's 4.5K retina display is sharp, bright, vibrant, and easy on the eyes. Getting a display of similar quality will set you back at least half a grand, if not more. The iMac looks amazing for 4K videos, although its 24-inch screen may be a bit small to replace a TV.
But as a computer monitor, it's a beast. Not only is the screen very bright at over 560 nits, but it also has a huge color range. We measured 100% coverage of sRGB and DCI-P3 color gamuts, and 89% Adobe RGB color gamut. In other words, photo and video editors will see a faithful representation of their work. Now, the iMac is not a perfect monitor. While its color gamut is exceptional, you do need to calibrate the display to get totally accurate colors (although it looks great with no modifications). The brightness uniformity is also slightly off, with bright spots toward the top center and dark spots at the bottom edges.
It's ideal for Zoom calls
The new 1080p webcam looks and sounds great. It's one of the sharpest webcams in any Mac (the 21-inch iMac and new M1 MacBooks have 720p cameras), and its color processing looks natural. While it has the same resolution as the 27-inch iMac webcam, the M1's image signal processing tech produces a better-looking image. The webcam is at just the right height to capture your face, but the iMac's tilt adjustment helps to angle the webcam as needed. If you're concerned about privacy, the webcam is hard-wired to turn on a green LED when it's on, but you can easily install a webcam cover.
You know exactly what to expect with the iMac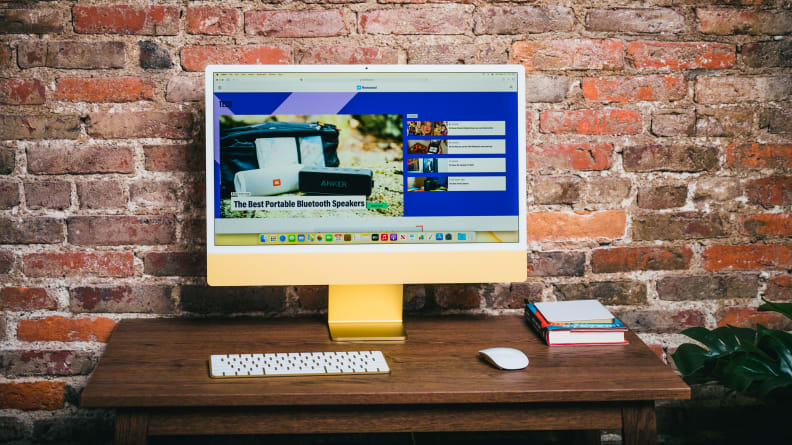 If you've used an M1 MacBook lately, then you know the iMac is more than capable of handling tasks like Photoshop or amateur video editing. You won't see the spinning wheel of death if you're just listening to Spotify while you browse Twitter and run a bunch of web pages in the background. You also get the full Big Sur experience, which means you can sync your iMac to your other Apple devices to quickly switch between them, transfer files, or even use one as a second screen. Even if you're switching from an iPhone to the iMac, you can boot your favorite App Store programs since the M1 runs on the same platform as the iPhone's chips.
However, the M1 processor was designed as an ultra-efficient chip that's ideal for mobile devices like laptops and tablets. The M1's low power consumption is a major advantage over comparable processors because it allows those devices' battery life to last much longer. This isn't a concern for desktop computers, so the biggest benefit to the iMac and Mac Mini are the savings on your utility bill. That said, Apple chose to go with the M1 processor because it's fast enough for most people who need anything from video editing to managing hundreds of Chrome tabs.
Compared to the other M1 devices, the iMac unsurprisingly performs about the same in our benchmarking software, which makes its place in the desktop space a little less straightforward. Compared to its other iMac brethren, the M1 iMac has by far the best processor for the money. However, its integrated graphics cannot compare to a discrete graphics card like that on the 27-inch iMac.
If you don't need major graphics performance, the M1 iMac is a no-brainer; The late 21.5-inch iMac, equipped with a high-end Intel Core i7-8700 processor, scored 6007 points in Geekbench multi-core score. The M1 iMac beat it by 28%, scoring a respectable 7711 points. The M1 iMac even fares well against the 27-inch, Intel Core i7-10700K iMac, scoring 5% fewer points, but it costs almost half as much ($2,300 versus $1,300).
To get noticeably better multicore performance, you would need to upgrade to the almost $3,000 Intel Core i9 27-inch iMac, which scored 17% higher than the M1 iMac: 9010 points versus the M1's 7711 points. When we look at single core scores, the M1 iMac destroys both the 27-inch and 21.5-inch models. While the M1 iMac scored 1740 points, the next-highest score (from the 27-inch iMac's Intel Core i7 processor) was 38% less.
The peripherals are incredibly useful
If you've used the Magic Keyboard or Mouse before, you will know how to use this latest generation of Magic accessories. The new Magic keyboard is mostly the same as the old one, but it tosses the weird rear cylinder rest in favor of a linear body chassis. In practice, it basically feels the same as the old Magic keyboard, but it looks sleeker. It is as easy and reliable to type on as ever, and the higher-end model comes with a Touch ID button for all your favorite fingerprint-based logins and actions across the Apple ecosystem.
Meanwhile, the Magic Mouse is the same ol' Magic Mouse 2.0, but with new colors. It strays far from conventional mouse design by ditching the scroll wheel; The mouse's glass top is a touch screen, with support for touch gestures familiar to MacBook users (swipes, multi-finger clicks, and so forth). This mouse-trackpad hybrid was incredibly fun to use, making me feel right at home on the iMac, but its flat body may not be comfortable for some users.
The iMac also comes bundled with a Magic Trackpad. It's probably the nicest trackpad I've ever used, with a silky surface and all of MacOS's touch gestures, but it's still a trackpad. It does not have dedicated left and right buttons, nor does it have a scroll wheel. However, the huge surface area of the trackpad gives you a lot of room to play with, so you may not miss those features. Anecdotally, those with pain issues may especially enjoy the trackpad. My hand hurt less after extended use than it did with the Magic mouse.
What we don't like
It's not the best value in the Mac lineup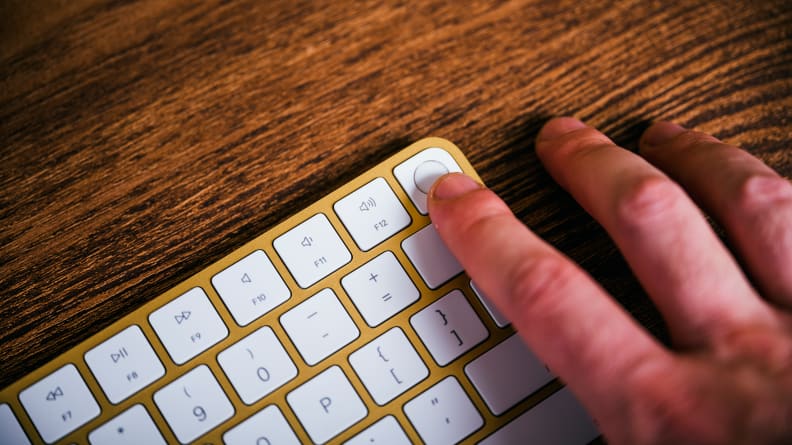 For the asking price, you can get a much more powerful PC. For the same performance and half the asking price, you can get the Mac Mini. Even if you dish out for a nice dock, keyboard, mouse, and monitor, you'd struggle to spend as much as you would on an iMac. Besides the M1 processor itself, a lot of the iMac's value comes from its 4.5K retina display and uniform aluminum finish.
If you can stomach having peripherals that don't match the Mac Mini, you can absolutely get a great 4K monitor for under $600. You can find a solid mechanical keyboard for $60, and a great mouse for under $50. However, getting all the separate parts to have a functioning desktop PC is definitely more work than plopping down a single sum of money for an iMac. With Apple, you pay extra for convenience a lot of the time.
Its graphics performance isn't impressive
If you like to play demanding games or you do a lot of work with 3D models, the M1 iMac won't cut it. The M1 iMac's integrated graphics are much weaker relative to the 27-inch iMac's AMD Radeon discrete graphics. If we look at the upgraded Core i7 27-inch iMac, which comes with an AMD Radeon Pro 5700XT, we can expect to see performance similar to that of a midrange gaming laptop equipped with an Nvidia RTX 2060—perfect for those doing 3D work on MacOS.
The M1's GPU can't keep up with the AMD Radeon, as it only manages between 20 and 25 frames per second in Shadow of the Tomb Raider on its highest graphic settings preset. Meanwhile, the AMD Radeon 5700XT pushed out frames five times faster at almost a hundred frames per second. The M1 can't handle much beyond a midweight videogame like World of Warcraft.
However, the $2,000 price hike won't be worth it for most people, and those that do need the decked-out 27-inch iMac's performance should strongly consider a Windows desktop, like the HP Envy 32-inch All-in-One desktop.
The iMac's size limits its audio capabilities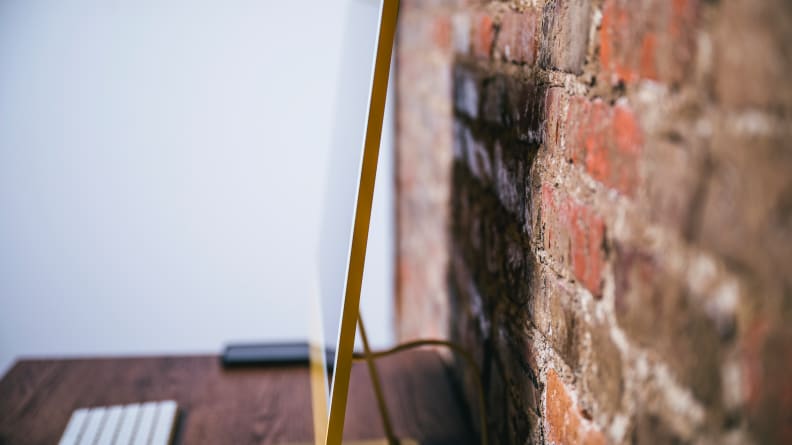 The audio on the very thin 24-inch iMac is good for its size. However, physics matters, and Apple cannot make a PC this thin if the company wants to give the rich, detailed sound it's offered in the past, contrary to its claims about this being the best audio system it's ever put in an iMac. The new iMac has more speakers, but more is not better here; thicker is better. The bass distorts at high volumes, and the upper mids are basically lost to the lower mids, which gives the iMac an unbalanced sound profile that is dull and airy.
The M1 MacBook Air sounds more natural but is obviously much quieter. The iMac is much boomier, but to the point where the lower mids overpower the rest of the sound. Meanwhile, the actual bass is weak but better than on the Air. Saying the iMac sounds worse than the Air would be a fib, especially since the biggest flaw is the frequency balance. This is easily fixed with simple equalizer software to boost upper mids and tune down lower mids and upper bass. Once equalized, the iMac sounds solid for an all-in-one, even if it's not replacing nice speakers anytime soon.
The iMac is also a miss if you're looking for a very loud system. Its max volume is about 70dB at 3 feet away, or the volume of a loud conversation. It's plenty for an individual sitting at a desk, but it won't suffice if you're on a couch ten feet away. For that, I'll give a special mention to the HP Envy 32 All-in-One, which was so loud I couldn't be in the same room when it was at max volume (we're talking jet engine loud). Otherwise, you'd be better off just getting some good computer speakers.
The ergonomics won't work for everyone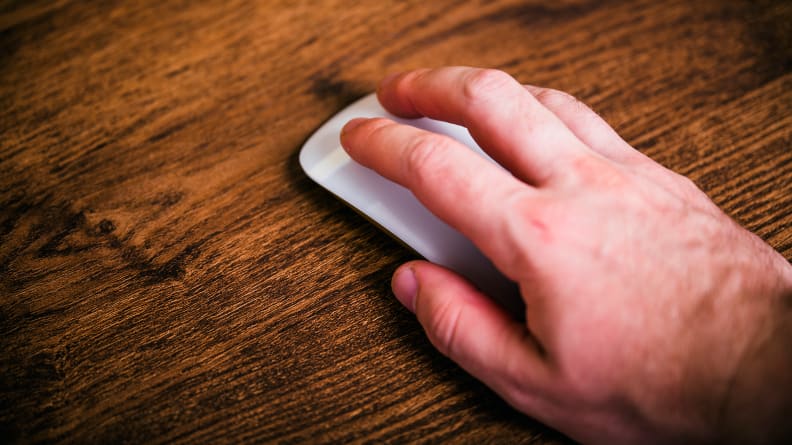 If you're like me and you work at a desk all day, you need to have the most comfortable peripherals possible if you want to keep your hands and neck from hurting. I'm short, so I'm not too bothered by the iMac's lack of height adjustment, but I can bet anyone taller than 5'2" would consider a monitor stand or a VESA mounting solution. On the other hand, the iMac's tilt adjustment is great, and the computer is so lightweight that it's easy to swing horizontally if you need to access the back.
The mouse has its own issues, too: it charges with a Lightning port on the bottom of the mouse. It looks stupid because it is stupid, and Apple really needs to move the port to the side so you can actually use the mouse when it's charging. While this may not bother most, the mouse is also too flat for proper ergonomics. After a few hours of use, my thumb and wrist hurt from having no support. If you'd rather swap the Magic Mouse's touch gestures for an actually comfortable mouse, there's a lot to choose from.
Should you buy it?
Yes. The M1 iMac is a beautiful, seamless experience.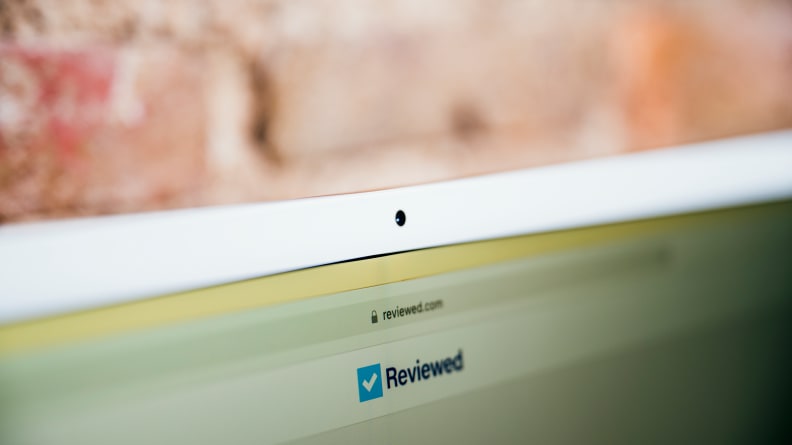 Coughing up about $1,500 for a productivity desktop sounds like a scam, but it's the details that make it worth it. The 4.5K retina screen is one of the best displays available for PCs at this price, thanks to its incredible color range and contrast. The iMac's M1 processor is plenty powerful for Netflix, music production, some Photoshop, and the occasional videogame, but the iMac is simple enough to use for even first-time PC owners. It's unique design will certainly be the showpiece of your home.
However, the iMac is not for everyone. There are better values for home PCs like Apple's own Mac Mini, which costs half as much as the cheapest iMac. The tradeoff is that you will have to find a monitor, speakers, keyboard, and mouse to go with it. On the other hand, power users may feel limited by the M1 processor, which won't cut it for 3D modeling work or intense gaming. The 27-inch iMac and the HP Envy 32-inch All-in-One cover this niche, but they are both more expensive.
The 24-inch iMac is the perfect example of a midrange PC that anyone can use. It's powerful enough to keep up with a family's worth of needs, but it's stylish enough to put in your living room, and its 4.5K retina display will please artists with its great color accuracy and brightness. The iMac is definitely not for the budget hunter or the power-hungry, but it will be a go-to PC for everyone else for years to come.
The product experts at Reviewed have all your shopping needs covered. Follow Reviewed on Facebook, Twitter, and Instagram for the latest deals, product reviews, and more.
Prices were accurate at the time this article was published but may change over time.