This past late spring some of our staff from AllOutdoor was graciously invited down to southern Texas to take pursuit of hogs, axis deer, nilgai, and other varmints of the South. It was Armasight who generously extended the invitation to which we were glad to accept. While down in Texas, we learned that Armasight is now its own, standalone company; not associated with FLIR at all. With Armasight recently beginning fresh and new (not related to FLIR whatsoever), they showed us some of their newest thermal riflescopes that would be coming out in the Contractor 320 3-12x and Contractor 320 6-24x. In this AllOutdoor Review, we will specifically take a look at the Contractor 320 3-12x to see how it performed surveying the land and taking game in Texas. Let's dive in!
Thermal/Night Vision Optic Coverage on AllOutdoor
Specifications – Armasight Contractor 320 3-12x Thermal Riflescope
When it comes to the Armasight Contractor 320 3-12x Thermal Riflescope you are definitely not short on features. Armasight as a brand is comprised of authentically caring and passionate workers who utilize the products they craft. That is why this thermal riflescope is bolstered with such a battery of abilities hunters would like to see. Moreover, they earnestly want this scope – and all of their products – to work to their fullest potential because it could mean the success or failure of their own hunt; not just the consumers. As a result, you get an uncompromisingly well-designed thermal riflescope for clapping hogs at night or stealthily dispatching varmints during the day. All of the specifications can be read below as presented by Armasight:
Multiple color palettes
Intuitive menus with turret controls
8+ Reticle Types
4 hours runtime at 20° C
Image Detail Enhancement
1/2MOA Boresight
Standard Picatinny Mount Included
Video Recording & Image Capture
USB Video Stream
Wi-Fi Video Stream
Bluetooth 5.0 Capabilities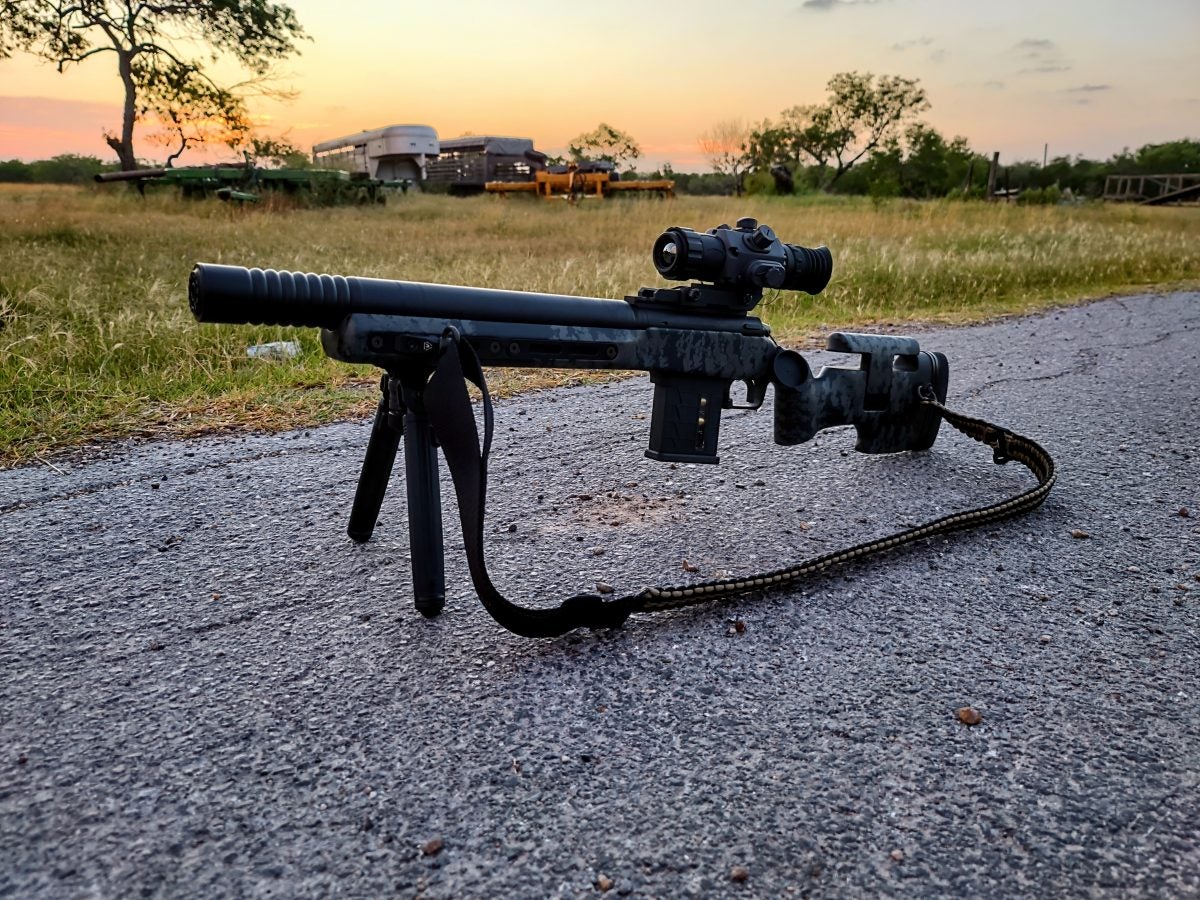 Application on iOS / Android devices
USB-C Interface for External Devices
Integrated Stadiametric Rangefinder
Inclinometer
Levelometer
Graphic Compass
Angle Cosine Indicator
Reticle ON/OFF Selection
Battery Status Indicator
Alloy Metal Body and Ergonomic Design
Package Includes: Thermal Imaging Riflescope, 2 x CR123A Battery, Cloth, Case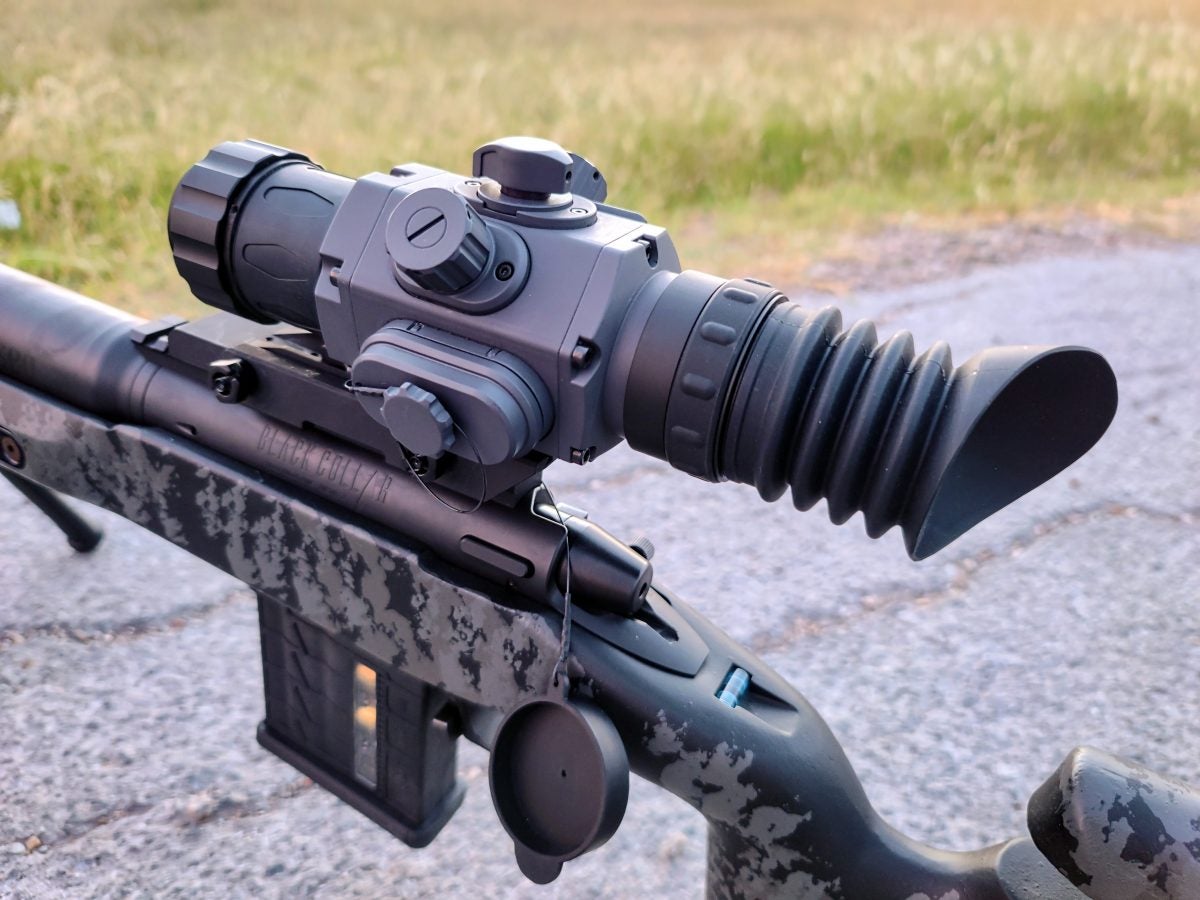 In the rare event that anything should ever happen to your thermal riflescope from Armasight, they stand behind the products that they make for hunters and shooters alike. You will be covered by Armasight's Standard Limited Warranty. Simply reach out to their customer service folks and they would be glad to assist you with any question or concern you might have.
Detector Type ArmaCORE 320×240 12um Thermal Core
Eye Relief 45mm
FOV [HxV] 8.8° (H) x 6.6° (V)
Memory 4 Hours of Video
Dimensions (mm/in) 198 × 88 × 95 mm / 7.7 × 3.4 × 3.7 in
Weight 0.78kg / 1.71 lbs
Optical Magnification 3.2x
Lens System F/1.00; 25mm
Digital Zoom 1x – 4x
Diopter Adjustment -5 to +5 dpt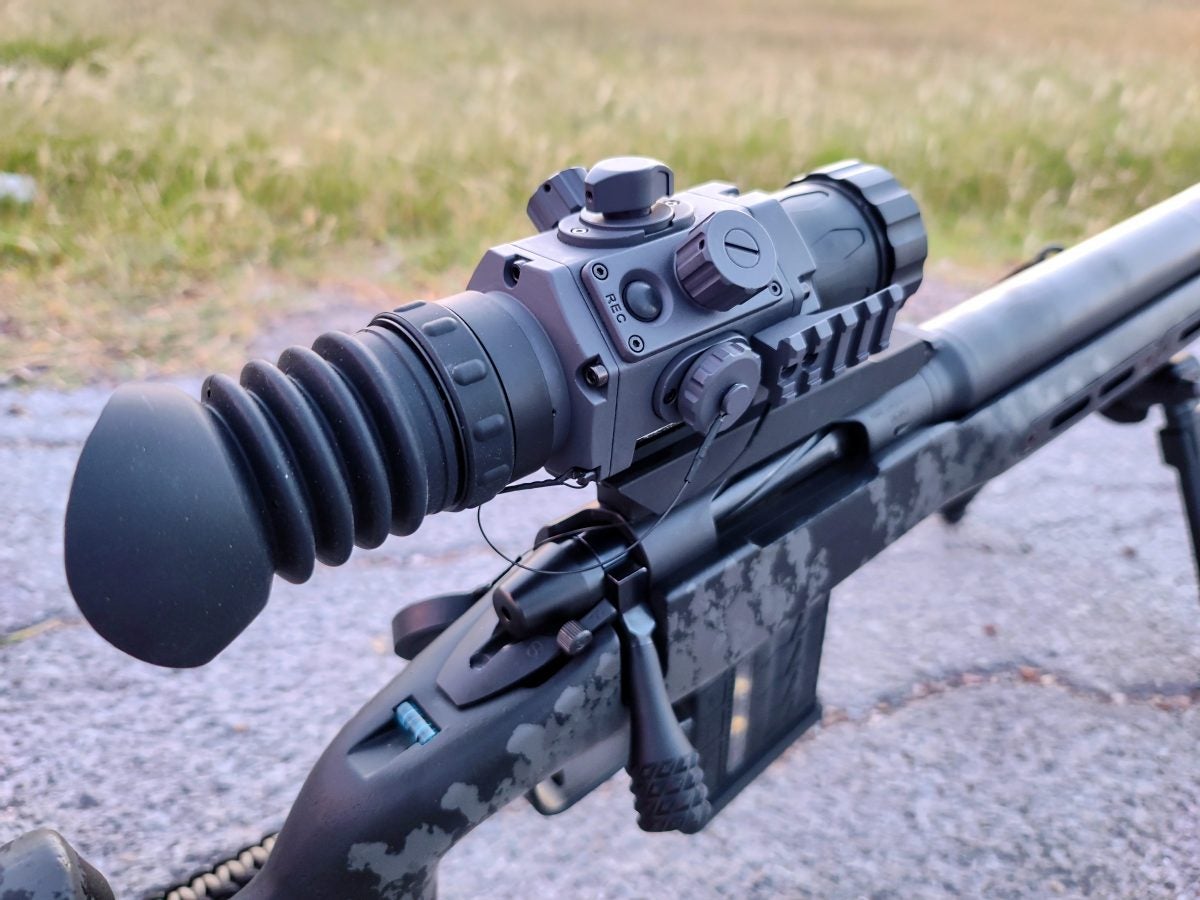 Battery Life Up to 4h at 20° C (68° F)
Battery Type 2xCR123A (3V)
Wireless Bluetooth 5.0, Wifi
Display XGA (1024 x 768) AMOLED
Graphics Active On-Screen Graphics
Refresh Rate 60 Hz
Operating Temperature -40° C to +50° C (-40° F to + 122° F)
Recoil Rating Up to .50cal
Waterproof IP67
Image Processing Digital Enhancement
Warranty 3 years w/ registration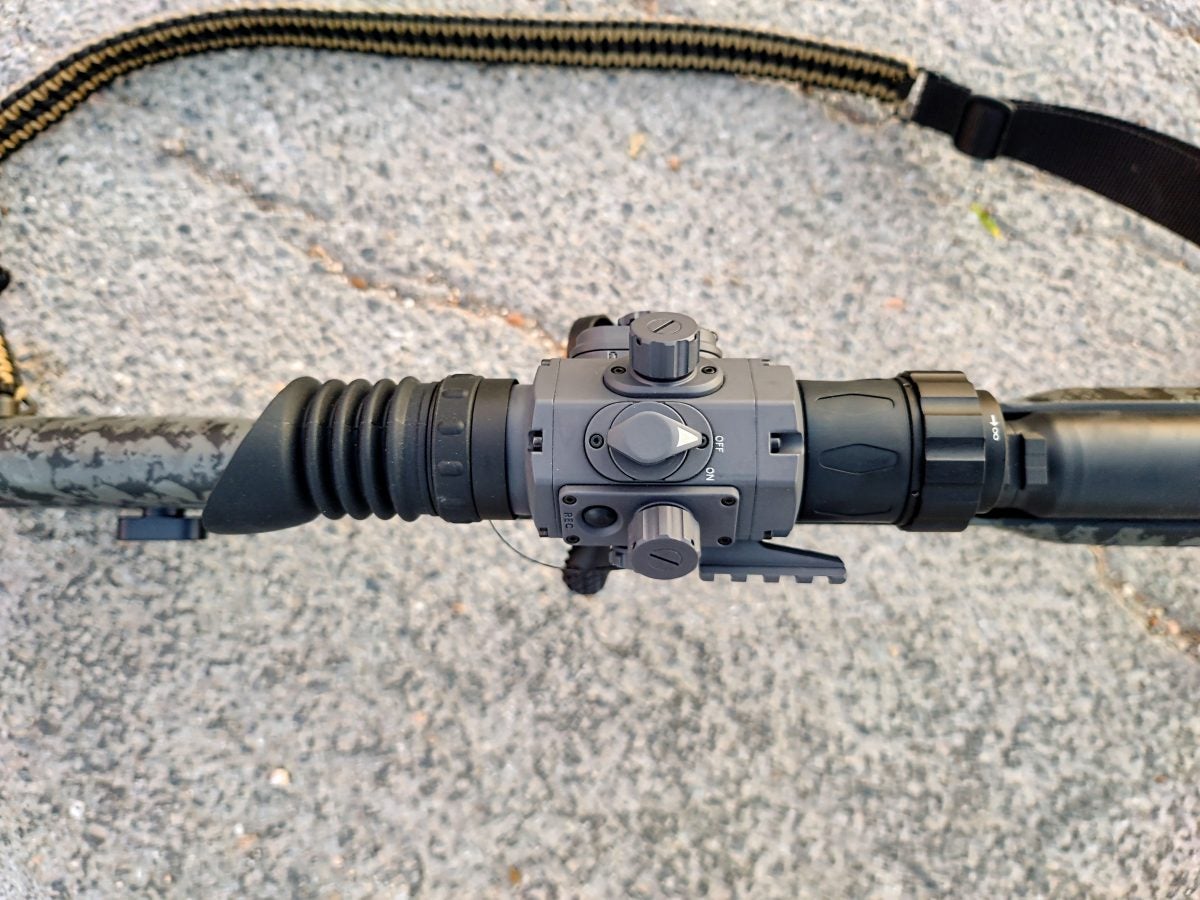 Armasight was founded back in 2011 and they have been constructing advanced solutions to both night vision and thermal products ever since. This extends to our military, first responders, hunters, shooters, and many other enthusiast groups as well. Armasight shares below some of the secret sauce that makes their NEW Contractor thermal riflescope series so special:
"The Armasight Contractor is a feature rich thermal weapon sight that brings cutting edge utility in a lightweight yet durable metal alloy housing. Built as a MIL-STD military-grade thermal scope, the Contractor can be used in all environmental conditions to improve object detection in low contrast daylight, total darkness, or through smoke, haze, and even light fog.

The Contractor features user-selectable reticles and color palettes, allowing a wide range of customized options to best suit the specific needs presented by the environment or mission specific needs. The Contractor also comes equipped with a digital compass, inclinometer and stadiametric reticles that help users calculate distance, direction, and angles. Users in need of fast and precise range finding can take advantage of built-in functionality with an external laser rangefinder."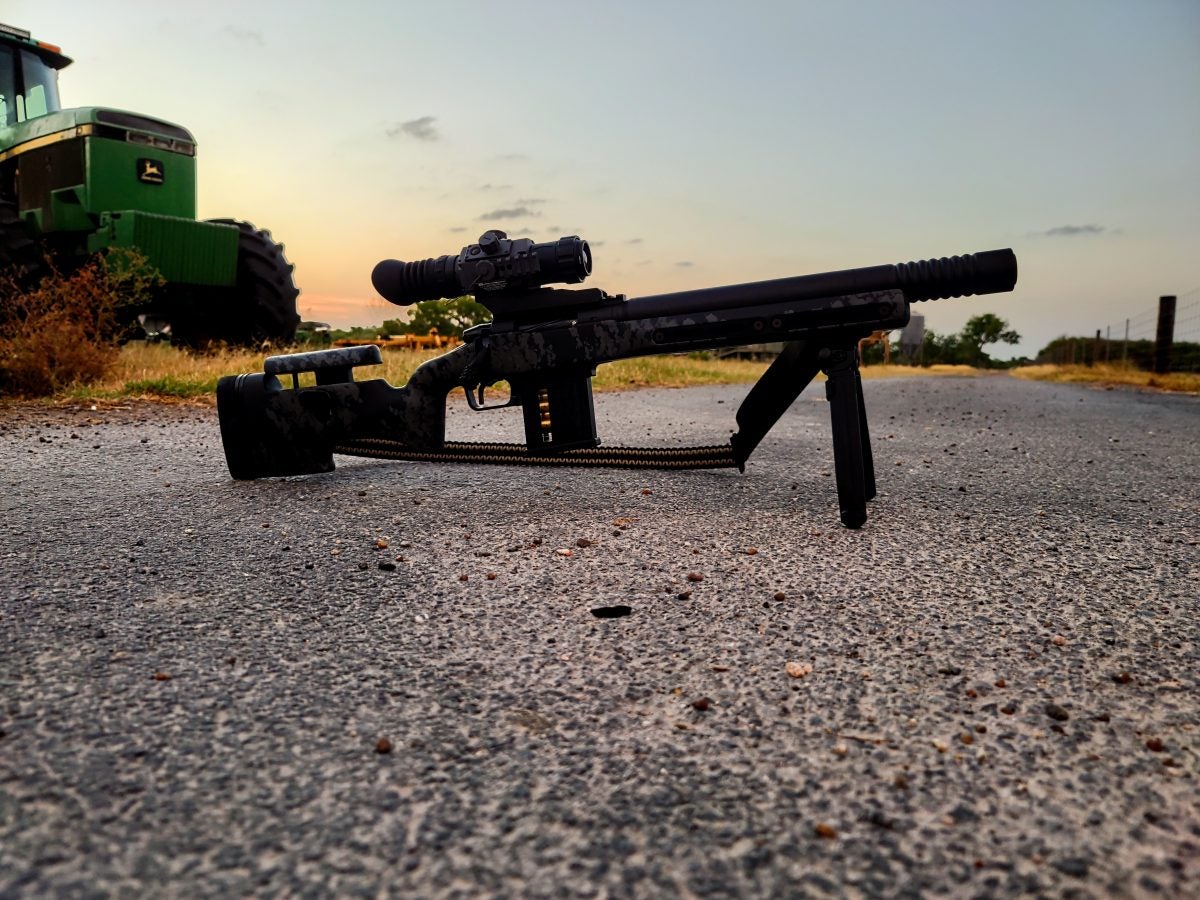 First Look – Armasight Contractor 320 3-12x Thermal Riflescope
My first acquaintance with any of Armasight's products was on this trip to Texas. The Contractor 320 3-12x has the handling and feel of a robust optic; something I would not fear bumping or giving some hard field use. Simultaneously, it was not that heavy for its overall size and footprint on a rifle. Its aesthetically attractive and pleasing (nobody wants an ugly sports car nor do they want an intelligent optic that's an eye sore).
I also found it really neat and forward-thinking that there is an associated app in which you can adjust your brightness, contrast, view reticles, and different viewing modes all on your phone to setup your scope before you hit the field. For the ultra tech savvy amongst us, that seemed pretty slick. You can charge the Contractor 320 3-12x via a USB to USB-C cord on your laptop and the optic takes two (2) CR123 batteries to run which is fairly common for modern electronics.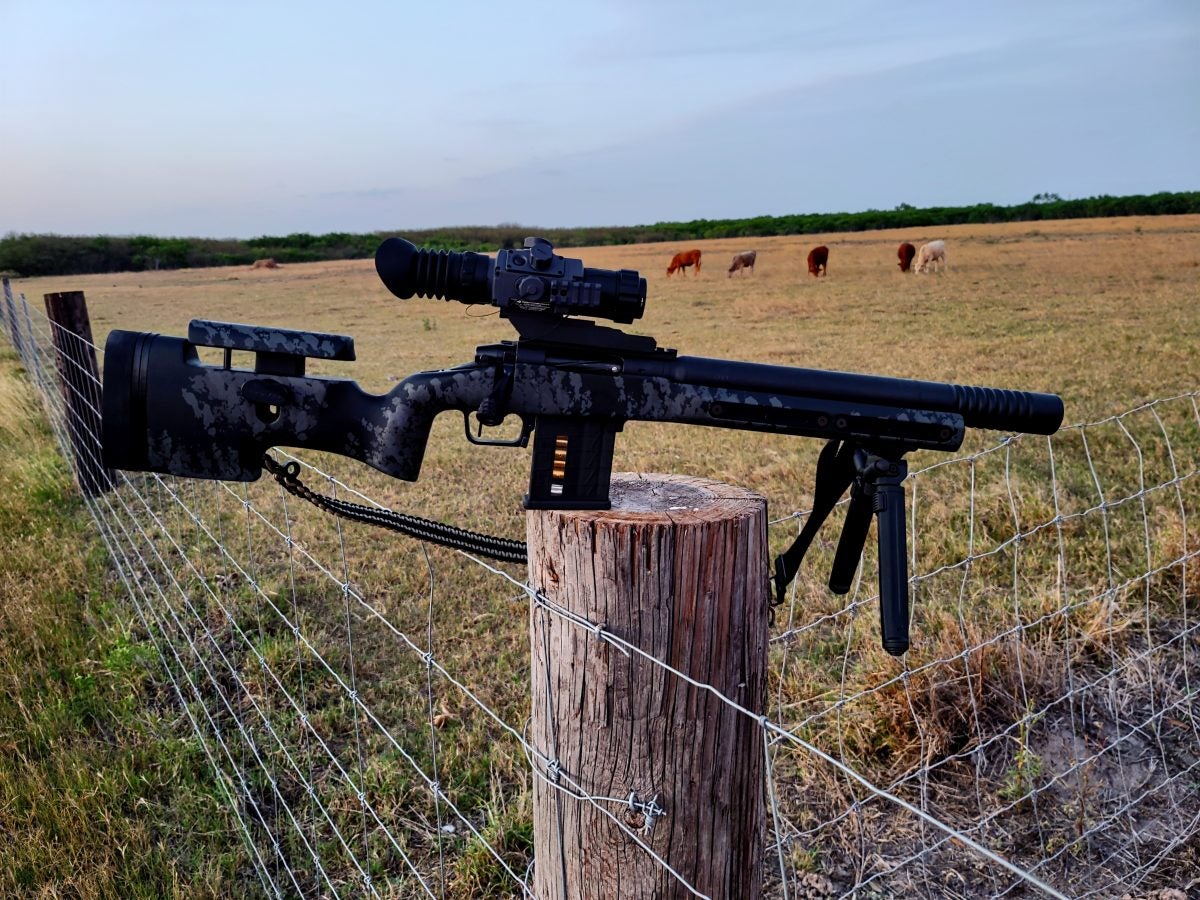 Field Use/Hunting – Armasight Contractor 320 3-12x Thermal Riflescope
When it came to sighting in this optic it was one of the easiest I have ever seen in regards to thermal riflescopes. I sighted in a .375 Raptor and .458 Socom rifle which I was concerned to do so. Both of those aforementioned cartridges are known for being highly inconsistent in regards to their accuracy – heavy hitters, yes! – but not known for being tack-drivers. With the Contractor 320 3-12x mounted atop, I was able to sight-in both rifles in 2 shots each! That was a completely absurd feat, but the folks from Armasight told me that is exactly how it'd go (and it did). An initial shot was taken on target to paper, adjustments were made, and the 2nd shot from these cartoon-ish cartridges perforated the bullseye. If that won't induce confidence for an impending hunt I don't know what would.
Once we got off the firing line and out into the field I got hours upon hours of nighttime use with this thermal. We had the great fortune and opportunity to see a multitude of species at night from raccoons, coyotes, bobcats, nutria, hogs, whitetail deer, axis deer, nilgai, javelina, rabbits, and even an occasional skunk. With each varying mammal being a different size, having a unique fur coat, and moving about the ground in a peculiar manner, the thermal got to show us a whole new "light" in which to view animals.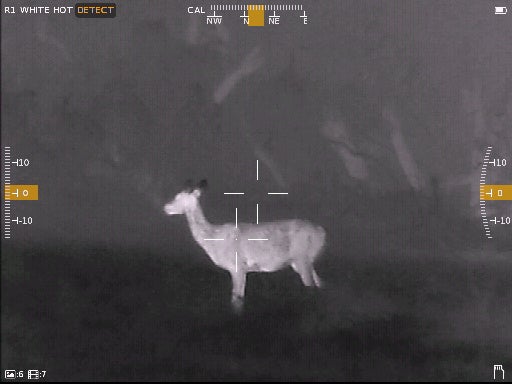 The white hot view was great for detecting game animals at distance. You could easily pick up a rabbit hundreds of yards away in the brush by its faint yet definitive white glow. The black hot setting was more precise in detail for identifying animals (identifying the sex of an animal at ~50 yards or less). When I was actively looking to take a shot on game – from the point of detecting an animal to positively identifying one – I switched a lot between white and black hot.
When I was merely surveying or scanning my surroundings I relied more on the sepia view as it was easier on your eyes at night (less eye strain when going from looking through a scope for extended periods of time to looking out into the darkness with your naked eye). Another tip the folks from Armasight shared with me is that you can lock the turrets of your thermal riflescope so you don't accidentally bump them at night (on your Left Turret – Tap 1x, 2x, 3x). This is handy because as much as we all believe we're proficient manipulating our gear at night we inevitably end up bumping our stuff inadvertently without fail. So, you can protect the settings you have on your optic by locking everything in.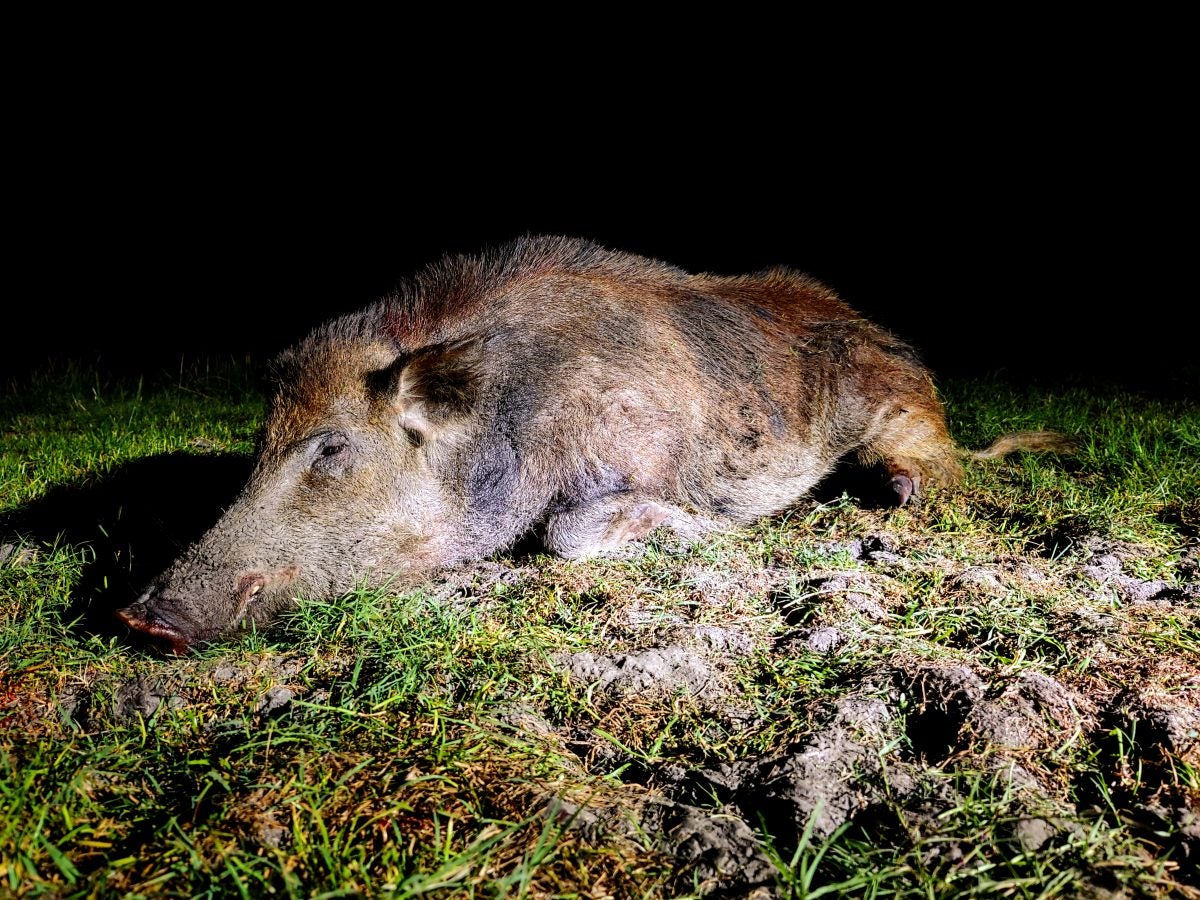 Final Thoughts – Armasight Contractor 320 3-12x Thermal Riflescope
So, what are my final thoughts after utilizing the Armasight Contractor 320 3-12x Thermal Riflescope down in Texas?… At the suggested price of $4,299 compared to other thermal riflescopes on the market, I believe this is genuinely a good buy. It has a boatload of features and as improvements roll in you will be able to bank on those as well. As upgrades occur with your given unit you can download software updates to be on the cutting edge for your model. Right now there is no audio recording capabilities, but that is in the pipe (it is coming soon according to Armasight).
I also appreciate that the 12-micron core for the unit is made in the USA (Sacramento, CA). The more a product can be "made in the USA" the more I am on board. The goals of Armasight are Definition, Clarity, and Contrast which I authentically believe they deliver. The only tip I have for future users – not a real criticism – is that the record button was a bit tough to find in the dark. When you have animals in front of you at night and you're excited it can be a trick to find the record button quickly, but it becomes more familiar and easier with greater use.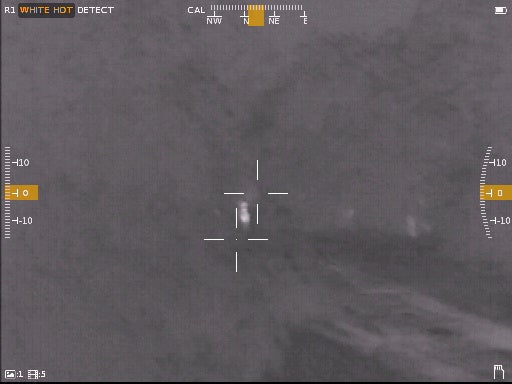 In closing, I want to say thank you to Armasight for allowing AllOutdoor and myself the opportunity to try out their Armasight Contractor 320 3-12x Thermal Riflescope and for inviting us down to Texas for some epic hog and Nilgai hunting. That is greatly appreciated. Also, we would like to know what all of you guys and gals think? Do you believe that the Armasight Contractor 320 3-12x Thermal Riflescope is something worth spending your money? Would you take it hunting with you? As always, let us know all of your thoughts in the Comments below! We always appreciate your feedback.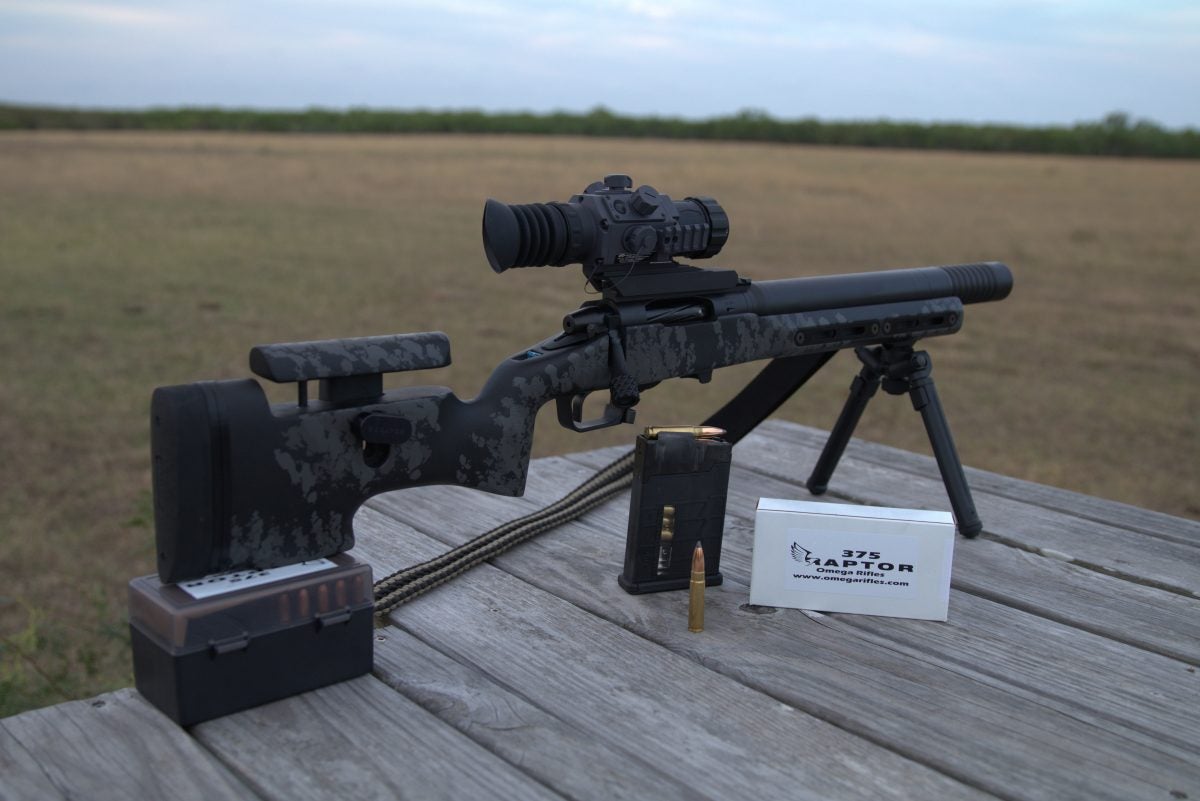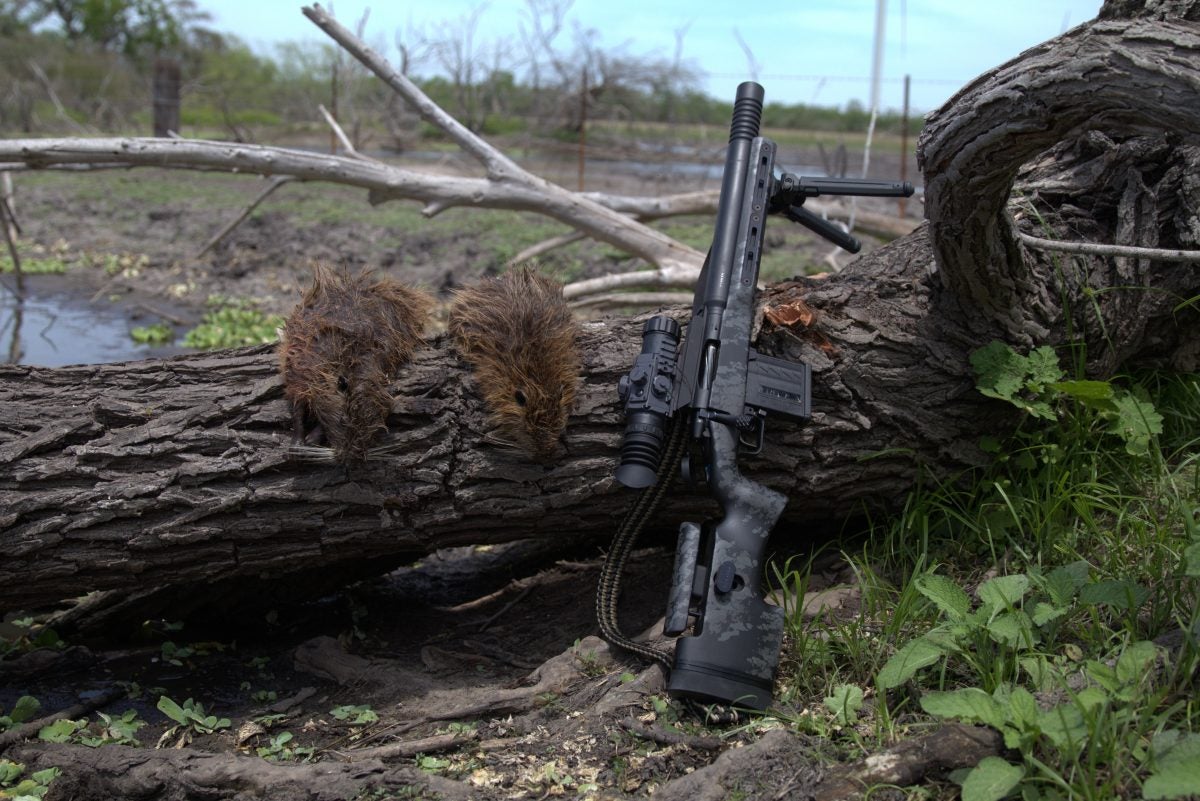 The post AllOutdoor Review: Armasight Contractor 320 3-12x Thermal Riflescope appeared first on AllOutdoor.com.
Javelina-Two-and-Skunk-One.mp4 (1.0MB)
Whitetail-Deer-on-Trail.mp4 (1.4MB)