As the convertible moved slowly around Camden Yards, the home field of the Baltimore Orioles, fans moved down for a closer look at the undisputed all-time favorite player in the history of the franchise – Brooks Robinson. Fathers hoisted children to their shoulders and pointed in hopes a memory would be filed away somewhere for retelling to another generation. Many 50-somethings held signs proudly proclaiming, "My name is Brooks too." Some needed a tissue.
In New York, they named a candy bar after Reggie Jackson. Here in Baltimore, we name our children after Brooks Robinson – Sportswriter Gordon Beard
September 24, 2022, was called Thanks, Brooks Day. There had been many previous days honoring Brooks Calbert Robinson Jr. This particular day was scheduled to commemorate the 45th anniversary of Robinson's last game as a player in 1977. No player on the Orioles' current roster was even alive when the man in the convertible was an active player, but every player on the field that day stood and applauded reverently as Robinson and his granddaughter drove by. Many baseball pundits would say he was the greatest third baseman of all time, and most would agree he was the most beloved.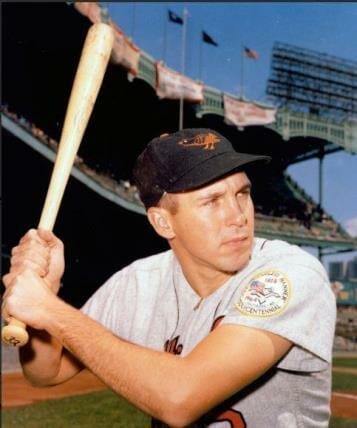 Brooks Robinson 1957
Brooks Robinson 1977
Major League Baseball's Official Release
A first-ballot National Baseball Hall of Famer in 1983, 'Mr. Oriole' spent 23 seasons with the club, starting in 20 consecutive Opening Day games. He won the American League Most Valuable Player Award in 1964 and holds the record for most Gold Gloves by a position player with 16. On Sept. 18, 1977, Orioles fans flocked to Memorial Stadium for 'Thanks Brooks Day' to recognize and honor the historic career of their beloved third baseman as he retired following the conclusion of that season. Robinson currently serves as a Special Advisor and Community Liaison for the Orioles. – Major League Baseball, Sept. 7, 2022
Elementary School, Youth Baseball, Central High School Class of 1955
The Brooks Robinson Story
A thousand miles away in Arkansas, the fans in Robinson's home state were equally proud. It was a moment in baseball time that vividly personalized James Earl Jones's monologue as Terrance Mann in the movie Field of Dreams.
And they'll walk out to the bleachers, and sit in shirt-sleeves on a perfect afternoon. They'll find they have reserved seats somewhere along one of the baselines, where they sat when they were children and cheered their heroes. And they'll watch the game, and it'll be as if they'd dipped themselves in magic waters. The memories will be so thick, they'll have to brush them away from their faces. – James Earl Jones, Field of Dreams, 1989
Baseball is a game that thrives on nostalgia. A game dominated by memories, traditions, and records. Award-winning director Ken Burns, in his memorable documentary about the National Pastime, proposes that baseball is a game in which every player is "judged by those who have gone before."
Perhaps, in Arkansas, no native son who reached the major league of any sport casts a longer shadow than Brooks Robinson, both on the field and off. In the collective memories of Arkansans old enough to recall the 1970 World Series, the images are as vivid as they were more than 50 years ago. Brooks goes behind third, backhands the hard ground ball, and in one acrobatic motion, he somehow gets a throw to first ahead of a startled runner. If they are lucky enough to recall a personal encounter, the memory includes, "Hello, I'm Brooks; where are you from?"
Lamar Porter Field    
Brooks at Ray Winder Field with Arkansas Sports Hall of Famers, George Kell, Bill Dickey, Travis Jackson, and Lee Rogers.
Brooks Robinson was born in Little Rock on May 18, 1930. His father, the original Brooks Calbert Robinson, was a firefighter who moved to Little Rock as a child from the flooded, and later parched, cotton fields of the Atkins Bottoms. His mother, Ethel, managed a modest frame home on a quiet street, a short walk from Lamar Porter Field. Young Brooks would later say he was indeed in the "right place at the right time." He was the first major league star born in Arkansas who would benefit from an organized city baseball program with excellent coaches.
He and his buds from the Lamar Porter gang won numerous state titles. and Robinson became a highly valued baseball prospect after graduation from Little Rock High School. (Now Little Rock Central) On May 28, 1955, he signed with the Baltimore Orioles. In his own evaluation, Brooks came from Little Rock to pro baseball with a big-league glove and a minor-league bat. "Hitting has been a struggle all my life." It was a struggle he eventually conquered in style.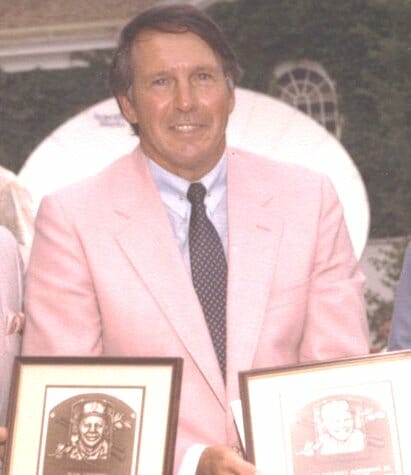 Caption Baseball Hall of Fame 1983
Brooks Robinson in the Record Book
Robinson would be in the Orioles' organization for the next 23 seasons. Although he lamented that he was "an average hitter, he became a middle-of-the-lineup clutch hitter and the greatest defensive third baseman of all time. He played in almost 2900 major league games. His accomplishments are legendary.
1960    Gold Glove Award (Third Base)
1961    Gold Glove Award (Third Base)
1962    Gold Glove Award (Third Base)
1963    Gold Glove Award (Third Base)
1964    Gold Glove Award (Third Base)
1964    Most Valuable Player Award
1965    Gold Glove Award (Third Base)
1966    All-Star Game MVP
1967    Gold Glove Award (Third Base)
1968    Gold Glove Award (Third Base)
1969    Gold Glove Award (Third Base)
1970    Gold Glove Award (Third Base)
1970    Hickok Belt
1970    The Babe Ruth Award
1970    World Series Most Valuable Player
1971    Gold Glove Award (Third Base)
1972    Gold Glove Award (Third Base)
1972    Roberto Clemente Award
1973    Gold Glove Award (Third Base)
1974    Gold Glove Award (Third Base)
1975    Gold Glove Award (Third Base)
1977    Joe Cronin Award
1960-74 18 Consecutive All-Star Games
1978    Arkansas Sports Hall of Fame
1983    National Baseball Hall of Fame
Brooks Robinson Reading List:
Encyclopedia of Arkansas
SABR Biography by Maxwell Kates
Growing Up Brooks on Only in Arkansas
Little Rock to Cooperstown Only in Arkansas
Rex Nelson – Lamar Porter Field
Bob Reising 501 Life
We all knew Brooks was a gifted baseball player, but the thing we remember most is that he was a great teammate and a special guy. He never forgot his childhood friends and we never forgot him. Brooks almost always made our high school reunions and stayed in touch with his buddies from Pulaski Jr. High. I feel very fortunate to have a great relationship with Brooks. He is the best of the best in all aspects of life. – Childhood friend and teammate Robert Nosari.
Via Only In Arkansas.