This is an edition of The Atlantic Daily, a newsletter that guides you through the biggest stories of the day, helps you discover new ideas, and recommends the best in culture. Sign up for it here.
Good morning, and welcome back to The Daily's Sunday culture edition, in which one Atlantic staffer reveals what's keeping them entertained.
Today's special guest is Damon Beres, an Atlantic senior editor who oversees our Technology section. Damon also recently wrote about the high-stakes bluster of Elon Musk for this newsletter, and covered BuzzFeed's pivot to AI-generated personality quizzes in January. In today's edition, he endorses the underappreciated comedic brilliance of the late Philip Seymour Hoffman in a certain 2000s rom-com, as well as a wise picture book about a sloth, and he makes a case for quiet-loud music.
First, here are three Sunday reads from The Atlantic:
---
The Culture Survey: Damon Beres
Something I recently rewatched, reread, or otherwise revisited: Along Came Polly, the 2004 rom-com with Ben Stiller and Jennifer Aniston—and, much more important, Philip Seymour Hoffman. Everyone knows he was one of the great actors of his era, but if you haven't seen him slip and fall on the hardwood floor at the start of this movie, well, you don't really know anything at all. It's pure comedic brilliance.
Something delightful introduced to me by a kid in my life: My 1-year-old is obsessed with books. He wakes up in the morning pointing to his bookshelf and repeating "Books, books, books," like an incantation. He pronounces it like the end of "Malibu," or like he's trying to scare someone on Halloween. Boo-ks, boo-ks, boo-ks.
One of his favorites is "Slowly, Slowly, Slowly," said the Sloth, by Eric Carle, the author of The Very Hungry Caterpillar. Sloth is all about owning who you are and navigating the perceptions of others. In the book, the sloth lives an existence that is truly its own. The other animals of the rainforest judge it. A rude jaguar comes up and asks why it's so lazy. And on its own time, to no one in particular—the jaguar's not even on the page anymore—the sloth eventually offers:
It is true that I am slow, quiet and boring. I am lackadaisical, I dawdle and I dillydally. I am also unflappable, languid, stoic, impassive, sluggish, lethargic, placid, calm, mellow, laid-back and, well, slothful! I am relaxed and tranquil, and I like to live in peace. But I am not lazy … That's just how I am. I like to do things slowly, slowly, slowly.
It's a beautiful message. Take your time. Be yourself. Don't take any nonsense from cats.
A favorite story I've read in The Atlantic: I'll never forget Ian Bogost's 2022 article "The Internet Is Just Investment Banking Now." When it published, I was working at a start-up that operated to some extent in the "web3" space, which I had mixed feelings about. Ian's story put everything into perspective. It is, to this day, the smartest, most clear-headed and creative essay on the issues with that particular technological paradigm that I've come across—an outstanding piece of analytical writing. About one year later, I work here and get to call Ian a colleague. Happy ending.    
My favorite way of wasting time on my phone: If I really need to let my brain go soft and get the drool flowing, I'll boot up Holedown, a simple game that involves aiming balls at numbered barriers that halt your progress through a tunnel. Sometimes you can ricochet off of the barriers just right to maximize your score. It's satisfying and low-stakes, but just short of mindless—an ideal game, in other words.
An actor I would watch in anything: I very happily watched Ethan Hawke wander the aisles of a Blockbuster Video while he recited the famous "To be, or not to be" monologue in the 2000 film adaptation of Hamlet. I'm one of his ride-or-dies. I can't wait to see him in the new Pedro Almodóvar short film Strange Way of Life. It looks divine.
A quiet song that I love, and a loud song that I love: Allow me a slight cheat. It's "Rid of Me," by PJ Harvey. It is the best quiet rock song. It is the best loud rock song. The balance is everything. Half of this track is like twisting the handle on the world's heaviest jack-in-the-box, and the other half is the fireball that pops out.
I love music that plays with this dichotomy. The Japanese band Boris—definitely not for everyone—opens their album Pink with a song called "Farewell." It has a gauzy, dreamlike lead-in that explodes into something much bigger and more cantankerous. Most of the tracks that follow are profoundly loud, complex metal music.
A gentler version of this is happening in popular music too. Mitski can pulverize you with "Your Best American Girl" or "A Pearl," but she's also tender and vibey. If anything, I've found her almost subdued the couple of times I've seen her on tour, but it's also been clarifying to see how clearly she impacts the audience, which is younger and cooler than I am. People are crying and singing along. A similar thing seems to be happening with boygenius: Its music is quiet-loud.
Rather than allowing volume to be a stand-in for emotional communication—the "quiet" stuff is sad or wistful; the "loud" stuff is angry—listeners can find something valuable in a kind of commingling. It reminds me of the name of a Daniel Clowes comic, Like a Velvet Glove Cast in Iron: The soft and hard can go together. It's the mood. [Related: "Rock and roll ain't what it used to be."]
Read past editions of the Culture Survey with Julie Beck, Faith Hill, Derek Thompson, Tom Nichols, Amy Weiss-Meyer, Kaitlyn Tiffany, and Bhumi Tharoor.
---
The Week Ahead
Chain Gang All Stars, the new novel by Nana Kwame Adjei-Brenyah in which convicted murderers fight to the death, on television, for the chance to win their freedom (on sale Tuesday)
Guardians of the Galaxy Vol. 3, a "cheerful goodbye" to the Marvel franchise that shows what the superhero genre has been missing (in theaters nationwide Friday)
The coronation of King Charles, which, according to the Royal Family's official website, promises to "reflect the monarch's role today and look towards the future, while being rooted in longstanding traditions and pageantry" (live coverage begins Saturday at 5 a.m. ET on ABC, CNN, NBC, SkyNews' YouTube channel, and elsewhere)
---
Essay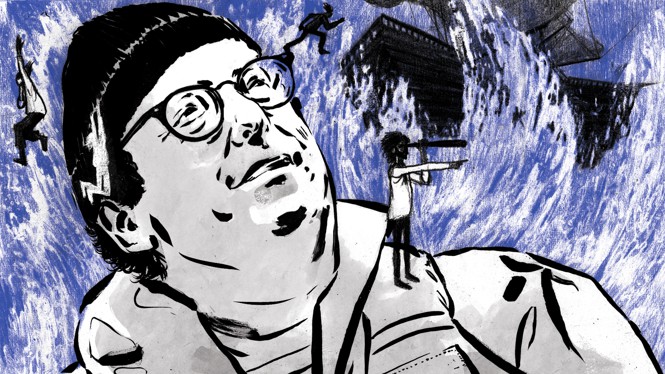 The Painstaking Journey to a David Grann Book
By John Hendrickson
First, some swashbuckling. The journalist David Grann embarks on a multi-leg journey from New York to Florida to Santiago, an annoying combination of planes and customs and cars and ferries en route to Chiloé Island, a little strip off the coast of Chile. There, he meets the boat captain who has agreed to steer him hundreds of miles farther south, to Wager Island, a place where nobody lives.

Storms have rolled in. To Grann's surprise, the captain's vessel is much smaller than it appeared in the photos. The tiny crew needs to chop wood to keep it heated; they retrieve drinking water from nearby glaciers. Out at sea, the boat's top-heaviness reveals itself. No combination of Dramamine and anti-nausea wristbands and behind-the-ear patches can save an uninitiated stomach against these waves near the bottom of the Earth.
---
More in Culture
---
Catch Up on The Atlantic
---
Photo Album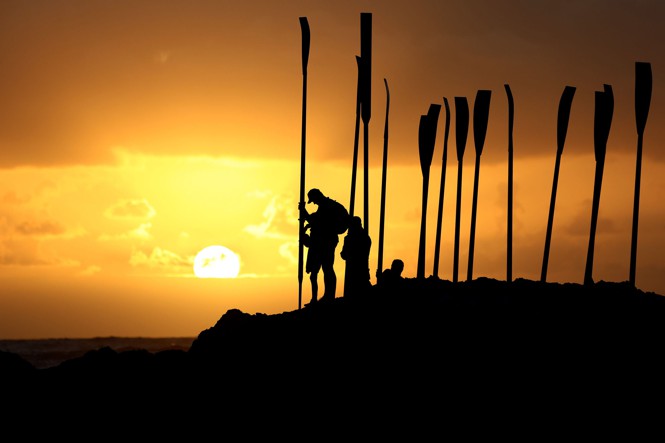 An observation of Anzac Day in Australia (pictured), classic-car racing in England, and more of our editor's selected photos of the week
---
It has been 70 years since the world last witnessed the crowning of a new British monarch. On Tuesday, May 2, The Atlantic's editor in chief, Jeffrey Goldberg, will join our U.K.-based staff writers Sophie Gilbert and Helen Lewis to talk about the new era of the monarchy and its role both within the United Kingdom and on the international stage. Register for the event here.