Usually, baseball season is one of our favorite time's of year here in WI.  It's a nice reminder that summer is here, it's grilling season and I love the All-American feel of it.  Plus, it's always fun heading to Miller Park to see a Brewer's game.  To bring back all of my favorite memories that we're missing out on this year, I'm cooking up a 5 ingredient Instant Pot beer brats recipe.  You're going to fall in love with this Instant Pot beer brats recipe – it's seriously SO EASY and delicious!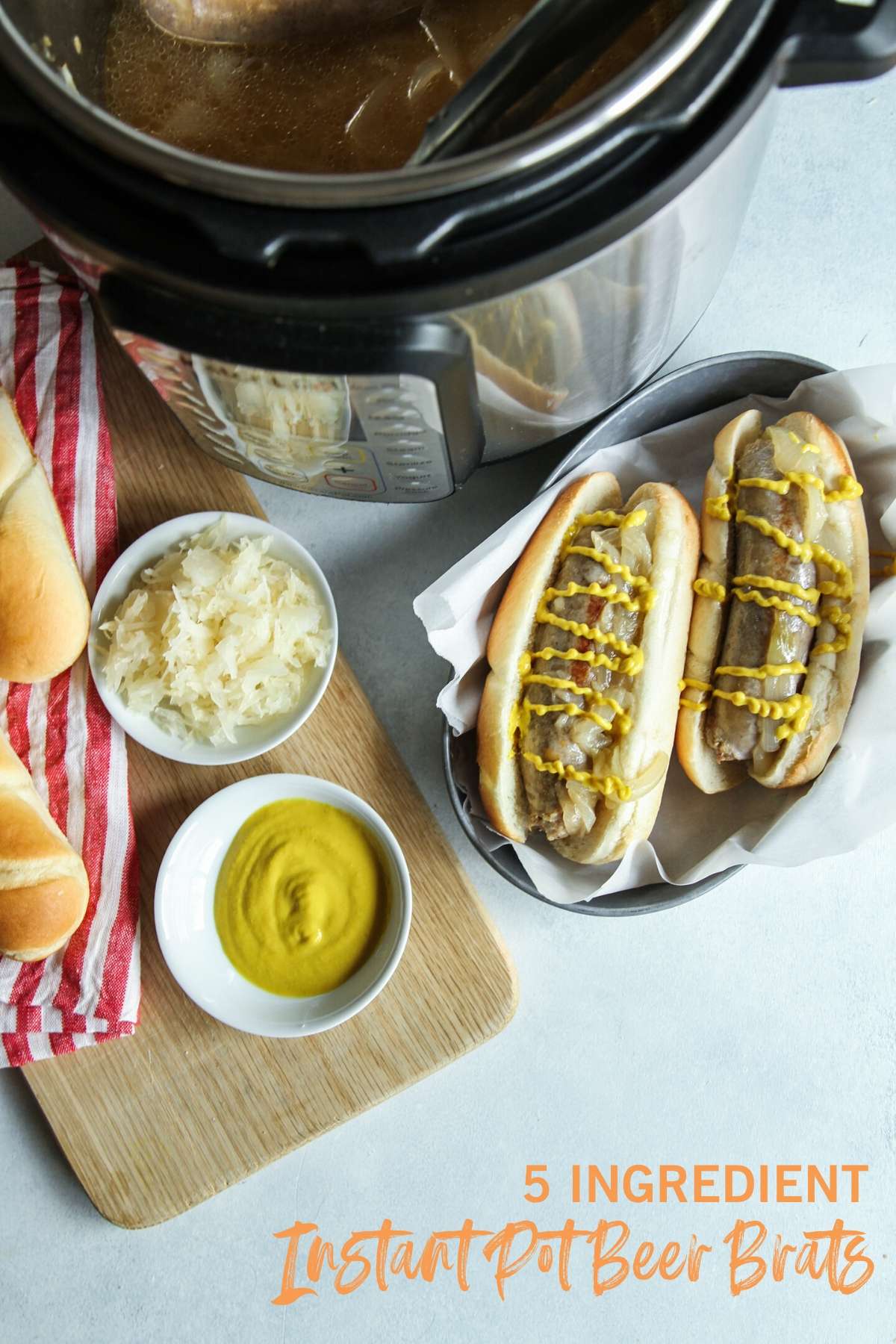 Have you ever heard of beer brats? I'll admit that I'd never heard of – or had them – until I moved to Milwaukee over 10 years ago. Beer brats are just what they sound like – bratwurst sausages cooked in beer. This version is so so so quick and such a great and easy dinner because it's made in the Instant Pot – and bonus, it doesn't use the stove or make your house hot during the summer! Brats are sauted with butter and onions and then cooked in beer. You serve them on a bun with the soft buttery onions and oh my goodness – delicious meal!
A friend of mine was telling me a story about her distinct memory of beer brats.  When she was a kid, her Mom used to help run the concession stands for her sports teams.  She would go to Sam's Club, buy all the ingredients and cook some at home before bringing it to the concession stands to sell.  Remember, we're talking a small town, local YMCA team, so it was pretty low budget.  Anyway, as a kid, my friend remembers waking up on Saturday morning's to a "gross smell."  Well, that gross smell was beer brats! Haha
As an adult, that smell brings great memories and I hope you get that sense of nostalgia when making this recipe.  I've modernized it a bit by making these brats in an Instant Pot.  
You can buy a lot of fresh brats that are already pre-cooked.  However, for this recipe, make sure you aren't purchasing pre-cooked brats.  The Instant Pot will help get this recipe done quickly, even from frozen!  
The hardest part of the recipe is probably slicing the onion so if that gives you any idea how simple this is!  With a few quick steps, you'll have this recipe down in no time.
Slice your onion, add butter and onion into the Instant Pot
Add in brats
Saute to brown
Add beer
Cook on high pressure and quick release 
Put in a bun with your favorite toppings and enjoy!
My favorite way to eat brats is with sauerkraut and mustard in a bun.  Plain, simple and delicious.  These brats have so much flavor from cooking with onion and beer, that you could even eat them plain in a bun!
If you ask me, they look picture perfect, just like the ball park.  Ok, let's be honest, brats never actually look this yummy even at Miller Park!
This was my first time cooking brats with the Instant Pot and I can honestly say, this is the only way I'll be cooking brats in the future!
Yield: 5 brats
5 Ingredient Instant Pot Beer Brats Recipe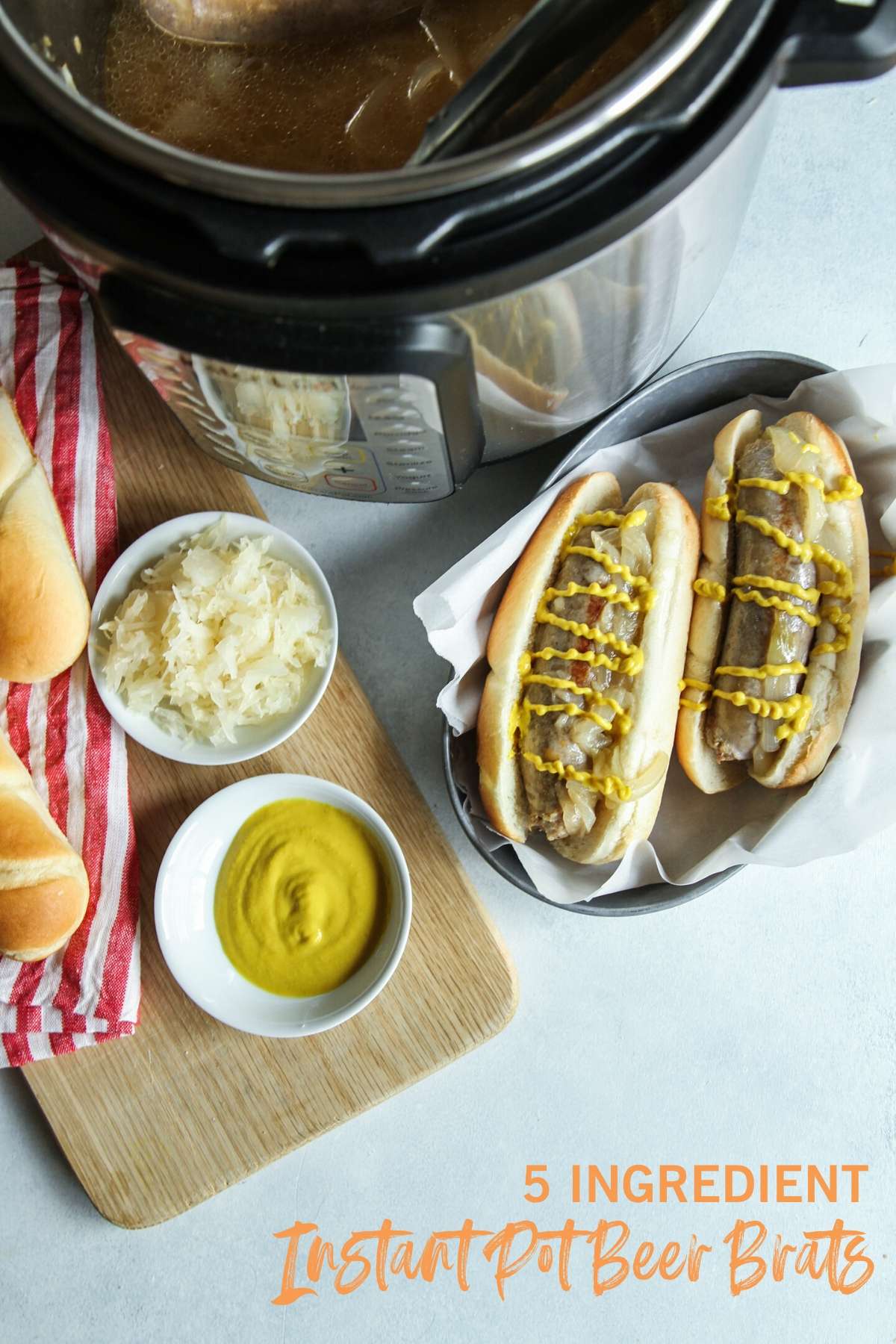 5 ingredient Instant Pot beer brats are a quick and easy dinner that will remind you of summer and the ballpark.
Ingredients
2 Tablespoons butter
1 medium yellow onion, sliced
1 lb (about 5 links) uncooked bratwurst sausages
1 bottle (12 oz.) light beer
5 buns
Optional Toppings: sauerkraut and yellow mustard
Instructions
Turn Instant Pot on saute setting. Add butter, onion slices and bratwursts. Saute for 8 minutes, or until brats are browned slightly. Stir occasionally.
Pour beer into Instant Pot.
Secure lid and put the nozzle into the sealing position.
Set manual pressure on HIGH for 5 minutes.
Quick release (I like to move the nozzle with a wooden spoon) - move the nozzle to venting. Let quick release for 3 minutes. Remove lid.
Use tongs or slotted spoon to put a brat and some onions onto a bun.
Serve with sauerkraut and/or yellow mustard and enjoy.
The post 5 Ingredient Instant Pot Beer Brats Recipe appeared first on Sweetphi.