Get the necessary and right homeschool supplies to a fantastic school year!
Are finding homeschool supplies something you are looking for this year?
It's no secret that COVID-19 and the shutting down of schools gave parents a lot to think about when it comes to homeschooling their children.
In the U.S., 2.5 million children were homeschooled in 2019.
By the end of 2020, that number exploded to 9 million!
Perhaps it's not simply the pandemic that has you considering the homeschooling option.
Some parents choose to homeschool their children because their children lack progress in traditional schooling or because they have a different view when it comes to educational philosophies.
Whatever the reason for wanting to homeschool your little ones, doing so takes a lot of preparation. It's different than simply facilitating online learning curriculums provided by your child's school.
Luckily, there are a lot of resources out there to help you with homeschooling curriculums. Once you get those sorted out, you'll need to stock up on some homeschooling supplies!
Here's your homeschool list for fantastic supplies that your child will love while learning from home:
Homeschool Supplies: Essential Equipment
For my family, we chose remote learning as your homeschool option. Our school board provided remote learning so we enrolled our twins and they complete grade 2 all remotely.
During remote learning they worked on asynchronous time, which meant they had to work independently and on their own.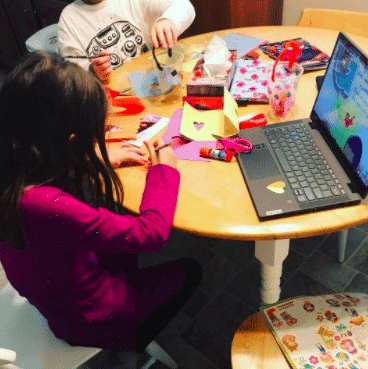 To prepare them for this new learning environment these the homeschool supplies I invested in.
1. A Good Printer
When you homeschool your little ones, it's likely that you're going to want to print out some worksheets for them. To do this, you need a reliable color printer!
Good printers aren't expensive either and you can order off-brand cartridge refills when you run out of ink – just make sure they match the make and model of your printer.
2. A Good Laptop
You'll also need a good laptop, not only to find and print out freebie worksheets but to allow your child to complete work online as well.
Nowadays, even in-school classrooms provide computer access to students to complete educational work, so you'll want to make sure your laptop can accommodate an internet connection with a good display.
Good laptops aren't expensive either!
3. Headphones
If you're homeschooling in a multi-purpose room, it's helpful to have headphones so your kiddo can do their computer work undisturbed (and the others in the room will be undisturbed as well!).
A basic over-the-ear pair will run you about $20.
Homeschool Supplies: The Basics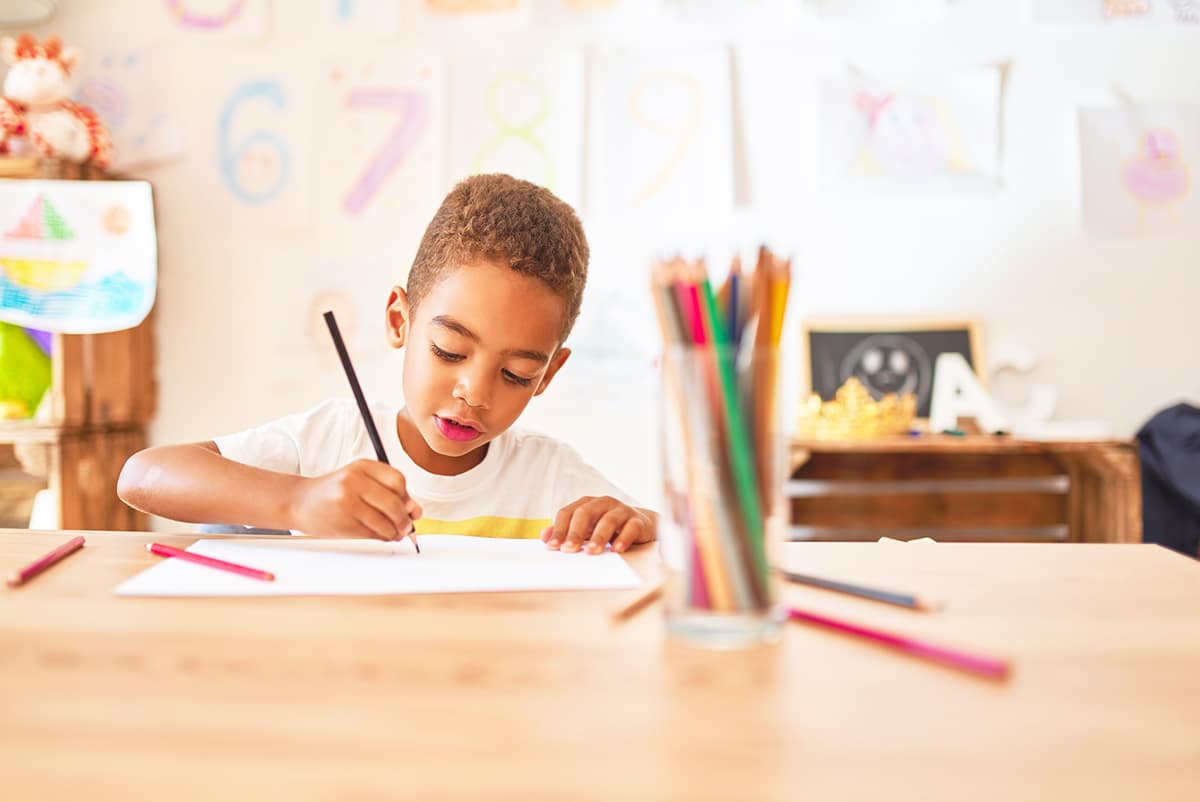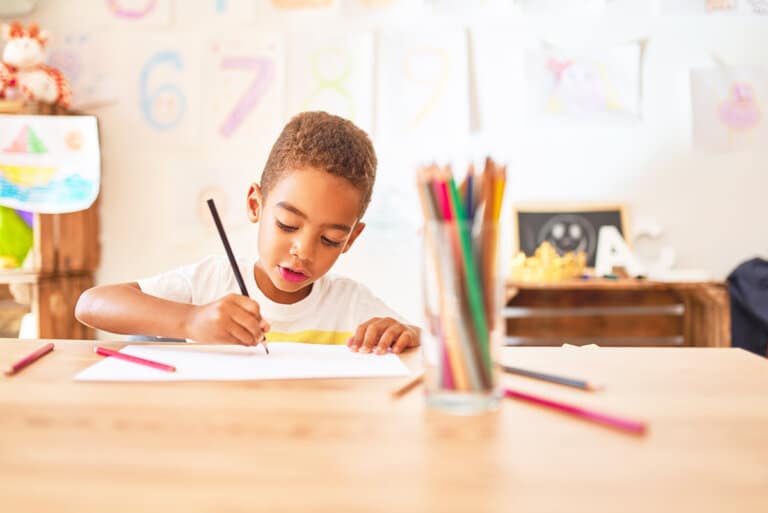 4. Pencils and Erasers
Every homeschool needs a good supply of pencils and erasers!
If you're doing kindergarten homeschooling, you'll want to start your little one out with a thicker pencil to help them develop their grip. A large size round No. 2 pencil is easy for small hands to hold.
Otherwise, regular graphite No. 2 pencils are perfect for older students to complete their work.
5. Paper
Even though we live in a digital age where a lot of school work can be completed on a laptop, you're still going to need to include a lot of paper on your homeschool supplies list.
Here are some of the types of paper you will need:
Blank computer paper for printing and drawing.
Construction paper for arts and crafts.
Lined paper for writing practice.
Worried about using so much paper? You can always recycle it or use it for a fun paper mache project!
6. Scissors
For kindergarten homeschooling, you'll want to start your little one off with a pair of learning scissors. These scissors are blunt so your child won't hurt themselves while they practice cutting.
Once they start developing good cutting skills, you can upgrade them to regular scissors.
7. Glue
Glue is definitely a homeschool staple you don't want to leave off your list! You can go with traditional white glue for craft projects or take the mess-free route with glue sticks.
Homeschool Supplies: Fun Learning Games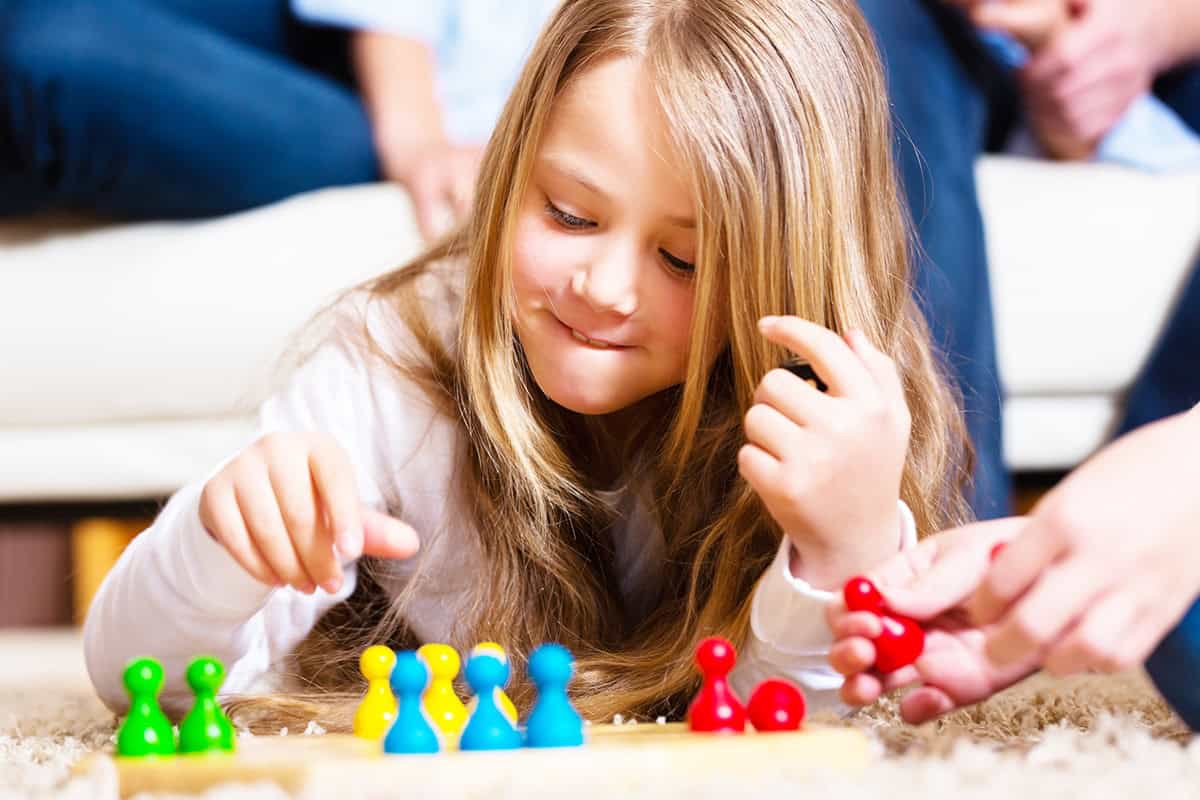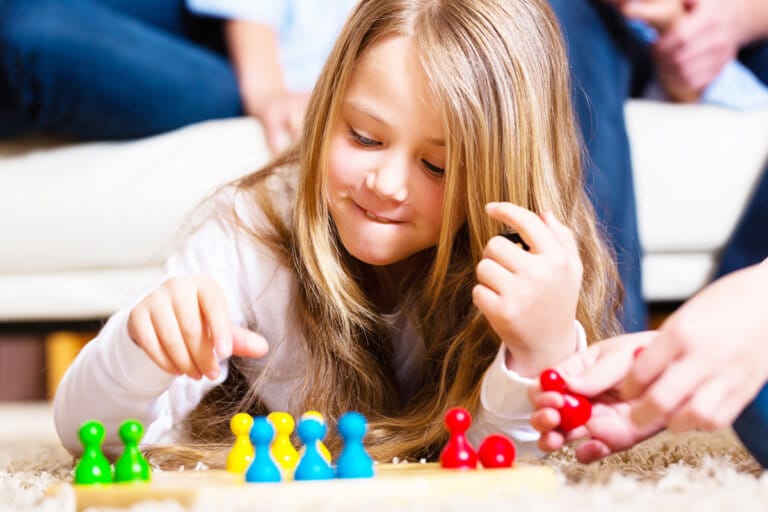 8. Money Games
Teaching your kids about money is essential to their education – but it doesn't have to be boring! There are many fun board games that will help teach your children about currency and math.
While you could grab up a copy of Monopoly, there's a game called Money Bags that uses pretend cash and coins to help your kids learn the value of money.
The game comes with American money, but you can always swap it out for pretend currency from your country such as Canadian cash and coins.
9. Sight Word Bingo
If you're doing kindergarten homeschooling, you'll be teaching your child sight words as a precursor to reading.
Instead of expecting them to sit down and learn sight words through rote memorization (boring), you can play a sight word Bingo game instead!
This would be a pretty easy game to DIY but, if you don't have the time to put one together yourself, you can always grab a Sight Word Bingo game here.
10. Apples to Apples
Maybe this family game night classic is already laying around your house!
While this game probably wasn't created to be education, it really is – especially when it comes to vocabulary and critical thinking skills.
Apples to Apples comes in many different versions, including a junior version for younger kids.
Homeschool Supplies: Enriching Toys
11. Magnet Building Tiles
Magnet building tiles are an extremely diverse toy to include in your homeschool supplies! These square and triangular-shaped magnets can be used to learning building design and engineering.
Plus, they can be used to teach colors, counting, and so much more!
My twins are nearly 9 years old and still find use of these magnetic shapes. My son likes to create complex tunnels while my daughter follows the instructional booklet to make an airplane or seal.
12. Pattern Blocks
While regular jigsaw puzzles are great at developing problem-solving skills, pattern blocks also help develop your child's critical thinking, spatial perception, and small motor skills.
The pattern blocks are cut into different shapes so children can get creative making different patterns and images. They can also be used for memory games.
13. Lego
It's likely you already have some Lego somewhere in your household! Lego is probably one of the most well-known educational toys in the world and should definitely be included in your list of homeschool supplies.
There are so many kits you can choose from or simply provide a basic kit for some creative fun.
Homeschool Supplies: Science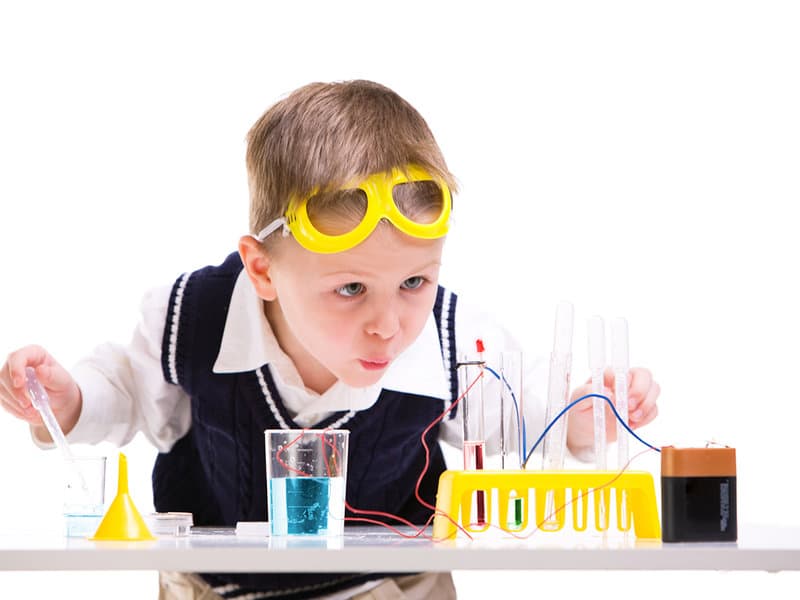 14. Kitchen Items
If you're looking for homeschool science supplies, you need not look any further than your own kitchen! There are so many ingredients sitting in your pantry and cupboards that can help create some super cool science experiments, such as:
Baking soda and vinegar for volcanoes.
Borax for crystal experiments.
Corn starch for homemade slime.
Food coloring for, well, everything!
Check out these kitchen science experiment ideas!
15. Nature Exploration Kit
There is so much science your little ones can learn out in nature!
Put together a nature exploration kit that includes items such as binoculars, a bug net, paper for leaf rubbing, a flashlight, etc.
You should also include a notebook to allow your child to take notes on what they discover. You can further research their findings when you get home.
16. Microscope
High-quality microscopes can be a big-ticket item for your homeschool supplies list but it's certainly something your child will use all their way through school.
There are more affordable options, however, like this wireless digital microscope that allows you to magnify objects and view them on your smartphone.
Homeschool Supplies: Arts and Crafts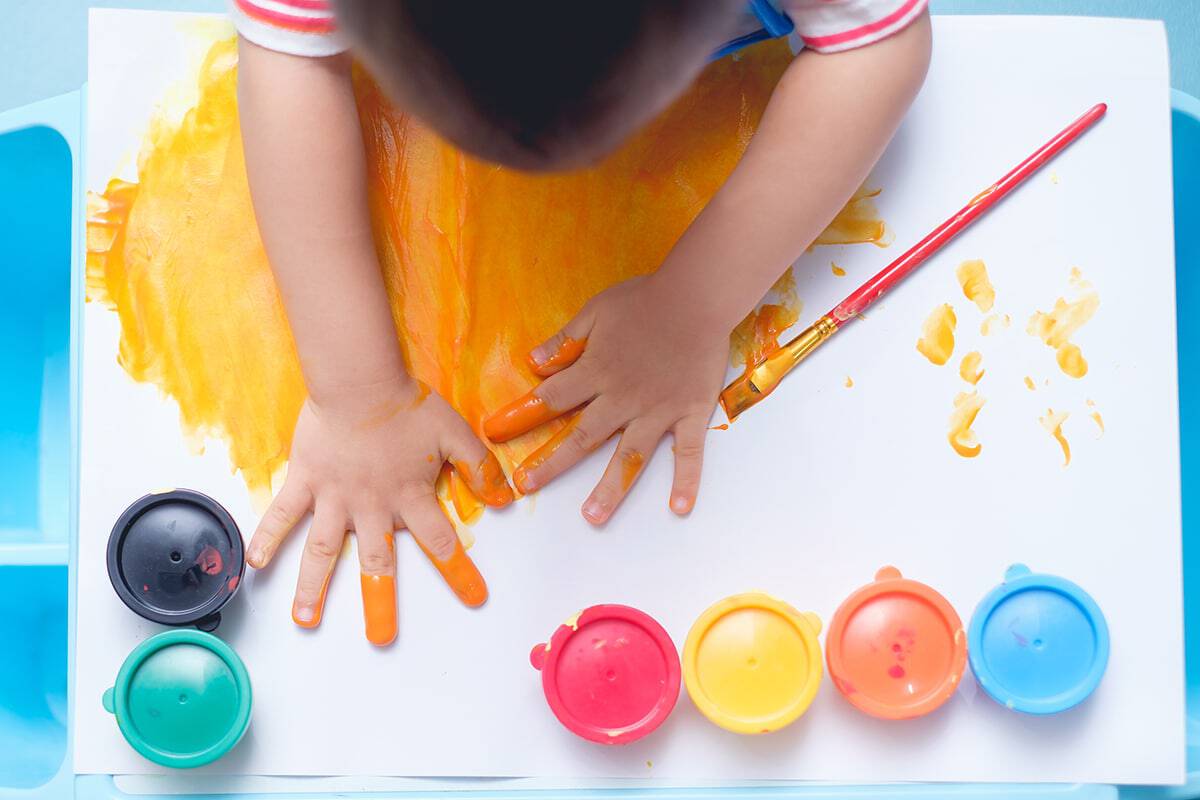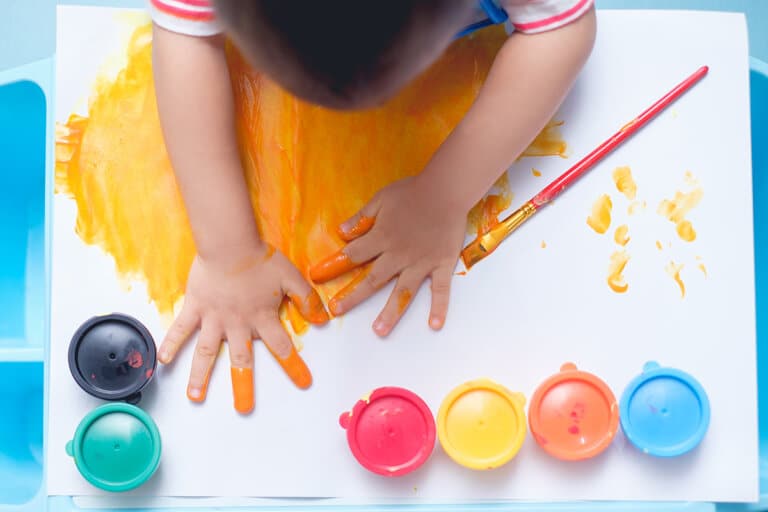 17. Crayons, Pencil Crayons, and Markers
Make sure your child has a good supply of crayons, pencil crayons, and markers for their art and craft projects.
For kindergarten-aged children, you can grab some triangular-shaped crayons to help develop their grip.
Once they have the hang of it, switch to regular crayons. Make sure to also include pencil crayons and markers to give your child experience with different mediums.
18. Paintbrushes and Paint
Paintbrushes and paint are a must when it comes to homeschool supplies for arts and crafts!
Get a variety of brush sizes so your child can learn not only how to spread paint but also add finer details to their creations.
When it comes to the paint you, the most mess-free way to go is watercolor paints. You can get these in palettes or in liquid form.
19. Playdough/Sculpting Clay
Playdough and sculpting clay are great ways for your child to get creative and develop gross motor and fine motor skills.
You can make your own playdough by mixing 2 cups of all-purpose flour, ¾ cup salt, 4 tsp. cream of tartar, 2 cups of lukewarm water, 2 tbsp. vegetable oil and food coloring. Store it in a ziplock bag or tightly sealed container.
You can even incorporate some science by having your little one help in the process!
20. Recyclable Materials
Art materials don't have to be pricey – or cost you a dime at all! Look around your house for reusable materials that can be turned into crafty creations:
Paper towel rolls
Cotton swabs and cotton balls
Egg cartons
Bubble wrap
Paper plates
The possibilities are endless!
Homeschool Supplies: Curriculums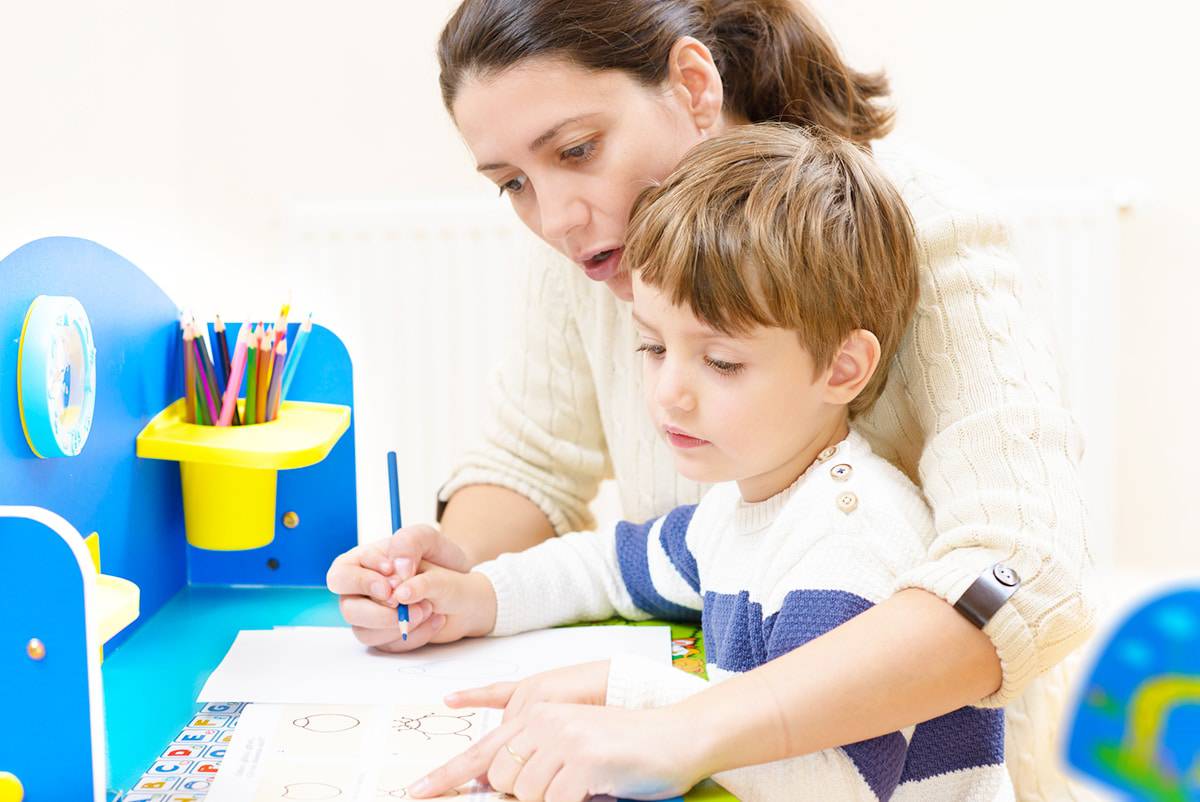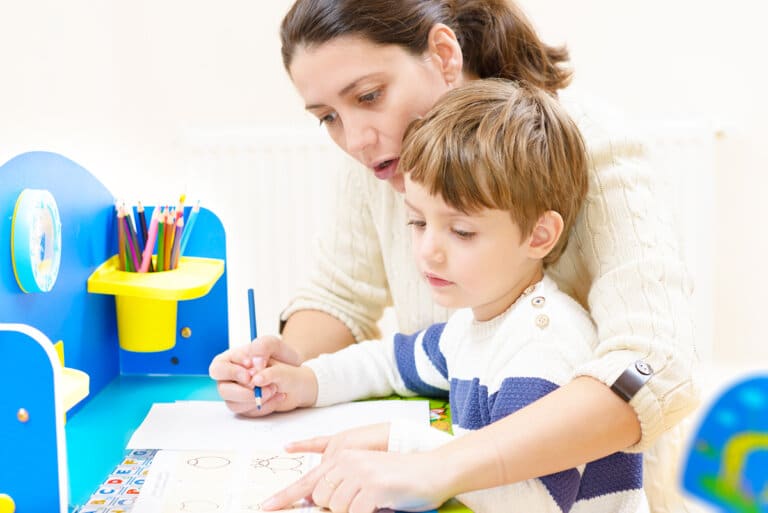 Of course, no amount of homeschool supplies is going to be particularly useful if you don't have a curriculum to follow! While part of homeschooling your little ones is getting creative, you want to make sure you are following a plan to ensure that they are getting the most out of their education.
Rainbow Resource Center is a fantastic online resource for homeschool curriculums. You'll find supply lists and plans for all subjects and grade levels.
Check out their starter packs that will give you everything you need to get started!
For instance, if you are doing kindergarten homeschooling, their kindergarten pack includes a teaching manual, workbooks, and reading materials.
You can scour the internet for free resources for homeschooling, but this site is a one-stop-shop for all of your homeschool supply needs!
Homeschool Supplies Your Kids Will Love!
Are you ready to set up your homeschool so you can educate your child at home?
I hope this list of supplies helps you get started on your homeschooling journey.
Now it's your turn – Do you homeschool your kiddos? What are the go-to supplies you recommend?
Share your advice in the comments!