I have a fondness for midwestern cities such as Wichita, Madison, and Milwaukee and it all started with my visit to Kansas City, Missouri. Located in the Heart of America, this city that is known for jazz, sports, and amazing barbecue is also adorned with 200 fountains, world-class museums, fun entertainment districts, and a stunning performing arts center.
As the 36th largest city in the United States, I assumed there would be some family-friendly attractions, but I was surprised to see some special and truly unique things to do in Kansas City with kids too.
When I first visited Kansas City, I was surprised by the beauty of the city (did you know it has more fountains than any city in the world except Rome?), the street art that adorned the clean city streets, and how new everything looked. I was impressed by the organized development and outdoor spaces like the Plaza for shopping and dining and the Power and Light District area with its eight blocks of restaurants, shops, bars, and entertainment venues.
I was also delighted by the passion its natives have for the city (and its sports teams!) – painting the city blue from the water in the fountains to the lights on the skyscrapers to support their Royals. Kansas City certainly has so much to offer families and plenty of fun things to do with kids.
Things to do in Kansas City with Kids
Note: My visit was hosted by the TMS Family Travel Conference and Visit Kansas City, all opinions are my own.
Kansas City Science City
Located in the gorgeous, historic Union Station train station, just steps from the Kansas City Crown Center where we were staying, the Kansas City Science City didn't seem that impressive at first glance. But as I moved through the different sections and saw how large, how well done, how creative, and how interactive the exhibits were, I quickly changed my mind.
I've been to science museums in Boston, Baltimore, Philadelphia, and even Vancouver — but this was definitely one of the best. It is easy to see why Science City was awarded the prestigious Roy L. Shafer Leading Edge "EDGIE" Award for Visitor Experience from an international panel.
It would be very easy to spend at least half a day exploring all the exhibits and learning about astronauts, physics, water, dinosaurs, engineering, and more. Science City is a great discovery for kids of all ages.
Science City is located at 30 West Pershing Road inside Union Station in Kansas City, Missouri.
American Jazz Museum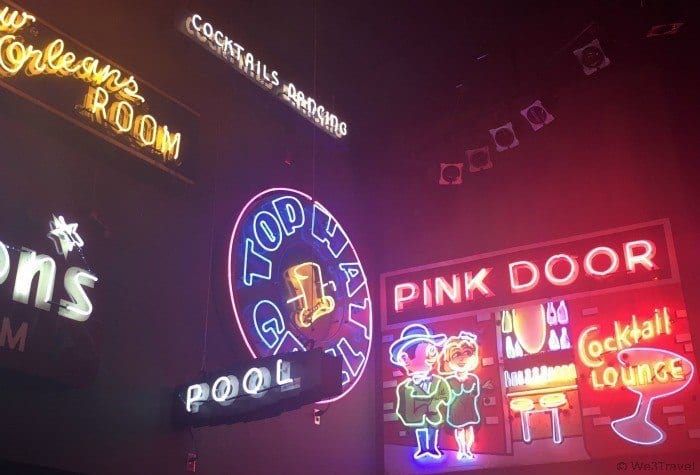 Jazz is a music genre that I enjoy, but I'm not an aficionado like my husband. When I visited the American Jazz Museum, part of the Museums at the 18th and Vine complex,  I soon learned that you didn't need to be a fan to enjoy the museum. Part of what made this attraction such an unexpected surprise for me was the powerful and passionate delivery of our docent.
As she was moved to tears describing the journeys of some of our jazz greats, you couldn't help but be affected by these stories that are a part of the fabric of our American history. Exploring on your own, you can view exhibits about many of the jazz greats, and listen to samples of their music.
Also part of the museum is the Blue Room. Designed to resemble a nightclub, the Blue Room features live music four nights a week. One of the things I loved was the display of neon signs that have been preserved from the many nightclubs that lined the streets of Kansas City back in the height of the jazz age.
The American Jazz Museum is a must visit for any families that enjoy music or kids who play musical instruments.
The American Jazz Museum is located at 1616 E. 18th Street in Kansas City, Missouri. There are also combination tickets for the American Jazz Museum and Negroe Leagues Baseball Museum.
Negro Leagues Baseball Museum
The Negro Leagues Baseball Museum is a museum in the Museums at 18th & Vine complex, and another where the guide made all the difference. I joined the tour late but was still blown away by the background provided and the stories told really brought the exhibits to life.
Skirting around a baseball diamond with bronze figures playing ball under the bright lights, the exhibits walk through the history of the Negro Leagues and tell the stories of some of the league's most famous players. This museum plays an important role in preserving a piece of African-American and sports history that would otherwise be overlooked or even forgotten.
The Negro Leagues Baseball Museum is located at 1616 E. 18th Street in Kansas City, Missouri.
Hallmark Kaleidoscope Art Space
Brought to us by Hallmark Cards, the Kaleidoscope art space is free to the community for 40-minute family sessions (but reservations are needed). I would LOVE to have something like this at home…let alone for free!
This is truly a hands-on space for kids and their grown-ups to be creative. There is a glow-in-the-dark room, you can draw, create with ribbons and tissue paper, and let your imagination lead you. One of my favorite features was the ability to take your artwork and turn it into a puzzle by hand cranking it through a cutting machine.
Kaleidoscope is located at 2500 Grand Blvd. in Kansas City, MO, in the Crown Center.
National Museum of Toys and Miniatures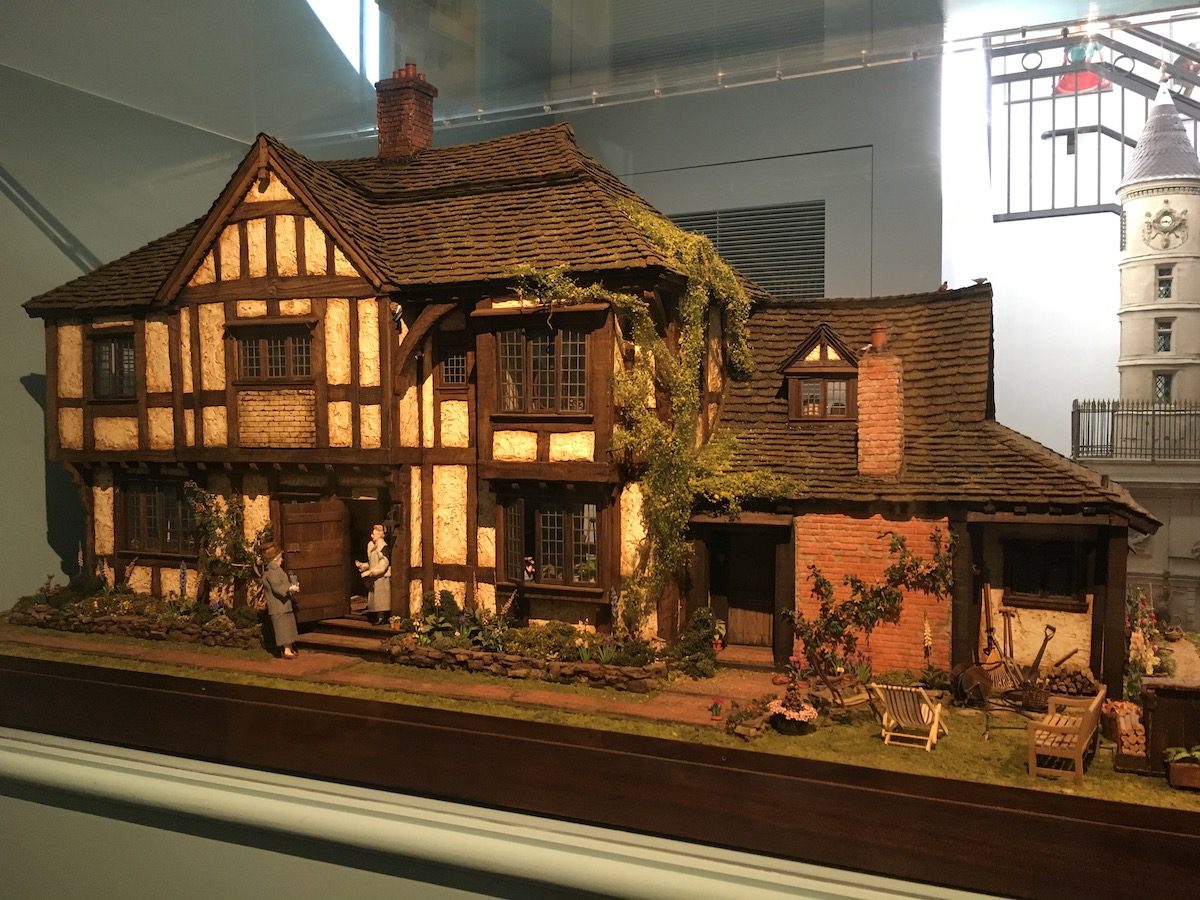 When I was a kid, we spent our summer family vacation visiting family in Vermont. We would take day trips throughout the state and one of my favorite stops was a dollhouse store. Even still, I wasn't sure what I'd think of the National Museum of Toys and Miniatures.
However, like Science City, I was impressed with both the curation of the exhibits and the design and style of the building itself. Reopened in 2015, this museum hosts over 21,000 fine-scale miniatures and one of the nation's largest public displays of antique toys.
Far from any dollhouse I've ever had my hands on, the miniatures were exquisite and truly a unique art form. One of the favorite exhibits is the display of toys grouped by decade. Our group was distracted with calls of "I had that" and "remember that one." It was a nice walk down memory lane but also fun for kids to see the evolution of toys over the years.
The National Museum of Toys and Miniatures is located at 5235 Oak Street in Kansas City, MO.
College Basketball Experience
I've been to a few sports halls of fame, like the Hockey Hall of Fame in Toronto and the Basketball Hall of Fame in Springfield, MA, but the College Basketball Experience in the Sprint Center in Kansas City is the most well done of all of those. This museum and interactive exhibit adjacent to the arena showcases the history of college basketball and allows visitors to test their skills on a simulated basketball court.
The National Collegiate Basketball Hall of Fame is a large part of The College Basketball Experience and it recognizes the great coaches, players and teams who may be omitted from Naismith Memorial Hall of Fame.
The main attraction for basketball fans is the Center Court, which is a full basketball court with six goals, a scoreboard and shot clocks. The court is designated for free play and can be used to practice skills, shoot baskets or participate in a pick-up game or clinic.
There are other fun interactive exhibits like "Beat the Clock", where visitors try to make a game-winning shot in a high-pressure situation, with hyped-up game audio, and randomly lit disks on the floor to indicate the positions for the visitor to attempt their jump shots before the clock stops. There is also a "pop a shot" game for side-by-side shooting contests and a kids' court.
The College Basketball Experience is located at 1401 Grand Blvd, Kansas City, MO 64106.
Kansas City Zoo
The Kansas City Zoo is located in Swope Park and has over 1,700 animals from over 200 species. You can see a wide variety of animals including lions, tigers, elephants, giraffes, gorillas, penguins, and many more. The Tiger Trail has both Amur and Sumatran tigers. One of my favorite exhibits was the Helzberg Penguin Plaza, which I could stand and watch for hours.
For younger kids, there is a children's zoo and a Discovery Barn with farm animals like goats, sheep, and cows. The zoo is accredited by the Association of Zoos and Aquariums (AZA) and in 2019, the Kansas City Zoo was awarded the AZA's prestigious Quarter Century Award for its commitment to conservation and animal care.
The Kansas City Zoo is located at 6800 Zoo Drive, Kansas City, MO 64132.
LEGOLAND Discovery Center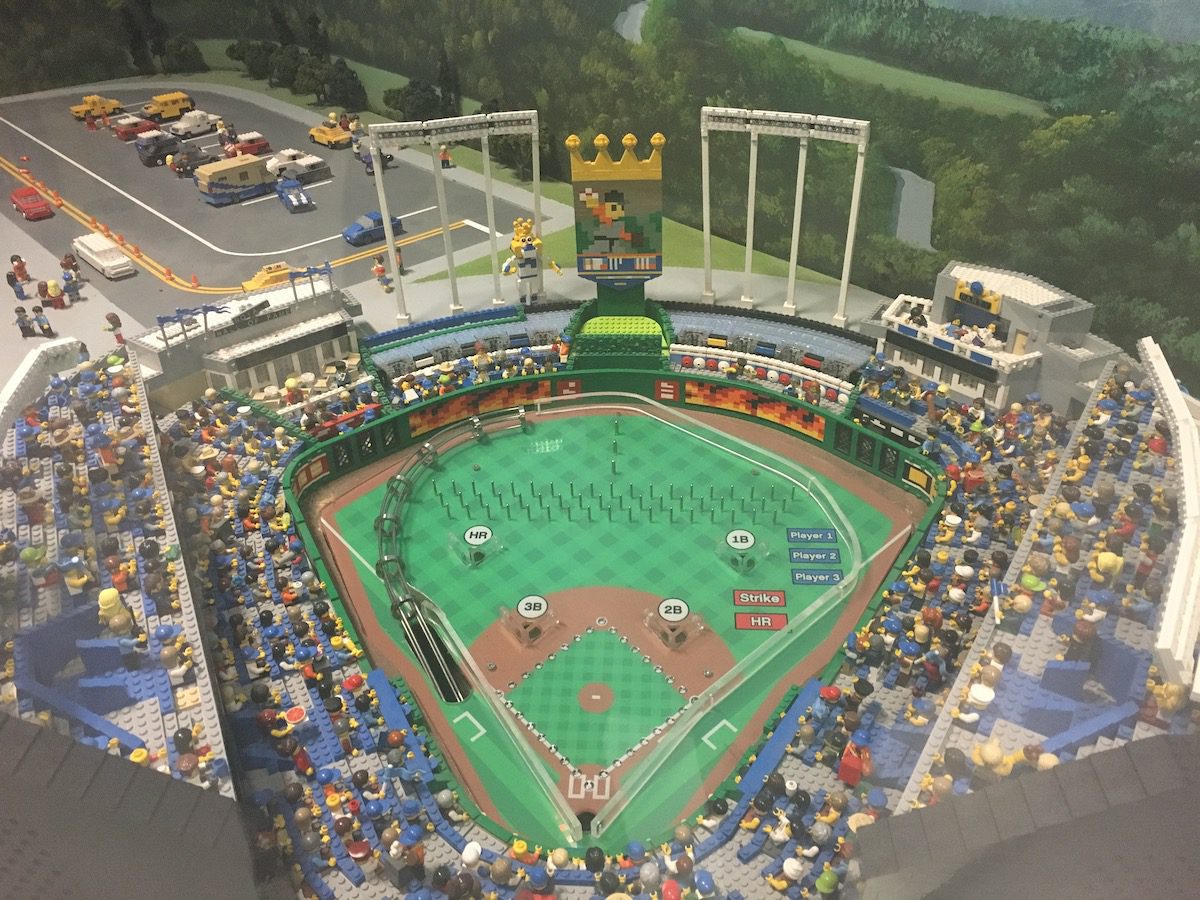 Yes, there are LEGOLAND Discovery Centers in many cities but each one is a bit unique as the MINILAND has city scapes from that particular city, all built with LEGO. Each LEGOLAND has fun rides and experiences that are perfect for young kids or any LEGO fanatic.
LEGOLAND® Discovery Center Kansas City is located at 2475 Grand Boulevard, Kansas City, MO, 64105.
SEA LIFE Aquarium
It is easy to pair a visit to LEGOLAND with a stop at the SEA LIFE Kansas City Aquarium next door with a combination ticket. As Kansas City's only aquarium, SEA LIFE has an ocean tunnel, sting ray bay exhibit, sea turtle rescue center, interactive touch pools and more. You can also pay extra for behind the scenes tours, which are great for any budding marine biologists.
SEA LIFE Aquarium Kansas City is located at 2475 Grand Blvd, Kansas City, MO 64108.
Kauffman Center for the Performing Arts
I fully admit to a lot of east coast bias, but I was not expecting Kansas City to have such a stunning and sizeable performing arts center. During our visit, we went to see Jake Shimabukuro, the amazingly-talented ukelele player. The Kauffman Center for the Performing Arts is a beautiful building with a gorgeous architectural design. The acoustics and views in the auditorium are also amazing, making it a perfect spot to see a live performance. Check and see what might be taking place during your visit and get the kids dressed up for a fun "grown up" night out.
Where to Eat in Kansas City with Kids
Of course, any visit to Kansas City needs to involve eating some Kansas City barbecue, which typically involves slow-smoking brisket or pork over hickory wood and then seasoned with a dry rub or thick, sweet and smoky sauce. Joe's is a must-visit for any barbecue enthusiast. The restaurant started as a gas station and has since become one of the most famous barbecue joints in the country. Joe's is known for its brisket, pulled pork, and ribs, all of which are slow-smoked over hickory wood.
Kansas City is also known for its famous steak houses that serve Kansas City strip steak. Other notable Kansas City dishes include fried chicken, chili, and the Kansas City-style pizza, which features a cracker-thin crust, a sweet and tangy tomato sauce, and toppings such as Italian sausage, peppers, and onions.
One spot that kids are sure to love is Fritz's Railroad Restaurant. You order your food by telephone and then it is delivered by a train overhead. Quite novel! Be sure to try the cherry limeade.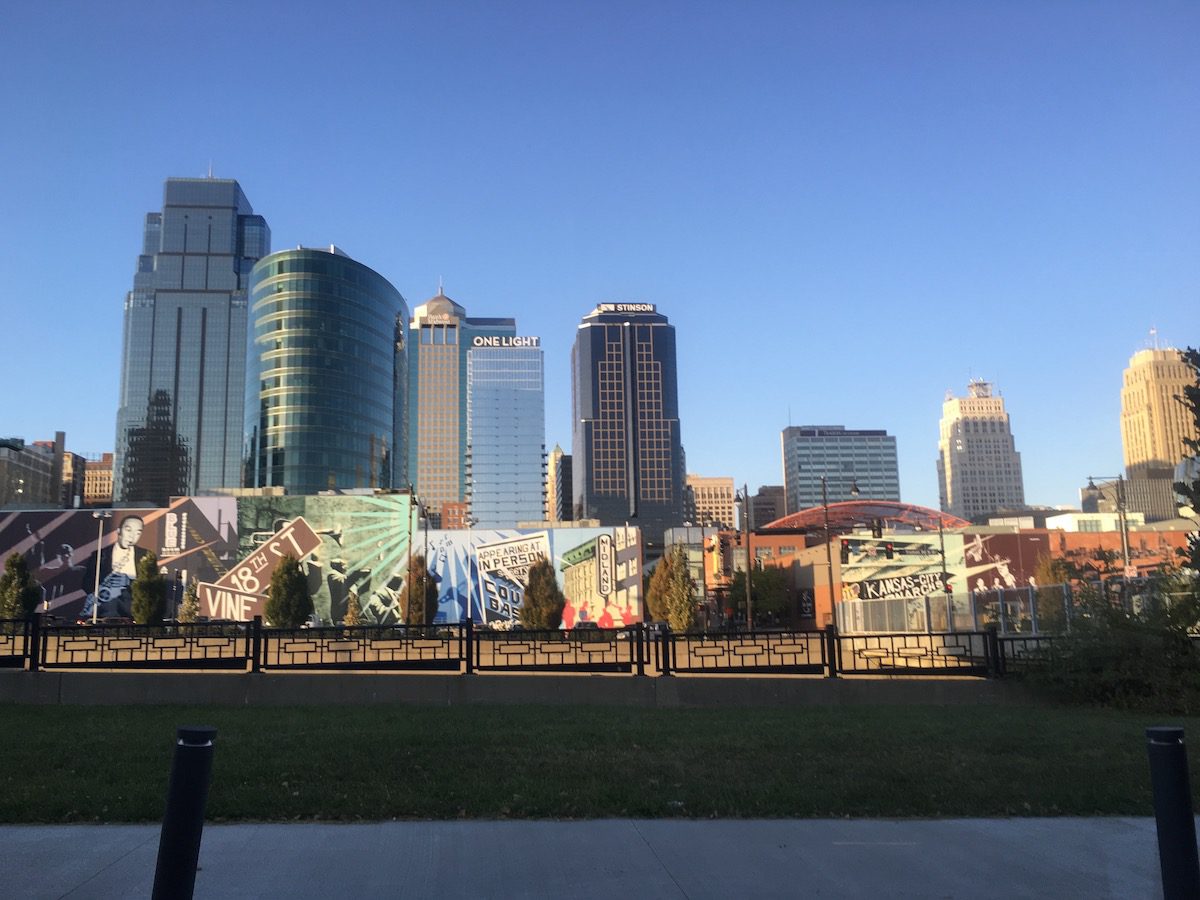 Where to Stay in Kansas City with Kids
For our visit, I stayed at the Westin Kansas City at Crown Center, which was right near the train station and many attractions, making it a convenient spot.
PIN THIS FOR LATER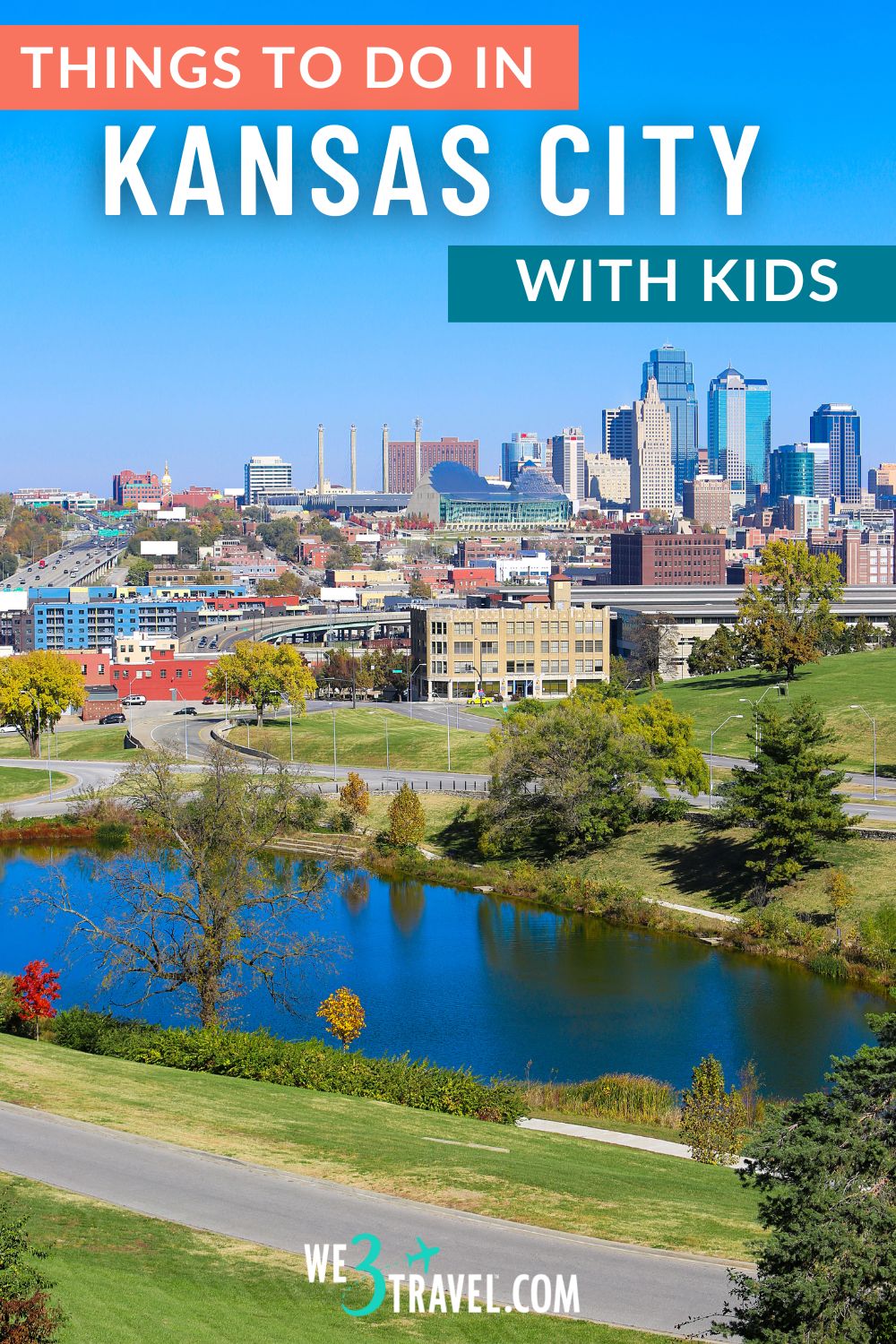 The post 10 Unforgettable Things to do in Kansas City with Kids appeared first on We3Travel.