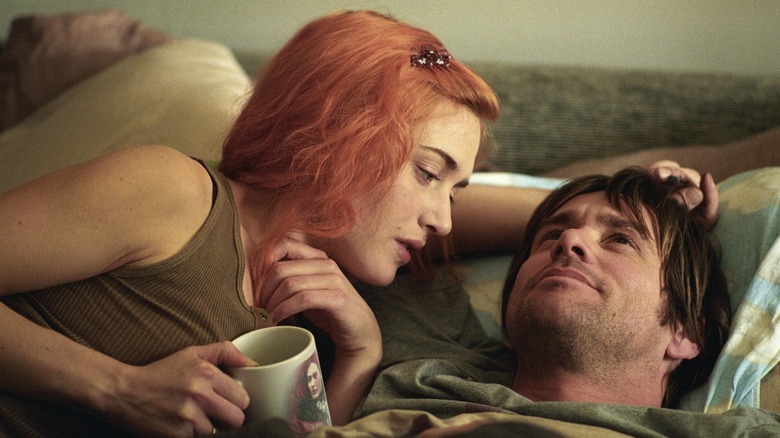 Movies are a medium that plays with your emotions -- for better and for worse. When they're not scaring you out of your skin, most films try to 'woo' you with romance. Human connections form the central basis for most big screen outings, and more often than not, filmmakers want to leave viewers with some form of a happily ever after -- but not always.
Like in real life, some relationships are more complex, nuanced, fractured, and frayed than any third-act resolution can adequately resolve. Our interactions with those we love are frequently messy and not always guaranteed to end well. It's this stirring corner of cinema that can sometimes be the most emotionally affecting to us viewers. After all, there's nothing quite as impactful as seeing something you've experienced yourself first-hand reflected on a giant cinema screen.
With Valentine's Day looming, we decided to look at 10 movies with bittersweet vibes that aren't afraid to kick you straight in the feels. Still, there's something about this batch of therapeutic gems that -- despite their often traumatic journeys -- leave you feeling optimistic about finding love.
500 Days Of Summer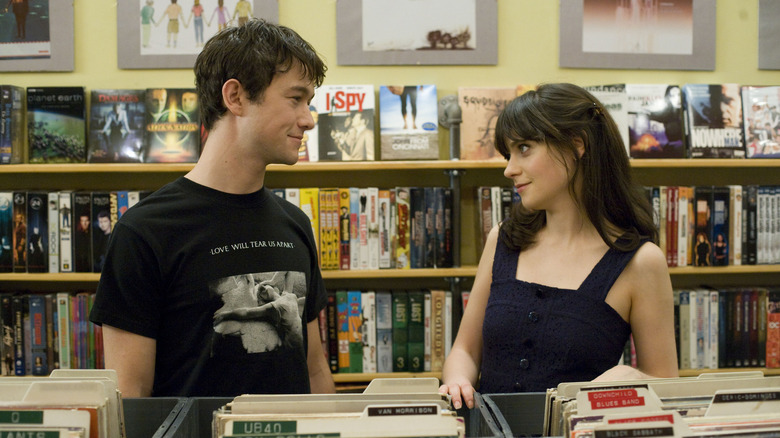 Before he slung webs with Andrew Garfield's Spider-Man, director Marc Webb broke hearts with "500 Days of Summer." Starring Joseph Gordon-Levitt and Zooey Deschanel, this unconventional rom-com follows Tom (Gordon-Levitt) meeting and quickly falling in love with Summer (Deschanel). However, Webb doesn't serve this story to viewers in a traditional narrative. Instead, he plays around with time, skipping forward and backward to show us the best and the worst days of a relationship that ultimately doesn't make it to the end credits.
Webb's hip, twenty-something protagonists make his story all the more painfully relatable to viewers who have no doubt experienced similar heartbreak. The film has a brilliantly emotive soundtrack -- powered by Tom and Summer's shared musical tastes, boasting emotional uppers like Hall and Oats' "You Make My Dreams" and soul-punching downers like The Smiths' "There Is a Light That Never Goes Out" -- that perfectly illustrate the dizzying highs and lows of someone's first meaningful romantic relationship. Either way, it's hard for anyone who's felt the slightest brush with love not to find something to connect with in "500 Days of Summer." While it may not serve up the ending you think you want, it leaves you feeling optimistic about finding love.
Forgetting Sarah Marshall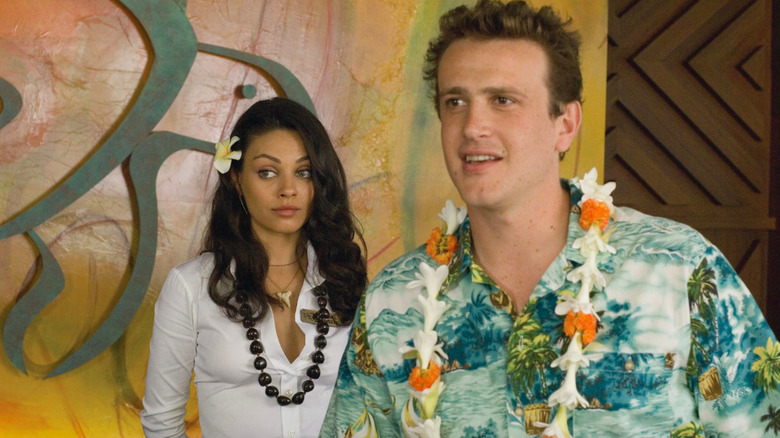 While most break-up movies revel in a relationship's erosion, "Forgetting Sarah Marshall" splits its couple up-front and mines the fallout for comedy gold. Jason Segel stars as Peter, a composer, and wannabe-musical-writer, at an all-time low after being dumped by his television star girlfriend, Sarah (Kristen Bell). To take his mind off the split, he heads to Hawaii for a beach vacation: He soon discovers that Sarah and her perpetually randy new boyfriend, actor Aldous Snow (Russell Brand), are staying at the same resort. While not what Peter had in mind, he somehow finds renewed hope by forming a relationship with the resort receptionist, Rachel (Mila Kunis), and avoiding encounters with his ever-present ex.
"Forgetting Sarah Marshall" is one of Judd Apatow's stronger comedy films and one of the only break-up movies that's genuinely laugh-out-loud funny. Segel surrounds himself with familiar members of Apatow's circle -- Jonah Hill, Paul Rudd, and Bill Hader -- who gleefully plum the depths of Peter's heartbreak for some solid comedy scenes. If Peter's not making you smile with the morbidly over-the-top songs he's writing for his vampire heartache musical, he's making you spit-take by laying it all on the line and ditching his clothes for a good comedy bit. While many break-up movies wallow in what could have been, "Forgetting Sarah Marshall" delivers that much-needed dose of humor that helps you get back on your feet.
Before Sunrise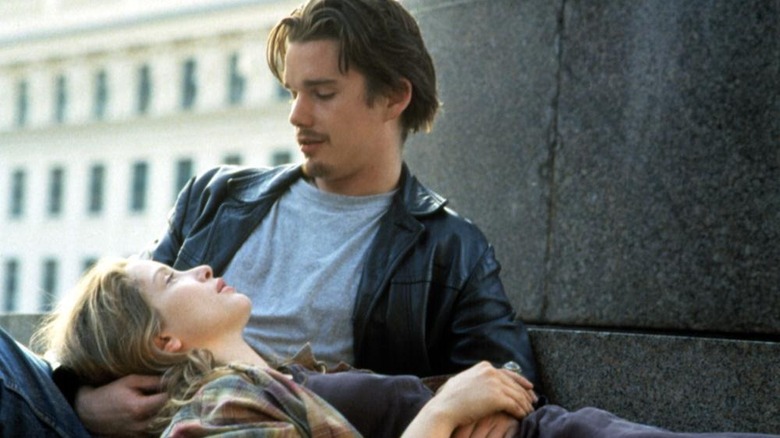 Few relationship movies are as unexpectedly impactful as Richard Linklater's "Before" trilogy. Released nine years apart and dropping in on its main couple during vital points in their lives, Linklater's meandering approach to these stories allows viewers to glimpse the inner workings of a relationship like never before. We unconsciously follow his couple, Jesse (Ethan Hawke) and Céline (Julie Delpy), as if they're real people.
Speaking of which, Jesse and Céline are real people. After all, we've been able to eavesdrop on their relationship across three decades, starting with 1995's "Before Sunrise." In the first film, American backpacker Jesse innocently strikes up a conversation with French free spirit Céline as they travel by train to Vienna. Intrigued by his new friend -- and uninhibited by a 'why not?' attitude -- Jesse suggests they spend the day sightseeing and getting to know each other better. Cue: a day and night full of city wandering and casual conversation.
Like most Linklater films, "Before Sunrise" leaves you in baited anticipation for some big action scene to kick off. (We can thank mainstream cinema for that built-in expectation.) Thankfully, Linklater resists this notion, instead sticking to Jesse and Céline as they discuss everything and nothing while inadvertently falling in love. It makes for sweet and emotionally charged viewing, leaving viewers hopeful that the same impromptu situation isn't outside the realm of possibility for us in real life.
High Fidelity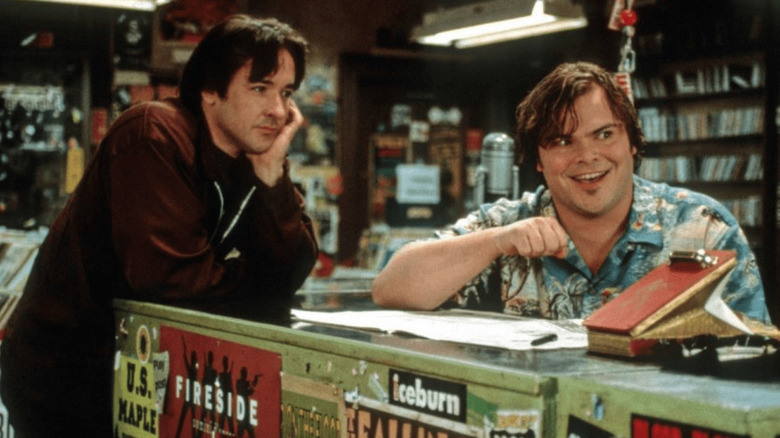 Frankly, it'd be rude not to include "High Fidelity" on this list. The film follows Rob (John Cusack), a guy who loves listing his top five favorite songs and albums but isn't too hot on forging lasting relationships with women. Directed by Stephen Frears, "High Fidelity" focuses on one man's determination to change his ways by reflecting on his past failures. This movie also introduced wider audiences to Jack Black, who plays Rob's record store employee pal, Barry, in a role that perfectly combines his energetic comedic skills with his musical talents.
Pushing aside Rob's incessant list-making and Black's larger-than-life performance, there's a story here that most of us have experienced at some point in our lives. Determined to figure out why his relationships keep failing, Rob takes a long, hard look at his personality, his relationship with women, and what he needs to change to become a better person. In doing so, he's finally able to win back the heart of the woman who broke his at the start of the movie, freeing himself from the self-obsessed man-boy he once was and putting him on the path toward emotional maturity.
Despite the fact that a break-up forms the crux of "High Fidelity," Frears' adaptation of Nick Hornby's bestselling novel proves that oftentimes, progression and healing starts is an inward journey.
Swingers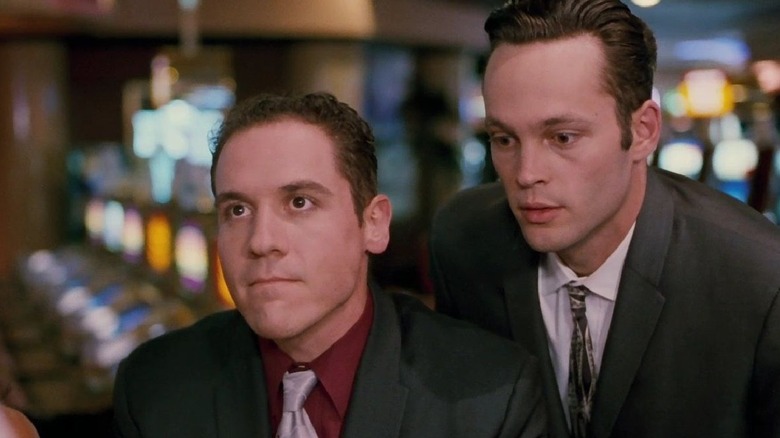 If someone created a survival pack for the recently dumped, it would definitely contain a copy of "Swingers." The restorative themes of this LA-set comedy are more far-reaching than anyone expected. Upon its initial 1996 release, the studio didn't consider it serious enough to qualify for film festivals like Sundance. However, cut to today, and its reputation speaks for itself. If there was a way to quantify the number of people "Swingers" has helped get through the worst break-up of their lives, we're guessing that number would be pretty high.
Directed by Doug Liman, it follows Mike (Jon Favreau), a struggling comedian reeling from a rough break-up. Thankfully, his pal Trent (Vince Vaughn) is around to help him get through the depths of his pain and reintroduce him to the world of dating -- despite Mike's obsessions with his former partner constantly ruining everything Trent has planned for their Vegas getaway.
"Swingers" captures some of the nightmare nuances of moving on from an old flame. From constantly checking if they've called to fumbling around the dating scene, its overall moral comes during a relatable quote from Mike's friend Rob (Ron Livingston) who states: "You wake up every day and it hurts a little bit less, and then you wake up one day, and it doesn't hurt at all."
The Worst Person In The World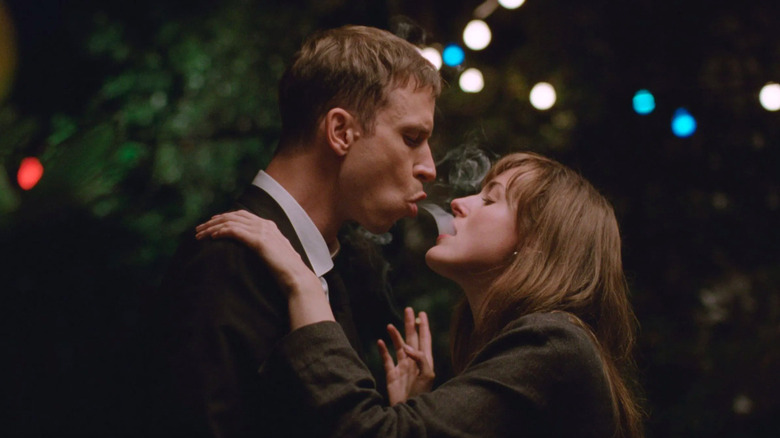 "The Worst Person In The World" isn't strictly a break-up movie. It's more of a coming-of-age story that perfectly encapsulates the experience and after-effects of someone's first meaningful relationship -- the one that doesn't necessarily last but helps you transition from young adulthood to maturity. Director Joachim Trier introduces us to Julie (Renate Reinsve) when she's a medical student in her 20s. The film follows her up to her early 30s: By this point, she's spent time messing around, met older illustrator Aksel (Anders Danielsen Lie), struggled with the concept of parenthood and impending responsibility, and cheated on her partner with someone new.
The flitting around and not knowing exactly what you want in life makes the final part of Trier's thematic Oslo-based trilogy so relatable. Who hasn't passed up the perfect relationship purely because that little voice in their head just won't shut up about what else might be out there? When we've rolled the dice and put ourselves back in the game, how many of us have only then realized the importance and uniqueness of what we had?
Throughout this touching drama, Julie learns hard truths about relationships and herself, leaving her in a place that's new and more settled. While her story may not end with the same 'happily ever after' narrative we've become so accustomed to seeing, it's this realness that makes it such a therapeutic watch.
Eternal Sunshine Of The Spotless Mind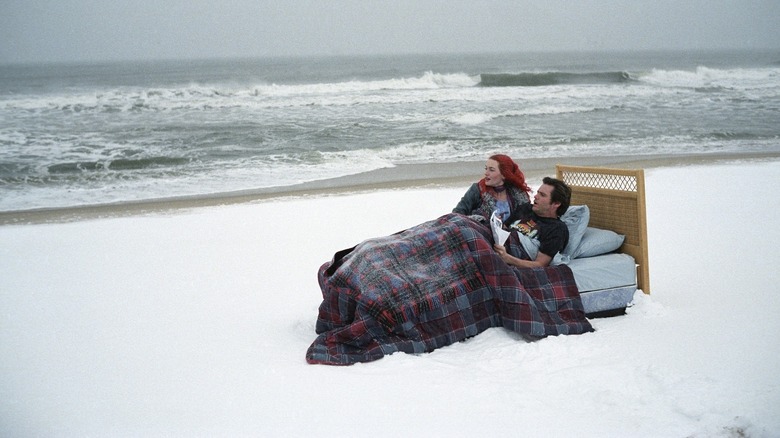 Here's a concept: What if you could erase the memory of a painful break-up and all thoughts of your ex? What you'll have is blissful ignorance and a clear mind needed to start anew -- but what if some force out of your control naturally drew you back to the source of your pain anyway?
It's this high-concept idea, courtesy of screenwriter Charlie Kaufman, that leads 2004's trippy "Eternal Sunshine of the Spotless Mind." Jim Carrey stars against type as the heartbroken Joel, a man whose love troubles are infinitely hindered when he discovers his ex, Clementine (Kate Winslet), hired a company to delete all memory of him from her mind. Acting out of emotional anger, he opts for the same treatment, only to realize halfway through the process that those painful memories of a failed relationship with his beloved ex are better than no memories at all.
What follows is a dreamlike game of cat-and-mouse. Joel and Clementine playfully skip from memory to memory, trying to stay one step ahead of the erasers. Director Michel Gondry relishes the creative freedom that comes with playing in dreams. In the end, the couple remembers how much they care for each other -- though they fear getting hurt again. Like any real-life relationship, they decide to do the only thing they can do, put their faith in each other.
La La Land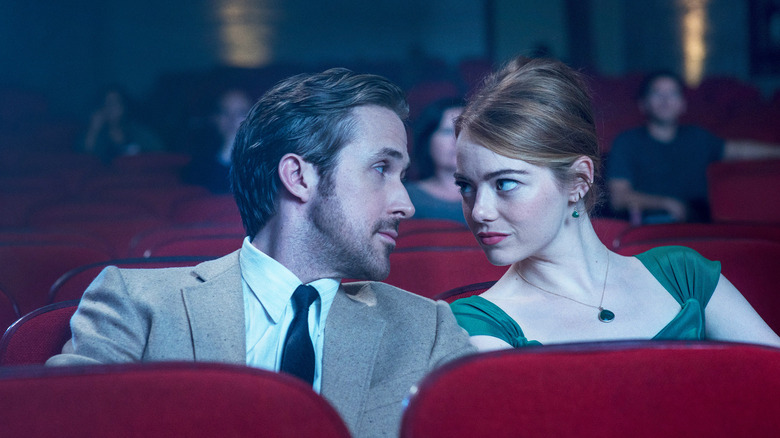 Some people are meant to be together, but life gets in the way. Sometimes it's location or timing, but in the case of Seb (Ryan Gosling) and Mia (Emma Stone), following their dreams ultimately tears them apart. Infused with sentimentality for old Hollywood, director Damien Chazelle's multi-Oscar winning musical, "La La Land" is a movie that wears its heart firmly on its sleeve, with an earworm-filled soundtrack by composer Justin Hurwitz underpinning its warmth, romanticism, fun, and heartbreak.
In "La La Land," we follow struggling jazz musician Seb who meets aspiring actress Mia. After a few comically feisty exchanges, the pair eventually get together, resulting in some of the most musically romantic scenes in modern cinema history. (Many of these sequences harken back to the golden age of movie musicals.) But while their love blossoms, their professional lives threaten to separate them, as Seb joins a popular touring act and Mia's acting career flourishes. Eventually, the strain becomes too much and the pair regretfully call it quits.
In addition to being a bittersweet love story, "La La Land" touches upon many of the complex struggles faced by those dedicated to finding their creative purpose. Chazelle's film is hopefully optimistic -- in terms of its romance and the importance of following your dreams without selling out. While its ending may leave you teary-eyed, you'll still have a smile on your face.
Marriage Story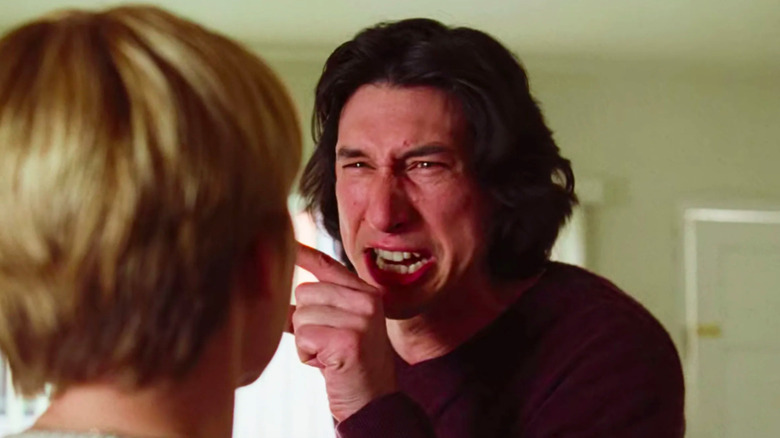 Breaking up with someone is difficult, even amongst the less troubled ones. But when you're married and there are children involved, splitting up feels like an all-out war. That proves to be the case in "Marriage Story." Writer-director Noah Baumbach's frequently painful drama chronicles the gradual dissolution of a couple's marriage. Adam Driver stars as theatre producer Charlie while Scarlett Johansson plays his actress wife, Nicole. When marriage counseling fails to help them reconcile, the pair decide to amicably split while each taking jobs on opposite sides of America. However, their plans for an easy out quickly turn nasty when either party decides to lawyer up and increase the emotional heat of their separation process.
Watching Charlie and Nicole slowly disassociate themselves from their shared life to become independent leaves the audience as uncomfortable, upset, and bewildered as the on-screen couple. While they try to keep it together, emotions erupt, resulting in several tense moments -- including one involving Charlie punching a wall that has since become a popular meme. While funny out of context, in "Marriage Story," these high-flying emotions are rarely a laughing matter for this fractured couple navigating their split.
Despite being difficult to watch, Baumbach makes sure to show us that the pair manage to make it through this period intact, giving "Marriage Story" an oddly optimistic aftertaste.
Call Me By Your Name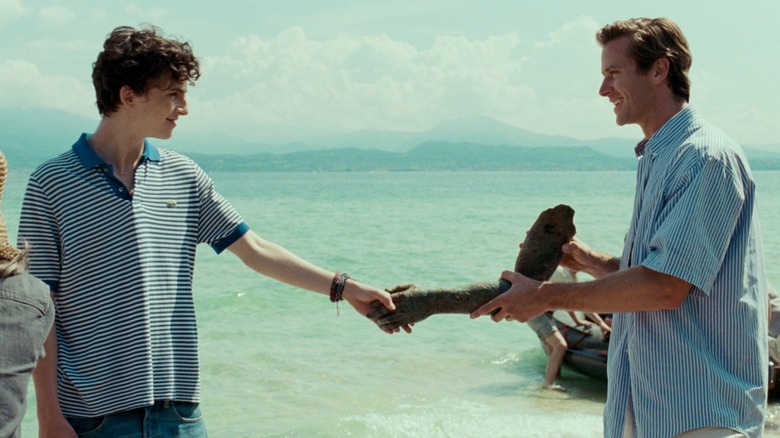 "Call Me By Your Name" is another film better described as a coming-of-age drama than a break-up movie. Still, it's filled with all the passion, love, confusion, and pain that comes with difficult splits -- making it a film that's sure to help viewers through difficult romantic moments. Instead of tackling the difficulty of moving on, Luca Guadagnino's adaptation of André Aciman's book of the same name focuses on a love that's not quite unrequited or forbidden, yet still unable to flourish to its full potential.
Set in the early '80s, Elio (Timothée Chalamet), a teenager on holiday with his family in Italy, meets 24-year-old Oliver (Armie Hammer). The pair soon strike up a clandestine romance. As both characters work through their romantic desires, the film paints a vivid picture of the confusion, awkwardness, and mixed messaging that accompanies early relationships and romantic flings.
By the end, life must move on, and as with many of our brushes with connections that never quite manage to go the distance, Elio has to come to terms with this reality. Later, upon hearing the news of Oliver's impending marriage, he finally reaches this painful yet necessary milestone. Guadagnino lingers on Elio's crying face in a scene that's familiar to any broken heart.
Read this next: The 15 Best LGBTQ+ Rom-Coms Ranked
The post 10 Bittersweet Anti-Valentine's Day Movies That Somehow Restore Your Faith in Romance appeared first on /Film.